For Immediate Release
BERKELEY: Seventy-seven percent of residential land in northern California's Sacramento region is reserved for single-family housing, according to a study released Wednesday by UC Berkeley's Othering & Belonging Institute (OBI).
As with other regions where single-family zoning dominates, the report found this to be consequential for low-income people and people of color who live in the region in terms of health, educational and income outcomes, and access to high-opportunity neighborhoods.
The general pattern revealed in this report was that as the proportion of a neighborhood's single-family-only zoning increased, so did its white population, while the populations of all other racial groups declined.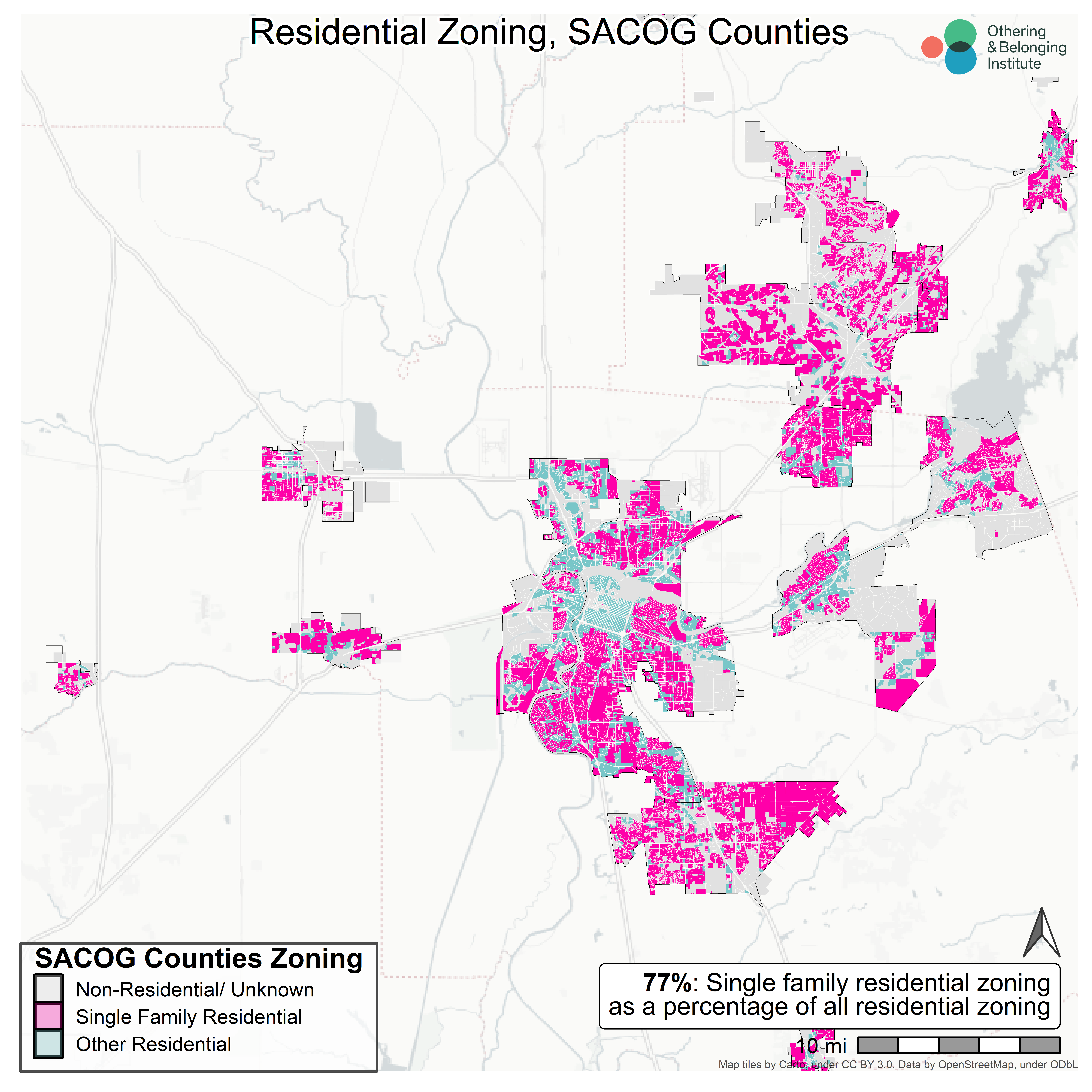 According to the report, the average amount of total land (including commercial areas and parks) exclusively reserved for single-family housing in the region is 42 percent. In contrast, only 10.7 percent of total land is available for denser, multi-family developments.
The investigation covers all 21 cities across the Sacramento region's six counties (El Dorado, Placer, Sacramento, Sutter, Yolo, and Yuba). Zoning maps for each city in those six counties, along with county and regional maps, can be viewed and downloaded here.
The study is the third in a series investigating the effects of single-family zoning in regions across California conducted by OBI. Its findings are consistent with the prior research on the San Francisco Bay Area and the greater Los Angeles region.
By comparison, OBI's 2020 study of the SF Bay Area found that 85 percent of residential land in the region was exclusively reserved for single-family-only housing. And earlier this year OBI's study of the greater Los Angeles region found 77.7 percent of residential land is reserved for single-family homes.
As with the previous studies, this latest report found clear correlations between single-family zoning and household income, home value, education, and environmental health.
For instance, household incomes are about $20,000 higher in neighborhoods with a high level of single-family zoning compared to those with the lowest levels of single-family zoning.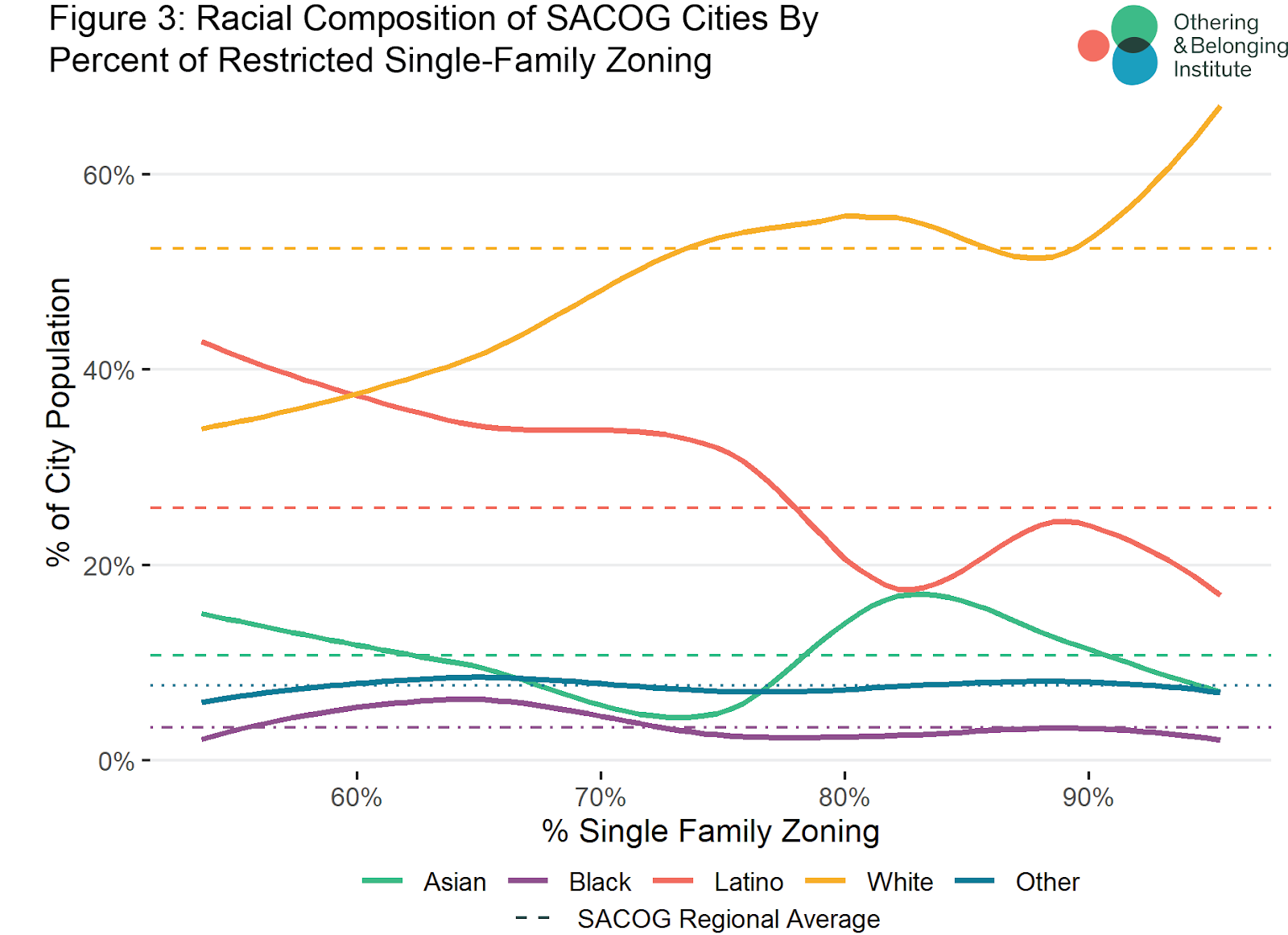 Meanwhile children born into families who reside in communities with 95 percent single-family-only zoning make approximately $10,000 more per year as adults than children born into families living in areas with less than 60 percent single-family-only zoning.
Similarly, the average median home value in the most exclusionary communities is more than $100,000 (or 30 percent) higher than those in communities with more multi-family housing.
But there is slight aberration in the areas of home values and educational attainment from OBI's past research.
In this latest study, the percentage of adults with a bachelor's degree and average overall home values are highest in the moderate rather than the high category of single-family zoned neighborhoods. This is apparently due to the presence of the University of California in the town of Davis, and the offices of IT company Intel in Folsom, both of which have moderate levels of single-family zoning.
Taken together, the data from this latest study supports the conclusions drawn from the prior research that single-family zoning has an exclusionary effect on low-income people and people of color.
To address this, the report identified four cities most in need of reform based on several factors, including the percentage of single-family zoning, affordable housing production, proximity to job centers, and community resources.
Those cities are Elk Grove, Loomis, Rocklin, and Folsom.
Having completed zoning projects for the Bay Area, Los Angeles region and Sacramento region, OBI will now be creating similar maps for the rest of California as part of a statewide zoning atlas.
Media Contact
Marc Abizeid
marcabizeid@berkeley.edu
###