---
Segregation is one of our nation's most enduring and intractable problems. More than 60 years since the Supreme Court's landmark Brown v. Board of Education decision denounced racial segregation in primary and secondary public schools, and 50 years since the enactment of the federal Fair Housing Act, our neighborhoods and schools have yet to reflect the rich diversity of our nation as a whole. Given the seriousness of the problem of racial segregation as a cause of racial inequality and the complexities in understanding the nature of this problem, the Institute launched a series of briefs that will attempt to illuminate these patterns and demystify the reality of segregation in the San Francisco Bay Area. We've also launched an interactive segregation map of the Bay Area as a supplement to the third brief.
In the first brief, we present a series of detailed maps illustrating segregation across the region, within each of the nine Bay Area counties, and in its major metropolitan areas. Our goal is that readers in the Bay Area, for the first time, will have a clear portrait of the reality and extent of the racial segregation in their communities. We highlight and discuss the varying levels of residential racial segregation within the region and show which communities and neighborhoods are the most segregated, and the most integrated.
In our second brief we disaggregate and untangle patterns of segregation into specific patterns of racial demographics. We examine the unique patterns of racial distribution in the San Francisco Bay region, and across major metropolitan areas. In particular, part two of this series illustrates the distribution of white, Black, Latino, Asian, and Native American populations across each large metropolitan area and many counties. We also examine specific areas of racial clustering and concentration, not simply segregation, and examine how these demographic changes have occurred over time.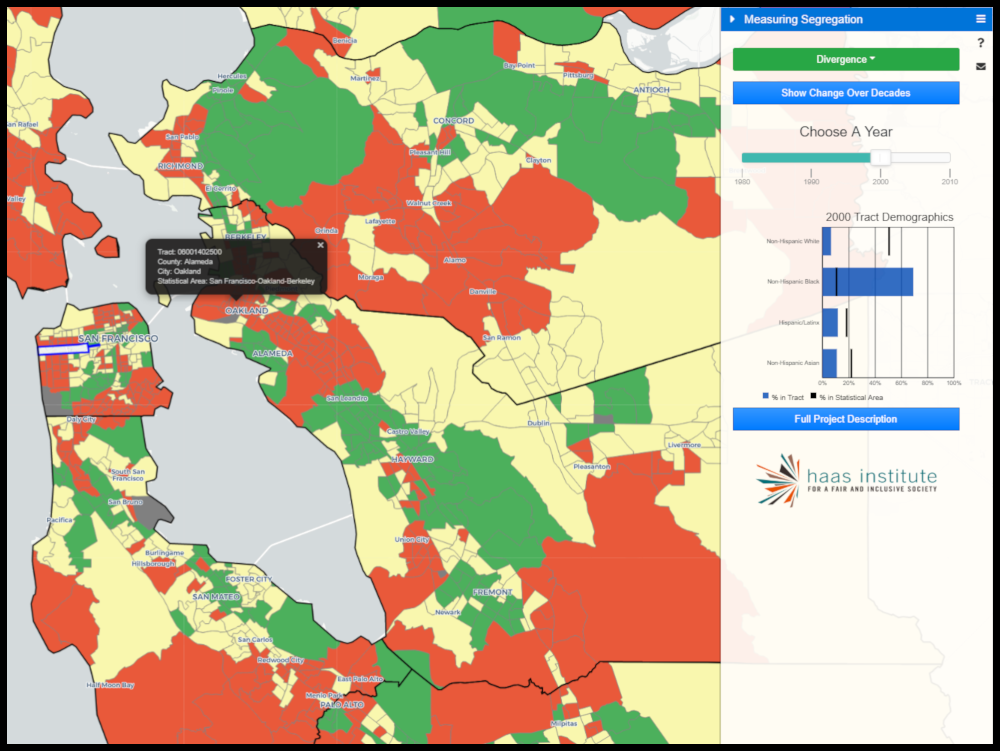 In our third brief, we shift the discussion to a more technical, but no less important, matter: the measurement of segregation. As we emphasized throughout this series, racial segregation is not the same thing as racial demographics. Too often, maps of racial demographics are used as a substitute for mapping segregation itself. By examining several measures of segregation in juxtaposition, we can offer a better-rounded portrait of the actual reality of segregation itself and a better understanding of the perspective that any particular measure illuminates—a partial glimpse of a complex whole.
Part 4: The Harmful Effects of Segregation
In this fourth brief, we turn to the question of the effects of segregation. Specifically, we illustrate the specific correlations with segregation and a variety of life outcomes in the San Francisco Bay Area. The study compared metrics between three types of neighborhoods: 1. highly segregated Black and/or Latinx neighborhoods; 2. highly segregated white neighborhoods; and 3. Low segregation/relatively integrated neighborhoods. Overall, we find that highly segregated Black/Latinx neighborhoods correlate with negative life outcomes for all people in those communities, including rates of poverty, income, educational attainment, home values, and health outcomes.
Part 5: Remedies, Solutions, and Targets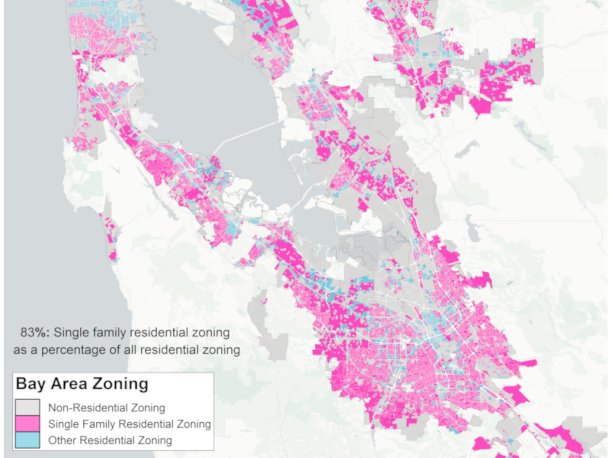 This fifth and final brief on remedies, solutions, and targets presents five general policy approaches that can help address the problem of racial residential segregation and help put the Bay Area on a better path forward. We present each strategy individually and explain why these strategies may advance the goal of greater integration, and how they could be operationalized in the Bay Area. We also suggest empirical targets to measure progress.