---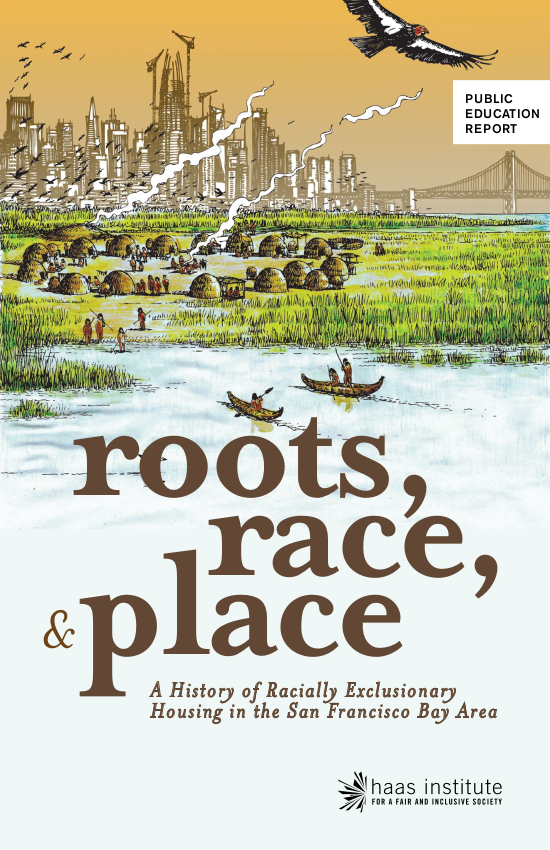 The rampant displacement seen today in the San Francisco Bay Area is built upon a history of exclusion and dispossession, centered on race, and driven by the logic of capitalism. This history established massive inequities in who owned land, who had access to financing, and who held political power, all of which determined―and still remain at the root of deciding―who can call the Bay Area home. 
To grasp what it will take to undo racial inequality in housing, we must first understand how it was established and perpetuated. In this newly released report, we trace the roots of the region's racial exclusion in housing and find that racism reinvents itself, proving to be dynamic, generative, and fluid, yet also remarkably durable and entrenched.  The historical record also reveals that while racialized housing inequality in the Bay Area is part of a national dialectic, it is not solely a function of factors outside of local control. This report focuses specifically on the local: the many tactics of exclusion and dispossession that were deeply localized in practice, driven by local actors such as homeowners' associations and neighborhood groups, real estate agents and developers operating within the regional housing market, and institutions, such as local governments and public agencies, which collectively shape local policies and markets, thus blurring the lines between public and private action.  The constellation of exclusionary tactics discussed in the report―which includes state violence and dispossession, extrajudicial violence, exclusionary zoning, racially restrictive covenants and homeowner association bylaws, racialized public housing policies, urban renewal, racial steering and blockbusting, and municipal fragmentation and white flight―show how local laws, practices, and campaigns that first took hold in the Bay Area later came to inform state politics as well as other localities throughout the country.
We document this local history in order to ask: what does this mean for how we move forward as a region? As we reflect on the 400 years of resistance to slavery and injustice nationally, this examination of our local history brings questions of reparations and housing justice closer to home. How can we directly confront the roots of exclusion, provide restitution for historical racial injustices, and transform the power structures that continue to perpetuate them?  How can we transform our institutions of local governance, zoning ordinances, housing markets, systems of property rights, connection to land, and relationships to our neighbors in order to fully realize racial equity and belonging?
We hope this report sparks conversation about these questions, and we invite you to share your reflections with us by email (belonging@berkeley.edu), or on our social media channels. 
Download a PDF of this publication.