Artist in Residence 2019/20
The Othering & Belonging Institute has chosen Complex Movements to be our Artist in Residence for the 19/20 academic year. The Detroit-based artist collective was chosen out of over 150 applicants for its unique practice of using art and culture to hold together the fabric of communities in the face of systems of othering.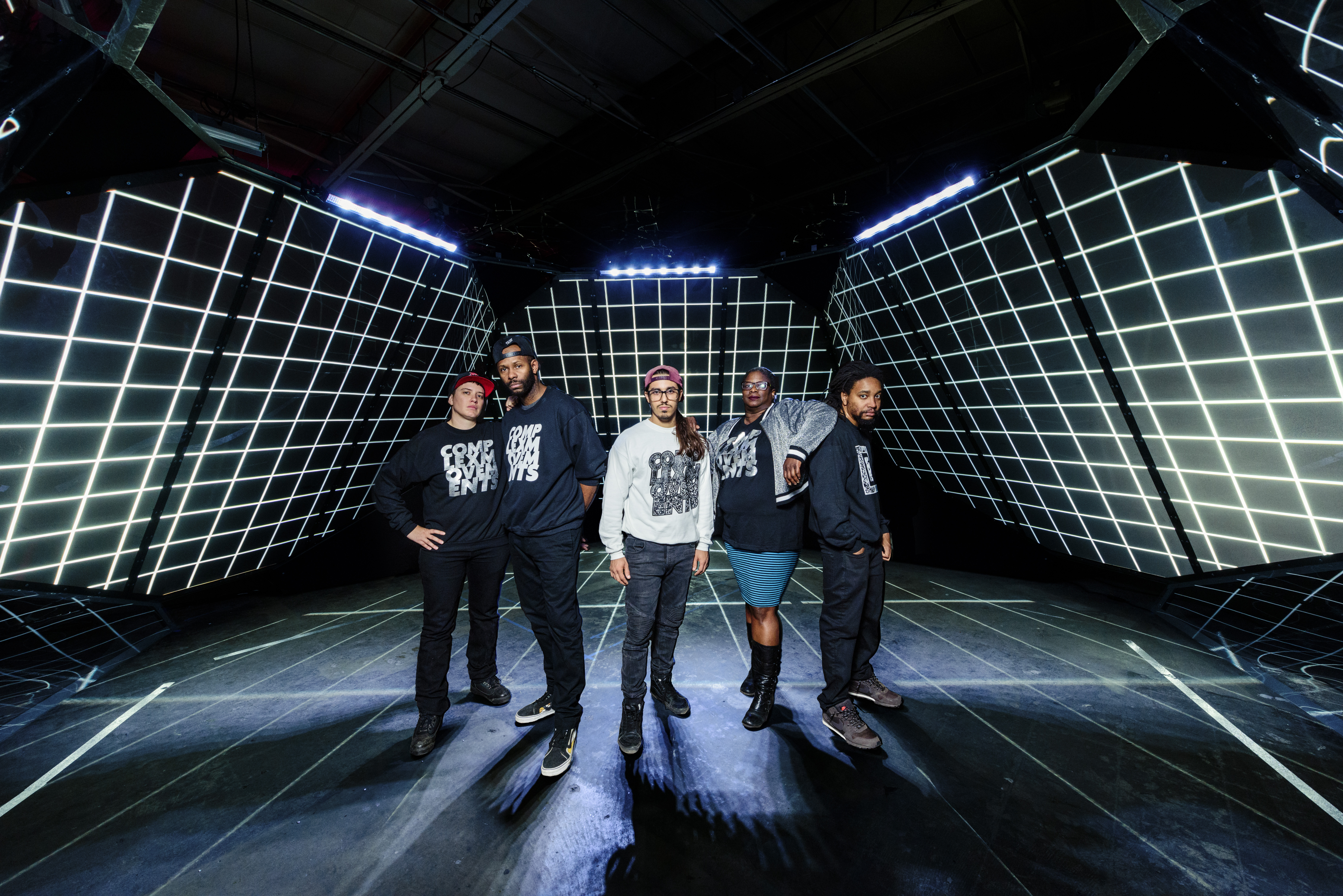 photo: Complex Movements (L to R: ill Weaver/Invincible, Waajeed, L05/Carlos Garcia,_Sage Crump, Wesley Taylor). image credit: Doug Coombe
Complex Movements supports transformation by exploring the connections of complex science and social justice movements through multimedia interactive performance work. As part of its residency, Complex Movements will seek to illuminate community-led spatial justice strategies that are rooted in belonging to equitable city development and prison abolition. The collective's work is inspired by the writings, philosophy, and experience of Detroit based activist Grace Lee Boggs (1915-2015) as well as grassroots networks in Detroit. Tower and Dungeon is the current evolving body of work by Complex Movements about the intersections between real estate development and the prison industrial complex. Tower and Dungeon is based on the book of the same name by Detroit author and activist Dr. Gloria House aka Aneb Kgositsile.
In their residency, Complex Movements will leverage cultural work and creative expression to illuminate visionary, community led spatial justice strategies, which take the form of equitable city development and prison abolition rooted in belonging and inclusion. The collective's methodology builds from deep listening, conversations, and study groups to the cultivation of collaborative, community expressions that integrate music, graphic design, video game elements, animation, film, and performance. The project will engage communities in Detroit and the larger Bay Area. 
While we were only able to offer one award this year, we want to express gratitude for the incredible quality and originality of the applicant field, which spanned an impressive array of media, practice and content.
Short-listed applicants for this year were:
Our dynamic review panel consisted of:
Kevin B. Chen has been involved in the Bay Area arts community for over two decades as a curator, visual artist, and educator. He currently serves as faculty at San Francisco State University's School of Art and at Stanford University's Department of Art and Art History, a member of Recology's Artist in Residence Program Advisory Board, and a Curatorial Committee member of Root Division. He recently served as co-chair for the City of Oakland's Public Art Advisory Committee and managed the de Young Museum's Artist Residency Program and Public Programs. He was the Program Director of Visual Arts at Intersection for the Arts for over 15 years, where he curated over 70 exhibitions and hundreds of public programs. He has been a funding and residency panelist for Creative Capital Foundation, Multi-Arts Production Fund, Alliance of Artists Communities, Creative Work Fund, and the City of San Jose.

Lulu Matute (mah-too-té) is an activist-scholar grounded in Liberation Theology, Ancestral Curanderismo (healing work), and the making of social memory. She designs collaborative spaces, experiences, and multimedia art projects that deal with Central American diaspora, memory and migration, environmentalism, and freedom from incarceration. She works at Cal's Latinx Research Center where she produces academic events and art galleries. 

Christine Wong Yap is a project-based artist who investigates positive psychology and well-being. In 2018–2019, she was the inaugural artist-in-residence at the Othering & Belonging Institute. Born in California, she was a longtime resident of Oakland, CA before relocating to Queens, NY in 2010.
Applicants were assessed on the following questions:
1. Does the project explore and expand on the relationship of belonging and the dynamic qualities of being human, grounded in an analysis of systems of exclusion and othering?
2. Does the project have dialogue as a core component of the process?
3. Does the project demonstrate a process that is inclusive and seeks transformative change?
4. Does the project result in visually compelling, high quality outcomes?
---
2018/19 Artist in Residence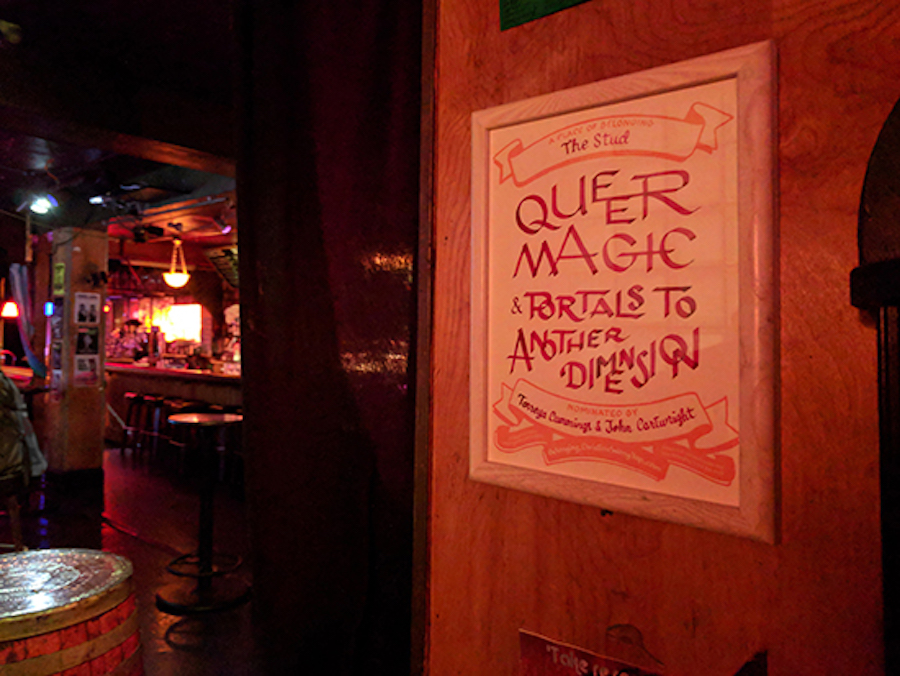 Above: Certificate of Belonging: The Stud, nominated by Torreya Cummings & John Cartwright. One of 25 certificates installed in locations of belonging, as part of Artist-in-Residence 2018/19 Christine Wong Yap's  project.
About the Othering & Belonging Institute
The Othering & Belonging Institute is a vibrant network of researchers and community partners. The Institute is a national leader in translating, communicating, and facilitating research, policy, and strategic engagement to produce change and make a meaningful impact.
The work of the Institute is guided by a focus on "Othering and Belonging." We seek to deter, prevent and remediate othering, while promoting, expanding and institutionalizing belonging as not only a core value, but as policy, best practice, and an opportunity to envision an inclusive and fair society.
The Othering and Belonging framework has allowed us to better articulate intersections that generate unique positions of marginality, domains in which othering occurs as well as the forces that generate inequality from public finance to immigration and incarceration.
The Othering & Belonging Institute's work promotes belonging by designing systems of structural inclusion and identifying fundamental structures, systems, and institutions that inhibit a genuine and inclusive sense of belonging. The Institute's diverse array of work and inquiry areas are uniquely aligned to create belonging and identify its barriers.
About the Artist in Residence
The annual Artist in Residence program furthers our work in Othering and Belonging and integrates with the Institute's focus on arts and culture as a primary way to advance our collective vision of inclusion. 
Belonging is deeply ontological—it speaks to who we are and who we can be. We recognize that stories, symbols, relationships, and rituals are central to a sense of belonging. They also motivate, frame, and ground the systems, political parties, laws, and actions that either advance belonging or enforce othering. 
We are looking for work from the Artist in Residence that seeks to advance and expand our concept of belonging at the nexus of being human and the systems and structures that operationalize structural inclusion. 
The residency supports artists to deepen their practice. The chosen artist's project and process will illuminate and advance our understanding of belonging in new and complex ways. In particular, we are interested in works that explore practices of dialogue and engage a broad audience through process and/or outcomes. The Artist in Residence will be selected by a diverse group of public artists, advocates, and partners from the Othering & Belonging Institute and its network. While the residency may be combined with existing or ongoing projects, we do expect discrete activities and/or outcomes that are generated through the relationship to the Institute and the guiding frameworks of the residency.
We view the artist as a resident in the ideas, work, and relationships of the Institute, and in that sense the artist might work remotely for the bulk of the residency period. This program does not provide living space or studio space. Your time with us brings you into connection with a leading social science research Institute and our extremely diverse, interdisciplinary partners, collaborators and community that hail from sectors as diverse as academia, government, nonprofit, law, the arts, philanthropy, faith-based communities, science, policy advocates, community organizers and interested individuals. 
To view the incredible work of our first AIR, Christine Wong Yap, please see her project page here, created for the project. Christine also provided a helpful review of her inaugural residency.  
Background Information on Artist in Residence 
Eligibility requirements:
Artists or artist collectives working independently of a 501c3 nonprofit are eligible. If you are working under a registered 501c3, you are not eligible to apply.

If you are a collective, you must submit one application. Multiple applications for collectives are not permitted.

The AIR does not have to reside in the United States.
We are interested in projects that:
Explore and expand on the relationship of belonging and the dynamic qualities of being human, grounded in an analysis of systems of exclusion and othering

Have dialogue as a core component of the process

Demonstrate a process that is inclusive and seeks transformative change

Result in visually compelling, high quality outcomes

Contain elements that can be completed within the timeframe of the residency and shared publicly
Please note in preparing your application: We use the above points as the rubric for assessing artist applications.
What you can expect as the artist:
A platform for sharing completed work through our diverse network

Amplification of the work through our online presence and publications such as the Journal of Othering and Belonging, the Institute news magazine, and other methods of digital media

Support from the Institute's Communications Director Rachelle Galloway-Popotas throughout the process

A $15,000 honorarium 

A modest budget for materials and travel reimbursement if travel is part of the AIR work
The application requires you to submit the following:            
A 500-word letter of intent that describes your proposed project (please see section on "We are interested in project that…")

A 500-word artist statement

A link to a website that showcases your project or a relevant body of work (please indicate the specific links or images you would like us to focus on). If no URL is available, you may submit a PDF which contains no more than 10 images or samples. Please submit combined as one pdf, or up to three minutes of video that shows your body of work.

A CV, or multiple CVs if applying as a collective
Submit all application materials via the following portal: Artist in Residence 2020
Timeline
July 1, 2019: Call for applications

August 9, 2019: Applications are due by 11:59pm (PST)

August 28, 2019: Short-listed candidates will be notified and receive request for interview

Weeks of August 26 and September 2, 2019: Interviews with short-listed candidates

September 9, 2019: Chosen artist notified, residency period begins with planning meetings with the Othering & Belonging Institute 

September 10, 2019: Public announcement 
 
The period of the residency will be October 1, 2019 - May 31, 2020.
For any questions about the Artist in Residence application process, contact evanbissell@berkeley.edu.