The Othering & Belonging Institute has chosen Complex Movements to be our Artist in Residence for the 19/20 academic year. The Detroit-based artist collective was chosen out of over 150 applicants for its unique practice of using art and culture to hold together the fabric of communities in the face of systems of othering.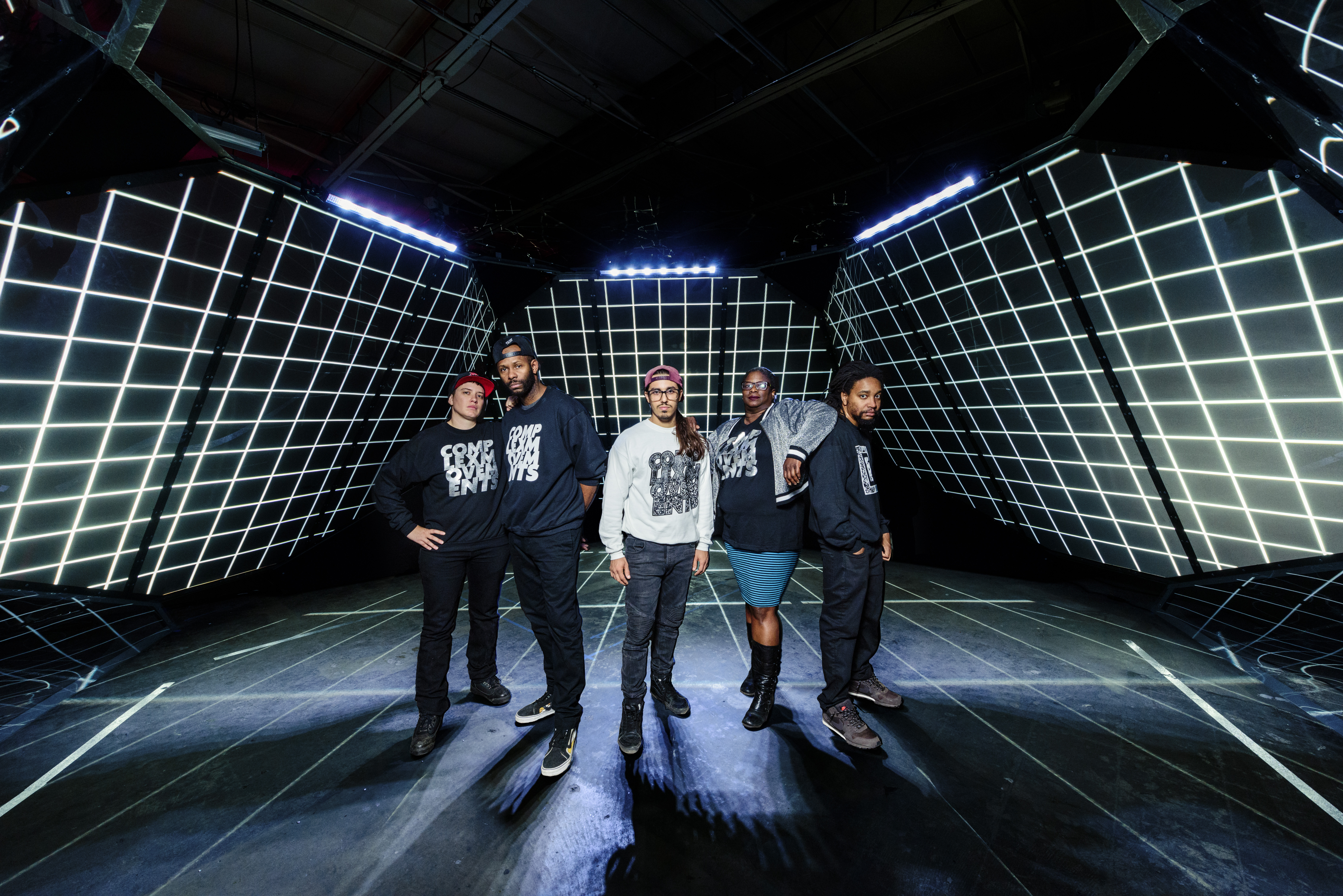 photo: Complex Movements (L to R: ill Weaver/Invincible, Waajeed, L05/Carlos Garcia,_Sage Crump, Wesley Taylor). image credit: Doug Coombe
Complex Movements supports transformation by exploring the connections of complex science and social justice movements through multimedia interactive performance work. As part of its residency, Complex Movements will seek to illuminate community-led spatial justice strategies that are rooted in belonging to equitable city development and prison abolition. The collective's work is inspired by the writings, philosophy, and experience of Detroit based activist Grace Lee Boggs (1915-2015) as well as grassroots networks in Detroit. Tower and Dungeon is the current evolving body of work by Complex Movements about the intersections between real estate development and the prison industrial complex. Tower and Dungeon is based on the book of the same name by Detroit author and activist Dr. Gloria House aka Aneb Kgositsile.
In their residency, Complex Movements will leverage cultural work and creative expression to illuminate visionary, community led spatial justice strategies, which take the form of equitable city development and prison abolition rooted in belonging and inclusion. The collective's methodology builds from deep listening, conversations, and study groups to the cultivation of collaborative, community expressions that integrate music, graphic design, video game elements, animation, film, and performance. The project will engage communities in Detroit and the larger Bay Area. 
While we were only able to offer one award this year, we want to express gratitude for the incredible quality and originality of the applicant field, which spanned an impressive array of media, practice and content.
Short-listed applicants for this year were:
Our dynamic review panel consisted of:
Kevin B. Chen has been involved in the Bay Area arts community for over two decades as a curator, visual artist, and educator. He currently serves as faculty at San Francisco State University's School of Art and at Stanford University's Department of Art and Art History, a member of Recology's Artist in Residence Program Advisory Board, and a Curatorial Committee member of Root Division. He recently served as co-chair for the City of Oakland's Public Art Advisory Committee and managed the de Young Museum's Artist Residency Program and Public Programs. He was the Program Director of Visual Arts at Intersection for the Arts for over 15 years, where he curated over 70 exhibitions and hundreds of public programs. He has been a funding and residency panelist for Creative Capital Foundation, Multi-Arts Production Fund, Alliance of Artists Communities, Creative Work Fund, and the City of San Jose.

Lulu Matute (mah-too-té) is an activist-scholar grounded in Liberation Theology, Ancestral Curanderismo (healing work), and the making of social memory. She designs collaborative spaces, experiences, and multimedia art projects that deal with Central American diaspora, memory and migration, environmentalism, and freedom from incarceration. She works at Cal's Latinx Research Center where she produces academic events and art galleries. 

Christine Wong Yap is a project-based artist who investigates positive psychology and well-being. In 2018–2019, she was the inaugural artist-in-residence at the Othering & Belonging Institute. Born in California, she was a longtime resident of Oakland, CA before relocating to Queens, NY in 2010.
Applicants were assessed on the following questions:
1. Does the project explore and expand on the relationship of belonging and the dynamic qualities of being human, grounded in an analysis of systems of exclusion and othering?
2. Does the project have dialogue as a core component of the process?
3. Does the project demonstrate a process that is inclusive and seeks transformative change?
4. Does the project result in visually compelling, high quality outcomes?