---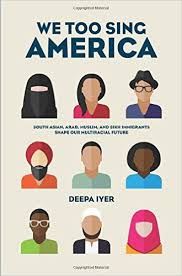 The Haas Institute welcomed activist and author
Deepa Iyer
to UC Berkeley on Jan. 19 to speak about Islamophobia and racism in the United States. Iyer, a senior fellow at the
Center for Social Inclusion
, read selections from her new book "We Too Sing America," and later invited Berkeley students and staff to speak candidly about their own lived experiences with racism and xenophobia.
Iyer began her talk by situating herself in relation to the larger society. Born into an immigrant family from a privileged class in India, Iyer grew up in Kentucky, in the midst of what she called a 'paradigm of black and white'.'
Although she was raised as a person of color in a region known for its racial tensions, Iyer said her own political awakening did not happen until the aftermath of 9/11, when she was working as an attorney at the US Department of Justice in Washington, DC. Within hours of the attack, Iyer said, she began to hear about violence against Sikhs and Arabs, and stories about the FBI taking away Muslims.
She said that she and others who looked like her, began "double breathing" — mourning for what had occurred on 9/11 as well as grappling with the intense scapegoating and suspicion their community was now facing.
More recently, the attacks in Paris and San Bernardino have been followed by a similarly intense backlash of violence and angry political rhetoric targeting Southeast Asians and Muslims, Iyer said.
"What we see today is part of what we've been seeing over the past 14 years," she said. "It's literally a daily phenomenon in many communities."
Safety is illusive, Iyer added, even within the walls of the safest spaces.
"We receive signs that this is not our country and that we should go home, that we are diluting the true nature of America," she said. "This leads to a culture of fear, where a young man is criminalized for bringing a homemade clock to school."
It was with that context in mind that Iyer wrote her most recent book, "We Too Sing America: South Asian, Arab, Muslim and Sikh Immigrants Shape Our Multiracial Future," published in November of 2015.
Iyer said she wrote the book for a few major purposes. She wanted to document the lived experiences of post-9/11 America, to expose links between Islamophobia, xenophobia, and racial anxiety, and to identify strategies of resistance, solidarity, and community building.
Fundamentally, she said, she wanted to consider ways in which our society can shape a more inclusive democracy as the racial landscape transforms.
After reading a selection from her book about a young Sikh man whose mother was killed in an attack on their local temple, Iyer invited a few members of the Berkeley Southeast Asian and Muslim communities to speak about their experiences with Islamophobia and racism. Invited speakers included Sumayyah Din, a member of the undergraduate student senate, Alisa Bierria, of the Center for Race and Gender, Shivani Narang, of the undergraduate senate's Sexual Assault Commission, and Sine Hwang Jensen, an Asian American and Comparative Ethnic Studies Librarian at UC Berkeley. All spoke movingly about their own struggles and challenges, both within the larger American society and within their own communities.
Later, Iyer took a few questions from the audience, many of which centered on the difficult tensions within Southeast Asian and Muslim communities. She addressed the myth of "cultural exceptionalism" within Southeast Asian families as well as how to address anti-Black racism within Asian and Muslim communities.
"Many of us are very privileged already in America; [The idea of cultural exceptionalism] doesn't tell full story of what's happening in our community," Iyer said.
At one point, Iyer noted that her book is "heavy"—full of painful issues. But what is most heartening, she said, are the voices of young people who animate the book. Their hope is our hope for the future.
---