---
Oct. 7, 2015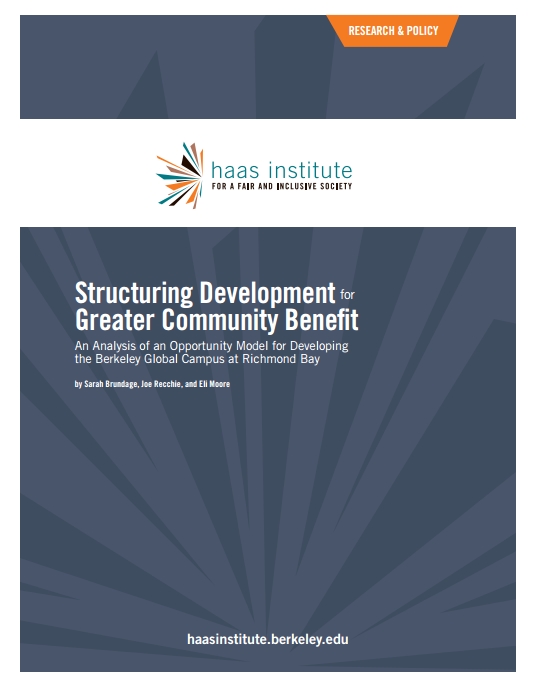 The Haas Institute for a Fair and Inclusive Society is pleased to announce the release of a new report, Structuring Development for Greater Community Benefit: An Analysis of an Opportunity Model for Developing the Berkeley Global Campus at Richmond Bay. 
The release of this report coincides with a free, public community workshop that will take place on Thursday, October 8, from 
6:00 to 8:00 pm
 in the Madeline F. Whittlesey Community Room at the 
Richmond
 Public Library in 
Richmond
, CA. 
Following the presentation, there will be a Q&A session. 
The report, authored by Eli Moore, Sarah Brundage, and Joe Recchie, recommends that a public-private partnership model with a Community Development Entity (CDE) be considered. A CDE is a duly organized entity treated as a domestic corporation or partnership that has a primary mission of serving a low-income community. If a CDE was established and secured a development contract with UCB, the model would guarantee a share of project profits are reinvested in the 
Richmond
 community. The report includes two case studies of similar public-private partnerships used for development projects.
"The Berkeley Global Campus presents a historic investment opportunity, and the finance model will determine to what extent the benefits of the investment respond to the actual needs of the 
Richmond
 community," said Moore. "The CDE finance model could provide funding that approaches the scale of existing economic needs in 
Richmond
, which may otherwise be unachievable."
"We wrote this report to examine and lift up a new finance model that creates a win-win situation in terms of financing the campus development and securing investments for 
Richmond
's low-income community," said Brundage. "We are excited to engage with the 
Richmond
 community and university officials to see what's possible."
This report is part of a 
larger body of research
 exploring ways in which the development process for the Berkeley Global Campus at 
Richmond
 Bay can be structured so that the development is aligned with community well-being and leveraged to reinvest substantial resources to the 
Richmond
 community. 
---