---
Wednesday, April 10, 2019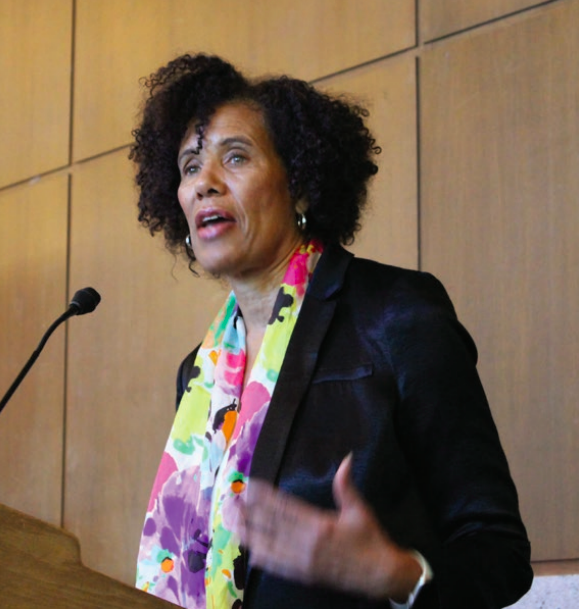 This past year, the Haas Institute's faculty research clusters greatly increased their research and programming efforts to promote social equity and respond to emerging critical issues related to social inclusion. 
One of the year's major accomplishments was the release of five new policy briefs. All of these reports focus on high-impact public policy issues such as protecting the rights of parents with disabilities and their children, developing a more inclusive electorate, the role of race and segregation in neighborhood health disparities, and creating a more gender inclusive society. In addition, the Diversity and Health Disparities faculty cluster is currently developing a new policy brief on the opioid addiction health care crisis in rural America—look for that in 2019.
We also solicited faculty proposals for a new Intervention Grant program, with seed funding awarded to collaborative faculty projects that raise awareness to inequities outside of the range of common considerations while building intergroup connection. These resulted in support for five new innovative diversity research projects: 
Backlash to Inclusion: These four panel studies are designed to explore the social psychological underpinnings of backlash to inclusive policies of survey data collected from 477 mostly white US residents.
FoodScape Mapping: At the end of spring semester 2018, this project of seven collaborators completed a data visualization map that captures UC Berkeley's barriers to equitable food systems that disproportionately affect historically marginalized students.
Climate Study of Undocumented Students: 

This study builds upon a 2013 UC Berkeley climate study and revisits the experiences of 100 undocumented students in light of political threats to DACA and a growing criminalization of immigration.
Building Bridges: Mapping Spatial Inequality: This project developed a prototype of the Mapping Spatial Inequality web tool during a workshop entitled "Tackling Deprivation—Legal and Health Services for Immigrants." An initial prototype of the app has been launched and researchers are now collecting more information to refine its utilization and reflect on how to best serve the needs of immigrant communities.
The Berkeley Interdisciplinary Migration Initiative and Haas Institute Policy Brief Series: This series translates academic findings from the latest migration research into accessible summaries for popular audiences.  
Additionally in 2018, we continued our very popular "Research to Impact" colloquia series and held a number of talks on diverse topics including race and education, the criminalization of African American and Latino teens, political knowledge and engagement in communities of color, and disability studies. They included talks by Victor Rios from UC Santa Barbara, Cathy Cohen of the University of Chicago, and a panel on family separations featuring Ericka Huggins, Heidi Casteneda, and Angie Junck.
Haas Institute faculty convened a number of other events such as "Disability and the Dissident Body," "Critical Race Theory and School Leadership," "Resisting Police Violence Against Black Women and Women of Color," and "Race, Education, and American Democracy," as well as a screening of the film Gattaca and panel discussion on human genetic technologies and its relationship to diversity and inclusion.
In 2019, we are continuing to push forward our broad-based platform of research and programming related to expanding equity. With the 2020 election year rapidly approaching, we will be prioritizing work on increasing voter engagement and participation in marginalized communities. Efforts will continue to highlight critical issues related to immigration policies and border security. 
Finally, 2019 marks the 400th anniversary of slavery in the US. In recognition of this anniversary, we are developing several initiatives that will highlight the legacy and impact of slavery and resistance to it. For this effort we are adopting the perspective of the "Sankofa" symbol—an Asante Adinkra symbol portrayed as a bird with feet facing forward and head turning back—that is important in the African diaspora and which represents the need to reflect on the past to build a successful future.
---