Location
Citizen Engagement Lab - 1330 Broadway 3rd Floor, Oakland, CA 94612
---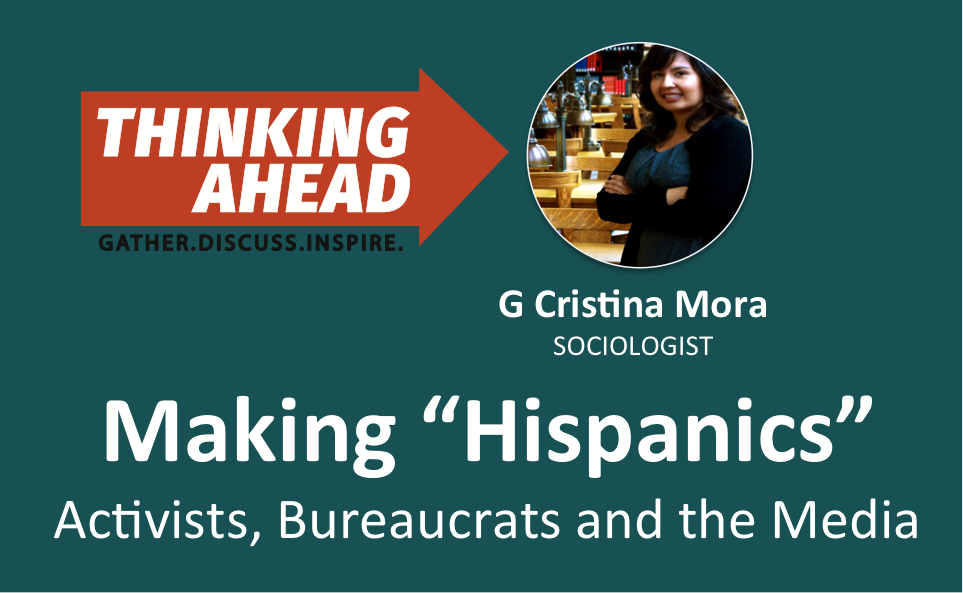 Join us to listen to sociologist G. Cristina Mora talk about how Southwest Mexicans, Miami Cubans, and New York Puerto Ricans came to see themselves as not just distinct nationalities, but also as Hispanics - a national pan-ethnic group. 
 
Spoiler…  it's got something to do with KMEX-TV L.A., the 1980 Census, the Southwest Council of La Raza, and Nixon's Cabinet Committee on Opportunities for Spanish Speaking People.
G. Cristina Mora is an Associate Professor of Sociology at the University of California, Berkeley, and a member of the Haas Institute's Diversity and Democracy Cluster.
She is the author of Making Hispanics: How Activists, Bureaucrats, and Media Constructed a New American.
 
We'll start with a brief mixer, with tasty finger food and refreshing drinks.  
Afterwards we'll have plenty of time for your questions.

 
WHAT: Thinking Ahead – Making "Hispanics": Activists, Bureaucrats and the Media
 
WHEN: Tuesday, October 10th, 2017 from 12:15 PM to 1:45 PM. RSVP here.
 
WHERE: Citizen Engagement Lab - 1330 Broadway 3rd Floor, Oakland, CA 94612
---