Bay Area Permitting
ONCE CITIES SET OR UPDATE their Housing Elements of their General Plan to support the allocated number of housing units, they frequently have discretion as to whether they will permit proposed developments or not. Permitting is an important realm where city action or inaction can ameliorate or exacerbate the crisis of housing supply. The Bay Area, like every other region statewide, has consistently failed to permit a sufficient number of very low income, low income, and moderate income housing units, while permitting an adequate or more than adequate number of units for people with above-moderate incomes. In this section we explore overall permitting in the Bay Area and permitting of individual Bay Area Cities between 1999 and 2014.18
In Chart 7, we present the housing units permitted in 2007-2014 (the 4th RHNA cycle) alongside the number of units allocated in each income category across the nine-county Bay Area region. More than two thirds of the housing needed for Very Low, Low and Moderate households was not permitted and thus was not built. Bay Area cities permitted more than twice as many above moderate income units during this period than all of the other income categories combined.19
Bay Area cities permitted more than twice as many above moderate income units during 2007-2014 than all of the other income categories combined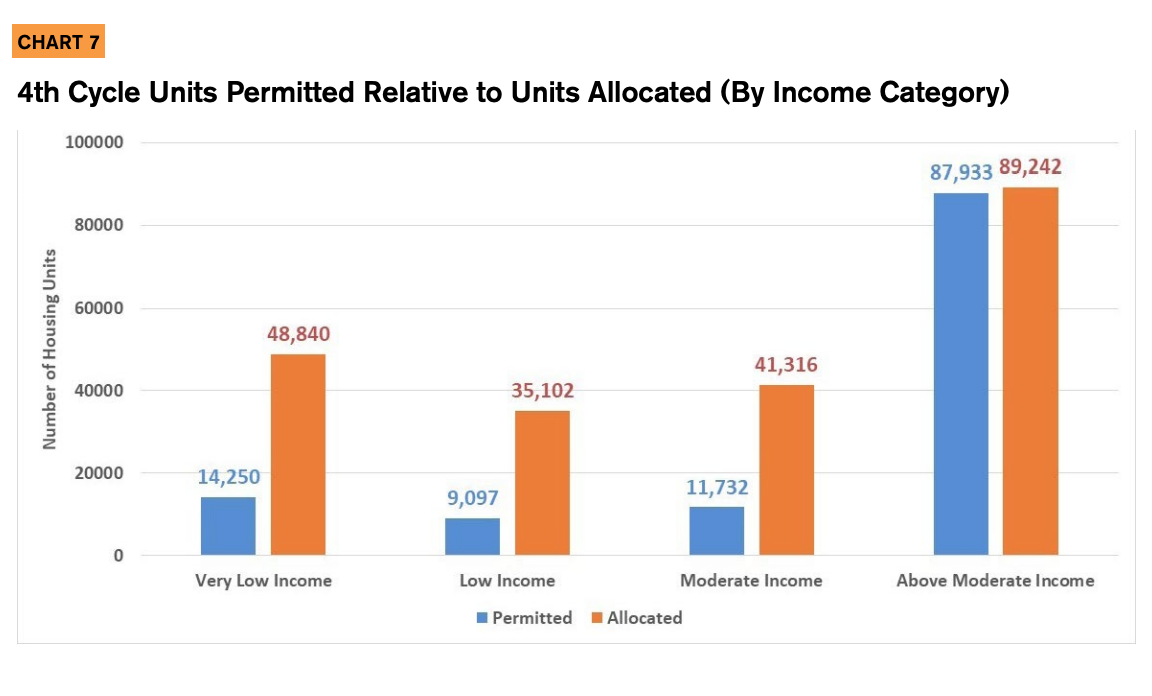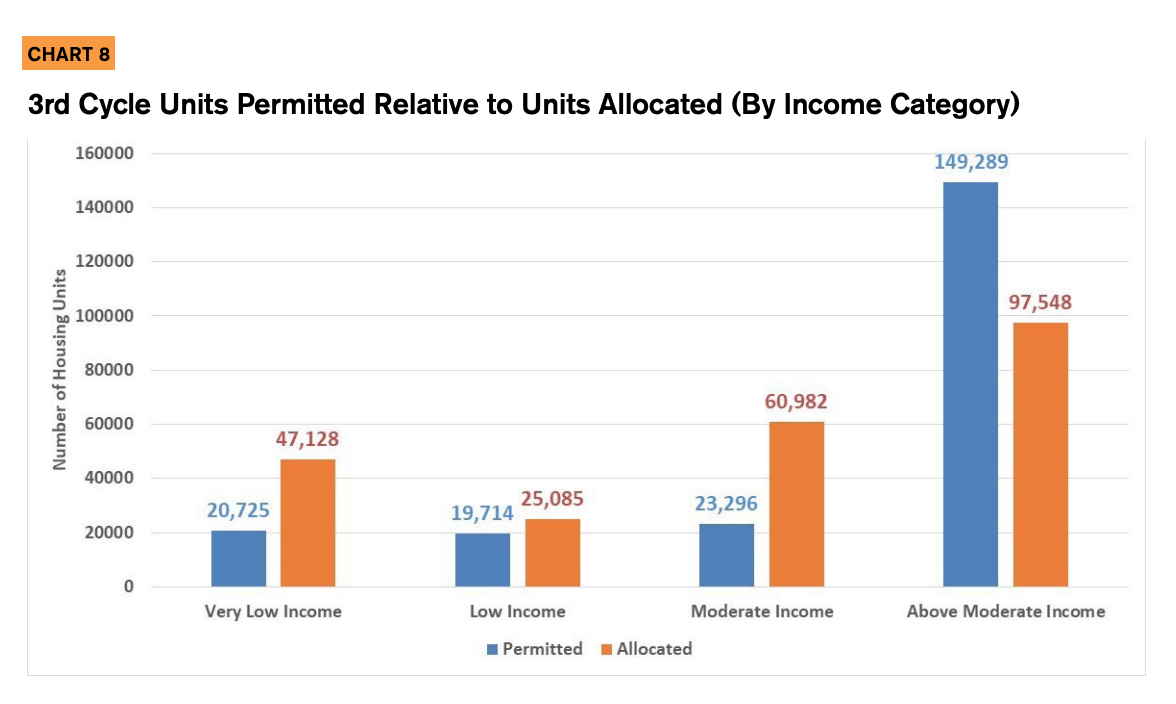 In Chart 8, we show that the number of permits issued by income category during the 3rd RHNA Cycle (1999-2006) were similar to the 4th cycle. A greater percentage of units were permitted in each income category relative to the 4th cycle, an outcome which may be largely attributable to the Great Recession coinciding with the 4th cycle years. However, in CHART 8 3rd Cycle Units Permitted Relative to Units Allocated (By Income Category) CHART 9 Percentage of Cities by Level of Allocated Moderate Income and Below Housing Units Permitted 2007–2014 (4th RHNA Cycle) the 3rd cycle, jurisdictions permitted 149,289 above moderate income units, which was 153% of the above moderate income allocation, and more than double the number of units that were permitted in all other income categories combined. Bay Area jurisdictions once again fell below their allocation targets for the moderate and below income categories.
The regional numbers above, however, obscure the variation between cities as to what percentage of their very low, low, and moderate income units they permitted. Chart 9, below, looks at the percentage of moderate, low, and very low income units that each city permitted. As seen in Chart 9, 57% of Bay Area cities permitted between 0 and 25% of the total number of units allocated across these three lower income categories during 2007-2014. Furthermore, the overwhelming majority of cities permitted less than 75% of their allocated units for these three income categories. 
The results were slightly better for the 3rd Cycle (1999-2006), as shown in Chart 10: only a third of cities permitted between 0-25% of their allocated units for moderate, low income, and very low income units. However, in both cycles it is clear that an overwhelming majority of cities are not permitting sufficient units for these three income categories.
There are several explanations for the failure to permit sufficient very low income, low income, and moderate income housing. One of the most common explanations cites market forces as the core issue: the cost of building in California is high, and developers maximize their financial returns by producing housing for the highest income earners. Additionally, concurrent with the increased need for housing affordable to moderate and lower income earners, there has been a decline in federal and state money for subsidies for below-market rate housing, and a lack of incentives for developers to reach moderate and low income earners. 
However, this data also points to an explanation for the under-permitting problem: as previously discussed, many jurisdictions do not want to build more affordable housing. Cities frequently respond to pressure from constituents not to permit additional housing during public comment periods, which means that even if the market is able to produce below market-rate development, there is increased uncertainty for real estate developers that they will actually succeed in getting permits issued. Private citizens are also able to bring the housing development process to a standstill by challenging proposed projects under California's environmental laws. Community opposition and litigation add to the timeframe for housing development and raise the cost of producing housing. It is therefore crucial to acknowledge the key role that local politics plays in constraining the regional housing supply. In comparing cities' relative success in facilitating the development of Above Moderate income housing, it is also important to recognize that land is a finite resource, and awarding permits for above moderate income housing projects precludes that land being use for projects that serve other income groups.
Permitting by Type of City
Knowing that there is a large degree of variation in cities' progress in permitting of housing units against their respective RHNAs, we asked the following research questions: (1) are cities with higher median incomes permitting lower shares of their very low income, low income, or moderate income housing? And (2) are cities with larger percentages of non-Hispanic whites permitting smaller shares of their housing? Our results showed that in general city race and income alone were not associated with cities permitting a higher share of their allocated units, with some exceptions. 
During 2007-2014 (the 4th cycle), jurisdictions with more non-Hispanic white residents were actually slightly more likely to permit their lower income housing allocations than non-white jurisdictions (r = .2642, p = .0079). Additionally, cities with higher median incomes were slightly more likely to permit higher shares of their lower income allocation than cities with lower median incomes in the 4th cycle, although the effect size was very weak (r = .1998, p = .0486). There were no relationships between city racial demographics and percent of RHNAs permitted for any other income category.
For the 3rd cycle, there were no statistically significant relationships between cities' percent non-Hispanic white population and the percent of their RHNAs permitted for any income category. Similarly, there were no relationships between city median income and the percent of units permitted for any income bracket in the 3rd cycle.
These results indicate that the variability in cities' performance in permitting their RHNA goals is not attributable to their demographic characteristics. We contend that this is because the overall allocations are the actual source of regional inequity; as a result, testing which demographic attributes correlate with the percentages of RHNAs permitted is akin to using a broken yardstick to measure cities' achievements. 
Over time, when cities that are opposed to affordable housing fail to permit their "fair shares" of lower income housing, more housing-friendly jurisdictions must pick up the slack in order to make meaningful progress towards making housing affordable for their constituents. Housing-friendly cities, as a result, are further burdened by the historical inaction of neighboring jurisdictions.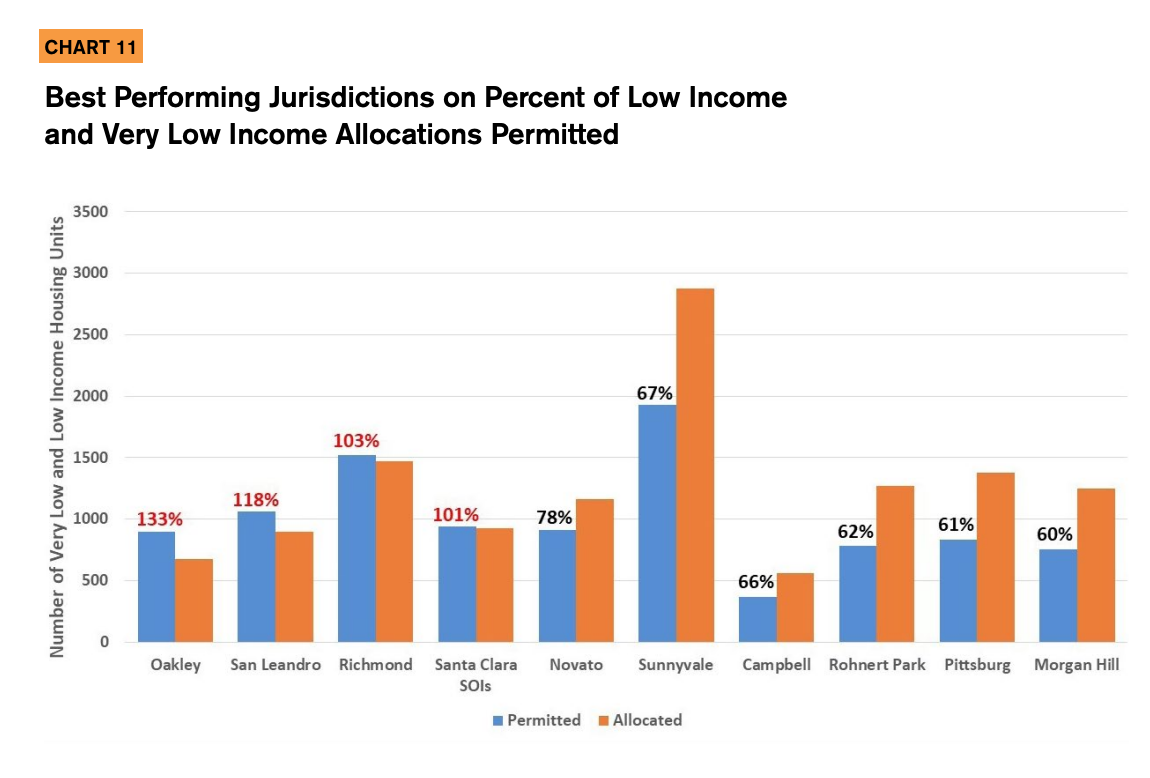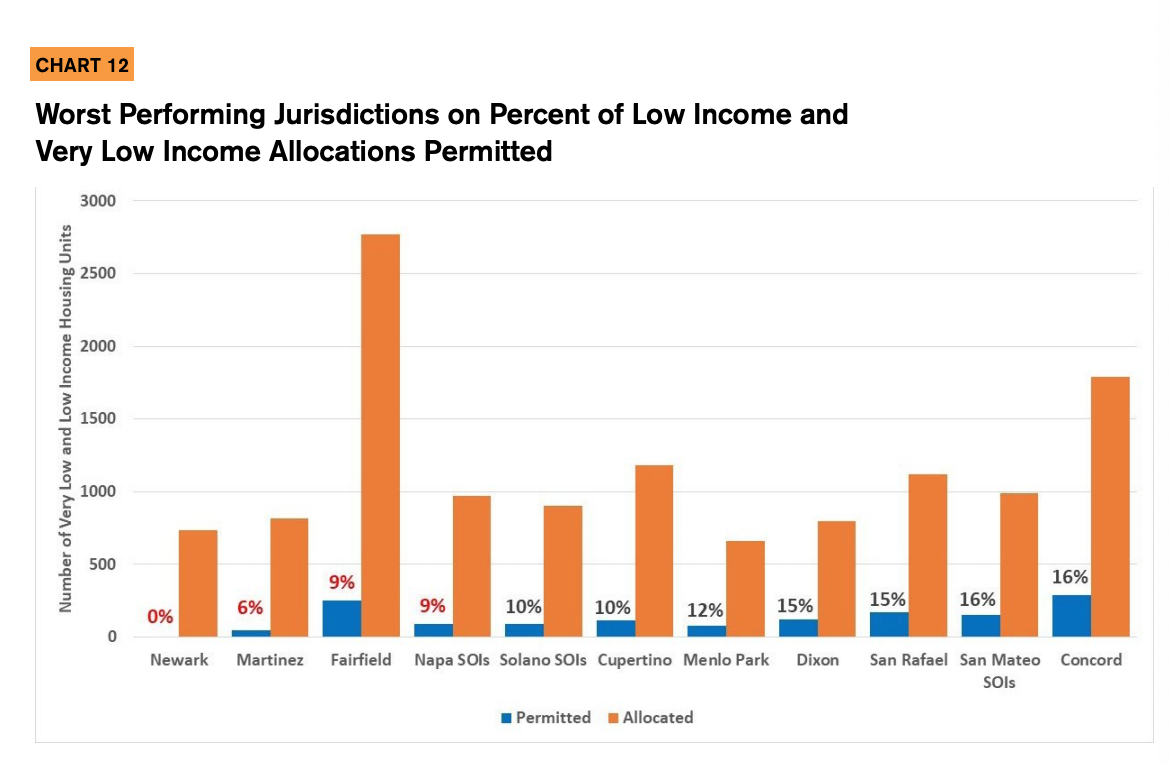 Historical Permitting: Cities with the Best and Worst Records
In this section we highlight the jurisdictions that have most effectively accomplished their housing goals for very low and low income households, and those with the worst records. We use the RHNA allocations here to measure cities' housing performance, despite the problems with the allocations discussed above, because there are no other objective benchmarks available by which to measure cities' housing outputs. 
Chart 11 shows the jurisdictions that performed strongly in permitting their low and very low income allocations during 1999 to 2014 (the 3rd and 4th cycles combined). Jurisdictions were only included in this chart if their combined low and very low income unit allocations exceeded 500 units, since it is these jurisdictions' permitting records that have a larger impact on the overall housing supply. While other cities with smaller allocations may have been able to permit more units as a percent of their allocations, these cities stand out for the high percent of units permitted despite having large allocations in two income categories that are well below the market rate value for housing, and partially during a time period that coincided with the Great Recession. Oakley, San Leandro, Richmond, and Santa Clara county spheres of influence all permitted more than 100% of their allocations, and therefore stand out as particularly committed to affordable housing development. By contrast, Novato, Sunnyvale, Campbell, Rohnert Park, Pittsburg, and Morgan Hill all fell short of their low and very low income RHNA targets by hundreds of units, yet they still performed better as compared to all other jurisdictions with large low and very low income allocations. In Chart 12, we see that the Newark, Martinez, Fairfield, Napa County spheres of influence and Solano County spheres of influence permitted few to no moderate and lower income units, drastically missing their RHNA targets.
Discussion
The relationships between city racial demographics and housing allocation numbers found in this report raise serious concerns about the process for determining housing allocations. Current legislative efforts are underway in the state capital to tighten oversight on jurisdictions and ensure that they are zoning enough land to meet their RHNA allocations. This is an important policy goal, but the results of this research show that imposing consequences on local jurisdictions who do not permit their RHNA allocations would reinforce the disparate racial impacts created by the methodology for distributing RHNA. 
ABAG's 5th Cycle methodology attempted to concentrate new housing that is affordable to low income households in areas with quality public transportation and access to jobs, which is an objective that we support and which should be prioritized in the future. However, concentrating housing development in these areas to a very high degree means that other areas of opportunity with access to jobs outside of PDA zones have been able to shirk their fair share responsibilities within their communities. Additionally, a study commissioned by MTC in 2015 determined that under current market conditions, it is infeasible for PDAs to support the amount of housing growth for which ABAG/MTC has planned.20
Methodological changes will therefore be needed to make RHNAs more equitable and to ensure that they are not in violation of the federal Fair Housing Act and state Fair Employment and Housing Act. If enforcement is tightened on jurisdictions to permit higher percentages of their allocations with no concurrent effort to adjust how these allocations are developed in the first place, the jurisdictions who will feel the greatest strain with regard to meeting the needs of Bay Area housing production will be cities with the highest non-white populations. Efforts to reform the Fair Share policy landscape should explicitly take these Fair Housing concerns into consideration. 
18. We do not systematically analyze permitting in the 5th cycle because it only began two years ago. In the 5th cycle, the limited data available on permitting so far suggests that permitting will continue to fall far short of RHNA goals for the moderate income and below catego - ries. According to a 2015 publication commissioned by MTC and ABAG, this may be in part due to the lack of capacity in PDAs themselves for building the amount of units that ABAG is established as goals (see "PDA Assessment Update" report, accessible at http://mtc.ca.gov/sites/default/files/PDA%20Assess- ment%20Update%20Final.pdf)
19. These numbers do not reflect the fact that many proposed housing projects which received permits ultimately could not be built because financing fell through as a result of the Great Reces - sion.
20. Economic & Planning Systems, Inc. (2015). "PDA Assessment Update." Accessed at http://mtc.ca.gov/sites/default/files/PDA%20Assessment%20Update%20Final.pdf