Introduction 
ON FEBRUARY 4, 2016, THE UNITED STATES and 11 other Pacific Rim nations signed the Trans-Pacific Partnership (TPP), a massive plurilateral trade and investment agreement that sets rules to which all signatory countries—pending ratification by each—must conform their domestic policies covering financial and other services, intellectual property, government procurement, internet policy, state-owned enterprises and competition, food and other product standards and safety inspections, and more. The pact is designed as an enforceable regime of trade and investment governance in the Pacific Rim that reregulatesi the economic order of signatory nations in Asia, Oceania, and the Americas, geared towards the benefit of corporate interests.
The mega-regional agreement was negotiated by Australia, Brunei, Canada, Chile, Japan, Malaysia, Mexico, New Zealand, Peru, Singapore, Vietnam, and the United States.ii Covering one-third of all world trade—with its signatory member countries producing 40 percent of global economic output—the TPP is the largest regional trade accord in history.1 And, because it is designed as a "docking" agreement, meaning other countries willing to meet its terms can join at any time, the initial 12 TPP countries are not intended to be the only signatories. 
The Trans-Pacific Partnership is one of two mega-regional trade and investment deals being negotiated simultaneously. The other is the Transatlantic Trade and Investment Partnership (TTIP)—a proposed trade and investment agreement between the United States and the European Union—which is considered to be the Atlantic counterpart of the TPP. Additionally, negotiations are underway for a major plurilateral sectoral agreement, the Trade in Services Agreement (TiSA). It includes 50 countries from across the world and would cover 70 percent of the global services economy.2iii Among the three, the Trans-Pacific Partnership is particularly significant, as it is designed to be the inaugural agreement for the proposed TPP-TiSA-TTIP triad3 , which would establish binding global rules particularly favorable for multinational and transnational corporations.iv
Underlying Assumptions vs. Reality
Supporters of Free Trade Agreements (FTAs) have often argued that the pacts' regimen of trade liberalization, investor and intellectual property rights, and regulatory policies favorable to commercial interests has far-reaching benefits.v According to the US International Trade Administration, FTAs function to open up foreign markets to US exporters and enhance investment flows to the benefit of all parties and peoples involved: "Trade Agreements reduce barriers to US exports, and protect US interests and enhance the rule of law in the FTA partner country…[via] the reduction of trade barriers and the creation of a more stable and transparent trading and investment environment."4
Furthermore, proponents of the North American Free Trade Agreement (NAFTA) and the Central American Free Trade Agreement (CAFTA) have consistently advanced such narratives.5 The Office of the United States Trade Representative (USTR) stated that the TPP is an "upgraded NAFTA" and that it would help "increase Made-in-America exports, grow the American economy, support well-paying American jobs, and strengthen the American middle class" by eliminating more than 18,000 taxes and other trade barriers on American products across the member countries of the agreement.6
Despite the claims by the US Trade Representatives and other FTAs proponents that such pacts promote progress and prosperity, our analysis in this report instead finds that the TPP presents serious challenges to the sovereignty of participating countries and the rights of their populations by increasing the relative power of corporations that, by design, are driven by profit over all else. According to Alfred-Maurice de Zayas, the United Nations Special Rapporteur on the Promotion of a Democratic and Equitable International Order, the TPP would "transfer regulations of corporations to corporations themselves, and away from democratically elected governments," with respect to labor and employment, health care and medicine, the environment, and more.7
Were it to be approved by Congress, the TPP would allow corporations greater ability to evade environmental and consumer protections, limit the availability of affordable medicines,vi regulate the Internet on behalf of the content industry, and affect the movement of workers, among other outcomes.vii The TPP would also further entrench an international legal regime that allows corporations to bypass domestic courts to challenge—before extra-judicial tribunals—non-discriminatory domestic policies and government actions that corporations believe violate their new TPP rights and privileges. 
The TPP would potentially undermine accountable and democratic governance by imposing binding rules that could not be altered due to consensus of all signatories members. Such rules could threaten a newly elected government with trade sanctions or damages for implementing policies on behalf the public they serve. Furthermore, were the TPP to be implemented, the least economically powerful of the TPP member countries—among them, Vietnam, Malaysia, Chile, and Peru—would have investment, intellectual property, trade, agriculture, procurement, and other policies foreclosed to them. 
How could such extreme terms have been negotiated? For the past seven years, the terms of the deal have been a closely guarded secret. Appointed government officials and corporate actors were given more access to the text than elected officials and the public.8 Indeed, in the United States more than 500 official trade advisors—mainly representing corporate interests—had security clearance to access the TPP text and had a special role in formulating the US positions and language for each chapter.
The development and scale of the TPP raises serious questions about how a corporate-driven, heavily privatized, and re-regulated world economy—all of which the deal promotes— would undermine public accountability, thwart democratic mechanisms, and do harm to millions of people whose lives and livelihoods would be impacted. 
Our Analysis: Corporate Influence vs. Public Good
The development and scale of the TPP raises serious concerns about how a world economy reregulated to suit corporate interests would undermine public accountability and democratic processes. These concerns prompt us to more fully analyze the context of the TPP agreement and to identify strategies for addressing the concerning trends that the TPP represents. These findings also prompt us to present these concerns to the public, which would be harmed by greater corporate control over the economic rules that have real consequences for peoples' wellbeing. 
The Haas Institute for a Fair and Inclusive Society is committed to promoting an inclusive, just, and sustainable society and we do so through conducting engaged research and employing strategic communications to address issues faced by the most marginalized populations. Our research and analysis of the TPP agreement raises serious concerns about the trade deal with respect to the following three principles:
Democratic Participation. The first among these principles is democratic participation—a response to the TPP's secrecy from the general public and elected officials, and its relative non-secrecy to corporations and appointed, non-elected government bureaucrats. With regard to such agreements, democratic participation encompasses access to key decision-makers and decision-making processes, and the ability to make meaningful contributions to the decision-making process. A central tenet of this stance is that those who have been historically marginalized from decision-making—from low-income communities and communities of color within the United States, to the most impoverished and vulnerable nations across the world—need to have greater capacity for participation in such processes. 
Transparency.viii The second among these principles is transparency, which is essential for democratic participation. Access to information motivates and empowers the general public to participate in an informed manner. This access to information is vital for holding government agencies and private corporations accountable for decisions that affect the public. Regarding the TPP in particular, transparency is crucial, as every part of society would be affected by this agreement including food safety, healthcare, the environment, migration, and the distribution of wealth, among others. 
Public Accountability. The third among these principles is public accountability, which compels us to question whether public institutions and representatives are accountable to people or to corporations. As part of the system of increasing privatization, which has taken shape since the early 1980s, the overall exercise of political power has been increasingly modeled on principles of the market-based economy. In this way, governments have become more responsive to corporate actors and interests and less to their own people. The case against the TPP must be one that holds democratic institutions and decision-makers accountable to the interests and wellbeing of the general public and not corporations.
Purpose
This report explains how the Trans-Pacific Partnership undermines these key principles. Our analysis of this trade agreement raises serious questions that should be of concern to all who are interested in working towards a free and open society—including local government officials, legal and public interest advocates, labor unions, medical and healthcare workers, environmental advocates, consumer groups, and all social justice advocates more broadly. This report provides an account of the development, scale, scope, and potential implications of the TPP, as well as accounts of ongoing opposition to the agreement. In doing so, this report addresses the ongoing corporatization of US economic, legal, and political systems, of which the TPP is a particularly egregious instantiation.
It is imperative that those interested in fair and equitable public policy are able to have adequate information and informed analyses to engage in the forthcoming US political debate about the TPP and whether it should be approved or rejected by the US Congress. As such, this report also aims to aid in a public response.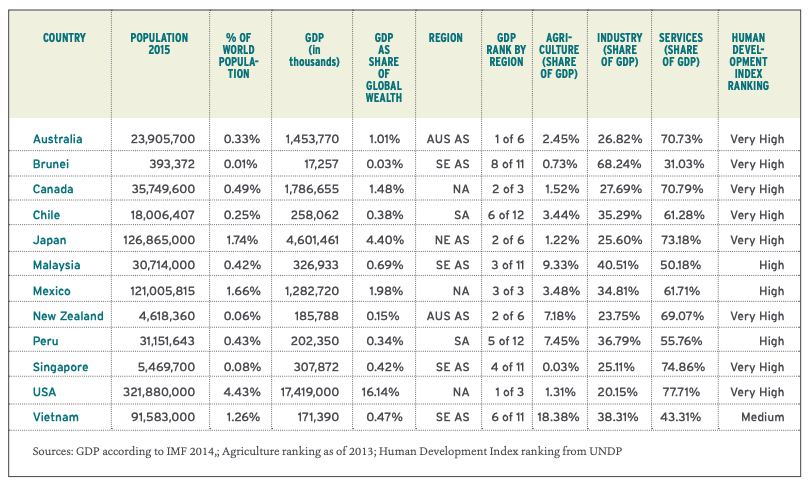 i. In this report, we use the terms "reregulated" and "reregulation" instead of the more common terms "deregulated" and "deregulation" because it is important to note that the TPP is not focused on deregulation. Rather, it is actually a proliferation of a whole new set of regulations and rules, except these rules are written to benefit corporate interests. Additionally, the term deregulation is typically used to connote freedom from government regulation, with the implication that government is doing something that we need to be "free" from. Our analysis of the TPP finds that the terms are actually a reregulation and recalibration of the rules that govern the world economy
ii. Korea, Colombia, Indonesia, and the Philippines have also publicly expressed their countries are considering joining the TPP
1. "Outlines of TPP," Office of the United States Trade Representative, n.d., https://ustr.gov/tpp/outlines-of-TPP.
2. Daniel R. Russel and Xenia Dormandy, "Transatlantic Interests In Asia" (Chatham House, London, January 13, 2014), http://www.state.gov/p/eap/rls/rm/2014/01/219881.htm.
iii. While the TPP and TTIP are trade and investment agreements that also include services, the TiSA only covers the service sector. TiSA includes rules on cross border trade in services, service sector investment, and regulatory standards.
3. "WikiLeaks' Most Wanted," WikiLeaks, n.d., https://wikileaks.org/pledge/
iv. The difference between the two is that transnational corporations are borderless and without any particular "home" country, while multinational corporations have a parent country despite having a unique selling strategy for the countries where it has investments. Use of the term "corporations" in the remainder of this report refers to both such entities.
v. Though the TPP is not primarily about trade (only 6 of its 30 chapters deal explicitly with trade), it is often regarded as such
4. "Free Trade Agreements," International Trade Administration, n.d., http://www.trade.gov/fta/.
5. "Enforcement and Compliance: How We Help Eliminate Foreign Trade Barriers," Trade Compliance Center, n.d., http://tcc.export.gov/Report_a_Barrier/how-we-workwith-you.asp.
6. "The Trans-Pacific Partnership," Office of the United States Trade Representative, accessed December 15, 2015, http://www.ustr.gov/tpp.
7. Alfred-Maurice de Zayas "TPP 'fundamentally flawed,' should be resisted-UN Human Rights Expert, https://dezayasalfredwordpress. com/2016/02/04/tpp-fundamentally-flawed-should-be-resisted-un-human-rights-expert-media-coverage/
vi. This is only part of the issue. Among the larger impacts of the TPP on medicine would be the limiting of bulk purchasing and negotiated pricing of drugs under patent, and extension of exclusivity on biosimilars.
vii. The TPP would directly control the movement of workers by allowing certain temporary entry visas for workers.
8. "Wikileaks Releases Final Negotiated Text of TPP Intellectual Property Chapter Exposing Grave Threat to Internet Freedom, Free Speech, Access to Medicine," Fight for the Future, October 9, 2015, http://tumblr.fightforthefuture.org/post/130815248738/breaking-wikileaks....
viii. The TPP forbids release of the draft texts and negotiating notes and background papers for five years after it is implemented or abandoned.