How can we ensure everyone enjoys the prosperity they contribute to? Join a new discussion series in the Bay Area featuring big ideas to tackle extreme inequality, end racial economic exclusion, and create lasting change?
Each event at the Haas Institute Thinking Ahead discussion series features: 
- Presentation
- Discussion Time
- Social Mixer with Food
PAST EVENTS
November 9, 2017
5:15pm - 6:45pm
Jonathan Smucker
Hegemony How-To: From Occupy Wall Street to Lancaster, PA
Read more about the talk here.
RSVP to the event here.
Download the flier here.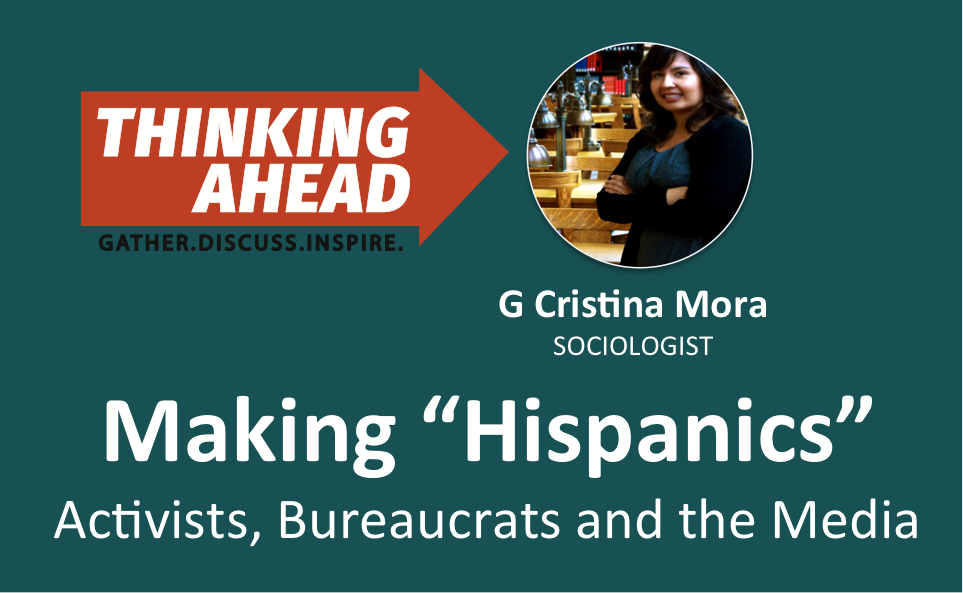 October 10, 2017
12:15pm - 1:45pm
Cristina Mora
Making Hispanics: How Activists, Bureaucrats, and Media Constructed a New American
Watch a video of the talk here.
September 14, 2017
5:15pm - 6:45pm
Karen Trapenberg Frick
Rethinking Activism: Strange Bedfellows in Digital Organizing
Read a summary of the talk here.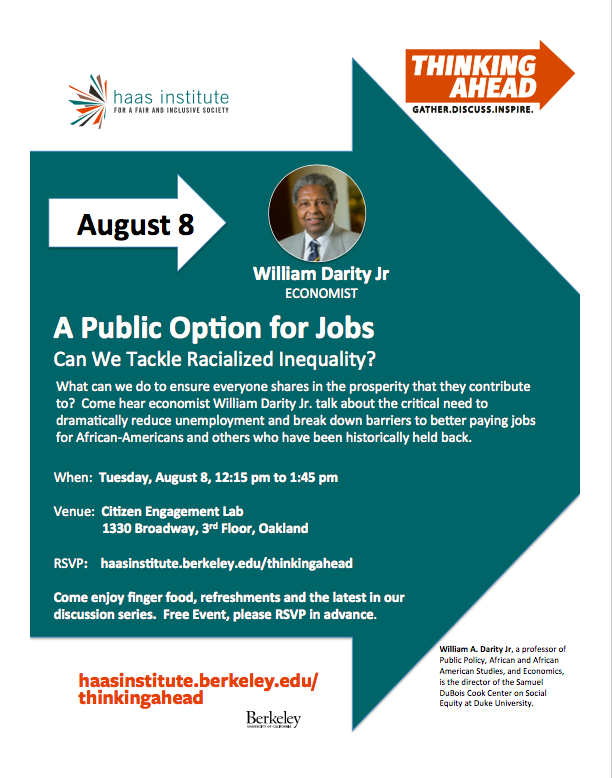 August 8, 2017
12:15pm - 1:45pm
William Darity Jr.
A Public Option for Jobs
Read a summary and watch a video of the talk here.
July 13, 2017
5:15pm - 6:45pm
Melvin Willis and Steve Early
The Making of a Progressive City
Download the flyer.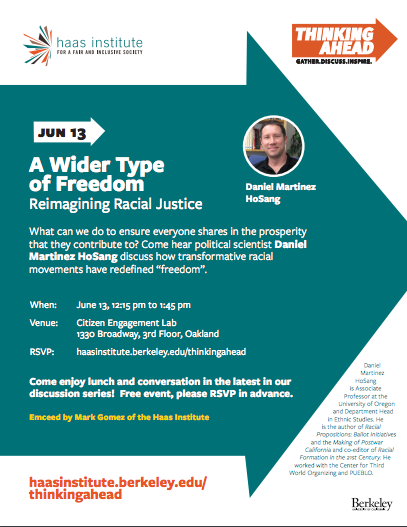 June 13, 2017
12:15pm-1:45pm
Daniel Martinez HoSang
A Wider Type of Freedom: Reimagining Racial Justice
Download the flyer. 
May 15, 2017 
5:30pm - 7pm
Sabeel Rahman, Christina Livingston, Paul Pierson, and john a. powell
From Domination to Prosperity: Building an Economy Where We All Belong
Download the flyer.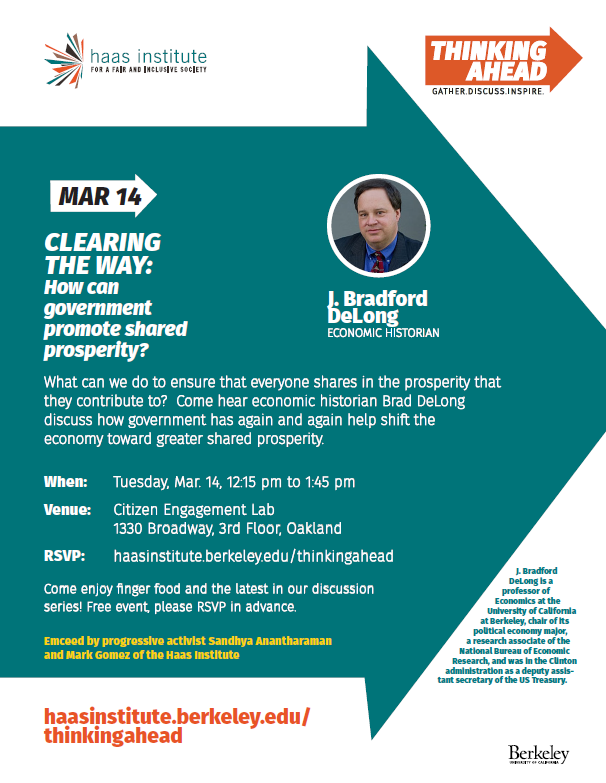 March 14, 2017
12:15 pm - 1:45 pm
J. Brad DeLong
Clearing the Way: How can government promote shared prosperity?
Download the flyer.
February 9, 2017
5:15 pm - 6:45 pm
Tom Sgouros and Wendy Ake
A Dignified Retirement: Who writes the rules?
Download the flyer.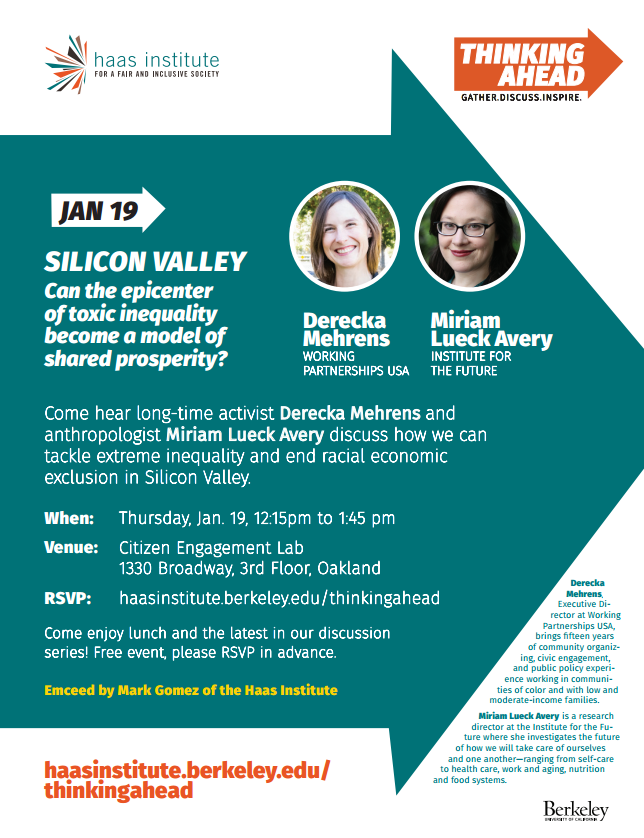 January 19, 2017
12:45 pm - 1:45 pm 
Derecka Mehrens and Miriam Lueck Avery
Silicon Valley: Can the Epicenter of Toxic Inequality Become a Model of Shared Prosperity?
Download the flyer. View D. Mehren's presentation. View M. Lueck Avery's presentation.
December 15, 2016
What can we do to ensure that everyone enjoys the prosperity they contribute to? Thought leader and advocate Anne Price discussed innovative research on extreme wealth inequality in US metro areas and how breakthrough policies, such as baby bonds, can end racial economic exclusion. Download the presentation.
September 13, 2016
12:15 pm – 1:45 pm
Universal Basic Income: Is this the way we can tackle extreme inequality?
Jim Pugh and Chris Benner lead a conversation on the universal basic income and how it can be used to tackle toxic economic inequality. This event was emceed by Claudia Jimenez, a community organizer, and Mark Gomez of the Haas Institute. View the presentation.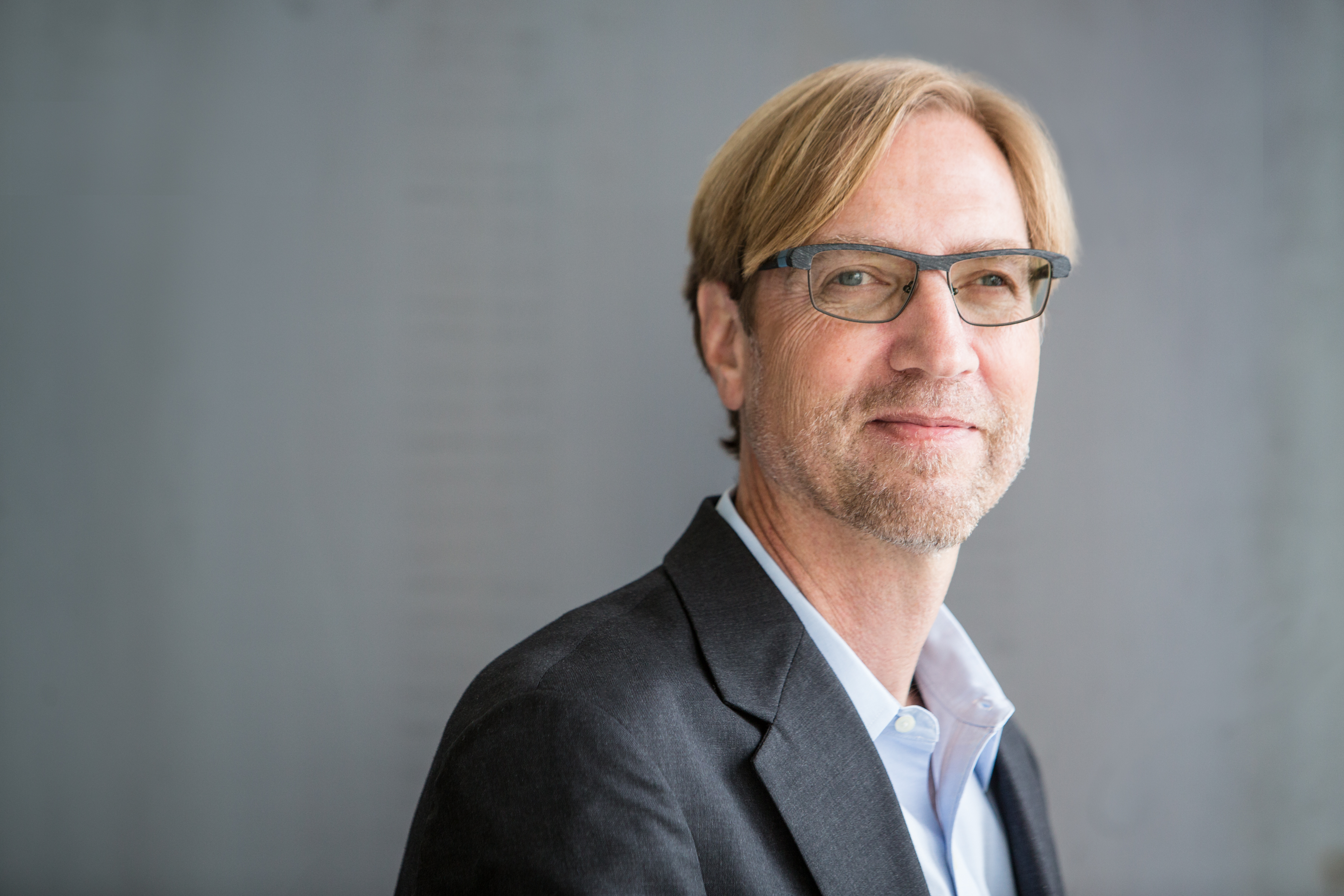 August 11, 2016
5:15 pm – 6:45 pm
Paul Pierson is a political science professor at UC Berkeley who studies the role of government in fostering extreme inequality and shared prosperity. His commentary has appeared in The New York Times Magazine, The Washington Post, and The New York Review of Books. His most recent book, co-authored with Jacob S. Hacker, is American Amnesia: The Forgotten Roots of Our Prosperity. This event was emceed by Jessica Bartholow, Western Center on Law and Poverty and Mark Gomez, Haas Institute for a Fair and Inclusive Society. View the presentation.
Steve Phillips, a civil rights lawyer and senior fellow at the Center for American Progress, draws on his extensive national political experience to unveil exactly how people of color and progressive whites add up to a new majority, and what this means for US politics and policy. Read more.