At the same time white homeowners were leaving areas of increasing diversity such as East Palo Alto, newly incorporated Bay Area suburbs provided mechanisms for local political power to keep these new communities exclusive. Periods of "white flight" accompanied the proliferation of new suburban municipalities all over the country, including in the Bay Area.257 John Powell and Kathleen Graham emphasize that federal and state governments facilitated this process by "delegat[ing] to individual municipalities the power to incorporate, tax, spend tax revenues exclusively on those who live within the municipal boundaries, and critically, to control their respective land use, primarily through the zoning power."258
Ease of incorporation leads to what social scientists call "municipal fragmentation." Municipal fragmentation describes a geographic and demographic phenomenon in which regions have many small local jurisdictions that remain independent from each other, often with local governments retaining significant authority over their taxing and planning, creating even greater independence and competition between jurisdictions.259 Regional areas experiencing municipal fragmentation are more likely to have populations that fall into jurisdictions on socioeconomic lines.260 Self describes this phenomenon in his discussion of the increase in the number of suburbs outlying Oakland in the mid-twentieth century:
Impelled by the zero-sum logic of intercity competition, city builders there [in unincorporated Alameda County] scrambled to divide up hundreds of square miles of farmland and rolling hills, a bonanza of potential factory and home sites, in a series of annexation and incorporation contests in the 1950s. In the suburban city-building environment of that decade, popular doctrine held that all available, potentially profitable land would eventually be incorporated. Property left unclaimed by one city would be annexed by a competing neighbor.
The resulting land rush, one of the most ferocious anywhere in postwar California, produces in a few short years three altogether new cities—Newark, Union City, and the sprawling Fremont—and an enlarged, reinvigorated older city, Hayward. In all, between 1951 and 1957, competitive incorporation and annexation converted Alameda County's prewar agricultural hinterland into a collection of cities bigger than Los Angeles. . . . [T]hese contests turned on fundamental questions of class, racial geography, and competing visions of the rights and responsibilities of property owners.261
Municipal incorporation offered the ability for control over the amount of taxation residents would be subject to, what services and amenities the municipality would pay for, and what kind of development would occur within its boundaries (and when). Jessica Trounstine describes this logic, writing, "Today, the most advantaged places are located outside of central cities altogether so that disadvantaged residents have no direct role to play in decisions about building affordable housing, expanding public transportation, or diversifying schools."262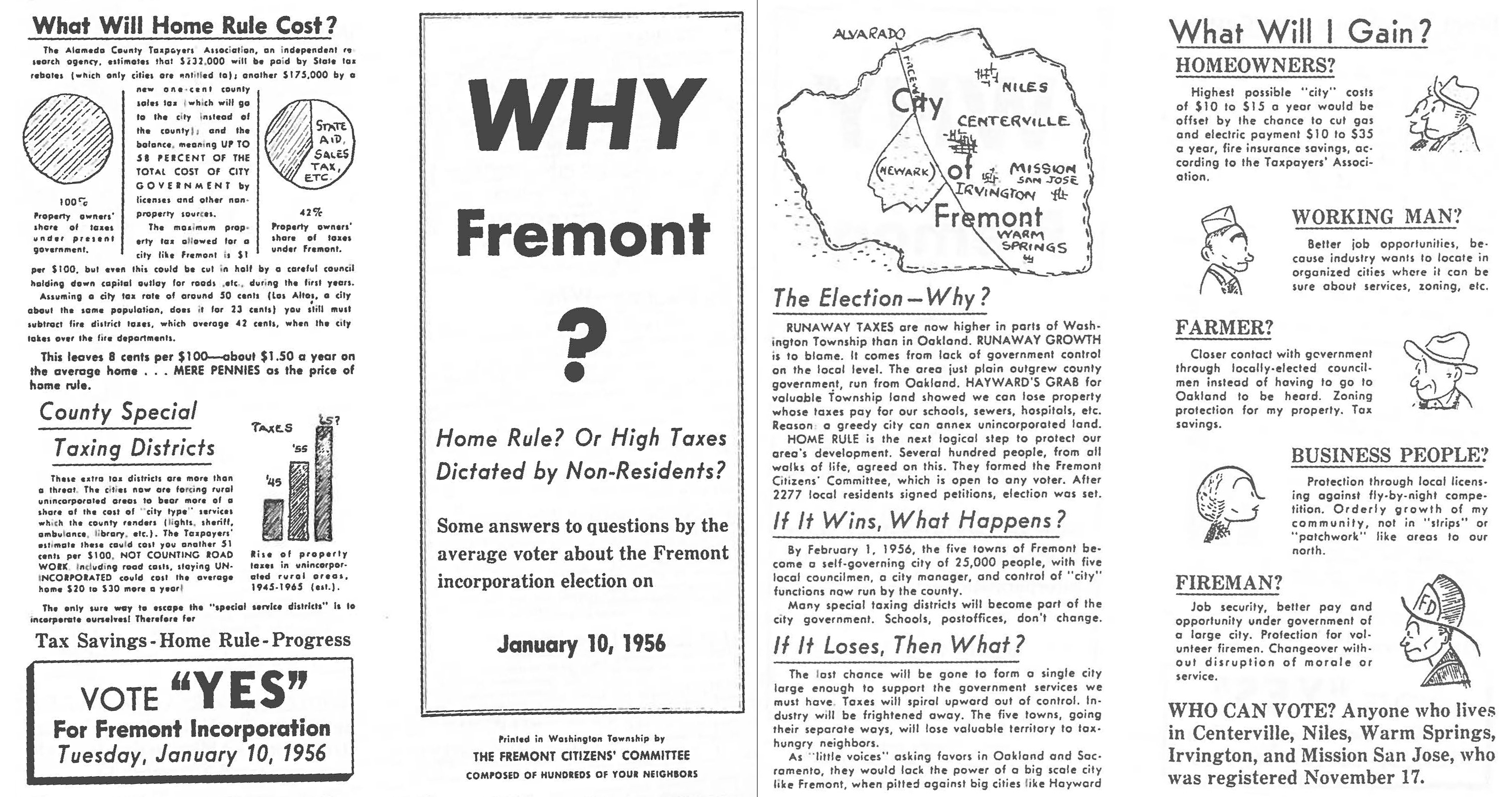 photo: A Fremont Citizen's Committee flier advocating for Fremont's incorporation. Courtesy of Mission Peak Heritage Foundation and Washington Township Museum of Local History.267
In what is now Fremont, residents rallied for the incorporation of the city in the 1950s, emphasizing their desire for low taxes and controlled growth.263 After the city incorporated in 1956, it embarked on a planning strategy that limited housing development by using zoning regulations to increase the costs and approval barriers to large housing developers. Simultaneously, they ensured that enough land was zoned for industrial development so as to lure commercial and industrial businesses.264 These new industrial zones could compete with existing industrial space in Oakland, leading to a massive shift in tax revenue from the city to the suburbs as, for example, General Motors left Oakland for Fremont.265 As housing development remained constrained, the local government created a city "where most of [the] workers couldn't afford to live."266
Municipal incorporation reinforced racial stratification. When capital left the urban core of the East Bay for places like Fremont, most residents of color were unable to follow it. In 1950, Richmond had 80,000 white residents. Within a decade that number had fallen to 56,000 while the African American population slightly increased.268 On the receiving end of white flight, Fremont more than doubled in population within 15 years of its incorporation, yet it remained 97 percent white.269 This pattern, which was driven by "the federal subsidy to move, combined with the local power to exclude," typified postwar suburban incorporation and development that effectively "drew white people and opportunity from the city while walling in people of color with constantly diminishing resources."270 Racial exclusion and a desire for greater municipal amenities and lower taxes were bound together in the minds of hopeful white homeowners.271272
In other instances, areas remained unincorporated and without a municipal government, such as the case with North Richmond. North Richmond was one of the few areas of Richmond where African Americans were permitted to live through the 1940s. Although it lacked paved streets and public lighting, and was prone to flooding, it became a bustling African American community and famed source of blues music. When incorporation of North Richmond was proposed in 1948 by the Richmond Chamber of Commerce, the plan called for demolition of substandard housing and resale to "private interests."273 The plan was voted down by the Richmond city council and North Richmond remains unincorporated today.
257. john a. powell and Kathleen M. Graham, "Urban Fragmentation as a Barrier to Equal Opportunity," Report of the Citizens' Commission on Civil Rights; Rights at Risk, Equality in an Age of Terrorism (2002), 79, 85.
258. john a. powell and Kathleen M. Graham, "Urban Fragmentation as a Barrier to Equal Opportunity," 85.
259. Rebecca Hendrick and Yu Shi, "Macro-Level Determinants of Local Government Interaction: How Metropolitan Regions in the United States Compare," Urban Affairs Review 51, no. 3 (2015): 417.
260. Ibid
261. Self, American Babylon, 120
262. Trounstine, Segregation by Design. 25-27
267. Oral History Associates, City of Fremont: The First Thirty Years (Mission Peak Heritage Foundation, 1989), 33-34.
263. Self, American Babylon, 121 and 124
264. Ibid., 125-27.
265. Ibid., 126 and 171
266. Ibid., 127.
268. US Census Bureau, 1950 and 1960 Decennial Census, retrieved from Association of Bay Area Governments, Bay Area Census, http://www.bayareacensus. ca.gov/cities/Richmond50.htm
269. US Census Bureau, 1970 Decennial Census, retrieved from Association of Bay Area Governments, Bay Area Census, http://www.bayareacensus.ca.gov/cities/ Fremont70.htm.
270. john a. powell and Kathleen M. Graham, "Urban Fragmentation as a Barrier to Equal Opportunity," 79-80, 81.
271. Ibid., 81.
272. Self, American Babylon, 259
273. Moore, To Place Our Deeds, 100