With plans to replace temporary war housing with permanent public housing effectively shelved, cities proceeded with demolition and federally funded urban renewal in the postwar era that displaced thousands and particularly devastated major centers of Black culture and community, such as the Fillmore District in San Francisco and West Oakland. Due to these consequences, urban renewal became known nationally as "Negro removal."
In the 1950s, economic interests and investment fueled displacement through eminent domain, a process in which local redevelopment agencies condemned areas as "blighted" and seized properties from homeowners and tenants within blighted areas in order to facilitate demolition. The Oakland Planning Commission declared all of West Oakland as blighted and set in motion a neighborhood renewal plan to clear the way for new middle-income homes and industry. While poor housing conditions were a reality, they were the direct result of segregation, institutional disinvestment, and discriminatory lending practices that restricted access to loans for home improvement and maintenance.197 With the goal of increasing property values and attracting investment downtown, urban renewal in Oakland also involved the construction of three major interstate highways (the Nimitz/I-880, Grove Shafter/I-980, and MacArthur/I-580) and later a Bay Area Rapid Transit (BART) rail line, which destroyed entire blocks of homes and thriving commercial districts. While the plans for the highways were designed by the State Department of Public Works, the Oakland City Council selected the exact routes by 1958.198 In total, between 6,600 and 9,700 housing units were demolished between 1960 and 1966, displacing over 10,000 people from West Oakland.199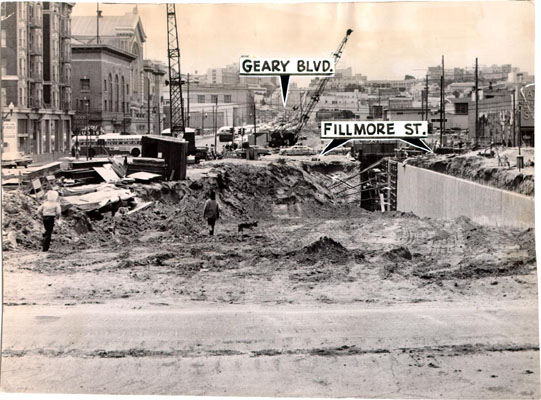 photo: As part of the San Francisco Redevelopment Agency's "slum clearance" effort, buildings in the Western Addition were razed with no intent to rebuild for displaced residents. Courtesy of San Francisco History Center, San Francisco Public Library.204
In San Francisco, urban renewal targeted the Western Addition, which included most of Japantown, and by the 1950s was where the largest concentration of African Americans in the city resided. Evictions from a 28-block area of the Western Addition began in 1958. By 1960, 8,000 individuals, most of whom were Black or Japanese American, were displaced to clear the way for new development and greater access to downtown for commuters from the northwestern part of the city.200 After his retirement, the former San Francisco Redevelopment Agency deputy executive director and Western Addition Area Director Gene Suttle plainly stated, "One of the purposes of renewal when it was called slum clearance was not only to get rid of the people and the structures but to make sure those blighting influences didn't come back. And so there was no intent to rebuild for the kind of people who were being displaced."201 Many of those displaced had nowhere to go. A San Francisco Redevelopment Agency survey showed that 34 out of every 35 apartments in the city prohibited African Americans, and the housing that was available was typically segregated, substandard, and expensive.202 In the latter half of the 1960s, a second phase of redevelopment in the Western Addition covering 276 acres displaced an estimated 13,500 people, many of whom were originally displaced from the earlier phase of redevelopment.203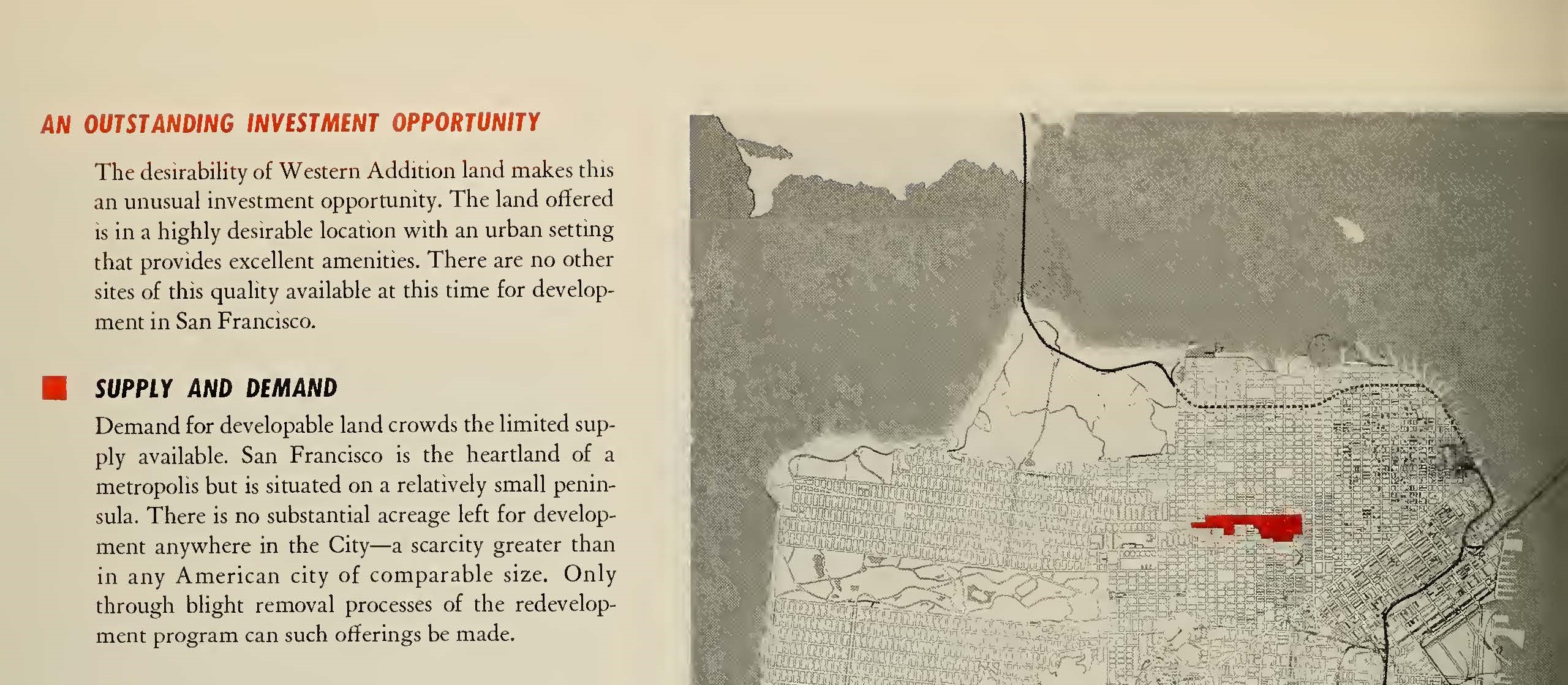 photo: Excerpt from a page from the San Francisco Redevelopment Agency's 1960 brochure advertising land for sale in the Western Addition through the urban renewal program. Courtesy of San Francisco History Center, San Francisco Public Library.205
Urban renewal projects also displaced communities of color in the South Bay. Santa Clara County officials directed three interstate highways and an expressway through east San Jose, which "involved the bulldozing of entire neighborhoods with high concentrations of Spanish-speaking people."206 While the law required replacement of demolished homes, by the late-1960s, local authorities had built only one unit for every 10 demolished.207 Throughout the Bay Area, the majority of new housing on the land cleared through urban renewal was privately developed, market-rate housing unaffordable to displaced former residents.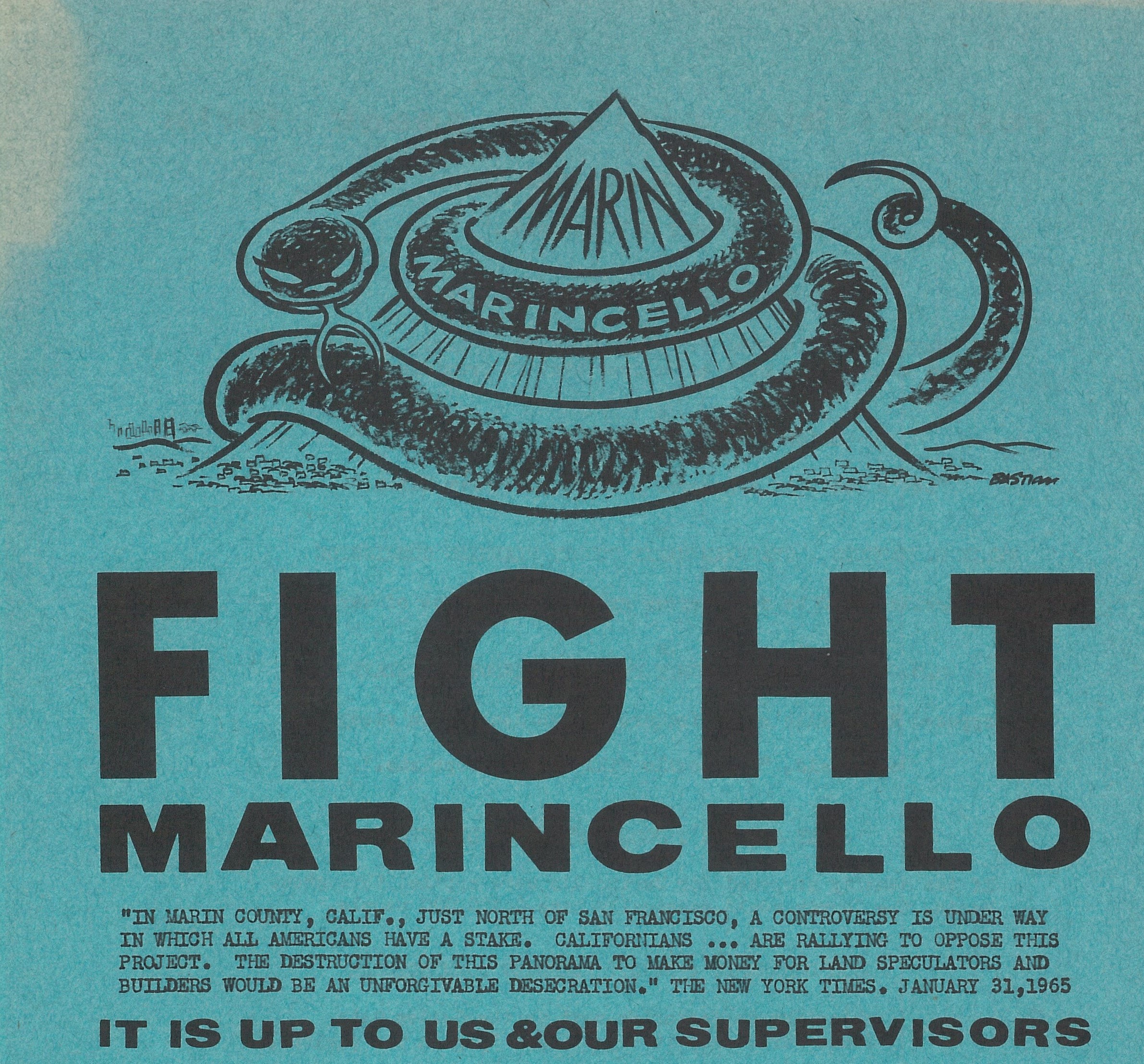 photo: An image from a 1965 flyer protesting the Marincello Master Plan.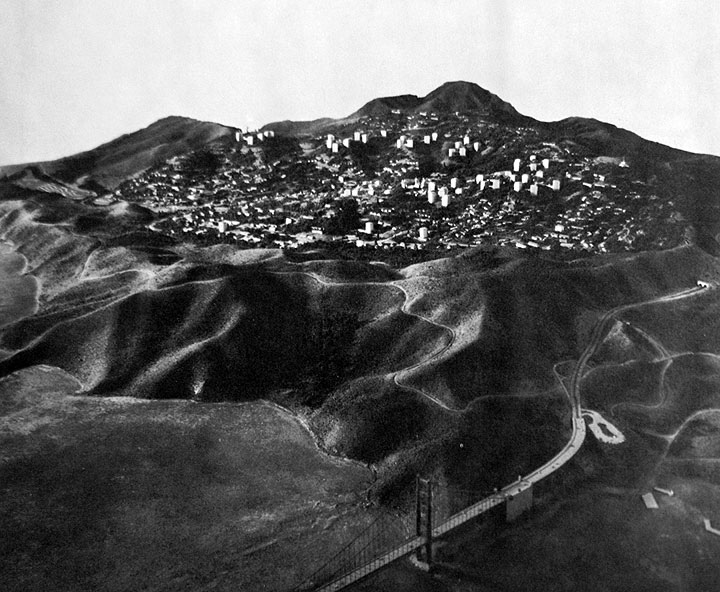 photo:  A rendering of the unbuilt Marincello development. Courtesy of the Golden Gate National Recreation Area Park Archives, Katharine Frankforter Papers, GOGA 27066, and Interpretation Negative Collection, GOGA-2316.
While low-income residents of color lacked the political power to preserve their homes and neighborhoods from urban renewal, wealthy white communities in Marin County successfully blocked infrastructure (including a BART line) and development proposals that they viewed as a threat to their property values and lifestyles.208 In 1966, a coalition of property owners, local government officials, and conservationists fought off a trans-bay road that would run from San Francisco to Point Reyes, which developers saw immense potential in. Historian Louise Dyble notes that developers rushed to secure approval for residential subdivisions,209 including a new 2,100-acre city of "Marincello" that would have included 50 apartment towers as well as single-family homes, low-rise apartments, and townhouses to accommodate 30,000 new residents.210 Dyble refers to the campaign as a "revolt against sprawl" that galvanized an exclusionary "growth control" movement that dominated local politics and planning in Marin County for decades to come.211 As a result, nearly all development came to a halt, and the county's growth rate fell from 113 percent in the 1940s and 1950s (when its rate of growth ranked third among the nine Bay Area counties)212 to 42 percent in the 1960s, then to less than seven percent in the 1970s.213 After state and federal fair housing laws were passed in the late-1960s, Marin County led the country in enacting some of the most stringent growth control measures in the name of environmentalism, including a 1973 general plan that reserved over half of the county's land for agriculture and recreation.214 The vastly different trajectory of postwar development in Marin County demonstrates the tremendous differential of political power between low-income communities of color and wealthy white communities, which contributed to lasting regional patterns of racial exclusion.
197. Self, American Babylon, 142.
198. Ibid., 150
199. Ibid., 155
204. Left: "Crane smashes against a dwelling in the Western Addition," August 11, 1958, photograph,San Francisco Historical Photograph Collection, AAK1461, San Francisco History Center, San Francisco Public Library, http://sflib1.sfpl. org:82/record=b1040341. Right: George Place, San Francisco News-Call Bulletin, "Construction at Geary and Fillmore," June 30, 1960, photograph, San Francisco Historical Photograph Collection, AAC1917, San Francisco History Center, San Francisco Public Library, http://sflib1.sfpl. org:82/record=b1016813.
200. Ibid.,114
201. Ibid.,109.
202. Ibid.,117
203. Ibid.,120.
206. Cavin, "A Right to Housing in the Suburbs," 430
207. Ibid.
208. Louise Nelson Dyble, "Revolt Against Sprawl: Transportation and the Origins of the Marin County Growth-Control Regime." Journal of Urban History 34, no. 1 (November 2007): 39, https://doi. org/10.1177/0096144207308049.
209. Dyble, "Revolt Against Sprawl," 41.
210. John Hart, "How Grit and Grace Saved Marincello," Bay Nature, accessed August 12, 2019, https://baynature.org/article/ saved-by-grit-and-grace/.
211. Dyble, "Revolt Against Sprawl," 38.
212. Ibid., 40
213. Richard A. Walker, The Country in the City: The Greening of the San Francisco Bay Area (Seattle: University of Washington Press, 2009), 93
214. Benjamin Ross, Dead End: Suburban Sprawl and the Rebirth of American Urbanism (Oxford University Press, 2015), 91.