Concentrated Wealth and Poverty
The racialized concentration of wealth and poverty in the San Francisco Bay Area today is a direct descendent of history. Segregation was lucrative for the white real estate brokers, investors, and homeowners who participated in or benefited from it. The wealth generated through decades of these tactics exacerbated racial economic inequality with double force—removing wealth from communities of color and adding it to white communities. White communities were then able to invest this wealth in education, property, and other ventures that could provide future returns. Segregation created barriers to homeownership for African Americans and other people of color, but it also limited the values of the homes owned by people of color because they were located in areas with lower rates of appreciation. The geography of segregation also limited employment opportunities. For instance, after World War II, the Ford Motor plant moved from Richmond to Milpitas, where the Black workers could not relocate because of its racial residential segregation. Data from the Bay Area Equity Atlas reflect the continuing disparities in access to opportunity: 52 percent of the Bay Area's white residents live in either high-resource or the highest-resource neighborhoods, compared to only 16 percent of Black residents. Ten percent of the region's Black residents live in "high segregation and poverty" neighborhoods, while another 52 percent live in low-resource neighborhoods.274
Gentrification and Displacement
Racial disparities in wealth and access to opportunity, as well as disinvestment in historic communities of color, left these neighborhoods vulnerable to later cycles of displacement and dispossession that continue today. This impact can be observed in the current conditions in areas marked as "hazardous" by the HOLC in its redlining maps of the 1930s, which provide a snapshot of overlapping national and local forces of exclusion at the time. An analysis of the redlining maps by researchers at the Urban Displacement Project at UC Berkeley finds that the vast majority (87 percent) of San Francisco neighborhoods currently experiencing gentrification were rated as "hazardous" or "definitely declining" by HOLC.275 They find similar patterns in the East Bay and San Jose, where 83 percent and 87 percent, respectively, of gentrifying areas were rated as "hazardous" or "definitely declining."276
According to researchers at Urban Habitat, current processes of gentrification and displacement are creating new patterns of segregation, with disproportionate shifts of Black and Latinx populations outward to the region's fringe as the core grows more unaffordable.277 The same redlined neighborhoods were also among the hardest hit by the foreclosure crisis, as mortgage lenders targeted communities of color with predatory subprime loans, a practice referred to as reverse redlining. Investigations, including one from 2013 of the Richmond and Vallejo metropolitan statistical areas by Fair Housing Advocates of Northern California, have shown that as banks repossessed foreclosed properties, they failed to maintain and market these houses in the same manner as they did in predominantly white neighborhoods.278
In the wake of the foreclosure crisis, private equity and investment firms purchased thousands of foreclosed properties in neighborhoods of color, converting them to rental units, maximizing profits through constant rent increases, and aggressively evicting tenants who are often unable to afford the increased housing costs.279 In March 2019, United Nations human rights officials denounced these racially discriminatory and extractive practices of commodifying homes for undermining the human right to housing.280
Lasting Effects on Public Health
Segregation in housing concentrated people of color in areas closer to the harm of hazardous land uses like heavy industry and hazardous materials facilities. Communities of color have long fought against the siting of hazardous land uses like toxic landfills, incinerators, and industrial plants in their neighborhoods, giving birth to the environmental justice movement. Early studies in the 1980s confirmed that race was highly correlated with the location of commercial hazardous waste facilities.281 More recent studies have confirmed that communities of color continue to have greater concentrations of hazardous materials, after controlling for socioeconomic status and other factors.282
Racial exclusion in housing has had lasting effects on access to public infrastructure and amenities like parks, health service providers, and other resources. This inequitable geography of burdens and benefits has led public health experts to point out that a person's zip code is one of the best predictors of life expectancy,283 and part of why there are persistent racial inequities in health.284 An extensive body of literature has confirmed the power of neighborhood conditions to influence health,285 economic mobility,286 and other life outcomes. The trauma of racial terror, like lynchings, militia violence, and related threats, also has lasting effects on health that too often go without recognition.287 Recent studies have also found that displacement and the stress of housing instability can cause severe harm to one's physical and mental health.288
Echoes of Past Racial Narratives
The narratives that attempted to rationalize racial exclusion of the past echo today in campaigns against protections for low-income renters, funding and permits for affordable housing, zoning decisions, and beyond. Comments often reflect a sense of entitlement to unbridled profits from property ownership, and the judgment that an increased presence of low-income people of color will compromise these economic benefits. The following statement, which was submitted online in response to the Marin Independent Journal's reporting on Fair Housing of Marin's activities, hearkens back to the mid-twentieth century rhetoric regarding public housing that led to the passage of Proposition 10 in 1950:
What is affordable housing? It is government-subsidized housing PROJECTS. I remember the project housing in Philadelphia where I grew up. I remember project housing in San Francisco where I went to school. We have had a taste of what this brings in Novato recently, people shot while sitting in a car in the Safeway parking lot, assaults, drugs, gangs, graffiti. The market is fair. Social planners are utopians who will destroy our way of life and the value of our property. But they will feel good about it.289
Recognition of the "social planning" that produced segregation in the first place is missing. A racial "other" is seen as a threat, government is viewed as unjust when it advances inclusiveness, and property rights and unfettered profits are upheld as sacred.
Discrimination Continues
Racial discrimination by real estate agents, lenders, and homeowners continues today. The fair housing group Project Sentinel settled a case in 2016 against an apartment complex in Santa Clara after claiming that the complex had refused to accept Mexican forms of identification, among additional forms of discrimination, against applicants of Mexican national origin.290 A recent survey in Sonoma County found that a quarter of residents had experienced discrimination in the rental market. Hispanic families had been denied rental opportunities by landlords stating that they would not rent to single parents with children.291 Another recent study analyzed whether African Americans in Sonoma County were denied housing at higher rates than white callers based on their voices. Sixty-eight percent of calls resulted in at least some differential treatment favoring whites.292 In a similar study in Marin County, Black callers received fewer returned calls, less advantageous terms and conditions, and higher quotes for rent.293 East Bay residents report instances of discrimination in housing based on race today as well. In Contra Costa County, a majority of surveyed legal service providers, professional associations, and housing authorities reported having clients who experienced housing discrimination. In 47 percent of those cases, race was the reason for such discrimination, and in 37 percent of cases, national origin was cited.294 Similar results were found in a review of fair housing complaints in Alameda County from 2009 to 2014. In those cases, discrimination based on race comprised 30 percent of complaints.295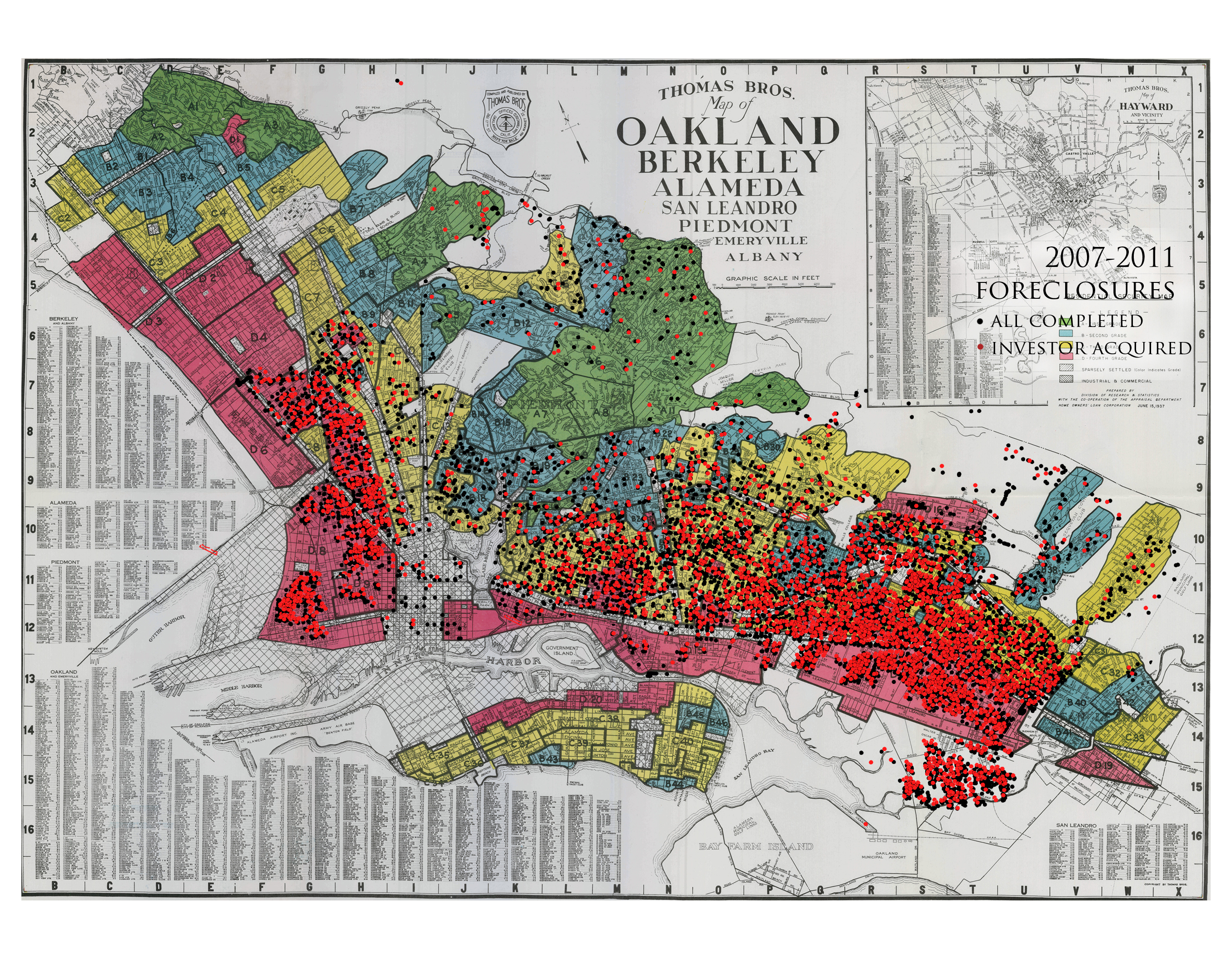 photo: Each dot on this map represents an Oakland property that was foreclosed on between 2007 and 2011. Those marked in red represent foreclosed properties that were later acquired by investors. The vast majority of foreclosures occurred in formerly redlined areas, shaded in this 1937 HOLC map in red ("hazardous") or yellow ("definitely declining"). Image credit: Evan Bissell
"Colorblind" Exclusionary Policies
Implicitly discriminatory or "colorblind" forms of exclusion continue to perpetuate racial inequity in housing and beyond, decades after state and federal laws banned discrimination. Euclidean zoning has become normalized to the degree that it is simply known as zoning, and many Bay Area jurisdictions continue to employ it in an exclusionary manner. Zoning codes frequently establish districts exclusively for single-family homes, in which large lot sizes and setbacks, and low building heights are required.296 Whether intentional or not, protecting such uses tends to result in "large, expensive homes being the only feasible development option."297 Because racial disparities in wealth have been continuous, a lack of affordable housing options works to exclude people of color, particularly African Americans. Further local government regulation of residential subdivisions and municipal growth, such as establishing a cap on the number of housing units a municipality can permit in a year or enacting a moratorium on building, may have similar exclusionary effects.298 In the twentieth and twenty-first centuries, these tools have made multifamily and affordable housing difficult to build in wealthy, white enclaves.
274. Bay Area Equity Atlas, "Neighborhood Opportunity," Bay Area Equity Atlas, accessed August 12, 2019, https://bayareaequityatlas.org/indicators/neighborhood-opportunity#/.
275. Miriam Zuk & Karen Chapple, "Redlining and Gentrification," Urban Displacement Project, 2015, https://www.urbandisplacement.org/redlining.
276. Ibid.
277. Tony Roshan Samara, Race, Inequality and the Resegregation of the Bay Area (Urban Habitat, 2016), https://urbanhabitat.org/ sites/default/files/UH%20Policy%20 Brief2016.pdf.
278. Fair Housing Advocates of Northern California. June 26, 2018. "Civil Rights Organizations Accuse Bank of America of Housing Discrimination in 37 Metropolitan Areas." http://www.fairhousingnorcal.org/ uploads/1/7/0/5/17051262/fhanc_bank_ of_america_final_pr_6-26-18.pdf
279. Surya Deva and Leilani Farha to the United States of America, March 22, 2019, https://www.ohchr.org/Documents/Issues/Housing/Financialization/ OL_USA_10_2019.pdf
280. Ibid
281. U.S. General Accounting Office, Siting of Hazardous Waste Landfills and Their Correlation with Racial and Economic Status of Surrounding Communities (1983). Commission for Racial Justice, United Church of Christ, Toxic Wastes and Race roots, race, and place in the United States (1987).
282. Paul Mohai and Robin Saha, "Racial inequality in the distribution of hazardous waste: a national-level reassessment." Social Problems, 2007; 54 (3): 343-370
283. Robert Wood Johnson Foundation, "Could where you live influence how long you live?" accessed July 22, 2019, https:// www.rwjf.org/en/library/interactives/ whereyouliveaffectshowlongyoulive.html.
284. Sharon Stein Merkin, Ricardo Basurto-Dávila, Arun Karlamangla, Chloe E. Bird, Nicole Lurie, Jose Escarce and Teresa Seeman, "Neighborhoods and Cumulative Biological Risk Profiles by Race/Ethnicity in a National Sample of U.S. Adults: NHANES III," Annals of Epidemiology 19, no. 3 (March 2009): 194–201, https://doi.org/10.1016/j. annepidem.2008.12.006
285. Elizabeth Arias, Loraine Escobedo, Jocelyn Kennedy, Chunxia Fu and Jodi Cisewki, "U.S. Small-Area Life Expectancy Estimates Project: Methodology and Results Summary," Vital and Health Statistics. Series 2, Data Evaluation and Methods Research, no. 181 (September 2018): 1–40.
286. Raj Chetty, Nathaniel Hendren, Patrick Kline, and Emmanuel Saez, "Where is the Land of Opportunity? The Geography of Intergenerational Mobility in the United States," National Bureau of Economic Research Working Paper Series, 2014.
287. Equal Justice Initiative, Lynching in America: Confronting the Legacy of Racial Terror.
288. Bay Area Regional Health Inequities Initiative. "Displacement Brief," February 2016, http://barhii.org/wp-content/ uploads/2016/02/BARHII-displacement-brief.pdf.
289. Caroline Peattie and Jessica Tankersley, Marin County Analysis of Impediments to Fair Housing Choice (Marin County, 2011), chapters 3 and 10.
290. National Fair Housing Alliance, The Case for Fair Housing: 2017 Fair Housing Trends Report (2017), 91.
291. BBC Research & Consulting, Sonoma County Regional Analysis of Impediments to Fair Housing Choice (Sonoma County, City of Santa Rosa & City of Petaluma, California, 2012), Executive Summary, 3-6.
292. BBC Research & Consulting, Sonoma County Regional Analysis of Impediments to Fair Housing Choice, Section iv, 1.
293. Peattie and Tankersley, Marin County Analysis of Impediments to Fair Housing Choice, Chapter 3, 12-13. Note: Fair housing testing done via telephone relies on people's assumptions regarding the race of the caller. Linguistics experts have found that people called correctly identify the race of the speaker about 80 percent of the time, allowing fair housing organizations and researchers to rely on voice and accent recognition to conduct testing studies.
294. Contra Costa County Consortium, Analysis of Impediments to Fair Housing Choice (2016), 105.
295. BAE Urban Economics, Alameda County Home Consortium Analysis of Impediments to Fair Housing Choice (2015), iv
296. Ziegler, Rathkopf's The Law of Zoning and Planning.
297. David Ray Papke, "Keeping the Underclass In Its Place: Zoning, the Poor, and Residential Segregation," The Urban Lawyer 41, no. 4 (Fall 2009): 793, https:// scholarship.law.marquette.edu/facpub/459.
298. Michael C. Lens and Paavo Monkkonen, "Do Strict Land Use Regulations Make Metropolitan Areas More Segregated by Income?," Journal of the American Planning Association 82, no. 1 (2016): 11.