Throughout the late-nineteenth and mid-twentieth centuries, white property owners and subdivision developers wrote clauses into their property deeds forbidding the resale and sometimes rental of such property to non-whites, particularly African Americans.139 This approach was endorsed by the federal government and the real estate industry at least through the 1940s, and in many cases was required by banks and other lending institutions.140
photo: An aerial view of San Lorenzo Village in 1950, which included nearly 1,500 single-family homes. Construction of the white-only subdivision began in 1944, in anticipation of the postwar increase in housing demand. Courtesy of the Hayward Area Historical Society Archives.
Racially restrictive covenants were common across the Bay Area. The first homes in the subdivision of Westlake in Daly City were sold in 1949 and included a racial covenant that covered all properties in the development. The FHA insured the development even though it had stated publicly that the agency would not insure developers who excluded African Americans from their subdivisions.143 Similarly, when developers broke ground on the unincorporated community of San Lorenzo in 1944, a covenant excluding all but white residents covered the entirety of the development. The San Lorenzo Village Homes Association enforced these restrictions.144 Discrimination by agreement continued even after the Supreme Court ruled that racially restrictive covenants were unenforceable in 1948. Civil rights attorney Loren Miller lamented in 1960 that "three decades of unconstitutional judicial enforcement of covenants had frozen them into business practices, public thinking, and public morality."145 Furthermore, as historian George Lipsitz details, "people denied the opportunity to buy a home (and thus accumulate assets) because of an illegal restrictive covenant...had to bear the brunt of challenging it themselves. They had to initiate legal action and bear the complete cost and burden of seeking to have the law enforced."146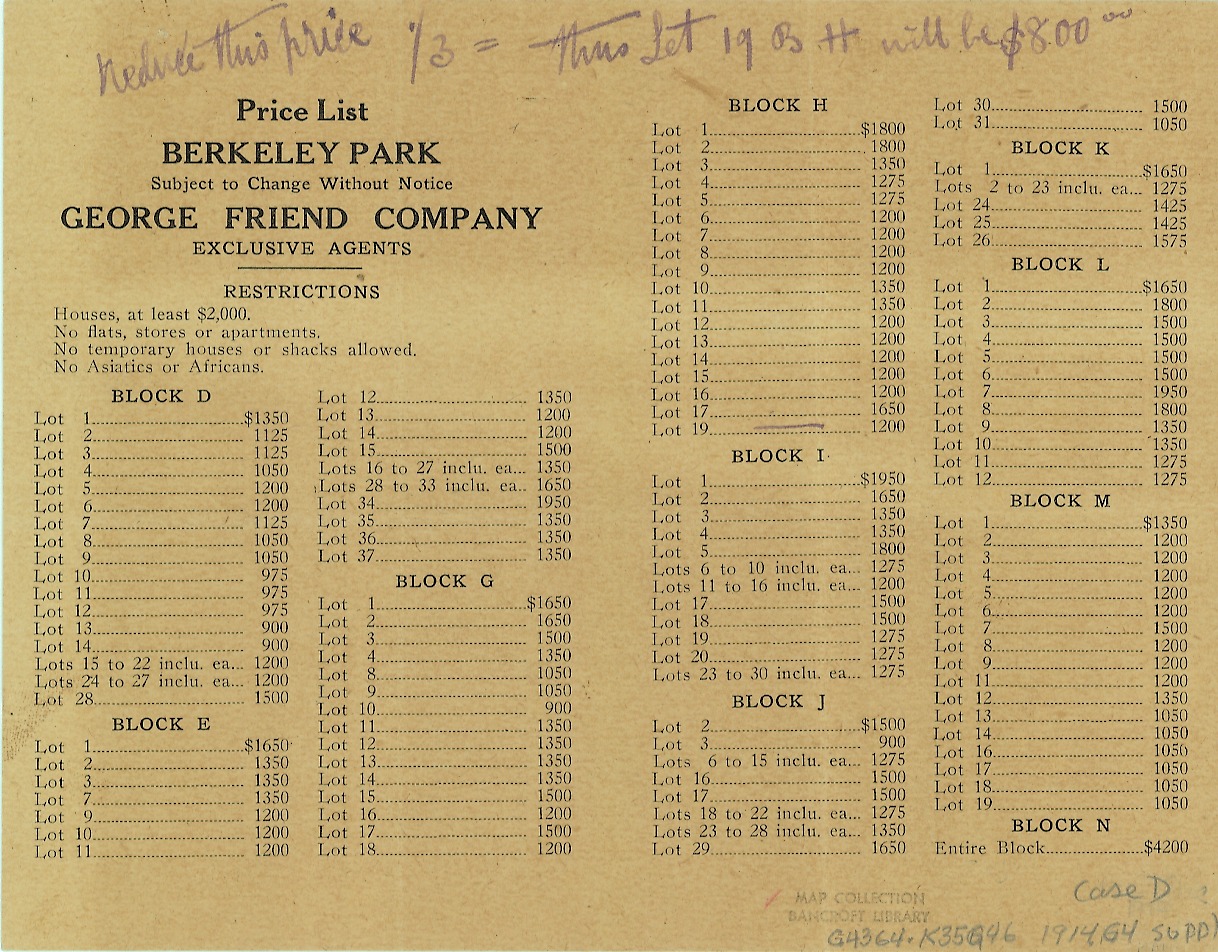 photo: The Price List for the Berkeley Park subdivision in Kensington includes a restriction against "Asiatics or Africans." George Friend Company, ca. 1914. Courtesy of Earth Sciences and Map Library, University of California, Berkeley.142
In 1960, the Marin County Committee on Racial Discrimination reported that restrictive covenants were still in use, despite their illegality, in order to place social pressure on white families who did not wish to discriminate.147 According to Alexander Saxton, a retired history professor and a resident of Sausalito at that time, "Back then, Marin County was completely segregated. Housing segregation was strenuously enforced both by local banks and real estate people. White people could find new housing around the county, but Marin City was the only place open to black people. So that's where they stayed."148
After Shelley v. Kraemer, neighborhoods around the country, including in California, continued to bar African Americans and other racial minorities from purchasing property in their neighborhoods by creating community associations in which potential buyers would have to become members before purchasing property in the area. The white homeowners' associations were often created by real estate developers.149 Because the bylaws of these associations restricted membership to whites only, they functioned to prevent African Americans from buying in those neighborhoods.150 Associations like these and remaining covenants, along with federal and state governments' refusal to enforce compliance with Shelley v. Kraemer, kept many neighborhoods in the Bay Area entirely white through much of the twentieth century. For example, the City of San Leandro, whose population remained almost entirely white for decades after the Supreme Court ruling, maintained its racial exclusivity through homeowners' associations that reportedly kept a "vigilante-like" watch on local real estate agents to ensure that none would show homes to African Americans and that the city government took no action to stop this intimidation.151 While unenforced, racially restrictive regulations remained within homeowner association bylaws in some instances as late as the 1990s and 2000s, such as Lakeside in San Francisco152 and Cuesta La Honda in San Mateo County.153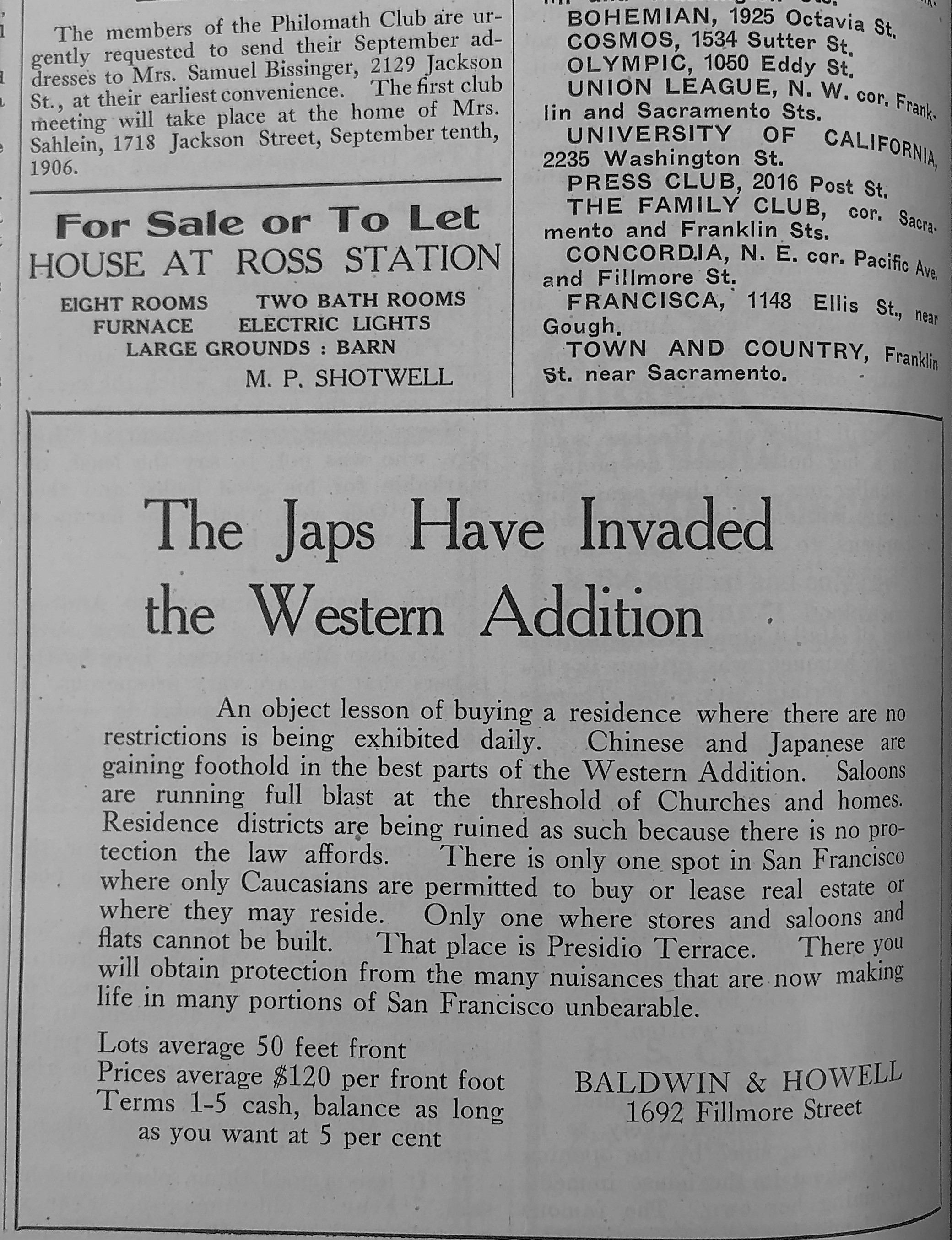 photo: Newspaper ads promoting racial covenants and racially exclusionary housing in Oakland and San Francisco. Left: A Laymance Real Estate Company advertisement for Rock Ridge Park in Oakland advertises that "no negroes, no Chinese, no Japanese" can build or lease in Rock Ridge Park. Published in San Francisco Call, October 13, 1906, Courtesy of California Digital Newspaper Collection, Center for Bibliographic Studies and Research, University of California, Riverside. Right: The Baldwin & Howell Real Estate Company markets Presidio Terrace as the "only one spot in San Francisco where only Caucasians are permitted to buy or lease real estate or where they may reside." Published in The Argonaut, September 1, 1906. Courtesy of The Bancroft Library, University of California
139. Rothstein, The Color of Law, 78-79.
140. Ibid., 82
143. Rothstein, The Color of Law, 88-90.
144. Elaine B. Stiles, Every Lot a Garden Spot: 'Big Dave' Bohannon and the Making of San Lorenzo Village (San Lorenzo Heritage Society, 2015).
145. United States Commission on Civil Rights, Hearings before the United States Commission on Civil Rights, 257.
146. George Lipsitz, The Possessive Investment in Whiteness: How White People Profit from Identity Politics, 20th century edition (Philadelphia, PA: Temple University Press, 2018), 26.
142. George Friend Company, Berkeley Park, Amended Map No. 2, http://oskicat.berkeley.edu/record=b22254223~S1, Earth Sciences and Map Library, University of California, Berkeley
147. United States Commission on Civil Rights, Hearings before the United States Commission on Civil Rights, 559-560.
148. Eva Goldberg, "Making Art / Making History: The Negro History Quilt Club Of Marin City And Sausalito," American Popular Culture, http://www.americanpopularculture.com/archive/politics/quiltclub.htm.
149. Trounstine, Segregation by Design, 67
150. Rothstein, Color of Law, 79
151. National Committee Against Discrimination in Housing, Inc., A Study of Patterns and Practices of Housing Discrimination in San Leandro, California, (May 1971), 2, 8, 9
152. Julie Chao, "HUD Tracking 'whites-Only' Covenants in N. California." SFGate, October 25, 1998. https://www.sfgate.com/ realestate/article/HUD-tracking-whites-only-covenants-in-N-3062955.php.
153. Julia Scott, "Racist remnant struck from covenant," San Jose Mercury News, August 18, 2007.