The history of public housing in the Bay Area demonstrates how public and private sector interests, alongside white homeowners, have operated in concert to perpetuate racial exclusion. The largest public housing expansion in the Bay Area occurred during World War II, as thousands migrated to the region for employment opportunities in war industries, resulting in a massive housing shortage and widespread homelessness. In response, the federal government created over 30,000 public housing units in the East Bay, which housed approximately 90,000 war workers and family members, in addition to thousands more units in other defense industry centers including San Francisco, Marin City, and Vallejo.154 These developments were initially constructed near shipyards and military installations in Richmond, Oakland, and Alameda, and later expanded into adjoining areas connected by public transportation.155 Since they were constructed as temporary homes exclusively for war workers, public housing effectively segregated the new war worker population into what historian Marilynn Johnson describes as a corridor of "migrant ghettos" next to federal facilities along the East Bay waterfront.156
Homeowner Opposition to Public Housing
Public housing faced vehement opposition during the war years in cities like Albany and Berkeley, which attempted to block public housing construction by refusing to create housing authorities. When the Federal Public Housing Authority proposed the construction of Codornices Village, a racially integrated 1,900 unit complex (which is now the location of UC Berkeley's University Village) at the border of Albany and Berkeley, both city councils immediately opposed the project, as did the University of California, which owned a portion of the land targeted for development. Residents launched a petition drive against the proposal, expressing clear, though often coded, racial and class bias. Berkeley residents stated that the development was "not in keeping with a university city," and the Albany City Council feared it would introduce "an undesirable element," who would "force the integration of local schools and make Albany 'like South Berkeley'," which was a historically Black neighborhood.157 Codornices Village was ultimately built, but as a concession, the federal government allowed the project to become segregated toward the end of the war on an east-west basis, with Black residents forced to remain on the noiser, more polluted west side that was adjacent to the railroad tracks.158
 
Segregated Public Housing
With the exception of Marin City, wartime public housing in the Bay Area was officially segregated.159 Local housing authorities resolved not to "enforce the commingling of races," and imposed "neighborhood pattern" policies through the 1950s.160 These policies gave preference to "families already residing in the area to conform with the social, economic and religious characteristics of the area" and meant that African Americans could only be placed in public housing where other African American families already resided.161 In Richmond, the housing authority director stated that the neighborhood pattern policy was necessary for "keeping social harmony or balance in the whole community." Segregation in San Francisco's public housing predated the war. During the early-1940s, the housing authority imposed a whites-only rule for its first three developments, which was designed to keep Chinese American residents out of public housing and confined to Chinatown.163
A 1952 federal investigation reported that San Francisco and Oakland were "possibly the only two Pacific Coast cities which continue segregation in their housing projects."164 Even after the San Francisco Superior Court ruled in Banks v. the San Francisco Housing Authority that the San Francisco Housing Authority's neighborhood pattern policy was a form of unlawful discrimination in violation of the Fourteenth Amendment to the Constitution as well as state and local laws, San Francisco Housing Authority officials refused to change the policy. An appeals court judge ruled that "neighborhood pattern is an arbitrary method of exclusion, a guarantee of inequality or treatment of eligible persons," and the US Supreme Court refused to hear an appeal, finally leading to the integration of public housing in San Francisco in 1954.165
From the point of construction, white and Black public housing was not created equal. The vast majority of new public housing was intended to be temporary, and thus poorly constructed without much concern for design and safety.166 Many were built on landfill sites near railroads and industrial facilities along the waterfront, exposing residents to environmental and safety hazards.167 But in some all-white developments built farther inland, the public housing was constructed with sturdier materials and intended to be permanent.168
Additionally, due to "racial rationing" policies, fewer public housing units were available to Black families, despite the fact that racial discrimination in the private housing market afforded Black migrant families far fewer choices outside of public housing. Private housing options were limited to neighborhoods that were already home to Black residents before the war, and nearly all of the private sector solutions supported by the federal government, such as guaranteed loans for private housing construction and war guest programs that matched workers with homeowners that had spare rooms or other vacant accommodations, largely excluded nonwhite migrants.169
The local housing authorities, which controlled occupancy decisions and managed the public housing properties, used informal quota systems that limited access to Black applicants. The Federal Public Housing Administration encouraged the use of quotas to fairly distribute housing based on need, but as Johnson explains, the quotas reflected the white-Black ratio among war workers, rather than the ratio among public housing applicants, thus not accounting for the disproportionate need among Black migrants whose options outside of public housing were far more constrained.170 For example, the Richmond Housing Authority set a quota of four white households for every one Black household in 1943, and the inadequate supply of housing for Black families required many to double up or illegally sublet, which, if found by the housing authority, was grounds for eviction.171
The extreme shortage of housing for Black families thus led to overcrowding, and given the poor quality of construction, subsequent deterioration of the segregated public housing units. After the war ended, public housing waiting lists reached record length.172 As more white families were able to move out of public housing with the support of federal government programs, formerly race-restricted units were made available to Black families. Thousands more migrants arrived in the postwar era, and Black households became the majority of public housing tenants in Berkeley, Oakland, and Richmond. By 1946, more than half of the total Black population in the region lived in temporary war housing.173 These residents were essentially trapped, as racial discrimination continued to limit their housing options. Johnson notes that while Bay Area cities permitted over 75,000 residential units from 1949 to 1951, only 600 of these were open to Black homebuyers.174 She explains that their limited residential mobility restricted access to job opportunities in the postwar economy, especially as industry moved out to the suburbs, "literally freezing some families into unemployment."175
Amid changing public housing demographics, regional economic shifts, and intermunicipal competition in the postwar era, local public debates turned toward urban redevelopment, "slum clearance," and the removal of war housing as a necessity for progress. In 1949, Oakland officials stated that the war housing projects were the city's "sorest blight problem," "beyond the salvage point," and "unsuitable for housing or any other use." Richmond administrators echoed this sentiment, stating that the south side of the city where public housing was concentrated was becoming "a vast ugly slum, a reproach to the City and a constant source of trouble, conflict, and expense."176
Real Estate Industry Influence over Public Housing
For some local housing authority officials, demolition of public housing had been the goal all along. Since their establishment, the local housing authorities that controlled and operated public housing in the East Bay were led by realtors, builders, and other private sector leaders.177 The Richmond Housing Authority was actually founded by the Chamber of Commerce in 1941 in an attempt to control pending federal efforts to construct public housing. The Oakland Housing Authority was established after the labor movement successfully pressured the Oakland City Council to create a housing authority and utilize available federal funding for public housing, but the council appointed a business-dominated board with representatives from the banking, insurance, and real estate sectors, including past presidents of the Alameda County Apartment House Owners Association and the California Rental Association.178 Their position was clear: "the business-dominated local housing authorities remained steadfastly opposed to permanent public housing that might undercut postwar private construction," and were thus quick to allow the construction of temporary war housing, with the assumption that defense migrants would return to their home states and the temporary developments would all be demolished after the war.179
The campaign against public housing was led by the National Association of Real Estate Boards, which selected California as a test case for its national efforts.180 In Richmond, city officials abandoned plans to build over 4,000 permanent public housing units to pursue industrial growth and new private housing. In its demolition plans, the city prioritized developments primarily occupied by Black families. Without replacement housing and adequate relocation arrangements, over 700 Black families were displaced from their homes in 1952, only 16 percent of whom were able to find housing in the private market.181 Thousands of former public housing residents lost their homes by 1960. While many white families were able to move out to the suburbs with federally guaranteed loans, the southside of Richmond became predominantly Black by the late-1950s.
During the postwar housing shortage, the Oakland Housing Authority estimated that the city needed at least 23,000 new housing units. In 1949, the Oakland City Council narrowly voted to construct 3,000 units of public housing on areas designated as "blighted" near the city's downtown using federal funds authorized by the National Housing Act of 1949. The proposal spurred a massive backlash led by the Apartment House Owners Association, the Associated Improvement Clubs, and the Associated Home Builders of Alameda County, which all came together with the support of the National Association of Real Estate Boards to form the Oakland Committee for Home Protection.182 The Oakland Post Enquirer reported that during one hearing on the proposal, a "throng of more than 500 [people] jammed every inch of the council chambers and another crowd of 500 demonstrating outside doors" to protest the plan forced the council to adjourn and postpone the hearing.183 The committee capitalized on anti-Communist sentiment and attacked public housing as "socialistic."184 Following the city council vote, the Committee for Home Protection launched an aggressive, well-funded recall campaign to unseat three of the council members who supported the public housing proposal. One council member lost his seat in the recall election by just five votes, while the other two lost their seats in the following year's regular election to candidates endorsed by the Committee for Home Protection. Without a majority in support for public housing, the new city council quietly rescinded the public housing plan.185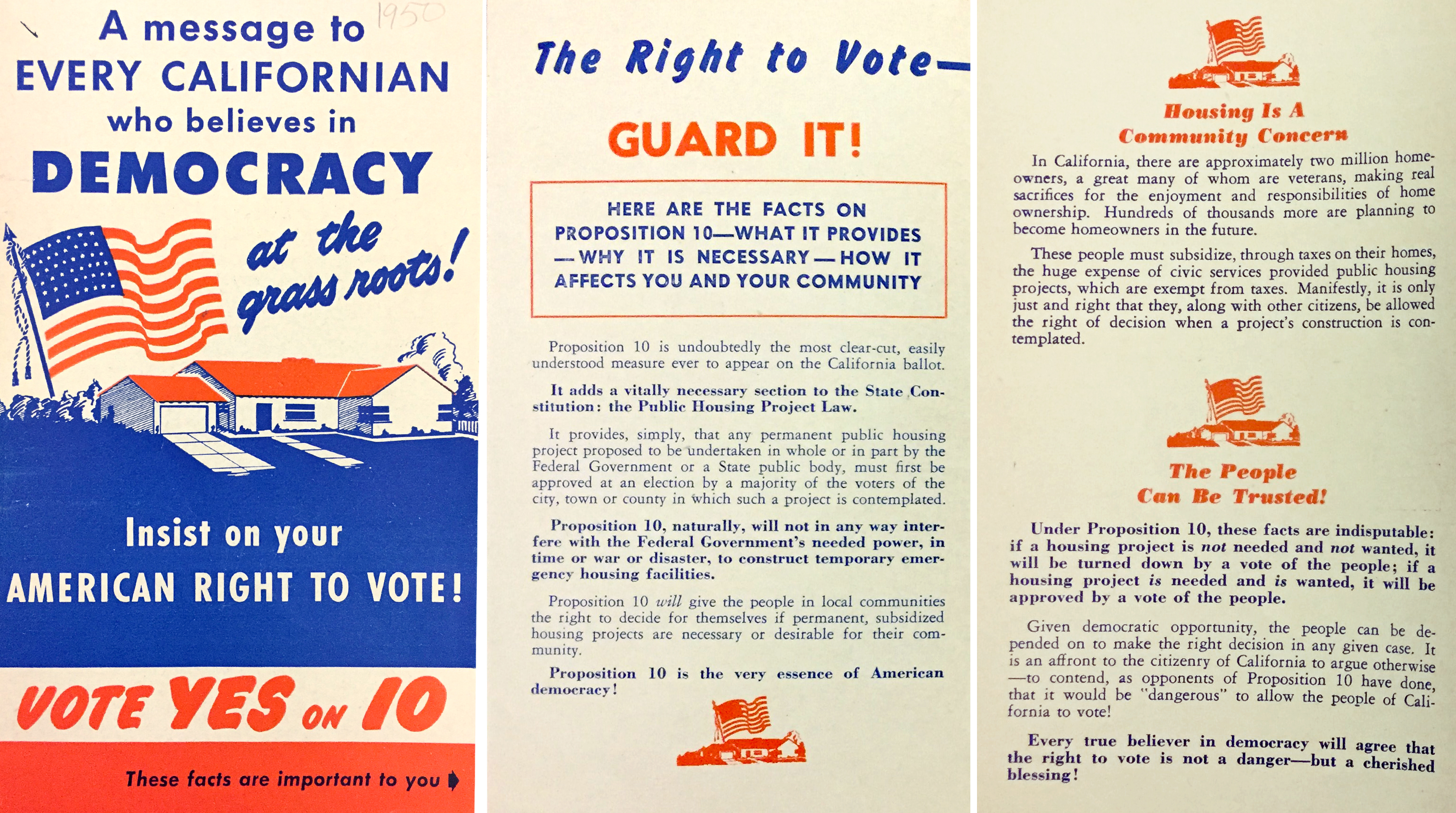 photo: The San Francisco-based Northern California Committee for Home Protection's 1950 campaign for Proposition 10 framed its opposition to public housing as a matter of democracy. The back of the pamphlet reads, "Proposition 10 guarantees the right to vote where that right is most important of all—at the local, grass roots level. Proposition 10 strengthens democracy. Proposition 10 protects the rights of citizens in every community of California." Courtesy of Liam Dillon, Los Angeles Times.
Creating New Barriers to Affordable Housing: Article 34's Bay Area Roots
The defeat of the Oakland public housing proposal had statewide ramifications. Just one month after the recall election, the Oakland Committee for Home Protection played a key role in a statewide effort to amend the state constitution to mandate a local voter referendum for any federally or state-financed housing for "persons of low income."186 This would create a massive political barrier to constructing new affordable or public housing. The Oakland Committee for Home Protection treasurer, John Hennessey, who was also the secretary of the Home Builders' Council of California, organized the petition drive for the 1950 ballot measure (Proposition 10).187 Its passage in 1950 was codified as Article 34 of the state's constitution. Courts and the California legislature have consistently narrowed its scope, and legislators are currently considering a measure to place the repeal of Article 34 on the state ballot,188 but the provision remains valid today.189
Article 34 created a major barrier for affordable housing in the Bay Area. It forced votes that blocked multiple public housing proposals in the 1950s and 1960s, including one in the City of San Jose (1968) and two in San Mateo County (1966), which had no public housing at the time.190 Moreover, as historian Aaron Cavin explains, because local housing authorities fully recognized that referenda were likely to fail, they rarely even submitted proposals for new low-income housing.191
The US Supreme Court upheld Article 34 in a 1971 case, James v. Valtierra (Valtierra II), after a group of citizens eligible for low-cost housing challenged the failed referenda in the City of San Jose and San Mateo County.192 After the citizens argued that the low-income housing projects rejected by the referenda would have been predominantly occupied by non-white residents, the trial court that initially heard the case held that the initiative was unconstitutional because "the law's impact falls on minorities, resulting in an impermissible burden which constitutes a substantial and invidious denial of equal protection."193 The Supreme Court did not see this disproportionate impact as evidence of an intent to deny housing opportunities for people of color in San Jose and San Mateo County. Rather, the court concluded that "the procedure ensures that all the people of a community will have a voice in a decision, which may lead to large expenditures of local governmental funds for increased public services and to lower tax revenues."194 This is despite evidence from local city planners that aligned with the trial court's conclusions and calls from the NAACP for the court to view the racially "neutral" fiscal justification for the initiative in context with the prior usage of such justifications to support other racially motivated ballot initiatives.195 By establishing the principle that unconstitutional racial harm must be intentional and explicit, the decision was a legal turning point that severely undermined recently enacted fair housing laws and gave rise to a national politics of colorblindness. As historian Aaron Cavin argues, "The Supreme Court took the defensive, localist, meritocratic, and colorblind sensibility that infused American political culture and transmuted it into a precedent that shielded suburbs from further critiques, and in this sense, Valtierra not only justified but also constitutionalized suburban economic exclusion."196
154. Johnson, The Second Gold Rush, 100.
155. Ibid., 99.
156. Ibid., 100.
157. Ibid., 103.
158. Ibid., 106.
159. Rothstein, The Color of Law, 5.
160. Miller, The Postwar Struggle for Civil Rights, 48-51.
161. Ibid
163. Gary Kamiya, "How SF's Housing Authority Kept Its Early Projects All White," San Francisco Chronicle, July 22, 2016, https://www.sfchronicle.com/bayarea/ article/How-SF-s-Housing-Authority-keptits-early-8403968.php.
164. Miller, The Postwar Struggle for Civil Rights, 51.
165. Miller, The Postwar Struggle for Civil Rights, 54
166. Johnson, The Second Gold Rush, 109.
167. Ibid., 108.
168. Rothstien,The Color of Law, 5.
169. Johnson, The Second Gold Rush, 93
170. Ibid., 107.
171. Ibid., 107-108.
172. Ibid., 213.
173. Ibid., 215.
174. Ibid., 214.
175. Ibid.
176. Ibid., 217
177. Ibid., 97
178. Ibid.
179. Ibid., 98.
180. Ibid., 218.
181. Ibid., 223-224
182. Rhomberg, No There There, 114-116
183. Diego Aguilar-Canabal, "The Deplorable Politics Behind Article 34," The Bay City Beacon, accessed July 23, 2019, https:// www.thebaycitybeacon.com/politics/ the-deplorable-politics-behind-article/ article_d5421448-b4ba-11e8-9847- 6fb4a6f5cf5c.html.
184. Johnson,The Second Gold Rush, 219- 220.
185. Rhomberg, No There There, 114-116
186. Cal. Const. art. XXXIV.
187. Rhomberg, No There There, 241.
188. SCA-1 Public housing projects, 2019- 2020 regular session, (2018). https:// leginfo.legislature.ca.gov/faces/billNavClient.xhtml?bill_id=201920200SCA1.
189. Kathleen Morgan-Martinez, "Local Control in Low-Income Development: The Promise of California's Article 34," Santa Clara Law Review 33 (1993): 765-798, http:// digitalcommons.law.scu.edu/lawreview/ vol33/iss3/7.. "Persons of low income" is defined as "persons or families who lack the amount of income which is necessary (as determined by the state public body developing, constructing, or acquiring the housing project) to enable them, without financial assistance, to live in decent, safe and sanitary dwellings, without overcrowding." James v. Valtierra, 402 U.S. 137 (Valtierra II) (1971).
190. Aaron Cavin, "A Right to Housing in the Suburbs: James v. Valtierra and the Campaign against Economic Discrimination." Journal of Urban History 45, no. 3 (May 1, 2019): 435. https://doi. org/10.1177/0096144217712928.
191. Ibid.
192. Ibid., 427-451.
193. Brief Amici Curiae of the NAACP Legal Defense and Education Fund, Inc., and the National Office for the Rights of the Indigent, James v. Valtierra, 3 (Oct. 26, 1970); Valtierra v. Housing Authority of City of San Jose, 313 F. Supp. 1, 5 (Valtierra I) (N.D. Cal. 1970).
194. James v. Valtierra, 402 U.S. 137, 143 (Valtierra II) (1971).
195. NAACP brief, 21-26; Valtierra I, 313 F. Supp. at 5 & n.2
196. Cavin, "A Right to Housing in the Suburbs," 443.