Racial exclusion in housing is a systemic process fundamentally tied to the control of land and the power to decide who is able to call a place home. The earliest forms of racial exclusion in the Bay Area were the violent dispossession of Native Americans' land and concentration of ownership of land by Spanish, Mexican, and early US settlers and governments. Prior to the arrival of the Spanish soldiers and missionaries in 1769, an estimated 15,000 Native people lived in the Bay Area, comprising several tribes and dozens of communities.26 People had been living in the Bay Area up to or exceeding 10,000 years.27 Historian Benjamin Madley describes early California as "a thriving, staggeringly diverse place," with "dense webs of local and regional cultural exchange."28 Indigenous groups including the Ohlone (Costanoan), Coast Miwok, Wappo, Patwin, and Pomo inhabited the land that is now the nine-county Bay Area.29
Under the Spanish, Mexican, and US governments, the forced dispossession of land from Native peoples followed a logic of economic profit and racial hierarchy that became institutionalized through law, establishing a thread of racial capitalism, which carries through to the more contemporary forms of racial exclusion in housing detailed later in this report. For Spain, the establishment of 21 missions across California, including five in the Bay Area,30 was not just a "spiritual conquest" of Native Americans misunderstood as "gente sin razon" (people without reason). It was a strategic maneuver to preempt expansion by other colonizers and establish a protective buffer zone for its valuable silver mines in northern Mexico.31 The missions held Native people in forced labor and operated in concert with the Spanish military, which carried out violent attacks on Native communities.32
Legislating the Right to Property
This early history marks the creation of legal structures to uphold racial exclusion in California. Native Americans were forced into becoming legal wards of Spanish missionaries, under the physical control of the Spanish and unable to leave the mission without permission.33 This system, which was enforced by physical violence, made California Indians into second-class legal subjects and became the precedent for the two-tiered legal system later created by Mexican and US authorities.34 It also expelled inhabitants from the land, which was later sold or given to soldiers or other chosen beneficiaries.
The California Constitutional Convention laid the foundation for exclusion and dispossession under US law when delegates denied California Indians the right to vote.35 Following this decision and through a series of new laws, Madley explains, "legislators slowly denied California Indians membership in the body politic until they became landless noncitizens, with few legal rights and almost no legal control over their own bodies."36
In the 1850s, under threat of violence, at least 119 California tribes signed treaties with US Special Commissioners in which they surrendered the vast majority of their land.37 In return, the Commissioners promised to provide for basic needs, protection and education, as well as designate land for 19 reservations. However, the US Senate rejected the treaties, and instead later authorized just five military reservations that comprised less than one-sixtieth of the acreage negotiated in the treaties, and provided no protection or any of the other promises made, leaving California's Native populations extremely vulnerable to acts of violence by vigilantes and militias.38 Madley states, "Indians became, for many Anglo-Americans, nonhumans. This legal exclusion of California Indians from California society was a crucial enabler of mass murder."39 Under US rule, California's Native American population fell by nearly 90 percent, from 150,000 in 1846 to 16,277 in 1880.40 In the Bay Area, the Ohlone population plummeted to 2,000 by 1830, just 13 percent of the population 60 years prior. Today, people identifying as Native American or American Indian alone in the US Census living in the Bay Area number around 40,500.41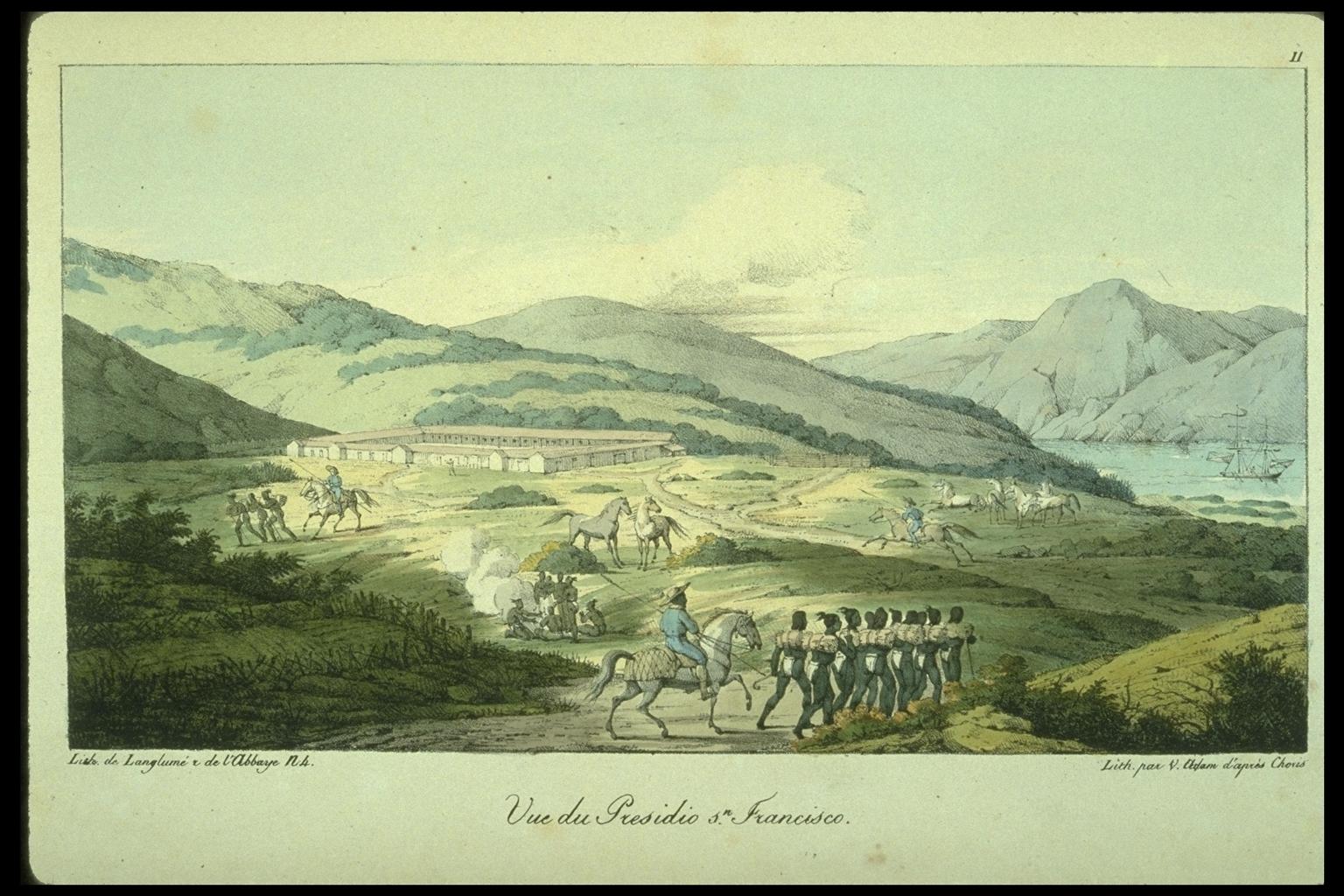 photo: Louis Choris's "Vue du Presidio" (ca. 1815) depicts the early San Francisco coast with Spanish soldiers dominating the Ohlone people. Courtesy of The Bancroft Library, University of California, Berkeley.42
After the US annexation of California through the Treaty of Guadalupe Hidalgo in 1848, the US government adopted the California Land Act of 1851, which governed the transition in property rights and created a commission that would investigate and determine the validity of all land titles from the Spanish and Mexican eras.43 Although the US pledged to protect the property rights of existing Mexican and indigenous landowners, incomplete records of ownership and imprecise surveys prevented many from successfully defending their property rights. As white Americans migrated to California during the gold rush era and began squatting on contested land, many former landowners were dispossessed.44 Historians Robert Heizer and Alan Almquist recount that by 1856, "most of the great Mexican estates in the northern half of California had been preempted by squatters or sold off by their owners to pay for the legal fees incurred in trying to have the titles validated."45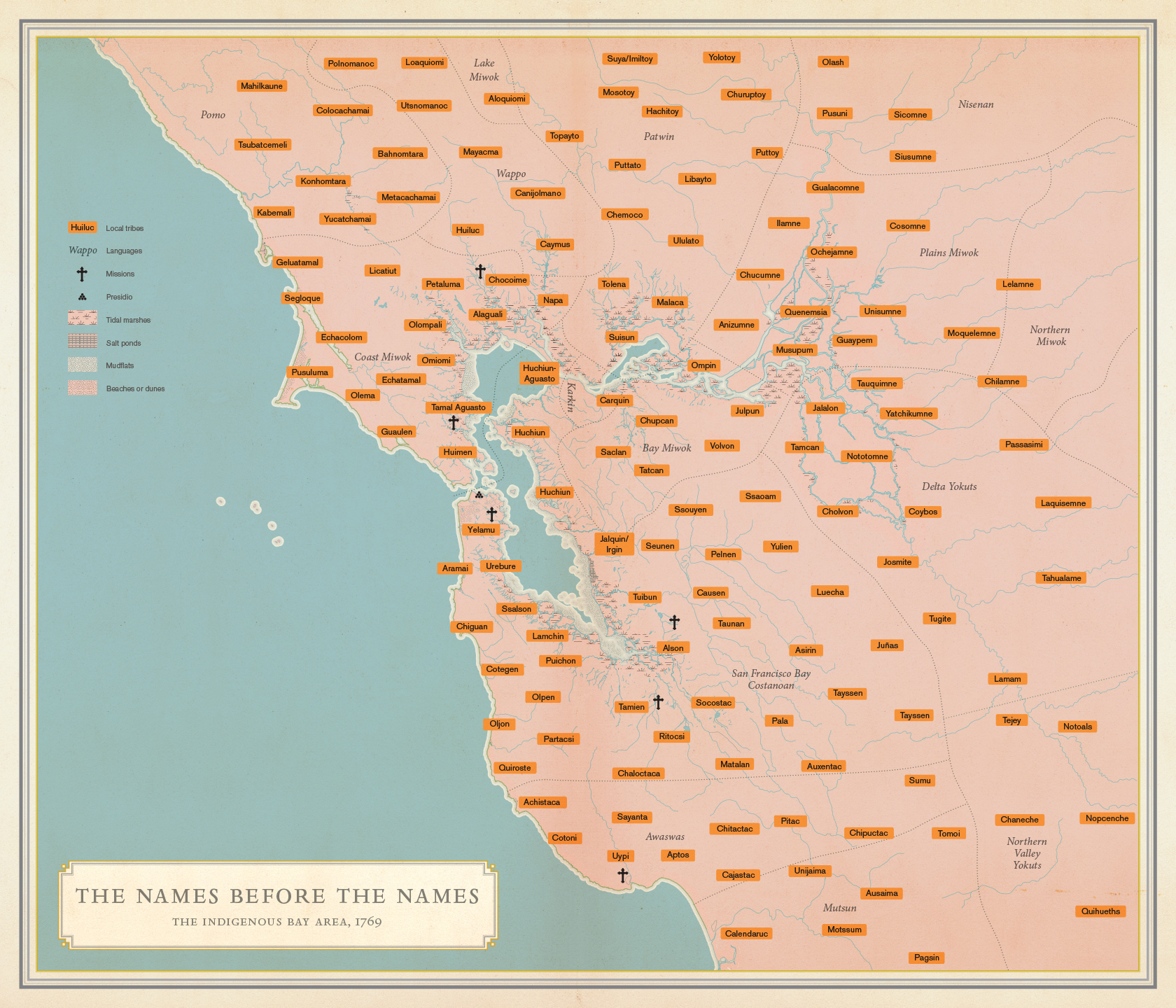 photo: The Indigenous Bay Area, 1769. Map taken from Infinite City: A San Francisco Atlas by Rebecca Solnit. Cartography: Ben Pease. Used with permission from University of California Press. © 2010 by The Regents of the University of California. 
Also starting in this era, state and federal laws targeted Asian populations through the restriction of immigration (including the federal Chinese Exclusion Act of 1882 and Immigration Act of 1924) and immigrants' rights to property. California adopted alien land laws in 1913 and 1920 with the purpose of driving Japanese farmers out of California agriculture and undermining the economic foundation of Japanese immigrant society.46 The 1913 law prohibited "aliens ineligible to citizenship," which included all Asian immigrants, from purchasing agricultural land, restricted their leases to three years, and prohibited the sale or inheritance of land by one alien ineligible for citizenship to another.47 Japanese immigrant farmers were initially able to circumvent the law by purchasing land in the names of their US-born children or land companies until 1920, when California voters approved a more stringent law proposed by the legislature that prohibited aliens ineligible for citizenship from leasing agricultural land altogether, buying and selling stock in land companies that owned or leased agricultural land, and appointing themselves as guardians of minors who held land in their names.48 The 1920 Alien Land Law was later amended to also fully prohibit the usage, cultivation, and occupancy of agricultural land for beneficial purposes to restrict Japanese American farmers from engaging in contract cropping agreements with landowners.49
Before the alien land laws were struck down, forced internment of people of Japanese descent during World War II resulted in a massive loss of property and community in the Bay Area. Over the span of a few months, Japanese Americans were rounded up by US soldiers and local police, assisted by local officials and business leaders.50 In May 1942, the San Francisco Chronicle reported:
For the first time in 81 years, not a single Japanese is walking the streets of San Francisco. The last group, 274 of them, were moved yesterday to the Tanforan assembly center. Only a scant half dozen are left, all seriously ill in San Francisco hospitals. Last night Japanese town was empty. Its stores were vacant, its windows plastered with "To Lease" signs.51
All were required to sell or give away their belongings, and just weeks of notice provided insufficient time to get a fair price for farms, businesses, and homes. The economic loss has been estimated at $1–$3 billion nationally (not adjusted for inflation).52
During World War II, Californians aggressively sought to enforce the alien land laws to prevent interned Japanese Americans from returning.53 The laws remained in place until 1952, when they were overturned by a series of court cases (Oyama v. California, Fujii v. California, and Masaoka v. California) and furthermore made obsolete by the Immigration Act of 1952, which declared Japanese immigrants eligible for citizenship.54 They were officially repealed by a ballot proposition in 1956.55
Enforcing Exclusion
Local law enforcement officials played a key role in maintaining racial exclusion, as exemplified by police participation in rounding up Japanese Americans to be sent to internment camps in 1942. Racial exclusion occurred not only through the enforcement of exclusionary policies, but also through disparate enforcement that targeted people of color while maintaining impunity for white individuals, refusal to protect people of color from violence, and the direct use of violence to enforce the spatial boundaries of racial residential segregation. During and after World War II, local officials attributed rising crime and disorder, and particularly violent crime, to the growing population of migrant Black southerners.57 A 1943 Oakland Observer article captured the popular sentiment:
It is very possible that the trouble comes from immigrant Negroes from the South, who are held well under control in the South but, coming North, have found themselves thrilled with a new "freedom."58
photo: Japanese Americans who were forced to evacuate their homes in San Francisco wait outside the Wartime Civil Control Administration Station on Bush Street, taking only what they can carry to the internment camps. By Dorothea Lange, April 29, 1942. Courtesy of the Bancroft Library, University of California, Berkeley.56
Richmond officials took this explanation further, stating that in discovering the limits of this new freedom, the Black migrant "encounters many disappointments and frustrations, to which he may have an aggressive reaction."59 This racialized rhetoric around crime waves and migrant immorality fueled local law-and-order campaigns throughout the 1940s.
Campaigns of discriminatory policing served as a systematic form of racial control, according to historian Marilynn Johnson. Police regularly harassed Black men congregating in public spaces, threatening their arrest if they refused to disperse, and also arrested hundreds of people of color each year for mere "suspicion," commonly when they were found in white neighborhoods.60 These arrests functioned to enforce the "unwritten rules and unmarked boundaries" of racial segregation.61
In response to mass arrests and police violence, the Oakland branch of the Civil Rights Congress sued the City of Oakland on behalf of several West Oakland residents. Advocates from the Bay Area Conference on Negro Rights stated that "legal lynchings in the form of frame-ups are multiplying," and that "abuses of the civil rights of Negroes have reached a new level."62 In the 1960s, the Black Panther Party called for an end to police violence and led a movement of "defending our black community from racist police oppression and brutality."63 Historian Robert Self explains that the Oakland police department "responded to the Panthers with nothing short of guerrilla warfare—no less than three Black men were killed by Oakland police in the spring of 1968 alone."64
While the extent of discriminatory law enforcement and police brutality throughout the Bay Area's history is not fully documented, Black residents in other parts of the region reported patterns of discriminatory policing similar to that of Oakland. For example, in 1943 the Citizen newspaper reported improper conduct and police brutality by the Marin City Police Department and specifically four county deputy sheriffs paid by the Marin Housing Authority65 for using "gestapo-like tactics against Black workers and youth."66
Beyond exerting control on public spaces, local law enforcement officials also policed segregation of private spaces. Historian Richard Rothstein describes one such instance in 1958, when Alfred Simmons, an African American teacher, rented a house in the Elmwood neighborhood of Berkeley from a white man, Gerald Cohn. Cohn had purchased the house with a mortgage insured by the FHA. Berkeley's chief of police called upon the FBI to find out how Simmons managed to move into the all-white neighborhood. The FBI failed to prove that Cohn had always intended to rent the house to an African American instead of occupying it himself, but this still prompted the FHA to blacklist Cohn from ever obtaining another FHA-insured mortgage.67
Local police also perpetuated segregation by failing to protect people of color from violence, which had the effect of sanctioning it. Sociologist Chris Rhomberg notes that Piedmont police refused to provide protection for Sidney Dearing, the only Black homeowner in the city in 1926, and "when Dearing chose not to move, the city began condemnation proceedings against his property in order to force him out."68 E. A. Daly, a Black newspaper publisher and real estate agent in Oakland recalled another case:
In 1923 Mr. Burt Powell . . . bought a house on Manila Avenue. We had to protect him for three or four weeks because the white people wanted to kill him because he moved in a white district. So we worked for him to watch over him for a period of twenty-four hours for about three months. After then things kind of quieted down. . . . There was another one on Genoa Street in the 5700 block. They put up a new house there and a Negro moved in. The white people tried to run this colored man out and we had to watch over him for about a month, day and night, to keep the white people from molesting him.69
---
Next chapter: 
Download the PDF of this publication.
26. Brian Byrd, Shannon Dearmond, and Laurel Engbring, "Re-Visualizing Indigenous Persistence during Colonization from the Perspective of Traditional Settlements in the San Francisco Bay-Delta Area," Journal of California and Great Basin Anthropology 38 (December 1, 2018): 163–90
27. Monica Arellano, Alan Leventhal, Rosemary Cambra, Shelia Guzman Schmidt, and Gloria Arellano Gomez. An Ethnohistory of Santa Clara Valley and Adjacent Regions; Historic Ties of the Muwekma Ohlone Tribe of the San Francisco Bay Area and Tribal Stewardship Over the Tupiun Táareštak [Place of the Fox Man] Site: CA-SCL-894 (2014), http://muwekma.org/tribalhistory/ethnohistory.html.
28. Madley, An American Genocide, 26.
29. Ibid., 28.
30. Five Spanish missions were established in the Bay Area: San Francisco de Asis (1776, also known as Mission Dolores), Santa Clara (1776), San Jose (1797), San Rafael Arcángel (1817), and San Francisco Solano (1823).
31. Madley, An American Genocide, 26.
32. Arellano et al., An Ethnohistory of Santa Clara Valley and Adjacent Regions; 9-16.
33. Madley, An American Genocide, 27
34. Elias Castillo, A Cross of Thorns: The Enslavement of California's Indians by the Spanish Missions. (Fresno, CA: Craven Street Books, 2015).
35. Madley, An American Genocide, 156
36. Ibid., 171.
37. Ibid., 165.
38. Ibid., 168.
39. Ibid., 171.
40. Ibid., 3.
41. US Census Bureau, American Community Survey 2017 (5-Year Estimates), Table B02001. Race.
42. Vue du Presidio de San Francisco [ca. 1815], California Cornerstones: Selected Images from The Bancroft Library Pictorial Collection, fG420.K84C6 1822x Part 3, Plate II, The Bancroft Library, University of California, Berkeley.
43. Karen B. Clay, "Property Rights and Institutions: Congress and the California Land Act of 1851," The Journal of Economic History 59, no. 1 (1999): 122–42.
44. Jeremy Rosenberg, "How Rancho Owners Lost Their Land And Why That Matters Today," KCET, April 16, 2012, https:// www.kcet.org/history-society/how-ranchoowners-lost-their-land-and-why-th...
45. Robert F. Heizer and Alan J. Almquist, The Other Californians: Prejudice and Discrimination Under Spain, Mexico, and the United States to 1920 (Berkeley: University of California Press, 1977), 150.
46. Yuji Ichioka. "Japanese Immigrant Response to the 1920 California Alien Land Law." Agricultural History 58, no. 2 (1984): 163, 169.
47. Ibid., 159.
48. Ibid., 163.
49. Ibid., 167.
50. The Virtual Museum of the City of San Francisco, "Internment of San Francisco Japanese," http://www.sfmuseum.org/war/ evactxt.html.
51. "SF Clear of All But 6 Sick Japs," San Francisco Chronicle, May 21, 1942, accessed July 12, 2019, http://www. sfmuseum.org/hist8/evac19.html.
52. Sandra C. Taylor, "Evacuation and Economic Loss: Questions and Perspectives," in Japanese Americans: From Relocation to Redress, rev. ed., ed. Roger Daniels, Sandra C. Taylor, and Harry H. L. Kitano (University of Washington Press, 1991), 163-167.
53. Brian Niiya, "The Last Alien Land Law," Densho, accessed July 22, 2019, https:// densho.org/last-alien-land-law/.
54. Ibid.
55. Ibid.
57. Johnson, The Second Gold Rush, 167
58. Oakland Observer, May 15, 1943, quoted in Johnson, The Second Gold Rush, 167.
56. Photograph: San Francisco, Calif. (2031 Bush Street), War Relocation Authority Photographs of Japanese-American Evacuation and Resettlement, WRA no. C-423 [recto], The Bancroft Library, University of California, Berkeley.
59. Ibid
60. Johnson, The Second Gold Rush, 168
61. Johnson, The Second Gold Rush, 169
62. Self, American Babylon, 77.
63. Ibid., 226.
64. Ibid., 229.
65. Charles Wollenberg, Marinship at War: Shipbuilding and Social Change in Wartime Sausalito (Berkeley, CA: Western Heritage Press, 1990), 92.
66. Johnson, The Second Gold Rush, 182.
67. Rothstein, The Color of Law, 67.
68. Rhomberg, No There There, 53
69. E. A. Daly, "Alameda County Political Leader and Journalist," an oral history conducted 1971, in Perspectives on the Alameda County District Attorney's Office, Regional Oral History Office, Bancroft Library, University of California, Berkeley, 1972, p. 10; "U.S. to Probe 'Friendly' Warning to Negro Woman," Oakland Times, July 23, 1926, quoted in Rhomberg, No There There, 52-53.