Extrajudicial violence including arson, assault, and lynching was a longstanding strategy through which racial exclusion, dispossession, and control were exerted. Police, prosecutors, courts, media outlets, and other parties looked the other way as individuals and groups carried out attacks on people of color who attempted to access housing (or in the case of Native Americans, maintain access to their homelands) and other resources. During the California gold rush in the 1850s, private militias organized violent campaigns against Native Americans across the state, resulting in over 100,000 killed, an estimated loss of two-thirds of the Native population.70
At times, this type of violence was formally endorsed by government officials, blurring the line between state violence and extrajudicial violence. As historian Roxanne Dunbar-Ortiz recounts, "Although the U.S. Constitution formally instituted 'militias' as state-controlled bodies that were subsequently deployed to wage wars against Native Americans, the voluntary militias described in the Second Amendment entitled settlers, as individuals and families, to the right to combat Native Americans on their own."71 Madley recounts the massacres of Native Americans in Napa and Sonoma counties in the 1850s, which resulted in zero convictions of the perpetrators. "As Indian killing spread and became increasingly common, California law enforcement officers took little action to protect Indians. This is unsurprising. State legislators had banned Indians from serving as jurors or testifying against whites in criminal cases...and leaders like Governor Burnett supported Indian-hunting ranger militias."72
In the late-1800s, a wave of anti-Chinese violence occurred across the region, with several Chinese American communities forcibly removed and burned. San Pablo, San Jose, Antioch, and other towns in the Bay Area expelled Chinese American residents in 1886. Around the same time, arsonists set fire to the Chinatown neighborhoods in San Jose and other towns.73 Anti-Chinese violence and movements led by the Workingmen's Party and Anti-Coolie Association,74 which was first established in San Francisco, gave rise to racialized zoning ordinances in the 1870s and 1880s, the California Anti-Coolie Act in 1862, and the federal Chinese Exclusion Act in 1882.75
"Sundown towns" were a formal expression of the threat of violence to people of color existing in a town after dusk. From the 1890s to 1960s, thousands of towns across the country had designated themselves "white only," and often had signs announcing that these areas were sundown towns, meaning African Americans, Mexican Americans, Chinese Americans, or other people of color were not allowed in town after the sun went down.77 Historian James Loewen keeps records of sundown towns, and lists Antioch, San Jose, and San Leandro as "surely" sundown towns, and considers it "probable" that Burlingame, Lafayette, Palo Alto, Mill Valley, Napa, Piedmont, and Ross were too.78 Loewen notes that in the 1940s, some realtors proposed designating the entire San Mateo peninsula a sundown area. An Atherton real estate agent "urged exclusive 'white occupancy in the region,'" stating that the peninsula was "not a proper place" for "Negroes, Chinese, and other racial minorities."79 The Pacific Citizen reported that other members of the realty board "felt the only way to handle the minority problem was to set aside acreage and subdivide it for minority groups with schools, business districts, etc."80 Though the proposal for a sundown area was shelved, threats and violence largely kept people of color from moving in.
photo: An anti-Chinese riot takes place front of San Francisco City Hall in 1877, where the Main Library now stands. Line drawing by H.A. Rodgers. Courtesy of the California Historical Society.76 
Several lynchings in the Bay Area were documented, although information on the full extent is incomplete. Historian Monroe Nathan Work (1866–1945), who meticulously recorded lynchings across the country as part of his work at the Tuskegee Institute, documented three acts of white supremacist lynching in the Bay Area between 1880 and 1920. These murders were carried out against a Black man in San Jose in 1892, a Mexican man in Los Gatos in 1883, and another Mexican man in Santa Rosa in 1920.81 Since the publishing of the Tuskegee Institute's archives, multiple scholars have uncovered at least 10 other acts of lynching or white supremacist mob violence in the Bay Area between 1850 and 1920, which were carried out against five Mexican males, one Italian male, three Chilean males, and one Native American male.82 Lynching was far more common in the American South, a campaign of racial terror that contributed to the "Great Migration" of African Americans.83 Thousands of African American families migrated to the Bay Area in the 1940s and 1950s, coming from histories and experiences of racial violence in the southern communities they left behind.
For example, in 1943 after federal authorities ordered a shipbuilding corporation in Mobile, Alabama, to integrate and promote Black shipyard workers, a violent white riot against Black workers occurred, lasting several days. This spurred a group of workers to move to the Bay Area shipbuilding city of Richmond.84 In addition, as historian Marilynn Johnson explains, many Black migrants left because racial discrimination in the South barred them from economic opportunity. Despite labor shortages, many defense contractors refused to hire Black workers, while others refused to promote them or allow them to enroll in vocational training. "Growing frustration with local conditions, combined with promising reports from West Coast cities, encouraged many southern blacks to emigrate."85
In the 1940s, high demand for workers in shipbuilding and other war-related industries drew the largest westward migration of African Americans, with nearly 125,000 settling in the Bay Area.86 The vast majority of Black migrants came from the South, with 65 percent from Louisiana, Texas, Oklahoma, and Arkansas.87 The Kaiser Shipbuilding Corporation, for instance, had an out-of-state recruitment program that aimed to secure 150 new workers per week for its yards in Richmond.88 Military supply centers, railroads, and docks also became major employment centers.89 The population growth of Richmond is telling of the growth of the African American population in the region during the time: in 1940 the US Census counted 270 African American residents and by 1950 there were 13,374.90 In the Bay Area as a whole, the Black population grew from 20,751 in 1940 to 149,809 in 1950.91 After the war, approximately 85 percent of Black migrants settled on the West Coast.92
But the newcomers found that they had not fully escaped racial violence by moving to the Bay Area, where white supremacist movements had taken root long before. The Ku Klux Klan had established a presence in the Bay Area during the 1920s, staging rallies, participating in public parades in their full regalia by the thousands, and carrying out cross burnings in places such as the hills of Richmond. Their freedom to do so was publicly endorsed in 1922 by that city's main newspaper, the Richmond Independent.93
During and after World War II, widespread resistance to racial integration was expressed through intimidation and violence against Black families. Johnson explains the rise of anti-Black racism during this period:
By transforming the racial makeup of the Bay Area, the wartime influx of black workers also transformed the racial biases of local white residents. During the war years, blacks replaced Asians as the area's largest racial minority. This shift was due not only to the growth of the black population but also to the removal and subsequent dispersion of Japanese-Americans. With the latter group confined in distant relocation centers and Chinese-Americans now allied in the anti-Japanese campaign, black migrants became the prime target of local bigotry. The antiblack racism that flourished during World War II would intensify in the postwar years, overshadowing the anti-Chinese sentiments that had historically dominated West Coast cities (Johnson, The Second Gold Rush, 55).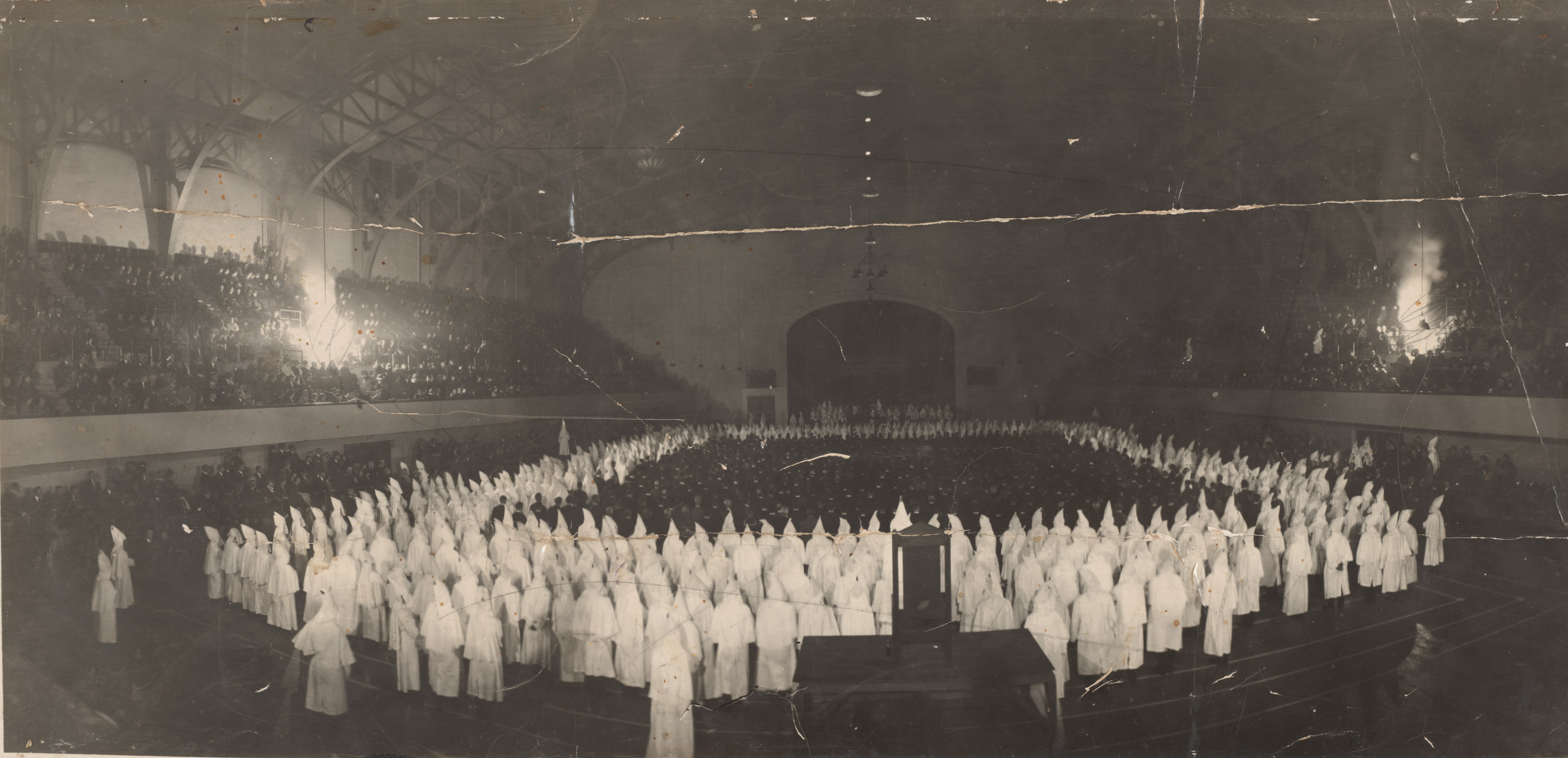 photo: In the 1920s, the Oakland Klan chapter had thousands of followers, and in 1925, 8,500 people participated in a Ku Klux Klan cross-burning ceremony inside the Oakland Auditorium (now known as the Kaiser Convention Center). Courtesy of the Bancroft Library, University of California, Berkeley.94
In 1952, Wilbur and Borece Gary and their seven children purchased a house in the Rollingwood subdivision in unincorporated San Pablo.95 Rollingwood was built during the war with federal loans, which required racial covenants that prohibited all 700 houses from being sold to African Americans like the Garys.96 These covenants were officially invalidated by the 1948 US Supreme Court decision, Shelley v. Kraemer, but segregattion remained in place until the Gary family moved in. News of the Gary family's purchase prompted the Rollingwood Improvement Association to attempt to negotiate a buyout of the home, which the Garys refused.97 Upon moving, they became the target of death threats, violence, and intimidation by white residents. The office of their realtor Neitha Williams, who was also African American, was vandalized. In his open letter to the community, Wilbur Gary documented the placing of a Ku Klux Klan cross on their lawn and the gathering of a 400-person mob that stoned their home and shouted threats:
Sheriff's deputies stood by and observed the rock throwing, they did not make a single arrest, nor did they order the rock throwers to stop. Since that night more rocks have been thrown and threats have been made, but still no arrests have been made and there has been no action by the authorities to put an end to this lawlessness.98
Similar cases of violence and intimidation, given impunity from local officials, have been documented in counties throughout the region. In Redwood City, the newly built home of John J. Walker, a Black war veteran, was burned down in 1946 after he received threats and demands to move out.99 African Americans who managed to purchase property in Sonoma County had to contend with the real possibility of racially motivated violence and vandalism. In the 1950s, the Santa Rosa weekend home of San Franciscan NAACP leader Jack Beavers was burned. Black and white neighbors alike agreed that the fire was likely a deliberate act "done to the family because of discrimination."100
Intimidation also affected white individuals who were seen as facilitating integration. When the baseball player Willie Mays moved to San Francisco to play with the Giants in 1957, his family struggled to find an owner willing to sell to them. Mays and his wife Marghuerite placed a cash offer on a house in the city, prompting many neighbors to vehemently pressure the owner, Walter Gnesdiloff, to refuse the offer. Gnesdiloff's employer stated that Gnesdiloff was "destroying himself and the neighborhood." This opposition led Gnesdiloff to initially reject the offer: "I'm just a union working man...I [would] never get another job if I sold this house to that baseball player. I feel sorry for him, and if the neighbors say it would be okay, I'd do it."101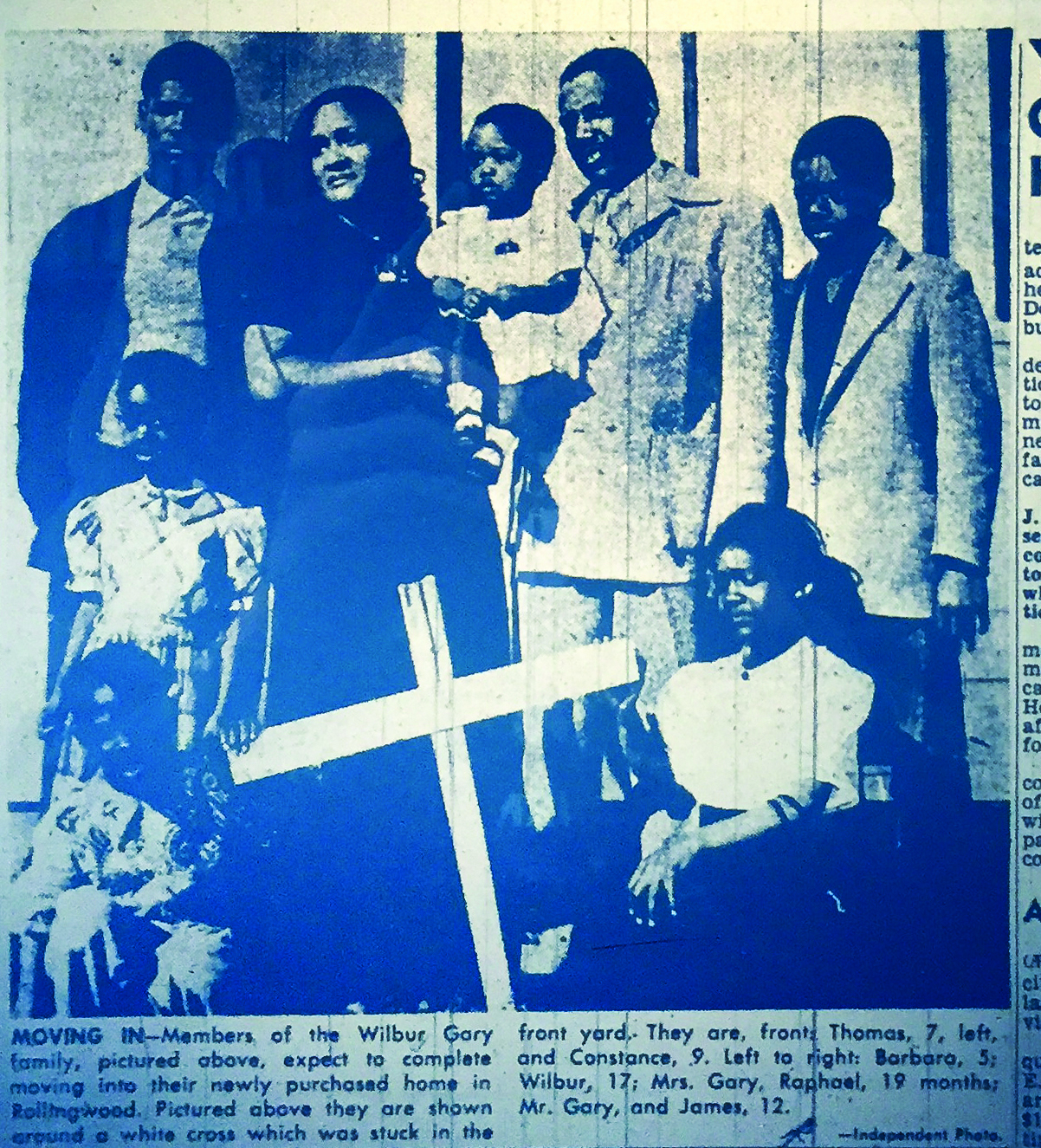 photo: The Gary family stands on their front yard at 2821 Brook Way with a white cross, a symbol the Ku Klux Klan used to terrorize them from moving into the Rollingwood subdivision in San Pablo, which historically prohibited the selling of houses to African Americans. Published in the Richmond Independent, 1952.
With intervention from the San Francisco Council for Civic Unity and much public attention due to Mays' fame, Gnesdiloff decided to sell. His realtor refused to take part in the transaction, claiming that his business would suffer as a result. Then one week after the Mays family moved into the house, the front window was smashed with a rock. Marghuerite Mays spoke out against the racism they encountered: "Down in Alabama where we come from, you know your place, and that's something, at least. But up here it's all a lot of camouflage. They grin in your face and then deceive you." In response, the San Francisco Chronicle called out the hypocrisy of San Franciscans that "blunt the sharp edge of local indignation against citizens of the South who have been exciting little sympathy with their complaints that integration is a vexing problem."102
As the region's history of violence shows, extrajudicial violence often drove the adoption of new exclusionary policies, and it even furthered exclusionary tactics like racial covenants after courts ruled them unenforceable, solidifying this strategy as a dominant and enduring means of control and exclusion.
70. Edward Castillo, "Short Overview of California Indian History," California Native American Heritage Commission, accessed July 11, 2019, http://nahc.ca.gov/ resources/california-indian-history/.
71. Roxanne Dunbar-Ortiz, Loaded: A Disarming History of the Second Amendment (San Francisco: City Lights Publishers, 2018), 53.
72. Madley, An American Genocide, 182
73. Loewen, "Sundown Towns in the United States.
74. Yang, "The Anti-Chinese Cubic Air Ordinance."
75. Charles J. McClain, In Search of Equality: The Chinese Struggle against Discrimination in Nineteenth-Century America (Berkeley, CA: University of California Press, 1994), http://ark.cdlib.org/ ark:/13030/ft3r29n8p4/.
77. James Loewen, Sundown Towns: A Hidden Dimension of Segregation in America (New York: The New Press, 2005).
78. Loewen, "Sundown Towns in the United States."
79. Loewen, Sundown Towns, 394.
80. Ibid
76. H.A. Rodgers, "California--The Chinese Agitation in San Francisco--A Meeting of the Workingmen's Party on the Sand Lots," line drawing, Chinese in California Virtual Collection: Selections from the California Historical Society, http://ark.cdlib. org/ark:/13030/hb8n39n9d0, California Historical Society.
81. Tuskegee University Archives, Box 132.020, cited by MonroeWorkToday, "MonroeWorkToday Dataset Compilation," Map of White Supremacy Mob Violence, accessed July 24, 2019, http://www. monroeworktoday.org/explore/#.
82. Ken Gonzales-Day, Lynching in the West, 1850-1935 (Duke University Press, 2006); Michael James Pfeifer, Rough Justice: Lynching and American Society, 1874-1947 (University of Illinois Press, 2004); William D. Carrigan and Clive Webb, Forgotten Dead: Mob Violence against Mexicans in the United States, 1848-1928 (Oxford University Press, 2013); cited by MonroeWorkToday, "MonroeWorkToday Dataset Compilation."
83. Equal Justice Initiative, "Lynching in America: Confronting the Legacy of Racial Terror," accessed June 2, 2019, https:// lynchinginamerica.eji.org/report/.
84. Johnson, The Second Gold Rush, 54.
85. Second Gold Rush, 54. 85 I
86. Shirley Ann Wilson Moore, To Place Our Deeds: The African American Community in Richmond, California, 1910-1963 (Berkeley, CA: University of California Press, 2000), 41.
87. Johnson, The Second Gold Rush, 52.
88. Moore, To Place Our Deeds, 45.
89. Johnson, The Second Gold Rush, 55.
90. Moore, To Place Our Deeds, 12 and 101.
91. Stephen Menendian and Samir Gambhir, "Racial Segregation in the San Francisco Bay Area, Part 2: Racial Demographics" (Berkeley, CA: Haas Institute for a Fair and Inclusive Society, February 2019), https:// haasinstitute.berkeley.edu/racial-segregation-san-francisco-bay-area-part-2.
92. Johnson, The Second Gold Rush, 54.
93. Moore, To Place Our Deeds, 25.
94. Wide-angle photograph of Ku Klux Klan gathering in the Oakland Auditorium, Photographs of Ku Klux Klan assemblies in Oakland and Contra Costa County, BANC PIC 2013.023--A, The Bancroft Library, University of California, Berkeley.
95. 5 Beckles, "The Gary Family of Richmond: Fighting for Equality and Standing for Their Rights," 2.
96. Rothstein, The Color of Law, 6
97. Beckles, "The Gary Family of Richmond: Fighting for Equality and Standing for Their Rights," 3.
98. Wilbur Gary, Daily People's World, March 13, 1952, quoted in Beckles, "The Gary Family of Richmond: Fighting for Equality and Standing for Their Rights," 9.
99. Loewen, Sundown Towns, 393.
100. United States Commission on Civil Rights, Hearings before the United States Commission on Civil Rights. Hearings held in Los Angeles, California, January 25, 1960; San Francisco California, January 27, 1960, January 28, 1960 (Washington, D.C.: Government Printing Office, 1960), 590.
101. Paul T. Miller, The Postwar Struggle for Civil Rights: African Americans in San Francisco, 1945–1975 (New York, NY: Routledge, 2009), 57
102. Stephen Grant Meyer, As Long as They Don't Move Next Door: Segregation and Racial Conflict in American Neighborhoods (Lanham, MD: Rowman & Littlefield, 2000), 132.