Zoning encompasses the set of land use regulations local governments use to separate land into different sections, or zones, with specific rules governing the activities on the land within each zone.103 Today's municipal zoning codes often include regulations related to building density and height, property lot sizes, placement of buildings on lots, and the uses of land allowable in particular areas of the jurisdiction.104In the United States, they also typically regulate land by separating residential, commercial, and industrial uses from each other, and give residential zones the greatest protections from land uses that may cause nuisances or hazards to residents.105 Formally, zoning policies are typically justified by public health rationales, but in their design and effect they have often perpetuated racial exclusion. In some respects, Bay Area cities lead the country in creating zoning regulations motivated by racial exclusion.
Explicitly Racial Exclusionary Zoning
Many municipalities in the United States enacted outright racial zoning provisions in the late-nineteenth and early-twentieth centuries in order to separate white and nonwhite residents by law,106 and San Francisco was among the earliest. It became the first city to attempt to segregate explicitly on the basis of race by passing an ordinance in 1890 that sought to completely exclude Chinese residents from certain areas of the city. Known as the Bingham Ordinance, it would have given those residents 60 days to relocate to areas designated in the law or face a misdemeanor charge and up to six months in jail.107 However, a federal court quickly invalidated that ordinance.108
Over the following 27 years, numerous cities across the country adopted racial zoning and mapped and designated racial categories for each residential block. The US Supreme Court ruled explicit racial zoning unconstitutional in 1917,109 although some localities throughout the United States continued to enforce racial zoning after the court's decision.110 Many segregationists abandoned racial zoning and began advocating for "comprehensive zoning," while others turned to private deed restrictions to ensure continued segregation.111
Early Cases of Implicitly Racial Exclusionary Zoning
While establishing zoning districts that explicitly assign certain areas for one particular race or another was outlawed in 1917, other forms of zoning that do not mention race explicitly were widely used to achieve exclusionary effects based on race. Implicit exclusionary zoning in the Bay Area dates even further back than San Francisco's explicitly racial Bingham Ordinance. In 1870, San Francisco established the Cubic Air Ordinance, which required 500 cubic feet of space for every person residing in a lodging house. Amid an era of anti-Chinese sentiment, the leadership of the Anti-Coolie Association brought forward the proposal, which was framed as a public health and safety measure. The ordinance led to the arrest and jailing of thousands of Chinese individuals in San Francisco, whose violations were considered misdemeanors punishable by a fine of up to $500 and/or up to three months in prison. A Chinese hotel owner successfully challenged the ordinance in the county court, but targeted arrests later continued in 1876 after the state enacted its own cubic air statute.112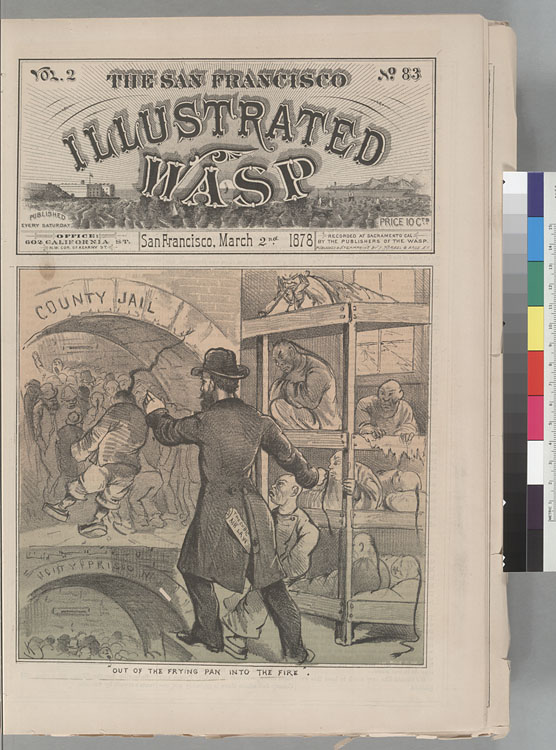 photo: The March 2, 1878 cover of The San Francisco Illustrated Wasp depicts the jailing of Chinese lodging house residents following the adoption of the Cubic Air Ordinance. Courtesy of the Bancroft Library, University of California, Berkeley.113
San Francisco also attempted to ban the establishment of laundries in all-white neighborhoods in 1880 by declaring it unlawful "for any person or persons to establish, maintain, or carry on a laundry, within the corporate limits of the city and county of San Francisco, without having first obtained the consent of the board of supervisors, except the same be located in a building constructed either of brick or stone."114 While the ordinance did not explicitly mention race, its intent and impact were discriminatory because the large majority of laundries were operated by Chinese people and constructed of wood, and it gave city officials broad discretion to restrict where such laundries could be located. Environmental sociologist Dorceta Taylor notes while over 150 Chinese owners were prosecuted for violating the ordinance, the city did not enforce the law against non-Chinese owners. The US Supreme Court declared the ordinance unconstitutional in 1886 in Yick Wo v. Hopkins, ruling that the discriminatory administration of the statute was a violation of the Equal Protection Clause of the Fourteenth Amendment.115
Comprehensive and Euclidean Zoning
Modern zoning has its roots in Berkeley, and racial exclusion and real estate profits were among the primary reasons for its development. Berkeley's zoning district ordinance was passed in 1916 and created eight types of land use districts, but did not apply them to areas of the city until residents petitioned to have their neighborhood zoned. Some of the issues that motivated residents to zone their neighborhood were explicitly racial:
Early "zoning actions by the City Council in response to property owner petitions included one which required two Japanese laundries, one Chinese laundry, and a six-horse stable to vacate an older apartment area in the center of town, and another that created a restricted residence district in order to prevent a 'negro dance hall' from locating 'on a prominent corner.'"116
The push for local government to set up zoning regulations was largely driven by real estate developers and was in part an effort to institutionalize the restrictions that had been enforced through private deed restrictions.117 The city council appointed Duncan McDuffie, a prominent Berkeley developer and leading proponent of zoning at the time, as chair of the Civic Art Commission, which spearheaded the passage of a zoning ordinance. According to McDuffie, "In Berkeley the value of protective restrictions has been amply demonstrated by their use in private residence tracts. The adoption of a district or zone system by Berkeley will give property outside of restricted sections that protection now enjoyed by a few districts alone and will prevent deterioration and assist in stabilizing values."118 Several neighborhoods had been developed with five-year private deed restrictions that had expired, so the zoning would allow these restrictions to be renewed and institutionalized. As president of Mason-McDuffie, northern California's largest real estate brokerage and development corporation at the time, which built numerous racially restricted subdivisions in Berkeley and San Francisco, McDuffie's influence reached beyond the City of Berkeley. California realtors celebrated Berkeley's racial exclusion, praising in the California Real Estate magazine in 1926 the city's ability "to organize a district of some twenty blocks under the covenant plan as protection against invasion of Negroes and Asiatics."119
According to planning scholar Sonia Hirt, Berkeley's 1916 ordinance was also likely the first in the country to define a principal "Class I" zone exclusively for single-family houses, thus establishing the national trend that has come to distinguish US zoning.120 Leading advocates of zoning in Berkeley stated that "apartment houses are the bane of the owner of the single family dwelling," and would "condemn the whole tract...of fine residences."121 The same advocates also publicly voiced their explicitly racist motivations: "We [Californians] are ahead of most states [in adopting zoning]...thanks to the persistent proclivity of the heathen Chinese to clean our garments in our midst."122
In the 1926 case Euclid v. Ambler, the Supreme Court ruled that zoning ordinances were generally valid so long as they were not arbitrary and unreasonable and had a "relation to the public health, safety, morals, or general welfare."123 Furthermore, the ruling upheld and endorsed the concept of the exclusive single-family zone that Berkeley pioneered a decade earlier.124 Now constitutional, this type of zoning became the model for the rest of the country. Named after the court case involving the village of Euclid, Ohio, "Euclidean zoning" involves the separation of uses, special zones for single-family homes, setbacks, and height restrictions.
The widespread adoption of zoning coincided with an increase in immigration and, for the North and Midwest, migration of African Americans from the southern United States.125 Similarly, the Bay Area city of Milpitas, a largely white jurisdiction, used zoning to prevent Black workers from moving to the area after the Ford Motor Company moved its plant there from Richmond after World War II. Charles Abrams reported that when "the labor union attempted to construct housing for Black workers, the city rezoned the site for industrial use...Thereafter came a sudden strengthening of building regulations, followed by a hike of sewer connection costs to a ransom figure."126 As demographic shifts occurred, the rhetoric used by planners in the early-twentieth century to justify the creation of separate residential zones for single-family homes and apartments tells a story of class and racial bias. Intermixing between these residences would "condemn" the single-family homes according to the architects of the Berkeley zoning plan. In this way, "zoning rules, like many of the other moral reforms of the late-nineteenth and early-twentieth centuries, were designed to significantly reduce the likelihood that middle and upper-class children would come into contact with poor, immigrant, or black culture."127
Berkeley's zoning scheme and much of the Euclidean zoning that swept the country were early examples of implicitly racist policy design, evidenced in the publicly stated reasons for the policies, and their impact. In her national study of zoning and segregation, Trounstine finds that "cities that were early adopters of zoning ordinances grew to be 10 percent more segregated over the following fifty years than did cities that were not early adopters. The results also illustrate that zoning ordinances doubled the amount of renter segregation. In early adoption cities, property values would also become more unequal by 1970."128
 
A postcard from ca. 1915 depicts a residence in the Elmwood district of Berkeley. Elmwood Park was the first Berkeley subdivision to be assigned the exclusive single-family residential zoning designation. Duncan McDuffie of the Mason McDuffie Company, which created the neighboring Claremont subdivision, advocated for exclusive single-family zoning in Elmwood out of concern that a lack of public zoning could lead to Claremont becoming surrounded by "incompatible" uses that would affect his subdivision's property values.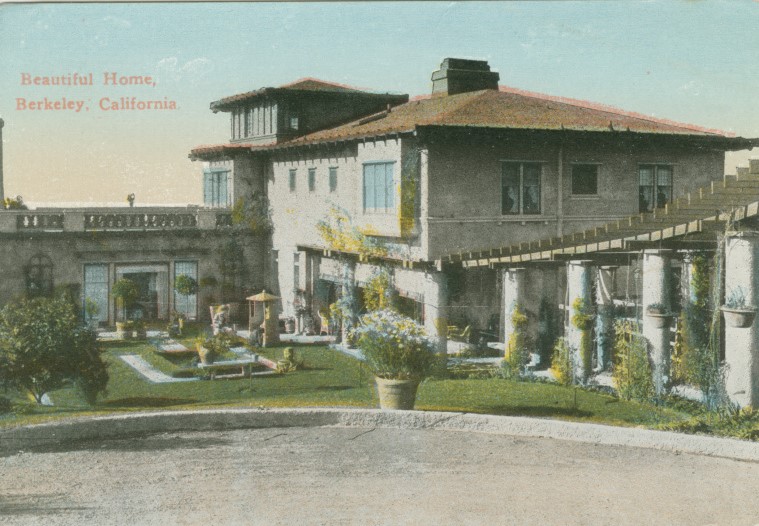 photo: A postcard from ca. 1915 depicts a residence in the Elmwood district of Berkeley. Elmwood Park was the first Berkeley subdivision to be assigned the exclusive single-family residential zoning designation. Duncan McDuffie of the Mason McDuffie Company, which created the neighboring Claremont subdivision, advocated for exclusive single-family zoning in Elmwood out of concern that a lack of public zoning could lead to Claremont becoming surrounded by "incompatible" uses that would affect his subdivision's property values. Courtesy of Berkeley Public Library. 
The real estate industry's advocacy for zoning was driven by tightly intertwined interests in generating profit and maintaining racially exclusive areas. Real estate developers, who had often developed large tracts of dozens or hundreds of homes, feared that the allowance of people of color would lower the sale prices of the homes, a concern that white homeowners also voiced. Historian David Freund illuminates the racial underpinnings of zoning:
Zoning's original intent must be understood in the context of early twentieth-century racial politics, when enthusiasm for the new science of land-use economics converged with assumptions about racial, specifically eugenic, science. Most early zoning advocates believed in racial hierarchy, openly embraced racial exclusion, and saw zoning as a way to achieve it. But they formulated strategies and sketched out a language for justifying segregation that focused on practical, supposedly nonideological considerations.129
Trounstine states that "as zoning practices spread through the 1920s, emphasis on the enhancement of property values became the dominant argument."130 The real estate industry's involvement in the emerging field of urban planning nationally resulted in a "decisive (and quite rapid) shift in zoning's focus, away from the broad concern with ensuring 'best use.'"131 Then "almost universally, it was believed that the wrong sorts of people residing, or even working, in an area could negatively impact property values."132 Furthermore, "African American residential mobility was always understood in negative terms, because it forced ever wider readjustments of property values in white neighborhoods."133 As Robert Self aptly remarks, "Containment is not too strong a word for the industry's desire to minimize these readjustments."134 This enshrined a "theory of land-use economics [that] treated racial and class differentials, like other supposedly objective land use variables, as calculable."135 The circular logic of this argument would prove self-fulfilling: white people feared the presence of people of color would lower their property values, so when people of color did move in, white people quickly sold, earning a lower price than they would otherwise. This logic also devalued homes owned by people of color, driving down overall neighborhood prices.
Incorporated municipalities also turned to exclusionary land use policies like large minimum lot sizes, growth boundaries, and caps on new units. For example, immediately after Atherton was incorporated in 1923, the town adopted a zoning ordinance imposing a one-acre minimum lot for housing.136 In the mid-1950s, more suburbs, typically seeking to prevent annexation, followed suit in adopting stringent land use regulations. Los Altos Hills, incorporating in 1956, enacted a one-acre minimum lot size and precluded multifamily housing in their zoning ordinance.137 The 1959 General Plan states the citizens' intentions were to preserve the town's "rural-residential" character and avoid "undue burdens" upon the town's resources with population concentration.138
103. Hirt, Zoned in the USA, 3
104. Edward H. Ziegler, Rathkopf's The Law of Zoning and Planning, 4th ed (2017).
105. Ibid
106. Swati Prakash, Racial Dimensions of Property Value Protection Under the Fair Housing Act, 101 Cal. L. Rev. 1437, 1447 (2013), https://scholarship.law.berkeley. edu/californialawreview/vol101/iss5/4/.
107. In re Lee Sing, 43 F. 359 (N.D. Cal. 1890).
108. Ibid
109. Buchanan v. Warley, 245 U.S. 60 (1917).
110. Wilhelmina A. Leigh and James B. Stewart, eds., The Housing Status of Black Americans, (New Brunswick, NJ: Transaction Publishers, 1991), 9.
111. Buchanan v. Warley, 245 U.S. 60 (1917)
112. Yang, "The Anti-Chinese Cubic Air Ordinance."
113. "Out of the Frying Pan into the Fire," Chinese in California, No. 83, The Bancroft Library, University of California, Berkeley.
114. Yick Wo v. Hopkins, 118 U.S. 356 (1886).
115. Taylor, Toxic Communities, 106.
116. Weiss, "Urban Land Developers and the Origins of Zoning Laws: The Case of Berkeley," 18.
117. Kevin Fox Gotham, "Racialization and the State: The Housing Act of 1934 and the Creation of the Federal Housing Administration," Sociological Perspectives 43, no. 2 (2000): 291–317, https://doi. org/10.2307/1389798.
118. Weiss, "Urban Land Developers and the Origins of Zoning Laws: The Case of Berkeley," 13.
119. Ibid., 18.
120. Hirt, Zoned in the USA, 165.
121. Ibid.
122. Ibid., 171.
123. Village of Euclid v. Ambler Realty Co., 272 U.S. 365 (1926).
124. Hirt, Zoned in the USA, 165
125. Richard H. Chused, Euclid's Historical Imagery, 51 Case W. Res. L. Rev. 597 (2001).
126. Charles Abrams, "The Housing Problem and the Negro," Daedalus 95, no. 1 (1966): 68.
127. Ibid.
128. Trounstine, Segregation by Design, 197.
129. David M. P. Freund, Colored Property: State Policy and White Racial Politics in Suburban America (University of Chicago Press, 2010), 46
130. Trounstine, Segregation by Design, 152
131. Freund, Colored Property, 51.
132. Trounstine, Segregation by Design, 152.
133. Self, American Babylon, 265.
134. Ibid
135. Freund, Colored Property, 65
136. Robert C. Ellickson, "The Zoning Strait-Jacket: Evidence from the Silicon Valley, Greater New Haven, and Greater Austin" Working Paper, Stanford Law and Economics Seminar, Stanford, CA, November 2018.
137. Ybarra v. Town of Los Altos Hills, 370 F. Supp. 742 (N.D. Cal. 1973).
138. Ibid.