The real estate industry and homeowners used other tactics that were less formal, but no less damaging than covenants, to create racially segregated spaces in the Bay Area. These included "steering," or the practice of guiding prospective homebuyers toward or away from certain neighborhoods based on race. Some realtors refused to do business with Black prospective homebuyers at all. These practices were perpetuated through industry guidelines, intimidation of realtors or community members who were willing to do business with people of color, and intimidation of new or prospective residents of color themselves.
Racial Steering
For at least 25 years following its release in 1924, the National Association of Realtors' code of ethics provided the guidance that "A Realtor should never be instrumental in introducing into a neighborhood a character of property or occupancy, members of any race or nationality, or any individuals whose presence will clearly be detrimental to property values in that neighborhood."215 The California Real Estate Association (CREA) set standards for segregation in its buying and selling policies, which local real estate boards implemented.
Throughout the Bay Area and the rest of the state, "local realty boards assumed the role of disciplining any members who violated [them] and determined which neighborhoods and tracts would be designated for 'whites only,' refusing to share listings with agents who openly served nonwhite clients."216 A San Jose Mayoral Committee on Human Relations in 1960 explained that the real estate community in the Bay Area continued to discriminate against Black homebuyers for several reasons. Firstly, the real estate firms understood their code of ethics to prevent them from selling homes in a way that would allow for integrated neighborhoods. Secondly, real estate agents feared economic and social ostracism if they sold homes to Black homebuyers. Thirdly, agents believed that owners and neighbors would fiercely oppose integration. And finally, agents were operating according to their own prejudices.217 A mutually reinforcing dynamic existed between homeowners applying racial prejudice in selling or renting homes and narratives from real estate agents that integration drives property values down. The majority of real estate agents thus saw it as their responsibility to keep existing white areas white.218

photo: An excerpt from the Realtor Code of Ethics adopted by the National Association of Real Estate Boards in 1924 and revised in 1928. The article was amended in 1950 to read "A Realtor should never be instrumental in introducing into a neighborhood a character of property or use which will clearly be detrimental to property values in that neighborhood," but its meaning remained clear, and discriminatory practices continued for years following the change.219
Realtors and community advocates servicing northern Santa Clara County and southern San Mateo County reported widespread racial steering in the 1960s. Real estate agents attempted to dissuade Black buyers from purchasing in all-white areas, sometimes explicitly telling those families that neighbors would object to their purchase or that the current owner would not want to sell.220 Instead of allowing consumers to choose, the real estate community forced the majority of the area's Black population into a "small region lying partly in the city of Menlo Park and partly in an unincorporated portion of San Mateo County known as East Palo Alto."221 To do so, the California Real Estate Association advertised that Black homebuyers should move to East Palo Alto, "where there was good FHA and VA supported housing," when such was not the case.222 One Menlo Park realtor, as part of an effort to assure a potential white homebuyer of the neighborhood's exclusivity, described the community's willingness to maintain segregation even while it was quickly becoming illegal: "Of course, there is no restriction anymore because the Supreme Court says that we cannot restrict areas on the basis of color or creed anymore. However, property owners can keep an area all white by banding together and agreeing to refuse to sell to orientals or Negros."223
In Sonoma County, the local realty board had an unofficial agreement not to show property to Black potential homebuyers in Sonoma, "thus putting a heavy burden of disapproval and perhaps financial loss upon any one of the group who chooses to go contrary to this group stand."224 Surveys of realtors in the area revealed that they would not rent or show homes to African Americans, saying they would be "finished" if they did. And, indeed, realtors were fired during this period for showing homes to Blacks.225 Realtors also admitted to artificially raising prices for African American prospective buyers, outright refusing to show them homes, and lying about the availability of properties in order to maintain exclusivity in Sonoma.226 Realtors in San Leandro "refus[ed] to exchange multiple listings with the integrated Oakland border. This refusal ban[ned] Oakland's minority population from the opportunity to purchase homes in San Leandro by denying these homeseekers essential information about available housing on the market."227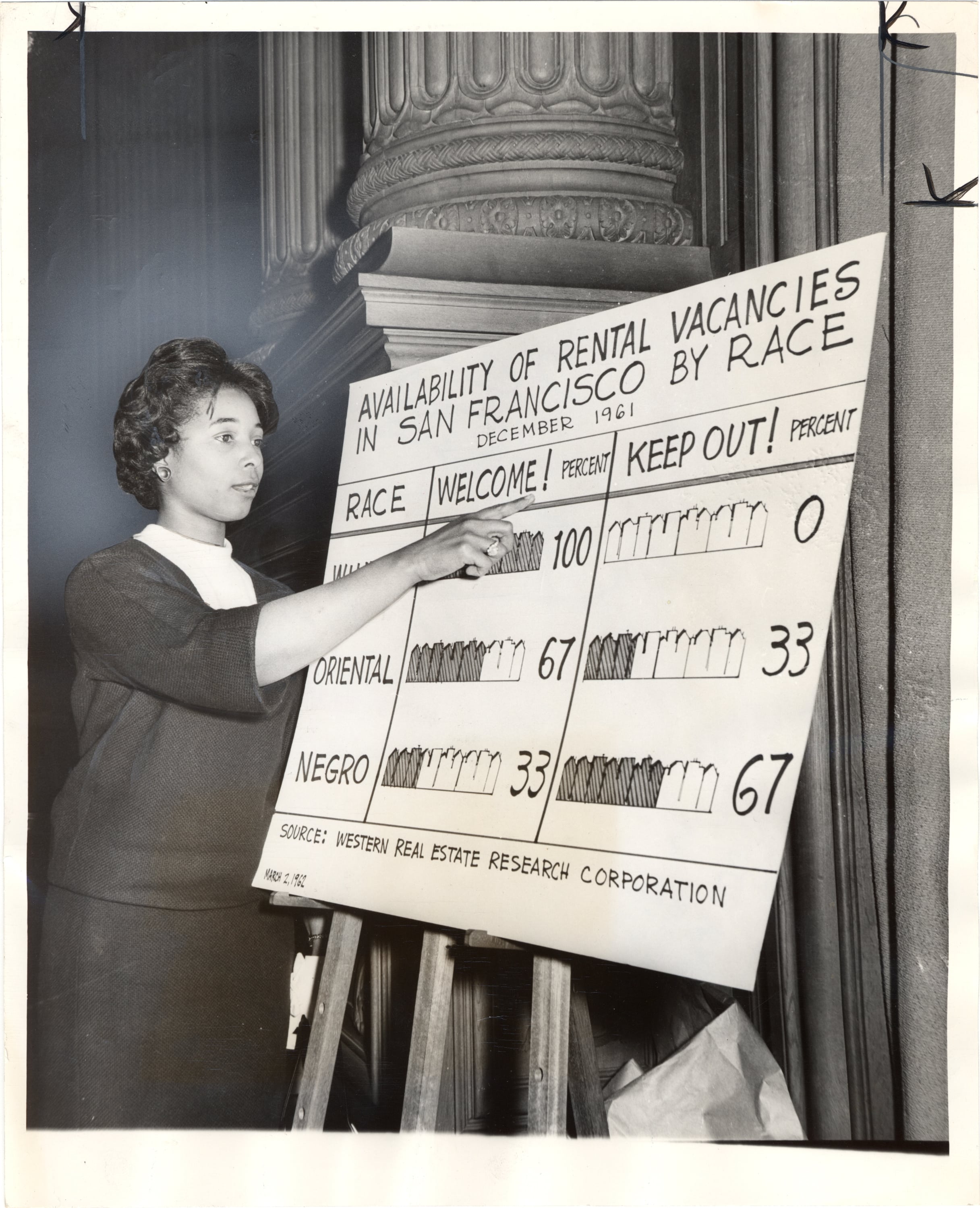 photo: In 1962 a Berkeley teacher, Miss Frances Fletcher, presents statistics gathered by the National Real Estate Research Corporation on racial discrimination in San Francisco's rental housing market, which show that two-thirds of landlords refused to rent to African American tenants. Courtesy of San Francisco History Center, San F rancisco Public Library.228
Blockbusting
Blockbusting was a particularly pernicious and profitable form of racial steering where real estate investors would provoke fear of racial change in the neighborhood so they could profit from the transactions. For instance, after the first African American family moved to East Palo Alto's new Palo Alto Gardens subdivision in 1954, real estate agents carried out a blockbusting campaign:
On the doorsteps of white families they left pamphlets forecasting the collapse of local real estate values. Agents gave African Americans free bus rides through East Palo Alto's neighborhoods to encourage black families to buy, while attempting to scare white homeowners into selling. These agents would then assist the white families to find housing in the new subdivisions in Mountain View or Sunnyvale while offering their assistance to incoming African American families. This way, they received commissions on both ends.229
Similar efforts to increase panic-selling occurred in Oakland neighborhoods where African Americans had begun to move in. One white resident recalled, "They hounded us to sell the house at that time so they could give it to the colored at about twice the price."230 In the racially mixed southside of Richmond, homeowners reported blockbusting by real estate agents who convinced white residents to sell and move to the suburbs, while similar patterns occurred in other Bay Area shipyard boomtowns such as Hunters Point, Marin City, and Vallejo.231
The outcomes of racial steering, blockbusting, and other tactics were starkly evident in many areas of the region in the 1960s. A realtor in San Carlos boasted that steering Black applicants away from the area had kept the city entirely white as of 1957, stating, "We are proud that we have no Negro living here in San Carlos."232 In San Jose and surrounding areas, surveys of the rental market revealed that just one in 15 apartments for rent would be open to a Black tenant.233 As of 1960, no African Americans were living in Sebastopol or Sonoma.234 In numerous jurisdictions in the East Bay the Black population did not rise above a half of a percent through the early 1970s, including Walnut Creek, Lafayette, San Leandro, Pleasanton, and San Lorenzo.235
Discriminatory Lending
Redlining, or the discriminatory practice of denying borrowers access to credit based on the racial or socioeconomic makeup of the neighborhood where their property is located, fundamentally contributed to racial disparities in access to homeownership, residential segregation, and disinvestment from communities of color throughout the United States from the 1930s onward. While redlining, discrimination in the provision of mortgage insurance, and other racially exclusionary lending practices were driven in large part by the federal government, local actors played a key role in their creation and use. When the Home Owners' Loan Corporation (HOLC) created its infamous "Residential Security" maps that redlined neighborhoods and ultimately informed both public investment and private sector lending decisions, the agency's examiners gathered information from local bank loan officials, realtors, appraisers, and municipal officials to determine neighborhoods' lending risk classifications.236 The maps thus not only captured, but further amplified the common understanding and bias among local actors in charge of lending decisions.237 Redlining maps were created in 1937 for the Bay Area cities of San Francisco, San Jose, Oakland, Berkeley, Albany, Alameda, Emeryville, Piedmont, and San Leandro.238
In addition to racial covenants that already restricted the supply of housing available to people of color, lending discrimination was yet another barrier to contend with. "We know that the Negro cannot operate in a free market. There are restrictions: by neighborhoods, property owners, real estate corporations, companies and some financial institutions... [M]ost banks are operating and are influenced by their experience of 20 years ago, when Negroes were the first to go broke," stated Jefferson Beaver in 1956, who in 1949 established the Trans-Bay Savings and Loan Association in San Francisco to lend money to Black borrowers who were denied financing by larger banks.239
In its Civil Rights Inventory of San Francisco, the San Francisco Council of Civic Unity documented some of the racial factors considered by major mortgage firms in the city. It found that loan approval "often depended on whether property was in an 'approved' neighborhood," meaning a neighborhood where people of color already resided. All of the lenders interviewed stated that they would not issue a loan to a "'first-entry' minority in an all-white district," and a majority also stated that they "were sure that their depositors and policy holders would threaten to, or actually would, withdraw their accounts if loans were made to first-entry nonwhites," and that "entry of nonwhites made loans to white borrowers more difficult."240
Proposition 14 and Local Connection to State Politics
In addition to the 1950 campaign to establish Article 34, the real estate industry, organized statewide by CREA, initiated multiple exclusionary ballot measures to protect their business interests. Representatives from the Bay Area real estate community held significant influence in statewide politics through CREA since its founding in 1905. In the Bay Area, local agents had already founded a number of real estate boards in their cities, including San Jose (founded in 1896 as the first local real estate board in California), Berkeley (1902), and San Francisco (1905), and they took an active role in the founding of CREA.241 In fact, CREA's first president was a Bay Area real estate agent, Francis Ferrier of Berkeley.242
Through the 1960s, CREA's Bay Area chapters mobilized against local, state, and federal fair housing initiatives, including the California Fair Housing Act, which was authored by Assemblymember William Byron Rumford of Berkeley and passed by the state legislature in 1963. Known as the Rumford Act, it prohibited discrimination in the private housing market for properties with five or more units, and in housing financed by public sources.243 In response, CREA put forth a statewide ballot initiative in 1964 that would essentially nullify the Rumford Act by explicitly allowing private discrimination in the housing market. The initiative, Proposition 14, proposed a constitutional amendment that read:
Neither the State, nor any subdivision or agency thereof shall deny, limit or abridge, directly or indirectly, the right of any person who is willing or desires to sell, lease, or rent any part or all of this real property, to decline to sell, lease or rent such property to such person or persons as he, in his absolute discretion, chooses.
The initiative sought to frame the Rumford Act as constraining the rights of individual homeowners to sell or rent their homes. Proposition 14 was even framed as a "decision between 'freedom of choice' and 'forced housing'."244 Proponents argued that state officials were "seeking to correct . . . a social evil [housing discrimination] while simultaneously destroying what we deem a basic right in a free society."245 The "basic right" spoken of here is the illusory conviction that property owners must be allowed to sell their property to whomever they choose. This is an argument that "the right to discriminate by race was not only rooted in 'natural law' and guaranteed by the U.S. Constitution but that it was a cornerstone of American prosperity writ large."246 Scholar Daniel Martinez HoSang writes that this connection white homeowners made between the traditional property right to exclude others from one's land and the Rumford Act is one intended to preserve both white power and wealth: "a central dimension of what made property valuable was the prerogative of (white) property owners to discriminate by race."247 Voters understood the message encoded in the alleged threat to their property rights. The Rumford Act would make it harder for communities and real estate agents to keep African Americans out of predominantly white communities. Statewide, voters approved the proposition: 65 percent in favor, 35 percent against.
Like the fight over public housing and Proposition 10 in 1950, the statewide fight over fair housing can be traced back to the Bay Area. In 1963, the Berkeley City Council passed a fair housing ordinance. Debate over the new ordinance roiled as Berkeley's representative in the California Assembly, William Byron Rumford, introduced the state Fair Housing Act. Just three months after the local ordinance passed, the local real estate association proposed a referendum to repeal the measure.248 Berkeley residents voted by a narrow margin (22,750 to 20,456) to repeal the ordinance and passed an initiative affirming the legality of housing discrimination in the city.249 The defeat of Berkeley's ordinance emboldened CREA to fund the Proposition 14 campaign, and the industry made a concerted effort to influence the Bay Area vote.250 For example, law professor David Oppenheimer recalls that when UC Berkeley students set up a table on Sproul Plaza to raise awareness for the No on Proposition 14 campaign (among other civil rights issues), "the university, under pressure from the real estate industry, prohibited them from on-campus advocacy for candidates or propositions," thus prompting student protests and further emboldening the Berkeley free speech movement.251 In Alameda County, a vast grassroots network of churches, labor unions, and civil rights organizations united with local and state representatives to oppose Proposition 14, while "only realtors and homeowners associations were absent from the No on 14 coalition." However, by "operating through institutional networks cultivated over two decades of city building, [they] proved far more able to convince and mobilize voters than the county's political leadership," according to Robert Self.252 At that point, CREA had 2,600 members in Alameda County alone253 and nearly 13,000 members throughout the region.254
photo: "Get Back Your Rights," Committee for Home Protection flyer in favor of Proposition 14, 1964. Courtesy of Max Mont Papers, Urban Archives Center, Oviatt Library, California State University, Northridge.
In 1967, the US Supreme Court declared Proposition 14 unconstitutional in Reitman v. Mulkey. While the Rumford Act was restored in 1966, Proposition 14's significance remains. The measure denoted what Robert Self describes as a slow but powerful national shift during the mid-twentieth century in which the historically more blatant discourse of white supremacy "gave way in public forums to a right-based language of individualism and freedom," becoming "the dominant discourse through which white racial privilege was articulated."255 Self states that this framing "intended to inoculate segregation and white privilege against charges of racism through appeals to hallowed American rights traditions."256
215. National Association of Real Estate Boards, Code of Ethics: Adopted by the National Association of Real Estate Boards at its Seventeenth Annual Convention, June 6, 1924, quoted in Trounstine, Segregation by Design, 166
216. Daniel Martinez HoSang, Racial Propositions; Ballot Initiatives and the Making of Postwar California. (Berkeley, CA: University of California Press, 2010), 56.
217. United States Commission on Civil Rights, Hearings before the United States Commission on Civil Rights, 616.
218. Ibid., 735.
219. National Association of Real Estate Boards, Code of Ethics: Adopted by the National Association of Real Estate Boards at its Seventeenth Annual Convention, June 6, 1924, http://archive. realtor.org/sites/default/files/1924Ethics. pdf.
220. United States Commission on Civil Rights, Hearings before the United States Commission on Civil Rights, 616, 637.
221. Ibid., 637.
222. Ibid.
223. Ibid., 726.
224. Ibid., 587.
225. Ibid., 590.
226. Ibid., 589.
227. National Committee Against Discrimination in Housing, Inc., A Study of Patterns and Practices of Housing Discrimination in San Leandro, California, 2.
228. Bob Warren, San Francisco News-Call Bulletin, "Miss Frances Fletcher, Berkeley teacher pointing at chart that shows racial discrimination in housing sales and rentals in San Francisco," March 9, 1962, photograph, San Francisco Historical Photograph Collection, AAF-0302, San Francisco History Center, San Francisco Public Library, http://sflib1.sfpl.org:82/ record=b1035549.
229. San Mateo County Historical Association, and San Mateo County Historic Resources Advisory Board, City of East Palo Alto Historic Resources Inventory Report (February 1994), 71.
230. Self, American Babylon, 165.
231. Johnson, The Second Gold Rush, 228.
232. United States Commission on Civil Rights, Hearings before the United States Commission on Civil Rights, 726.
233. Ibid., 638.
234. Ibid., 588.
235. Terry Link, "The White Noose: How Racist Federal Policies Put a Stranglehold on the City," San Francisco, November 1971, 26-56.
236. Bruce Mitchell and Juan Franco, HOLC "Redlining" Maps: The persistent structure of segregation and economic inequality (National Community Reinvestment Coalition, 2018), 5, https://ncrc.org/wp-content/uploads/dlm_uploads/2018/02/ NCRC-Research-HOLC-10.pdf.
237. Ibid., 7.
238. Richard Marciano, David Goldberg, ChienYi Hou, Testbed for the Redlining Archives of California's Exclusionary Spaces, accessed August 9, 2019, http://salt.umd. edu/T-RACES/mosaic.html
239. Miller, The Postwar Struggle for Civil Rights, 58.
240. Trevor Thomas, San Francisco' Housing Market--Open or Closed? Civil Rights Inventory of San Francisco, (San Francisco, CA: Council for Civic Unity of San Francisco), 29-30.
241. California Department of Real Estate, Reference Book: Information Relating to Real Estate Practice, Licensing and Examinations (Sacramento: California Department of Real Estate, 2010), 35, http://dre. ca.gov/Publications/ReferenceBook.html.
242. Center for California Real Estate, "About C.A.R.," Center for California Real Estate, accessed August 11, 2019, http://centerforcaliforniarealestate.org/about/car.html.
243. HoSang, Racial Propositions, 62.
244. Self, American Babylon, 204
245. HoSang, Racial Propositions, 68.
246. Ibid., 70.
247. Ibid., 71.
248. Earl Warren Oral History Project, "Legislator for Fair Employment, Fair Housing, and Public Health William Byron Rumford," Regional Oral History Office, University of California, Berkeley, 1970-1971, https:// oac.cdlib.org/view?docId=kt5h4nb0wd&brand=oac4&chunk.id=meta
249. David B. Oppenheimer, "California's Anti-Discrimination Legislation, Proposition 14, and the Constitutional Protection of Minority Rights: The Fiftieth Anniversary of the California Fair Employment and Housing Act,"Golden Gate University Law Review 40, no. 2 (2010): 121, http://digitalcommons.law.ggu.edu/ggulrev/vol40/ iss2/1.
250. Ibid., 124
251. Ibid., 125.
252. Self, American Babylon, 264.
253. Ibid., 261.
254. California Real Estate Association, California Real Estate Magazine, October 1964.
255. Self, American Babylon, 267
256. Ibid., 268