The following section is broken into three ways to advance a cultural strategy for belonging. The first speaks to those who are in some way practitioners of cultural strategy and their collaborators.  The second speaks to those engaged in funding, research and organizational leadership.  Finally, the Appendix includes a workshop for those looking to develop and integrate cultural strategy projects in their work. The workshop includes a  more robust set of examples than is included in the body of this report.
Ways cultural strategists can strengthen the field
1. Tighten the web of relation between cultural strategy and other change strategies.
Change in cultural spheres can catalyze social, political, and economic change, and cultural change can be catalyzed by change in other areas of life. Cultural change does not inherently precipitate or precede social change, and this becomes especially true if we widen a lens of attribution and influences. For example, Jackie Robinson's baseball career is frequently historicized as a key catalyst of desegregation efforts, which it was. But what if we started the framing of Jackie Robinson's breaking the color line in baseball a half decade earlier? This widened lens would have to include the first March on Washington, which was only proposed but nonetheless demonstrated enough power to pressure Franklin D. Roosevelt to sign an executive order that prohibited ethnic or racial discrimination in hiring in Federal Defense contract work. Would we then need to also expand the frame to include how the March's lead organizer A. Phillip Randolph had worked 15 years prior to found the Brotherhood of Sleeping Car Porters, the first Black American union? What other contributing factors could we trace, that created the conditions where Robinson's skill, courage, and determination would become a landmark moment of cultural change?   
Antonio Gramsci wrote that, "The starting-point of critical elaboration is the consciousness of what one really is, and is 'knowing thyself' as a product of the historical process to date, which has deposited in you an infinity of traces, without leaving an inventory. Therefore it is imperative at the outset to compile such an inventory."38
The compiling of this inventory is crucial for shaping how we conceptualize and approach cultural strategy. When we see our work within this inventory of an infinity of traces, it demands that we connect our work to a much broader web of acts. This inventory may be in the present, but it also may include what has come before and what we imagine may come after. Cultural strategy, ideally, serves as a catalyst for cultural change, but it can be strengthened by thinking of it as interactive within this web of legal, organizing, advocacy, research, and political efforts that primarily focus on other levers and spheres of change. This interaction can lead to reciprocal strengthening.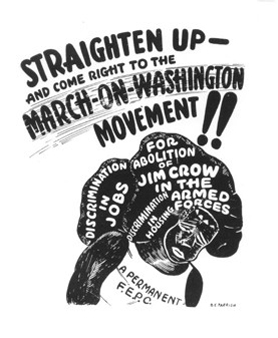 B.E. Parrish, "Straighten Up - And Come Right Down to the March on Washington Movement," 1941, poster, A. Philip Randolph Institute.
If a key practice of cultural strategy is to "amplify the knowledge, insight and vision that comes through culture and cultural production," as noted earlier in this report, we must reflect on how to make connections to other change strategies in the conceptualization and planning of our work. In the Staying Power Fellowship, this was addressed in the design of the project. The six fellows who created cultural and artistic projects around their experience with the housing crisis in Richmond were drawn from three grassroots organizations engaged in policy and organizing around housing and development. The projects they created were in close dialogue with the goals of ongoing organizing work, but they were created through a collective creative process, not through direction of the organizations or pre-determined forms. In this way the fellowship design structured opportunities for this interaction and reciprocity between multiple sites of change and power building.
Tightening this relationship also means creating more opportunities for culture and cultural production within other change strategies. We can't–and absolutely shouldn't imagine we could–design or strategize all forms of cultural production. Not only is this paternalistic, it suffocates the dynamic characteristics of culture which come from people creating and navigating in relationship, collaboration and contestation as a way to survive, enjoy, and make sense of the world. This becomes an instrumental or functionalist39 use of culture, which denies the value of culture on the terms of those creating it as well as the "poetic knowledge" that it can carry. In developing the play Mariposa and the Saint, focused on one woman's experience of solitary confinement, co-writer Julia Steele Allen reflected on the essential need for the work to be a powerful artistic work in its own right, regardless of the gravity of the content or its relationship to social change efforts. For Steele Allen, it was the emotional connection opened by the play that laid the groundwork for it to become a powerful organizing tool—performed only in states with active campaigns against solitary confinement, and always including an action component and talk-back with organizers and directly impacted people in the second half of the show. This allowed it to enter and move people to action in institutional spaces—a judge's conference, city council meetings, or a community college where people are preparing for careers as prison guards.40 It is important to recognize as well that the connections made with organizations around the country were made possible by Steele Allen's years of organizing in the anti-prison movement and continued willingness to provide labor and time on the more "mundane" tasks of organizing.
From top: A. Philip Randolph, "Call to Negro America to March on Washington for Jobs and Equal Participation in National Defense," Black Worker 14 (May 1941); National Refugee Service, Inc., Employment Division. Executive Order 8802. Advertisement, 1941. NAACP Records, Manuscript Division, Library of Congress (051.00.00) Courtesy of the NAACP; Project design for the Staying Power Fellowship, 2017. Evan Bissell and Eli Moore
A cultural strategy for belonging is not a practice of waiting for and historicizing heroes, but of cultivating vibrant and widespread cultural practice on the terms set out by the people creating it.
This effort to tighten connections can happen both by practitioners of cultural strategy, as well as by those who may not see cultural strategy as their work. This can mean an invitation (if not simply an openness) to cultural strategy at early stages of projects, research, and organizing in other sectors and disciplines. It means cultivating the infrastructure and resources for the support of artists and cultural producers across a variety of social change activities, not just at the end or as the illustrator of an existing idea (this has its own place as well but ties more closely to the production and output of the work). It also means integrating cultural forms and knowledge into traditionally "non-cultural" forms of research and public events. For those who are working in cultural strategy, ways to strengthen this connection are addressed next.
2. Better defining our work and practice
If the different ways of activating cultural strategy are opaque, the asks made of practitioners (strategists, artists, storytellers, culture-makers…) will be subject to preconceived assumptions, and the infrastructure that supports our work will be brittle. At the Haas Institute, we wouldn't ask a researcher to create maps based on complex data sets when the researcher's training and passion is in ethnography. We know not to do this because we have an understanding, or at least some awareness, of different methodologies and methods used in social science research. Cultural strategy can be viewed similarly. In large part, this paper reflects one effort to contribute to this understanding, but this must also be further defined according to one's own practice and the work being engaged.
To build strong, long-term partnerships it is not enough for artists to say, "Trust me I've got this, let the magic happen." Better defining and articulating the methods, tools, and potential outcomes of our work creates a clearer ground for collaboration (it is also important to know that some potential collaborators may just not be open to deeper and more sustained forms of cultural strategy). The Culture Group outlines a helpful set of notes41 for artists to keep in mind in approaching collaborations in non-arts spaces, from pay and timeline to the need to articulate one's process. In reflecting on the development of national arts and culture projects like Trans Day of Resilience and Mamas Day, Micah Bazant, Forward Together and Culture Strike also developed a set of Collaboration Principles for Artists and Social Justice Organizers.42
Making a cultural strategy process visible and understandable can also help people with a non-cultural strategy practice, develop their own skills, ideas, and methods. The workshop included in this paper is one way that I approach this in supporting people to develop their own ideas and justifications for integrating cultural strategy.
Finally, this clarification can help develop a more sustained infrastructure. When it is clear why we need certain materials for a project or why we might hold in-person meetings at a local restaurant or why a process should be eight months instead of two, this helps clarify resource needs. This also includes being able to articulate why a process might be compromised by taking a shortcut and not having the proper materials or being able to pay collaborators.
Certificate of Belonging: The Stud, nominated by Torreya Cummings & John Cartwright. One of 25 certificates installed in locations of belonging, as part of Artist-in-Residence 2018/19 Christine Wong Yap's project. Photo by Christine Wong Yap.
3. Resisting the urge to create individual cultural icons and heroes
The formulations of artistic and cultural practice that are central to a cultural strategy for belonging are extremely elastic, but as outlined previously, they build from historical, collective and everyday practices and forms. In this way, a cultural strategy for belonging is not a practice of waiting for and historicizing heroes, but of cultivating vibrant and widespread cultural practice on the terms set out by the people creating it. This requires respecting the experience, passion, hard work, and skill on the part of individuals who often lead this work–and absolutely the resources to support them–but it doesn't mean relying on icons and heroes. Eurocentric formulations of art center on individualized genius and talent, largely tied to institutions where the museum or market defines the importance of the art. In a cultural strategy for belonging, process is one of the outcomes. In this way projects seek to create opportunities to catalyze the capacity of all people to create and reflect collective and relational processes that practice belonging. This take is more akin to an art which is not split from the functional, spiritual, or from everyday life.43 This means shifting who is considered an expert or legitimate in creating culture. The Institute's development of fellowship models (heavily informed by participatory action research) and long-term partnerships with community organizations engaged with cultural strategy speaks to the cultivation of many voices and producers.
In 2018, the Institute launched an Artist In Residence program, with dialogue and process as core priorities of the proposals chosen. A core motivation for this is for the Institute to learn from the practices of artists who are skillful in creating processes that create belonging and then are able to reflect and amplify the knowledge and understanding that comes through this. In their very different approaches, this is reflected by the first two awardees, Christine Wong Yap's 100 Stories of Belonging book and the workshops that led to it, and the art collective Complex Movements, whose deep listening processes connect people across different cities and issues, and then reflect this through multimedia storytelling, music, and immersive performance.
Ways funders, researchers, and leaders can strengthen the field
1. Continuing to expand the push for public funding and infrastructure
The current public infrastructure for arts and culture bears the marks and scars of drastic reductions and continued attacks on the National Endowment for the Arts and the National Endowment for the Humanities (a conservative cultural strategy to defund public arts and culture programs in its own right), not to mention defunding for education and increased funding for prisons, policing and the Department of Defense.
To create a truly vibrant and democratic field for cultural strategy, we need to move beyond private support to expand public infrastructure for cultural forms and practices. This requires the support of public sector actors and private philanthropy. Without this public infrastructure Jacob Lawrence may not have grown into a painter; members of the Chicano Arts Movement may not have met in community college art classes; thousands of songs, photos and documents may not have been collected by folklorists and anthropologists like Zora Neal Hurston, Alan Lomax, and Mary Elizabeth Barnicle. Shannon Jackson describes how the Works Progress Administration's Federal Theater Project used, "interdependent art forms as vehicles for re-imagining the interdependency of social beings. They gave public form to public life."44 Countless other examples exist of artists and cultural workers who gained traction through the wide entry-point of public programming and infrastructure. Growing up in the late 80s and 90s in suburban California, I know I experienced dramatically more arts and culture programming in poetry, ceramics, theater, music and visual arts than the students I taught as a once-a-week, shared between two middle-schools, non-profit funded art teacher in the mid-2000s in the same area. When I was 8, receiving art classes wasn't framed as "special." Rather, all students had access to these classes, which reinforced that there was value and importance in art and culture.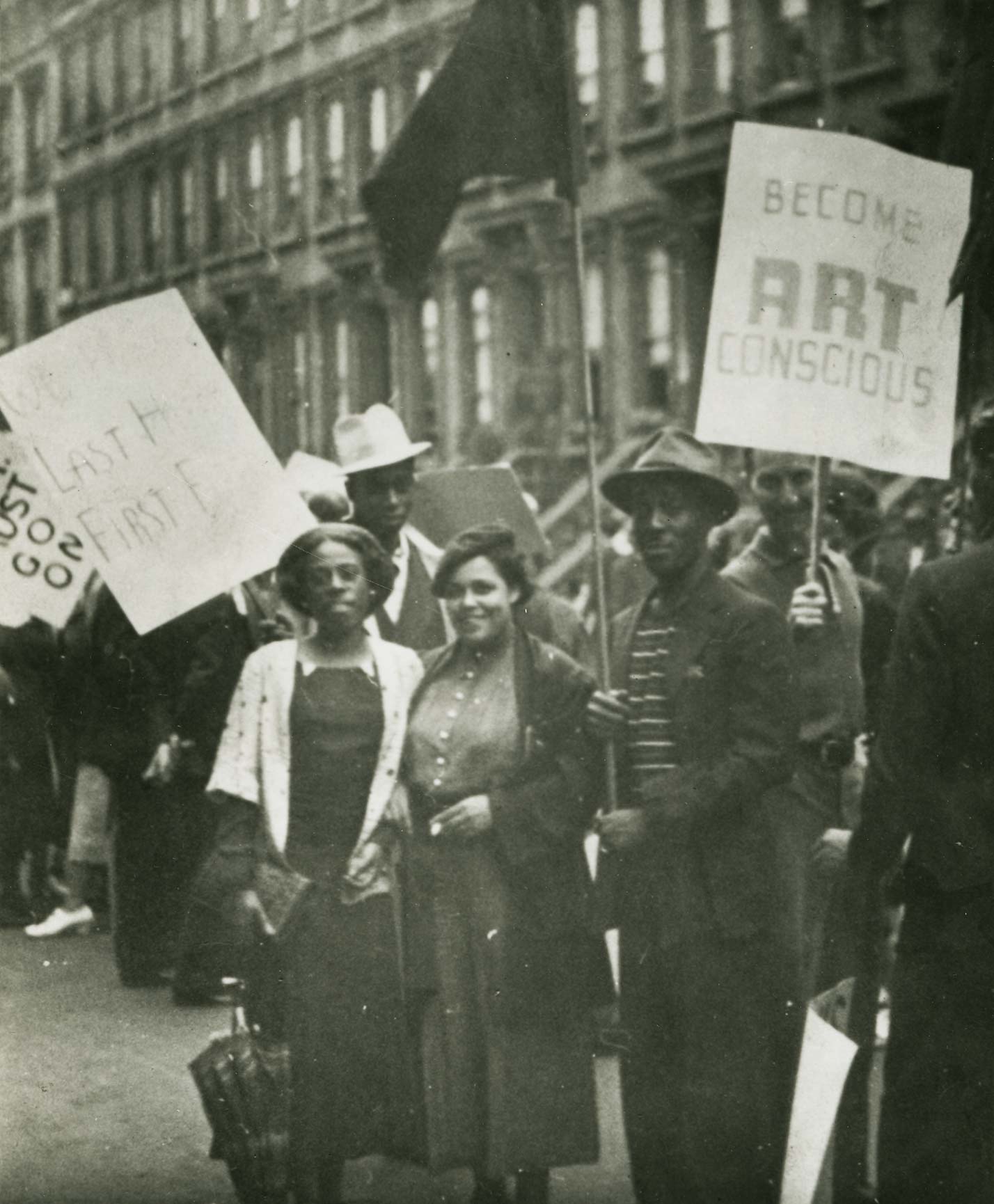 Members of the Harlem Artists Guild picketing with the Works Progress Administration Artists Union to protest cutbacks to WPA programs. Gwendolyn Bennett (center), Norman Lewis (right), and Frederick Perry (wearing the white hat). Harry Henderson Papers, Penn State University Archives, Pennsylvania State University Libraries, University Park, Pa.
In an era of hyper-competitive and overly commodified professionalized art practice, the gate-keeping of cultural production is evermore narrow and restrictive. Challenging this is an essential aspect of power shift. We need to create more opportunities for experimentation and failure for people who have historically not had the privilege to experiment or fail. If we only support projects through foundations and private grants, we narrow who has the opportunities for practice. Even when grants are targeted for Black people, Indigenous people and people of color, there are other elements of legitimacy and access that define participation—e.g., funding for the Yale painting program graduate rather than the community theater production in Richmond led by a full-time teacher.
This is a key goal: to create a larger playing field of participation at all levels of practice. The Arts Education Policy and Grantmaking Sub-Strategy of the Hewlett Foundation45 is one example of how an emphasis on a broadened arts education infrastructure can do this. The Green New Deal, with a jobs guarantee provision that focused on the arts could offer a major infusion for jobs creation in this realm. A partial repeal of Prop. 13 in California could bring needed funding for public school arts classes and support of practicing artists as classroom teachers–an expansion which should be coupled with a critical understanding of what cultural narratives are being taught and reinforced through this. What would it mean to secure cultural and arts anchors in their locations, building on models like the Community Arts Stabilization Trust by further leveraging public resources and developing supportive policies? In addition to direct support of projects, the field of philanthropy must consider how to leverage power in support of a longer-term goal of democratizing access to cultural production and the arts through policy, tax structures, and politics.
2. Trust and respect the expertise of artists and cultural workers
Artists, storytellers and cultural workers are often seen as some sort of mythic creature who can't be understood. This comes from an unfortunate lineage of the cult of genius where artists are mythologized as "natural" talents who were "born that way." This is a Eurocentric historicization of artistic practice, often reproduced in the few art classes that people have had. While people are attuned to different sensibilities and have specific technical skills derived from experience and practice, there is no cookie-cutter artist type or practice. Storytellers, artists, and cultural workers have experience in their skillsets, tools, and languages. This means they have justifications and nuances for why they do their work, which may not be immediately apparent–just as may be the case with any experienced partners, for example, how an administrative assistant processes paperwork or why a researcher frames a question in a specific way. In partnerships it is essential to respect their experience but engage with their practice.
Artists and cultural workers must make the case for their work and be clear about their process and approach, but they also need the space and respect to do their work. Otherwise we run the danger of asking people to do work they don't have experience and skills in, or they're left alone to do their work in ways that aren't collaborative, thereby leaving potential ties dormant between cultural strategy and other change strategies.
Finally, trust in a partnership is ultimately about sharing power. This can support a more honest allocation of resources and closer alignment of concepts, goals, and understandings, which, without smothering the unicorn, still creates the conditions for magic to appear.
3. Cultural strategy evaluation as an opportunity to rethink evaluation more broadly
The Culture Group's report Culture Matters46 looked at ways to better support and invest in cultural strategy for social change. A key aspect of this report was the question of evaluation, given the challenges presented by the multiple layers of impact of cultural strategy efforts, some which are non-direct, slow to appear, and hard to trace. Cultural Strategy: A Primer and Introduction provides important indications towards measuring networks, relationships and looking at the impact of cultural strategy along a continuum.47 Difficult doesn't mean we shouldn't do it; we do need this clearer understanding of how cultural strategy leads to changes in systems and structures and how it plays out over time. But the opportunity to design evaluation for cultural strategy can provoke important questions that also make us rethink evaluation more broadly.
When evaluation is based only on what are framed as concrete changes that build towards a pre-defined goal, there is a danger of erasing experiences and processes that are vitally important to people. A cultural strategy for belonging–because of its emphasis on process–presents an opportunity to be in better alignment with a praxis of belonging. Discrete and quantifiable assessments of impact and change are essential, but we should be wary of the presumption that we are building a new house brick by brick, and when its finished, no bad wolf will be able to blow it down. By doing this, we reinforce a linear, teleological conception of social change that looks to a static ending place. How would an evaluation take seriously Nina Simone's comment that "freedom" is the feeling of having no fear, and that this is a fleeting moment that she experienced at times on stage? How does evaluation value those moments of embodied freedom alongside questions of social, economic, and political change?
By including a focus on process and experiences of process, we can expand the lens of evaluation from a final goal of a society built on belonging, to how our current practices and processes reflect and create belonging now. In shifting evaluation efforts to instead developing an inventory of traces, we can see the ways that these many efforts contribute to and link with each other, thereby creating a deeper and more emergent notion of how change happens.
In this way, we might see belonging, justice, and liberation not as distant islands, but as something that is in constant change, tension and struggle, might be both material and deeply rooted in spirit and body, and the thousands of traces and processes we create, experience and fight for together.
4. Recognize and build on legacies of work and emerging practices
In a class that I teach about the relationship between artists and social movements, in our first weeks we look at the Young Lords' 1969 Garbage Offensive. The Young Lords analyzed the lack of public services such as trash pick-up in their predominantly Puerto Rican, East Harlem neighborhood as a function of systemic racism and classism. As one response, the Young Lords cleaned up the trash from their neighborhood and used it to block a busy street. The action, known as the Garbage Offensive, presents a powerful balancing of symbolic and practical approaches, creating a clear and direct story of resilience and self-determination in the context of systemic disinvestment, while practically drawing public focus and creating an opportunity to organize other neighbors through the clean-up. Would the young organizers have called this cultural strategy? Were they envisioning that this action of picking up trash would come in front of hundreds of UC Berkeley students as a key text in their first year of college? Or that these images would be remounted in that same neighborhood fifty years later in the artist Miguel Luciano's project Mapping Resistance: The Young Lords in El Barrio, which revives and amplifies the work of the Young Lords and especially the work of photographer Hiram Maristany who documented many of the Young Lords actions.
As the field of arts and cultural strategy further professionalizes, builds a shared lexicon of understanding, and begins to attract funding to make it more sustainable, I think about those organizers. I think about the legacy of Sun Ra via Afrofuturism. I think about the fashion, hunger strikes, and signs of Alice Paul and other suffragettes. I think about the 1992 ashes action of ACT UP where lovers threw ashes of those who died from AIDS on the White House Lawn. I think about the danger and the uncertainty of so many of the legacies upon which this work is now built. The Allied Media Network principles share that, "Wherever there is a problem, there are already people acting on the problem in some fashion. Understanding those actions is the starting point for developing effective strategies to resolve the problem, so we focus on the solutions, not the problems."48 It is important for all of us interested in and engaged in this work to recognize and build on these legacies and continually emerging practices through deep listening, and an openness and trust in building relationships with those at the frontlines of developing effective cultural strategies.
---
Download a PDF of the report here.
38. Antonio Gramsci, Quaderni del Carcere, ed. Valentino Gerratana (Turin: Einaudi Editore, 1975), 2: 1363, as quoted in Edward Said, Orientalism, (New York: Vintage Books, 1994), 25
39. A phrase coined by Nayantara Sen during Cultural Strategy reading groups hosted by the Haas Institute and Race Forward during the summer and fall of 2019.
40. For more on the play and organizing process, see http://www. juliasteeleallen.com/portfolio/ mariposa/ A report detailing the organizing process for the play will be released in late 2019.
41. See for example "13 Key Principles for Working with Artists," in Culture Group, Making Waves, 41-42.
42. See: https://forwardtogether. org/tools/how-to-reimagine-theworld/
43. Anzaldúa, Gloria. Borderlands: La Frontera. Vol. 3. Aunt Lute San Francisco, 1987, 68.
44. Jackson, Living Takes Many Forms.
45. See the strategy paper here: https://hewlett.org/wp-content/ uploads/2019/02/hew20.artsed_ strategy.r4.1.pdf
46. The Culture Group, "Culture Matters; Understanding Cultural Strategy and Measuring Impact," The Culture Group, 2011.
47. Sen, Cultural Strategy, 23-25
48. Allied Media, "Network Principles".