Culture and Belonging
In the weeks leading up to the pivotal midterm elections in 2018, young organizers in contested districts in California were finalizing details of unconventional Get Out The Vote actions through a program called the Cultural Ambassadors Fellowship.1 In Fresno, Jazz Diaz, who was one of the program's Fellows, made paper by hand and embedded the seeds of flowers that grow on both sides of the US/Mexico border within it. She was working with Fellow Yenedit Valencia to host a workshop that was part printmaking and part traditional Oaxaqueño dance. The resulting notes and prints on the seed paper were then shared with new voters by door-to-door canvassers with the youth organization 99Rootz. 
Meanwhile in Orange County, fellow ambassadors Jesus Santana and Alba Piedra were finalizing a workshop activity about flags and their relationship to land and identity. In this workshop participants created flags that represented visions of a just and equitable California, which then became the basis for voter information pamphlets to be used by young Get Out the Vote canvassers working with the organization Resilience Orange County. And on the outside of a free election day shuttle van, fellows Yacub Hussein and Haadi Mohamed completed images that connected the story of contemporary San Diego immigrants with those of civil rights and farmworker organizers from a half century before. With the group Partnership for the Advancement of New Americans, Yacub and Haadi drove members of their neighborhood to the polls who had indicated they otherwise might not have been able to get there. This work connected them to a history of community organizing and leadership that continually expands our notions of who belongs.
These projects, organized with the group Power California, were part of a larger umbrella of efforts from the Haas Institute's Blueprint for Belonging (B4B) program, which works to develop and expand narratives in California that are more reflective of the state's diverse demographic makeup. Their approach is driven by the foundational othering and belonging framework of the Haas Institute, which understands that creating a more fair and inclusive society requires engaging culture as a critical component of transforming systems and social narratives. Organizers and artists ground their visions of belonging in cultural roots, practices, and frames, and then use this grounding to create processes that reflected belonging while mobilizing new and underrepresented voters. As the Cultural Group wrote, "We change culture through culture. That means that culture is both the agent of change and the object of change."2
In a foundational article called The Problem of Othering, the Haas Institute's john a. powell and Stephen Menendian describe belonging as, "An unwavering commitment to not simply tolerating and respecting difference but to ensuring that all people are welcome and feel that they belong in the society."3 They continue that this, "must be more than expressive; it must be institutionalized as well."4 A culture of belonging must inhabit stories, symbols, and how we see ourselves and each other. It also must inhabit the systems, policies and practices of society that make up the substance of culture.5
The transformative potential of working towards a culture of belonging lies in the details. As journalist and critic Masha Gessen notes, a favorite strategy of fascist leaders is the weaponization of narrow definitions of cultural belonging along lines of race and ethnicity.6 Class, gender, sexuality, and ability have all been and are still being weaponized and manipulated in similar ways. This is the opposite of belonging, this is othering. This othering happens at multiple scales–national, religious, neighborhood, identity, and more.  Across the political spectrum, from the work of the Culture Group7 to writer/provocateur Andrew Breitbart8, the argument has been made that culture is an essential and sticky site of change.
It is not enough to just ask, to what end are we creating a culture of belonging? We must also ask: Who belongs? How is belonging created? What are we seeking to belong to? How are we participating in advancing or narrowing that belonging? Identifying, amplifying and cultivating aspects of culture that make real a world in which many worlds fit9, is the seed of cultural strategy.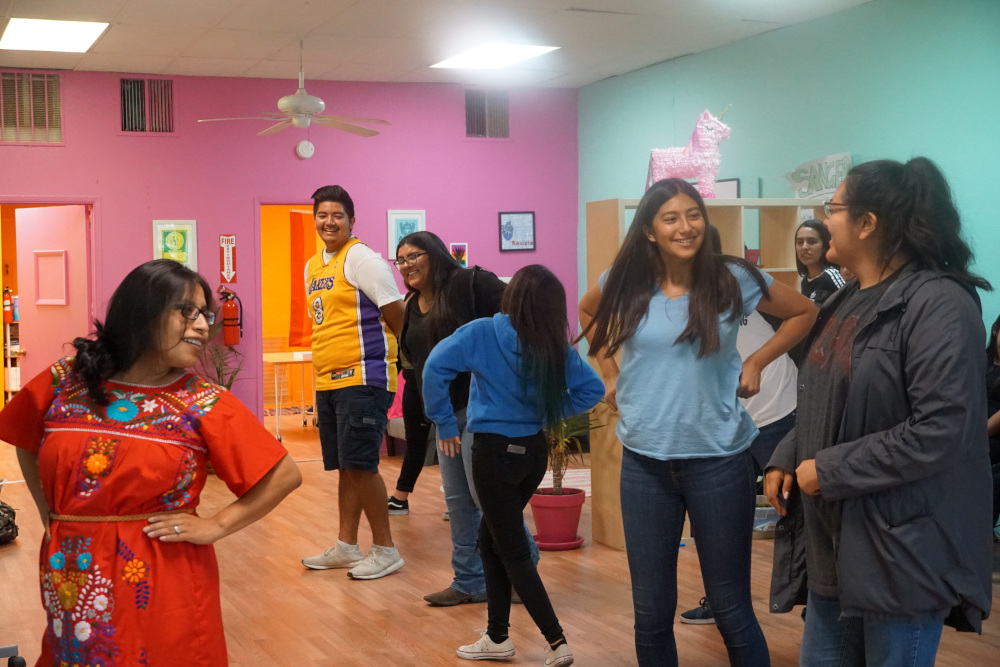 Oaxacan dance workshop in Sanger, California. This was one part of a Cultural Ambassadors Get Out The Vote project led by 99Rootz fellows Yenedit Valencia and Jazz Diaz. Photo by Pacita Rudder, 2018.
A Cultural Strategy for Belonging
While cultural strategy has long existed and in numerous forms, there has been more focused contributions in recent years to name, guide, and expand on the work. In a report commissioned by Power California, Cultural Strategy: An Introduction and Primer (2019), author Nayantara Sen defined cultural strategy as, "A field of practice and learning which engages all aspects of cultural life and all avenues of social change making to transform society for a just, viable, and liberatory future."10
Building on this definition, a cultural strategy for belonging centers the leadership, voices, storytelling, practices, and knowledge of people and communities who have been the target of oppressive ideologies and systems. A cultural strategy for belonging shifts whose knowledge and vision is made actionable in reshaping society. This grows the cultural power of those dehumanized and delegitimated towards the creation of insistently human belonging, justice, and liberation.
Valuing oneself, one's culture, and one's community, even in the face of violent negation and devaluation, is at the core of a cultural strategy for belonging. As Yenedit Valencia shared, "I feel that once we know where we come from, where our parents come from, what language we speak, what are our cultural practices, our values, there is no going back…once you know who you are, there's just no going back." 
Forged through love, resistance, survival, joy, and continuity, these acts complicate, disrupt, and transform narrow conceptions of who belongs that are defined through exclusion and othering. Audre Lorde wrote, "As a Black lesbian mother in an interracial marriage, there was usually some part of me guaranteed to offend everybody's comfortable prejudices of who I should be. That is how I learned if I didn't define myself for myself, I would be crunched into other people's fantasies for me and eaten alive."11 Working towards a culture of belonging means celebrating and supporting Lorde's self-definition, while working to abolish the violence she names. A cultural strategy for belonging creates the conditions and infrastructure to cultivate, amplify, and connect these stories and practices in the midst of continued othering.
A 2019 Othering & Belonging conference attendee reads through the map of places of belonging created by Haas Institute Artist in Residence Christine Wong Yap and dozens of conference attendees. Photo by Eric Arnold.
Underpinnings of a Cultural Strategy for Belonging
This report responds to and builds off the work of many others and the influences that underpin it are wide-ranging. What follows is a rough and incomplete inventory of traces that make up influences and practices of cultural strategy. Much of this work is relational and based in over a decade of work with sectoral trespassers. Paramount are the hybrid practices of people from whom I have learned directly, including Gina Athena Ulysse, Brett Cook, Una Osato, Julia Steele Allen, Morgan Bassichis, Jenny Lee, Nate Mullen, Dania Cabello, Ora Wise, and Roberto Bedoya. It also includes spaces like the Allied Media Conference and Creative Wildfire, hosted by Movement Generation. 
A variety of written works have also provided a theoretical grounding. Paolo Freire and bell hooks' collection of works on pedagogy play a central role in guiding the approach to practice. Robin D.G. Kelley's Freedom Dreams explores the tradition of the Black Radical Imagination, raising essential questions about how cultural practice and cultural resistance is entangled with positionality, history, and other efforts of radical social change. Gloria Anzaldua's Borderlands/La Frontera is a formally mixed-genre approach to theory that challenges notions of expertise and frames identity and culture as key sites of resistance. Audre Lorde's collection of essays and poems Sister Outsider broadens the lens of analysis within the context of Black feminisms and crystallizes the power inherent in cultural and artistic work. Winona LaDuke's Recovering the Sacred: The Power of Naming and Claiming chronicles Native American efforts to reclaim sacred cultural elements and their relationship to place to illuminate the deep importance of culture as a site of change. Edward Said's Orientalism, is a historical analysis of the role of cultural production in orientalism and colonialism, building off of frameworks of hegemony formulated by Antonio Gramsci in the Prison Notebooks. 
Efforts to clarify what cultural strategy is, and what it is not, can be drawn from a number of works and activities. The Principles of Media-Based Organizing are central to the 20-year efforts of Allied Media Projects to center a wide definition of media-making in radical social change. EastSide Arts Alliance is an important standard within the Bay Area, carrying their work with a consistency and continuity that reflects a long-term praxis. The work of CultureStrike (now the Center for Cultural Power) features centrally within this field, including their 2019 concept paper, Culture is Power. In Making Waves (2014), the Culture Group laid out a foundational argument for cultural strategy as named, drawing on historical examples and emphasizing the essential role of culture in social change. The aforementioned Cultural Strategy: An Introduction and Primer by Nayantara Sen is an excellent illumination of cultural strategy, offering a layered and detailed framework for funders, cultural strategists, and organizational leaders. 
Another thread of works focus on arts-based and cultural organizing tactics that contribute to the "how" of discrete project implementation and development. Cultural Tactics (2016) by the Design Studio for Social Innovation offers three cultural tactics derived from their projects. The Center for Artistic Activism website hosts a variety of tools, interviews and materials that explore the intersection points of art and activism and how to strengthen these to deliver "aeffect" (a combination of affect and effect). Beautiful Trouble also offers a catalogue of online resources to support practitioners. This is hardly an exhaustive review.
This report is also informed by the Haas Institute's guiding framework of othering and belonging. This framework views culture as a core element of the work of remediating othering and advancing belonging. Many of the cultural strategy projects and characteristics explored here come through the practices and a growing infrastructure at the Institute infusing arts and cultural strategy. In this work, the Haas Institute leverages its cross-sector and interdisciplinary nature to host diverse and varied convenings, research projects, fellowships, and multimedia platforms that deeply integrate arts and culture. This report responds to those efforts, learnings from staff workshops on cultural strategy, and is created in close partnership with my colleague Rachelle Galloway-Popotas.
Where this paper is going
This paper is for storytellers, artists, organizers, cultural strategists, producers, funders, and collaborators who are working to develop cultural strategy with intention and rigor to increase impact. It is primarily meant for people who have some experience in the field as a way to deepen these efforts. 
Like many cultural strategy practices, Notes on a Cultural Strategy for Belonging doesn't fit well into one box–it is a bit theory, a bit case study, a bit recommendation, and a bit workshop. It outlines a what, how, and why of a cultural strategy for belonging, while also looking to next steps. 
In the first section, I detail attributes (WHAT) and practices (HOW) of a cultural strategy for belonging. In the second section, I look at WHY a cultural strategy for belonging works to create a more authentic and expansive belonging. This section focuses on the dynamic and everyday nature of culture, as well as the unique way that cultural strategy catalyzes change despite highly unequal economic, political, and social power. In the third section, I look to next steps. I outline three guideposts that can help to avoid cultural strategy staying only in the symbolic realm of change and how to build a stronger infrastructure for our work. Next, I offer recommendations for funders, researchers, and organizational leaders. Finally, I present a workshop derived from previous collaborations with organizers, activists, policy advocates, and researchers to develop creative cultural strategy approaches to their work. 
-
Download a PDF of the report here.
1. The 2018 Cultural Ambassadors Program was a partnership between the Haas Institute and Power California. The program was co-facilitated by Pacita Rudder and Evan Bissell and developed with Rufaro Gwarada and Gerald Lenoir. For more see: https:// www.youtube.com/watch?v=hyehgUNRAXk or https://haasinstitute.berkeley.edu/grow-your-vote
2. The Culture Group, "Making Waves: A Guide to Cultural Strategy," The Culture Group, 2014: 6 https://theculturegroupcollaborative.wordpress.com/2013/08/31/ making-waves/.
3. john a. powell and Stephen Menendian, "The Problem of Othering: Towards Inclusiveness and Belonging," Othering and Belonging Journal, (Berkeley: Haas Institute for a Fair and Inclusive Society, 2016), http://www.otheringandbelonging.org/the-problem-of-othering/.
4. powell and Menendian, Problem of Othering.
5. See for example, Clifford Geertz framing that, "society's forms are culture's substance," in Clifford Geertz, The Interpretation of Cultures, (New York: Basic Books, 1973), 28.
6. Masha Gessen, "The Weaponization of National Belonging, from Nazi Germany to Trump," The New Yorker, July 21, 2019. https://www.newyorker.com/ news/our-columnists/the-weaponization-of-national-belonging-from-nazi-germany-to-trump.
7. The Culture Group, "Making Waves: A Guide to Cultural Strategy," The Culture Group, 2014: 6, 15, 20 https://theculturegroupcollaborative.wordpress. com/2013/08/31/making-waves/.
8. Byron York, "In Politics Fight, Breitbart Knew Culture Is Key," Washington Examiner, March 1, 2012. https://www.washingtonexaminer.com/in-politics-fight-breitbart-knew-cult....
9. Zapatista Army of National Liberation, "Fourth Declaration of the Lacandon Jungle," 1996 http:// www.caferebelion.com/declaration.html.
10. Nayantara Sen, "Cultural Strategy: An Introduction and Primer," (Oakland: Power California, 2019), 2. https://powercalifornia.org/ cultural-strategy-report
11. Audre Lorde, Sister Outsider: Essays and Speeches (Berkeley: Crossing Press, 1984), 137.