Rust Belt Voters 
DONALD TRUMP SECURED victory in the 2016 presidential election by defeating Hillary Clinton in six states that had supported President Obama in 2012: Florida, Pennsylvania, Ohio, Michigan, Wisconsin, and Iowa. Postelection analyses have focused considerable attention on the latter five of these states, which are geographically contiguous and similarly comprised of vast rural areas and post-industrial cities and towns. Indeed, these "Rust Belt" states' economic and demographic similarities have given rise to analyses purporting to explain all five collectively, generating narratives about the region that are in turn presented as the keys to Trump's Electoral College victory. This section shows that the Rust Belt's embrace of Trump was more qualified than commonly reported, and only one among several factors that led to his success in the region.53
A first such additional factor was the significant incidence of voter abstention in the Rust Belt, likely combined with voter suppression. Here Wisconsin offers the exemplary case. Wisconsin historically has been among the states with the highest rates of voter participation, and 2016 was no exception: It placed fifth in the country in voter turnout.54 But this rank obscures the fact that 2016 had the lowest participation rate for Wisconsin in 16 years.55 In raw numbers, around 92,000 fewer Wisconsin voters cast ballots for president in 2016 compared to 2012.56 Ohio and Iowa also saw statewide drops in raw numbers of ballots cast for president, meaning that three out of the five states in the country with such a drop were from the "Rust Belt 5" that swung. Meanwhile, Minnesota's numbers were stagnant from 2012 to 2016, and Michigan's increase in turnout was marginal (+1.44 percent).
Trump ultimately carried Wisconsin with a 22,748 vote advantage over Clinton. Yet he won with fewer votes than Romney received when he lost the state in 2012. Even among the oft-mentioned 22 Wisconsin counties that supported President Obama in 2012 before "flipping" to Trump in 2016, what is most notable is not how much Trump out-performed Mitt Romney. It is rather Clinton's—and in many cases both candidates'—under-performance relative to Obama.57 It is thus clear that significant numbers of 2012 Wisconsin voters did not cast ballots for either Clinton or Trump in 2016.
Michigan illustrates a distinct but related dynamic from 2016: large increases in the proportion of votes cast for candidates outside the two major parties. As mentioned above, Michigan saw a modest increase in voters—around 68,000 more than in 2012. However, the number of Michigan voters to cast ballots for Trump or Clinton was almost 200,000 fewer than the number of people who voted for Obama or Romney. Secretary Clinton lost the state by 10,700 votes. Meanwhile, Libertarian Gary Johnson received 172,000 votes, and Green Party candidate Jill Stein received 51,000. Similarly, in Minnesota—where Clinton prevailed by just a 1.5 percent margin—250,000 voters chose a candidate other than Clinton or Trump.58 In Wisconsin, where Trump's margin was +0.8 points, "thirdparty" and write-in candidates garnered 5.56 percent of votes for president. 
Michigan voters were also notable for the large number that apparently voted in 2016 without voting for president. Sometimes called "undervoting," the practice of casting a ballot while leaving the presidential portion blank was unusually widespread in this election.59 While figures on the phenomenon are imperfect, multiple reports place the undervote in Michigan at 75,000 ballots—seven times Trump's margin of victory. Ohio is reported as having had over 100,000 undervotes, around twice as many as in 2012.60 These trends in third-party voting and voter abstention push back against the narrative of unbridled enthusiasm for Trump in the Rust Belt.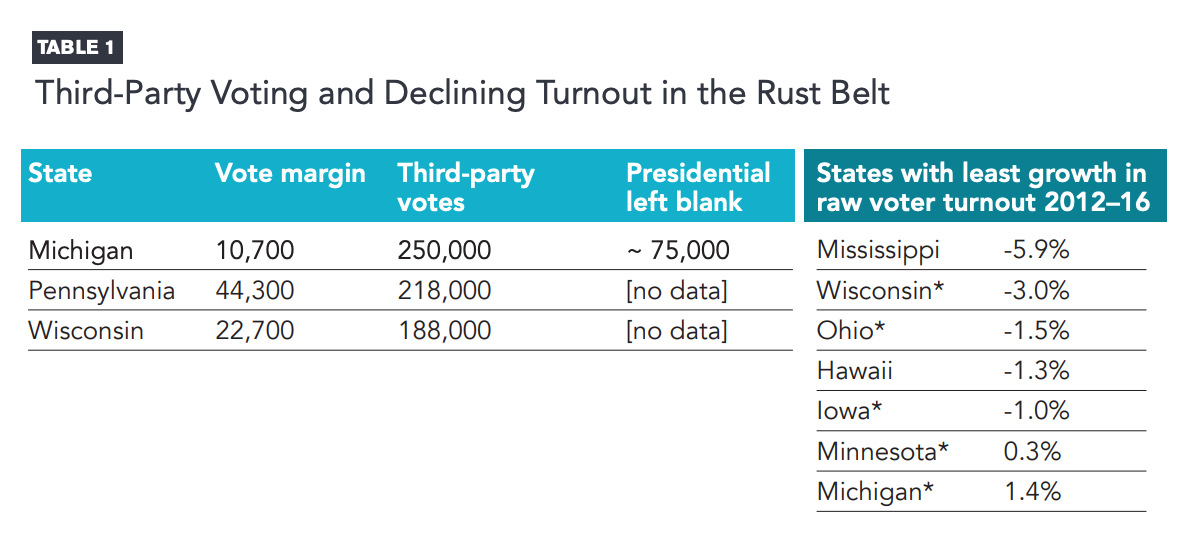 Pennsylvania's election results are more in line with some of the prevailing stories about the Rust Belt in general. There the electorate grew by a respectable 6.3 percent since 2012, adding 362,000 voters. These gains in turnout included Philadelphia and its four surrounding counties, which were expected to be key to a Clinton victory. Clinton's performance was strong in these affluent suburban counties, even improving on Obama's 2012 margins by around 65,000 votes.61 But it was not enough to keep up with Trump's gains in other parts of the state. Particularly in rural and small-town counties, much of Pennsylvania went from pink in 2012 to dark red in 2016. Of the ten most densely populated counties in Pennsylvania, Trump under-performed Mitt Romney in eight.62 But of the 40 least densely populated, Trump won 38, improving on Romney's share of the vote by an average of +7.3 percent.63
This pattern held elsewhere in the Rust Belt as well. Though a good deal of media attention has focused on counties that "flipped," most of Trump's big gains over Romney were actually in areas that Romney won, but less emphatically. That is, the 2016 election saw red counties turn redder. Ohio offers a stark example. There Trump improved on Romney's share of the vote by more than 9 points in 42 counties. Four of these were "flips;" but 21—fully half—were counties that Romney already won in 2012 by at least 12 points. The map below further illustrates the pattern wherein most of the counties with the biggest GOP vote share increases in 2016 were counties that were already red—not those that moved from Obama to Trump. 
This section has aimed to provide a richer and more accurate description of 2016 election outcomes in the Rust Belt than is offered in most analyses. When we eschew any singular narrative about the region, we can access several state- and sub-state-level dynamics of considerable consequence. One of these is depressed voter turnout, which we have suggested is due at least to abstention, but likely also to voter suppression in Wisconsin and Ohio. Another is a pronounced increase in votes cast outside the two major parties. These dynamics both suggest that the embrace of Trump was uneven, especially outside dependably GOP-supporting areas.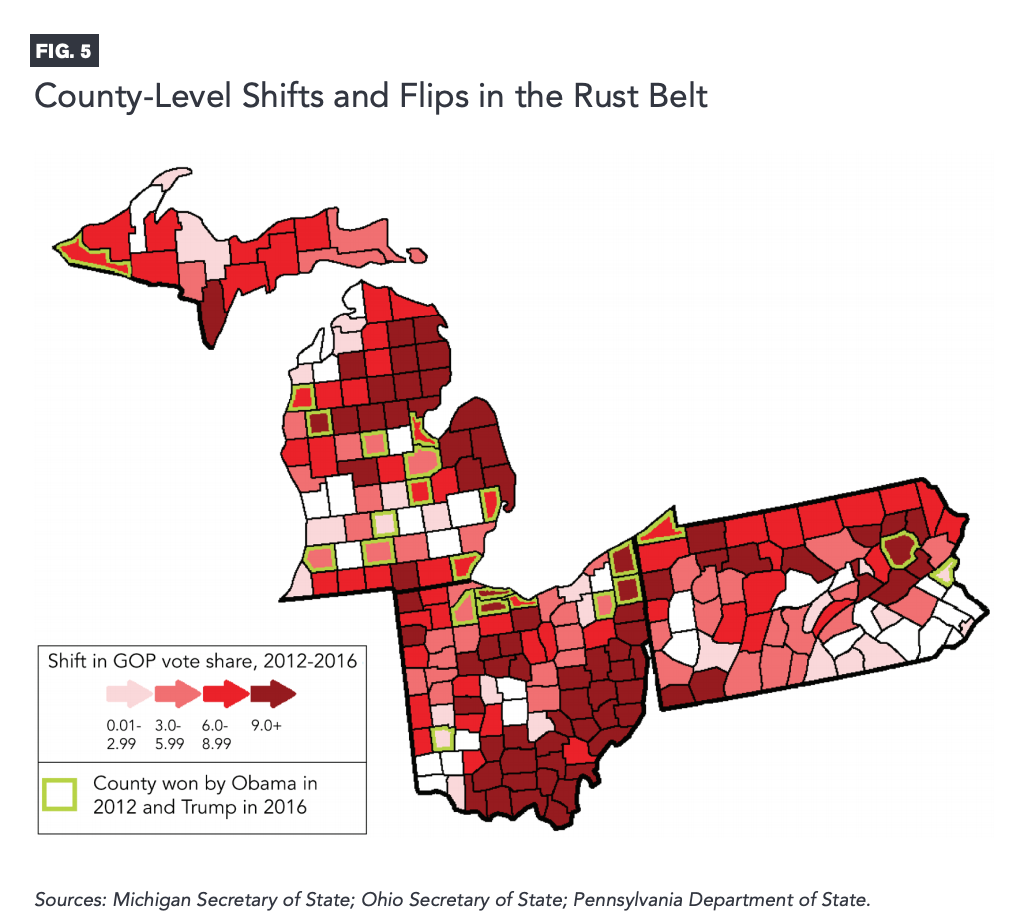 Still, there is no denying that certain parts of the region's electorate moved decidedly toward Trump. He did after all win five states that voted for Barack Obama twice, orchestrating significant swings in all of them. Trump's margins in Ohio and Iowa exceeded what we expect from battleground states, and in Michigan, despite the spike in third-party voting, Trump won 164,000 more votes than Mitt Romney. Perhaps most striking, Trump's margins in Pennsylvania— where overall turnout was strong and third-party voting was well below the national average—makes clear that he won over large numbers of voters there who had supported President Obama in 2012. The data indicate that these gains were concentrated in a few sub-groups of white voters, the demographic group to which we now turn.
Trump secured his victory in the Electoral College by winning the states of Michigan, Pennsylvania, and Wisconsin by a combined total of less than 78,000 votes.
Significant rates of voter abstention and third-party voting in the Rust Belt temper the image of unbridled enthusiasm for Trump across the region.
Trump's margins saw the biggest increases principally in those small-town and rural counties in which voters consistently favor GOP candidates. These "red" areas got redder. 
53. We use the term "Rust Belt" generally to include not only Pennsylvania, Ohio, Michigan, Wisconsin, and Iowa, but also Indiana, Illinois, and Minnesota.
54. See US Elections Project and Nonprofit Vote, America Goes to the Polls 2016.
55. Wisconsin Elections Commission, General Election Voter Registration and Absentee Statistics, 1984-2016.
56. Milwaukee County alone accounts for over 51,000 of these missing voters.
57. For example, each of the "flipped" Wisconsin counties of Columbia, Door, Grant, Lafayette, Sauk, Trempealeau, and Vernon delivered more votes to Obama in 2012 than to Trump in 2016. According to US census data, these counties' populations are all between 96 and 99 percent white. Obama also easily out-performed Trump in the more populous counties of Kenosha and Racine, which are themselves over 80 percent white.
58. This represents an increase in the share of votes cast in Minnesota outside the two major parties from 2.4 percent in 2012 to 8.6 percent in 2016.
59. We thank Alex Thebert for bringing this to our attention.
60. Philip Bump, "1.7 million people in 33 states and D.C. cast a ballot without voting in the presidential race," The Washington Post, December 14, 2016. Outside the Rust Belt, the swing state of Florida reported almost 65,000 undervotes, up from 23,500 in 2012. See Anthony Mann and Stephen Hobbs, "Florida voters found way to express displeasure with presidential choice," Sun Sentinel, February 2, 2017.
61. Clinton's principal gains were in Montgomery and Chester counties.
62. Further, Philadelphia was among the two where Trump's numbers improved, but only by going from Romney's 14.1 to 15.3 percent.
63. Jonathan Rodden has shown that if we break down the vote in these counties to the precinct level, there is a further divide within rural areas, between (bluer) towns and (red) country. See his "'Red' America is an illusion. Postindustrial towns go for Democrats," Monkey Cage/The Washington Post, February 14, 2017.