African American, Latinx, Asian American, and American Indian Voters
IN ADDITION TO young voters and women, African Americans and Latinxs were two other Democratic-leaning demographics with which the Clinton campaign hoped to repeat President Obama's success. After historically high rates of participation in 2012, it is little surprise that Black voter turnout decreased somewhat in 2016; not every year can be a record year.24 Nationally, the African American participation rate dropped to 59.3 percent—down from 66.6 percent in 2012 and 65.2 percent in 2008, but still similar to the 60.3 percent rate in 2004. When we break down African American turnout by age, however (see Fig. 1), we see that 2016 participation rates among those under age 45 was low even by that standard. Only 56.1 percent of Black adults age 25 to 44 voted in 2016—down from 64.9 percent in 2012, and below even their 59.3 percent rate in 2004. Likewise, African Americans age 18 to 24 dropped to their lowest rate of participation (41.7 percent) since 2000.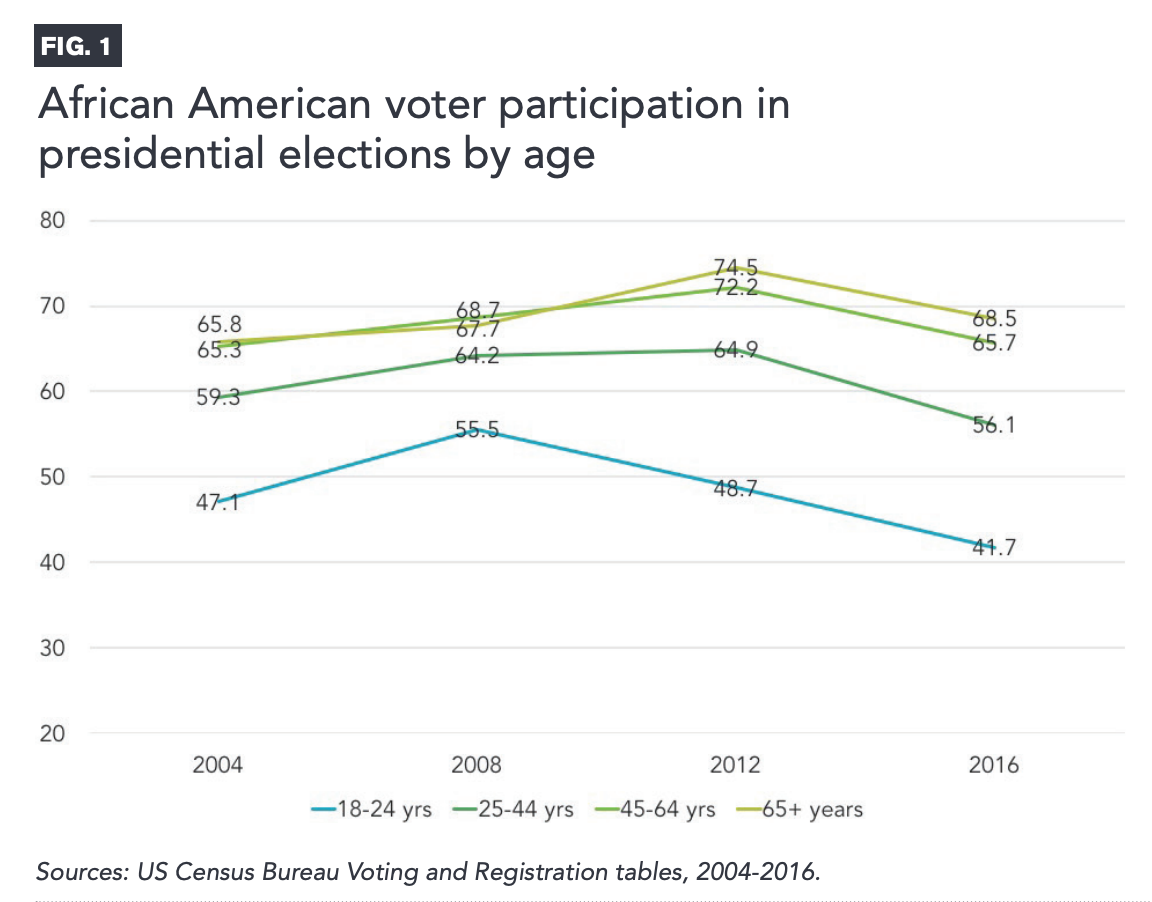 African American voters supported Clinton overwhelmingly, but the decrease in their numbers may have proved significant in a few key locales. Analysts have noted, for example, sizable declines in Black voter turnout in Milwaukee25 and Philadelphia.26 If African Americans had turned out in these cities in numbers closer to those of 2012, they may well have tipped their states to Clinton. Still, New York Times data analyst Nate Cohn points out that President Obama would have won in 2012 even with 2016 levels of Black voter turnout; this is because he also did much better than Clinton among whites.27
Census Bureau figures on turnout raise questions about the impact of voter ID laws, early-voting cutbacks, and elimination of same-day voter registration on African American voting. These and other voter suppression techniques have been instituted in numerous states since 2012,28 including a handful of swing states. Among these are North Carolina, Ohio, and Wisconsin—each of which lost 80,000 or more Black voters in 2016 according to the Census Bureau.29 It is difficult, however, to assess how much of this drop is due to the states' new laws versus lack of enthusiasm for the candidates. One possible approach would be to begin by comparing African American turnout in neighboring states that have no such laws. But unfortunately, there are enormous discrepancies across data sources and methods for estimating Black voter turnout in Michigan in 2016, and smaller but still significant discrepancies for Pennsylvania.30
This is therefore an area in urgent need of qualitative, on-the-ground investigation. Given that its strict voter ID law was accompanied by precipitous declines in Black and young-adult participation, as well as a drop in participation among voters 65 and older,31 Wisconsin seems an obvious starting point for such a research agenda.
Among Latinxs (or "Hispanics"), voter participation remained at the same low rate from 2012 to 2016: just 48 percent of eligible voters cast ballots. Due to population growth, together with depressed African American turnout, the nearly 12.7 million Latinxs who voted in 2016 were a slightly larger share of the electorate (9.2 percent). Still, their share of voters continues to lag well behind their share of the voting-eligible population (11.9 percent), not to mention their share of the total adult population (15.9 percent). The increase in Latinx vote share was perhaps most impactful in Nevada and Arizona, the latter of which was the only battleground state in which Clinton out-performed President Obama's 2012 margin.32 Vote share gains in the crucial state of Florida were more modest, and were superseded by that state's increased white vote share.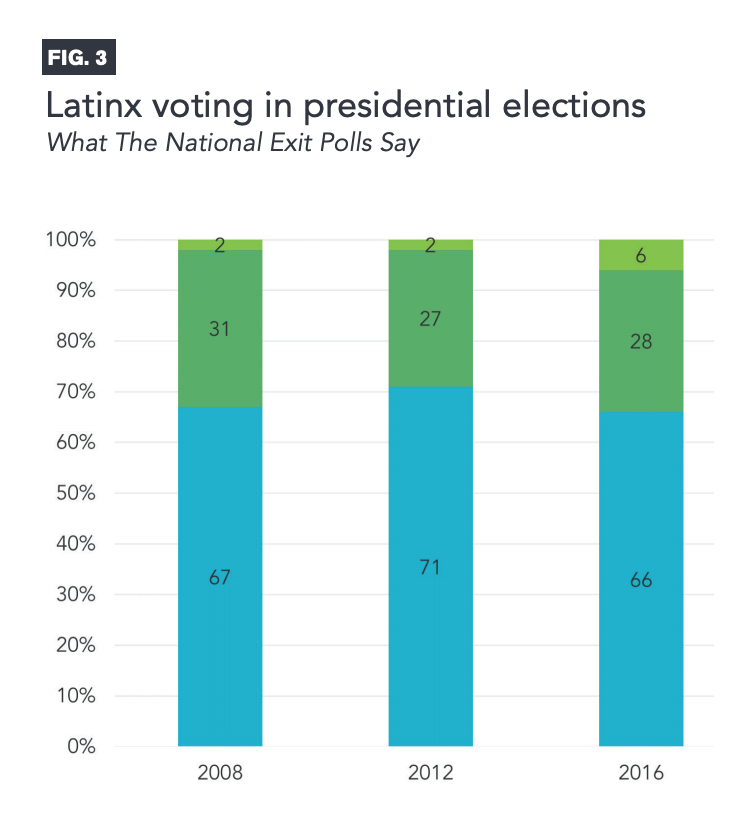 Exactly what portion of Latinxs voted for Secretary Clinton remains one of the most hotly contested issues of 2016 voter behavior. No one would deny that Clinton won among Latinxs, but analysts disagree about the size of the margins this broad demographic category gave her. National exit polls found that Clinton won two-thirds of Latinx voters, while the polling firm Latino Decisions (LD) insists it was closer to four-fifths. One analysis of the debate shows that Clinton's margins in heavily Latinx counties only support the LD estimate if Latinx turnout ended up being far less than expected.33 Subsequent findings from the Census Bureau do not bear out this premise. Nor has subsequently released data from other major national post-election surveys found support for Clinton reaching even 70 percent among Latinxs (see chart below).34 Thus, it is likely that Clinton did indeed under-perform President Obama's 71-27 advantage among Latinx voters—and that Trump did at least as well as Mitt Romney.35 As others have pointed out, whether Trump got 28 percent or 18 percent of the Latinx vote nationally, this is still a substantial number of voters; either result suggests that there is a "floor" for the level of support Republican presidential candidates can count on receiving from Latinxs.36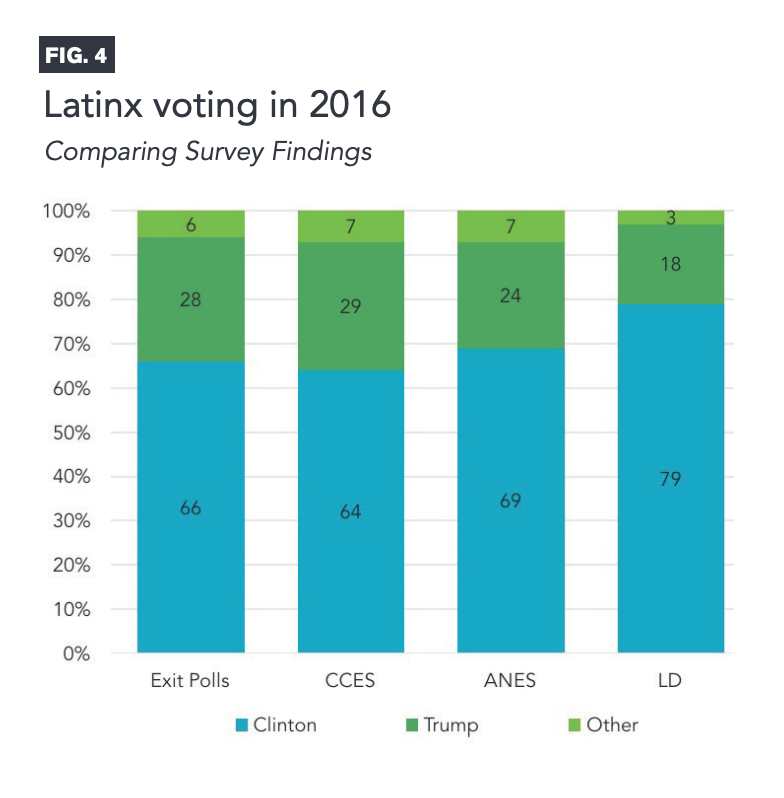 Whether or not the Latino Decisions poll yielded the best estimates of overall Latinx voting, it offers valuable insights into voting patterns among sub-groups of this diverse demographic group. It shows, for example, that the only real outlier among national-origin groups was Cuban Americans, who essentially split their votes between Clinton and Trump. Participants in the LD survey who chose to be interviewed in Spanish were much less likely to have supported Trump, and first-generation, naturalized Latinx voters voted for him at half the rate of third-generation US-born Latinxs. Finally, evangelical or "bornagain" Christian Latinxs supported Trump at over twice the rate that the Catholic majority of Latinx voters did.37
Major national studies have a harder time capturing less populous demographic groups like Asian Americans and Pacific Islanders (AAPIs). The Census Bureau finds that "Asian" continues to be the racial/ethnic category of US citizens with the lowest rate of voter registration (56.3 percent). This group's participation rate increased from 47.3 to 49 percent in 2016, for a total of just over five million Asian American voters. Asian Americans have a rapidly growing voter base, but continue to receive little attention from pollsters and political campaigns, due at least in part to their residing disproportionately in non-battleground states.38
Targeted polling projects offer the best information on AAPIs' 2016 voting behavior. One such effort was a multilingual exit poll carried out in 14 states by the Asian American Legal Defense and Education Fund (AALDEF). In AALDEF's poll, 79 percent of the 14,000 voters surveyed said that they voted for Secretary Clinton.39 Other experts on AAPI voting point out, however, that this figure probably over-estimates support for Clinton due to the poll's disproportionate focus on "enclave" communities that skew Democratic.40 For this reason, the National Asian American Survey (NAAS) is likely more representative.41 The NAAS put AAPI support for Clinton at 69 percent, with 25 percent supporting Trump.42 Bangladeshis and Pakistanis were the national-origin groups that gave Clinton the largest margins—90 percent and 88 percent, respectively. Trump's highest favorability among AAPIs was with Vietnamese Americans, while Chinese Americans voted for him at a slightly higher rate (35 percent) despite somewhat lower favorability (28 percent). This gap between voting and favorability suggests that a different Democratic candidate may have garnered more votes from Chinese Americans, though the NAAS also suggests that they are the most politically independent of all AAPI national-origin groups.43
American Indian voters, meanwhile, are not even contemplated as a group in the Census Bureau's Voting and Registration studies. This is unfortunate, as it makes it difficult to investigate American Indian turnout and any possible issues with access to polling places or other forms of voter suppression. In Arizona, Census Bureau figures from 2012 and 2016 show a 47,000-person drop (40 percent) in the number of voters not identifying as non-Hispanic white, Black, Hispanic, or Asian. Is this decline in unclassified voters due to depressed American Indian turnout? Or is it instead a product of sampling error? It is difficult to tell. But given the history of American Indian voter suppression in Arizona, as well as the state's new restrictions on mail-in ballots, the issue warrants further investigation.44
Few media analyses consider American Indian voting behavior, even with respect to competitive states like Arizona. A report in Indian Country Today highlights data suggesting that American Indians voted much like other Democraticleaning groups in 2016. That is, they overwhelmingly favored Secretary Clinton, but in numbers that fell short of Obama's in the two previous elections.45 Indeed, our review of results from the 10 counties in the contiguous United States with the highest percentage of American Indian residents found that Secretary Clinton won nine of them, by an average margin of +35. Still, Clinton received fewer votes in each and every one of these counties than President Obama received in 2012.
This section has shown that across communities of color, voters overwhelmingly supported Hillary Clinton for president. The margin of Latinx voters favoring Clinton was less than some anticipated given the platform and rhetoric of the Trump campaign, but this was partially due to GOP partisanship among one segment of Latinx voters: Cuban Americans. Meanwhile, though African American, Asian American, and American Indian voters favored Clinton over Trump by overwhelming margins, their impact on the election was lessened by low participation rates, especially in the context of high white voter turnout.
African American voter participation dropped significantly since 2012; among African Americans age 18 to 45, turnout rates reached their lowest point since 2000. Low turnout in some states with new voting regulations raise questions about voter suppression.
Clinton won a large majority of Latinx voters, but available evidence suggests that she under-performed relative to President Obama in 2012.
Even after a campaign in which he insulted Mexicans as a group, scapegoated immigrants, and vowed to build a wall on the USMexico border, Trump received the support of around 1 in 4 Latinx voters. 
24. File, "Voting in America."
25. Sabrina Tavernise, "Many in Milwaukee Neighborhood Didn't Vote – and Don't Regret It," New York Times, November 20, 2016.
26. See Nate Cohn, "How the Obama Coalition Crumbled, Leaving an Opening for Trump," New York Times, December 23, 2016.
27. Ibid
28. See ACLU, "Voter Suppression Laws: What's New Since the 2012 Presidential Election."
29. In contrast, the white electorate in Wisconsin held its numbers, while both raw voter turnout figures and rates of participation among whites increased in North Carolina and Ohio. Compare Tables 4b in: United States Census Bureau, "Voting and Registration in the Election of November 2016;" and United States Census Bureau, "Voting and Registration in the Election of November 2012," May 2013.
30. Compare Table 4b of the US Census Bureau's "Voting and Registration in the Election of November 2016," to the innovative analysis in Bernard L. Fraga, Sean McElwee, Jesse Rhodes, and Brian Schaffner, "Why did Trump win? More whites – and fewer blacks – actually voted," Monkey Cage/ The Washington Post, May 8, 2017.
31. Compare the US Census Bureau's Tables 4c on the web pages cited above for the 2012 and 2016 elections.
32. Clinton lost Arizona by only 3.5 percent, whereas Obama lost the state by 9.1 percent.
33. Harry Enten, "Trump Probably Did Better with Latino Voters than Romney Did," FiveThirtyEight, November 18, 2016.
34. Even the ANES – a major national survey that skews noticeably toward Clinton – found Trump carrying just shy of 25 percent of Latinx voters.
35. Enten, "Trump Probably Did Better with Latino Voters than Romney Did;" and Jens Manuel Krogstad and Mark Hugo Lopez, "Hillary Clinton won Latino vote but fell below 2012 support for Obama," Pew Research Center, November 29, 2016.
36. Asma Khalid, "Latinos Will Never Vote for a Republican, and Other Myths about Hispanics from 2016," NPR, December 22, 2016.
37. See Latino Decisions and National Council of La Raza, Latino Decisions 2016 Election Eve Poll: Interactive Results Tool.
38. US Elections Project and Nonprofit Vote, America Goes to the Polls 2016, p. 18. Postelection research confirms that Asian Americans were much less likely to be contacted by a political party during the 2016 election cycle than were whites and African Americans. See Karthick Ramakrishnan, Janelle Wong, Jennifer Lee, and Taeku Lee, Asian American Voices: Results from the 2016 PostElection National Asian American Survey, National Asian American Survey, May 16, 2017.
39. Asian American Legal Defense and Education Fund, "In AALDEF's Election Day exit poll of close to 14,000 Asian American voters, Clinton favored over Trump by wide margin," Press Release, November 9, 2016.
40. Karthick Ramakrishnan, "The 2016 NAAS and the Two Paradoxes of AAPI Politics," Paper presented at the American Political Science Association (APSA) Annual Meeting, San Francisco, CA, September 2017.
41. Disclosure statement: The Haas Institute's Associate Director Taeku Lee is a co-Principal Investigator for the 2016 PostElection National Asian American Survey. Lee was not involved in the drafting of this report.
42. Ramakrishnan et al., Asian American Voices.
43. Ibid.
44. On recent barriers to American Indian voting access in Arizona, see Victoria Massie, "Voting from a Native American reservation is much harder than it should be," Vox, October 28, 2016. For a longer historical view, see Patty Ferguson-Bohnee, "The History of Indian Voting Rights in Arizona: Overcoming Decades of Voter Suppression," Arizona State Law Journal, Vol. 47, pp. 1099-1144 (2015).
45. Mark Trahant, "Indian Country Was Like America… Only More So," Indian Country Today, November 19, 2016.