This section will detail the information needed to understand how utilities set rates and plan infrastructure investments, as well as how existing measures of affordability are designed and implemented. It will end with expert, practitioner, academic, and government critiques of those existing measures of affordability, leading into the Analysis section that proposes and implements an alternative metric, which will be used to inform policy alternatives to address affordability.
Utility Approaches to Infrastructure Investments and Rate Setting
GLWA needs to make $2.8 billion33 in capital improvements over the next five years without placing an extreme burden on the population it serves. Modern utilities use a cost-based approach—allocating costs to different groups ("classes" or types of customers, geographically diverse communities, etc.) based on the cost of including them in a utility's service—in determining what rates to charge different types of customers.34 According to one of the foundational textbooks for cost allocation and rate design, determining how to do so is difficult and open to interpretation:
Cost allocation is inexact; no single correct approach or method exists. Much depends on the criteria used by analysts… The choice of a cost allocation approach depends largely on utility management objectives and regulatory policy considerations… As in selecting a cost allocation method, the choice of rate design involves tradeoffs among the goals of efficiency, equity, revenue adequacy, and administrative feasibility.35
The American Water Works M1 manual identifies some of those possible utility management objectives as:36
Full cost recovery

Revenue stability and predictability

Stability and predictability of rates

Promotion of efficient resource use

Fairness in apportionment of total costs of service among different ratepayers / avoidance of undue discrimination within rates

Dynamic efficiency in responding to changing supply and demand patterns

Simple to understand and administer
The manual further identifies distinct situations and pricing considerations utilities must face, such as:37
Standby rates

Drought surcharges/rates

Low-income affordability rates

Economic development rates

Indexed rates
As will be demonstrated in this report, there is a lack of affordability in the GLWA and DWSD-R service areas existing even before needed investment costs are added, and clear differences in ability to pay between customer classes. There is also a business case to better incorporate this structural mismatch in utility rate design and cost recovery, enabling savings on collections activity. As the National Academy of Public Administration summarizes:
Ultimately, the challenge is one of maintaining affordability while also recovering the full costs of providing water services, which, in absence of low-income assistance, is limited by low-income households' ability to pay. Rate structures themselves may place a disproportionate share of the burden on low-income households.38
EPA Measures of Affordability
When discussing affordability, the United States Environmental Protection Agency (EPA) is central to the conversation. This is in part due to the enormous cost burdens on water systems stemming from the federal requirements promulgated in the 1972 Clean Water Act (CWA), 1974 Safe Drinking Water Act (SDWA), and subsequent amendments to those acts. The EPA creates and enforces regulatory standards for this legislation, including compliance with the regulatory status of contaminants in drinking water, source water protection, overflow discharges from treatment plants, and more. In the context of these regulations and associated permitting standards, affordability has a twofold definition: 1) the ability of utilities and local governments to afford capital investments and operation costs required to meet EPA regulations, and 2) the ability of residents within a utility's jurisdiction to afford the retail cost of water and wastewater service—costs that underpin system revenue.39
Local regulators and utility operators use EPA guidelines in decision-making to promote public health and environmental quality. The regulatory authority of the US EPA and state EPA agencies and their ability to take enforcement action incentivizes systems to work with the EPA to create compliance schedules and take advantage of funding programs offered. Unfortunately, the costs of maintenance and system upgrades needed to meet regulatory standards are often too great for local systems to bear alone. This leaves local governments responsible for covering the large majority of costs and makes user revenue a vital component of the overall revenue needed to cover expenses.
Affordability for households is a primary concern for local governments tasked with setting rates to recover system costs. The EPA's metrics have become the de facto definition of affordability in the majority of academic and practitioner discourse, including in applications beyond what the EPA originally intended. This has led to widespread critiques of the EPA's measures, both in theory and practice, which are detailed below.
EPA Affordability Metrics
The EPA's 1997 "Combined Sewer Overflows—Guidance for Financial Capability Assessment and Schedule Development"40 (1997 guidance) establishes a two-phase approach to assess a permittee's (utility or municipality) capability to meet federal mandates and provide affordable wastewater service. The first stage is a "residential indicator" (RI), which is a ratio of a utility's average cost per household for wastewater treatment to median household income (MHI) across the system. For large or complex systems that span multiple communities, MHI is a weighted average of MHI for each community, scaled by the size of that community. The EPA stated that an RI threshold of 2 percent system-wide would be deemed unaffordable.
If the 2 percent RI threshold is crossed, a second stage is triggered that implements a "financial capability indicator" (FCI), which uses six economic indicators (bond rating, overall net debt as a percentage of full market property value, unemployment rate, MHI, property tax revenues as a percent of full market property value, and property tax collection rate) combined in a matrix with the RI to reach a finding of "low," "medium," or "high" burden.
Taken together, the RI is meant to indicate the ability of a utility's residents across the system to afford the allocated costs of wastewater service, and the FCI is meant to assess a utility's ability to fund or finance capital investments required to meet EPA regulations.
For drinking water (drinking water RI), EPA considers a single stage analysis of the ratio of average cost per household to MHI of small systems.41 The MHI for small systems was determined internally by the EPA from data contained in the Community Water System Survey and US Census.42 In practice, this functions similarly to the wastewater RI, but with a national average MHI rather than local. A threshold of 2.5 percent for drinking water is deemed unaffordable.
Figure 8: EPA Affordability Metrics and Thresholds (Click to enlarge)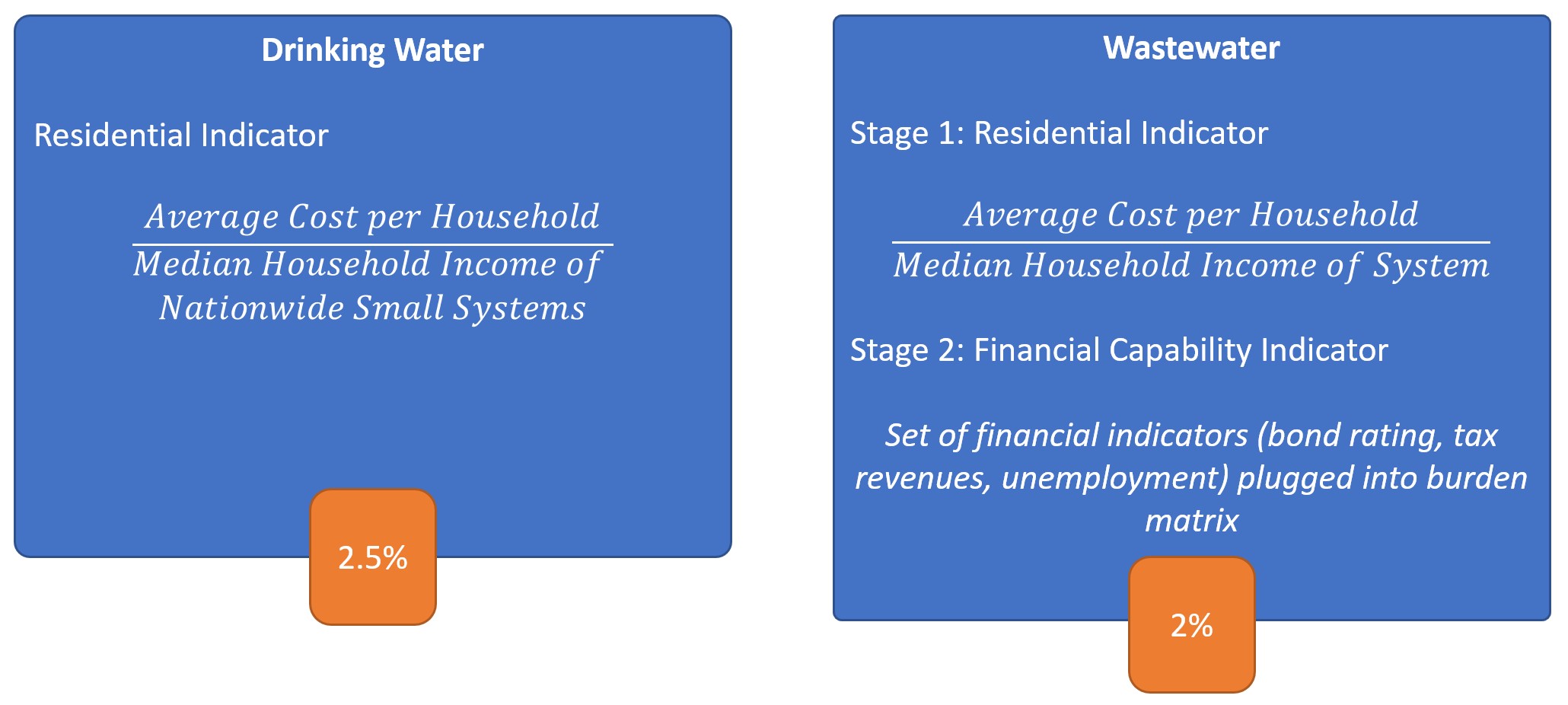 In either case, if the EPA's metrics find problems of unaffordability in wastewater or drinking water for a system, permittees can negotiate with the EPA for a temporary "variance" or "exemption" from CWA or SDWA regulations.43 These variances and exemptions differ based on whether the negotiations are over wastewater or drinking water, as well as on the size of the system. The temporary status of variances and exemptions are intended to allow a utility time and financial space to raise the necessary capital for implementing the technology required to come into compliance. During this time, the utilities must implement minimally required technology improvements, hold public hearings regarding the planned variance/exemption, reevaluate water quality results at set intervals, and set a schedule for full compliance. Variances and exemptions are important tools that save utilities significant amounts of money by avoiding legal costs from EPA lawsuits over noncompliance or costs incurred from having to procure emergency bond deals at unfavorable terms.  
Another important impact of findings of affordability relates to additional funding sources for utilities. The EPA offers low-cost infrastructure loans as part of the Drinking Water State Revolving Fund (DWSRF) and Clean Water State Revolving Fund (CWSRF).44 Both are federal-state partnership programs funded by Congress and administered by the EPA, which provide grants to states who then manage individual loan disbursements for capital improvement projects to public utilities. Importantly, the EPA grants states the ability to set project priorities and customize loan terms to meet the needs of "disadvantaged communities" through additional subsidies beyond zero-interest loans, including grants, principal forgiveness, and negative interest rate loans.45 If a utility is not found to have affordability problems, these important financial tools may not be applied.
Lastly, findings of unaffordability by the EPA metrics matter because they can be used as inputs in decision-making wholly separate from EPA regulations, such as state funding decisions for social programs related to utilities, utility decisions on customer assistance programs or alternative rates, and academic, industry, or government studies on the socioeconomic characteristics of customer classes.46
The drinking water and wastewater affordability thresholds are often combined by practitioners, experts, and academics to recognize a total water cost of 4.5 percent as unaffordable.47 The RI, FCI, and drinking water RI will hereafter be referred to as "EPA metrics" collectively or "wastewater metric" and "drinking water metric" individually.
Critiques of EPA Metrics
The EPA metrics have been roundly criticized from a wide variety of sources, including academics,48 industry experts,49 practitioners,50 federal agencies,51 and the EPA's own science advisory board,52 spanning decades. Until very recently, however, very little action has been taken to address deep flaws in these metrics and their use.
In 2016, the Senate Appropriations Committee directed the EPA to contract with the National Academy of Public Administration (NAPA) to "conduct an independent study to create a definition of, and framework for, community affordability of clean water"53 that encompassed both drinking water and wastewater. NAPA produced a comprehensive literature review, over 100 stakeholder interviews (including with PA Financial Advisory Board, Council of Mayors, water industry groups, academics, consultants, governmental entities, and others), a stakeholder survey, and a roundtable discussion with stakeholders and experts.54 Their 2017 report produced a set of findings and recommendations related to affordability concerns and improvements to EPA metrics, among other things.
Although both RI and FCI were criticized in literature and by stakeholders as "inaccurate" and "inadequate," NAPA found that the RI was the "most severely criticized" of the two.55 Stakeholders and the relevant literature agree that:56
MHI is an inadequate metric for identifying affordability issues for the most vulnerable low-income ratepayers, who

are least able to absorb higher water bills and have the most pressing concerns regarding affordability.

The RI numerator does not include all water costs that users face on utility bills since it only factors in utility operations costs and costs for proposed capital projects, rather than user surcharges or fixed costs included in some rate designs.

The basis of the 2 percent wastewater RI threshold is "unknown and inherently subjective." The 1997 guidance did not contain a methodological or theoretical justification for the number. The threshold is not consistent with BLS consumer expenditure data and appears inconsistent with the economic theory that would suggest water and wastewater expenditures must be weighted against other non-discretionary costs (housing, food, healthcare, clothing, energy, transportation) and available discretionary income.

The static nature of the thresholds ignores critical trends.

The fact that neither the 2 percent wastewater nor the 2.5 percent water thresholds have been changed since the 1990's, while water costs have risen faster than other utility costs, the Consumer Price Index (CPI), and income growth trends, reinforces the impression that the threshold is subjective, is not tied to empirical data, and does not have a framework to adjust to changing real-world dynamics.
Additionally, because the RI component for wastewater is a two-stage process, an inaccurate first-stage RI finding means an FCI assessment will not even take place. Because of that and the above findings, the scope of this report will focus on RI for both water and wastewater.
In discussions with NAPA about the above critiques, the EPA noted that the RI was intended to assess overall system affordability rather than individual household affordability, that it desired a "common starting point" for negotiations between regulators and individual permittees, and that an adjustment to the metrics would increase staff workload by reopening negotiation around existing consent decrees (legal agreements between EPA and permittees regarding actions and timelines required to achieve compliance with CWA and SDWA regulations).57
The EPA also released an updated framework for wastewater affordability in 2014 wherein it acknowledged that financial capability "is on a continuum" and is not best represented by rigid break points or thresholds. It affirmed that the EPA would consider other information presented by permittees not contained in the FCI, such as income distributions by group or geography, poverty rates and trends, population and labor market trends, and extenuating circumstances around bond ratings, among others.58 Critically, however, the updated framework did not change any of the underlying 1997 affordability evaluation processes or thresholds, nor did it comment on the drinking water RI.
EPA's points may be valid. However, NAPA found stakeholders report that in practice "in certain regions, EPA regional staff, state regulators, and enforcement staff still rely almost exclusively on the 2 percent MHI test… notwithstanding EPA's view that EPA is providing flexibility to permittees in assessing financial capacity and excessive burden… this is a problem particularly in EPA's mid-west Region 5 (Illinois, Indiana, Michigan [emphasis added], Minnesota, Ohio, and Wisconsin)."59 NAPA points out that the deficiencies in RI and FCI "limit the ability of those metrics to establish an acceptable and equitable common starting point." Further, localities report that once they use the 2 percent measure, they often feel locked into it from a regulatory perspective or do not understand that they can engage with the EPA for flexibility on mandates (or they lack the technical capacity to do so).
Industry experts, practitioners, federal agencies, academics, government review panels, and even the EPA's science advisory board all agree that current affordability metrics are inaccurate and should be updated. Accurate measures of affordability are critical for both equity and efficiency in utility cost allocation and rate design.
Figure 9: Why Focusing on Low-Income Households Matters
33. Great Lakes Water Authority, "Great Lakes Water Authority Capital Improvement Plan 2018-2022" (working paper, 2017), https://outreach.glwater.org/LinkClick.aspx?fileticket=ZGgKOqkj-es%3D&ta... Detroit Water and Sewerage Department, "2018-2022 CIP Report" (working paper version 1, City of Detroit, Detroit, MI, January 31, 2017). GLWA plans to spend $1,124,147,000 for water and $1,115,217,000 for wastewater. DWSD plans to spend $290,000,000 for water and $240,000,000 for wastewater.
34. American Water Works Association, M1 Manual: Principles of Water Rates, Fees and Charges, 7th Edition, (2017), https://www.awwa.org/Portals/0/files/publications/documents/M1Ed7LookIns....
35. Janice Beecher, Patrick Mann, and James Landers, Cost Allocation and Rate Design for Water Utilities, (Columbus, OH: National Regulatory Research Institute, December 1990), http://ipu.msu.edu/wp-content/uploads/2016/12/Beecher-Mann-Cost-Allocati....
36. AWWA, M1 Manual, 4.
37. AWWA, 6.
38. Stanley J. Czerwinski, Elizabeth Fretwell, R. Scott Fosler, Greg Lindsey, and Michael A. Pagano, Developing a New Framework for Community Affordability of Clean Water Services (Washington D.C.: National Academy of Public Administration, October 2017), p. 31, https://www.napawash.org/uploads/Academy_Studies/NAPA_EPA_FINAL_REPORT_1....
39. Czerwinski et al., Developing a New Framework.
40. US Environmental Protection Agency, Combined Sewer Overflows—Guidance for Financial Capability Assessment and Schedule Development (EPA 832-B-97-004, February 1997).
41. "Small Drinking Water System Variances," United States Environmental Protection Agency, accessed March 16, 2019, https://www.epa.gov/dwregdev/small-drinking-water-system-variances. It should be noted that although EPA defines the 2.5% threshold in regards to "small systems", in practice the 2.5% threshold is applied to systems of all sizes. Stratus Consulting, Affordability Assessment Tool for Federal Water Mandates (Boulder, CO: U.S. Conference of Mayors, American Water Works Association, and Water Environment Federation, 2013), https://www.awwa.org/Portals/0/AWWA/ETS/Resources/AffordabilityAssessmen....
42. Environmental Economics Advisory Committee of the Environmental Protection Agency Science Advisory Board, Affordability Criteria for Small Drinking Water Systems: An EPA Science Advisory Board Report, (Washington D.C.: United States Environmental Protection Agency, December 2002).
43. "Drinking Water Requirements for States and Public Water Systems: Variances and Exemptions," United States Environmental Protection Agency, accessed March 16, 2019, https://www.epa.gov/dwreginfo/variances-and-exemptions.; see also: "Variances and Exemptions: A Quick Reference Guide," United States Environmental Protection Agency, accessed March 16, 2019, https://nepis.epa.gov/Exe/ZyPDF.cgi?Dockey=901U0I00.txt.
44. "Drinking Water State Revolving Fund," United States Environmental Protection Agency, accessed March 16, 2019. https://www.epa.gov/drinkingwatersrf.; "Clean Water State Revolving Fund," United States Environmental Protection Agency, accessed March 16, 2019, https://www.epa.gov/cwsrf.
45. "How the Drinking Water State Revolving Fund Works," United States Environmental Protection Agency, accessed March 16, 2019, https://www.epa.gov/drinkingwatersrf/how-drinking-water-state-revolving-....
46. For instance, the much-cited Mack and Wrase "Burgeoning Crisis" paper, (referenced in the introduction), and a 2005 proposal to the Detroit City Council to implement an income-indexed affordability plan both used existing EPA metrics as measures of affordability.
47. Czerwinski, et al., Developing a Framework; Stratus Consulting, Affordability Assessment Tool.
48. Manuel Teodoro, "Measuring Household Affordability for Water and Sewer Utilities," Journal AWWA 110, no. 1 (January 2018), http://mannyteodoro.com/wp-content/uploads/2014/03/Teodoro-JAWWA-2018-af....
49. Gregory Baird, "Water Affordability: Who's Going to Pick Up the Check?" Journal AWWA, (December 2010), http://www.agingwaterinfrastructure.org/SiteResource/Site_109155/Customi... Fisher, Sheehan, & Colton, "Defining "Affordable" Water Rates for Low-Income Affordability Programs," FSC's Law and Economics Insights 05-2 (March/April 2005), http://www.fsconline.com/downloads/FSC%20Newsletter/news2005/n2005_0304.pdf.
50. Stratus Consulting, Affordability Assessment Tool.
51. United States Congressional Budget Office, Future Investment in Drinking Water and Wastewater Infrastructure (Congressional Budget Office, November 2002), https://www.cbo.gov/sites/default/files/107th-congress-2001-2002/reports....
52. Environmental Economics Advisory Committee of the EPA Science Advisory Board, Affordability Criteria.
53. Czerwinski, et al., Developing a Framework.
54. For this report I also conducted an independent literature review and interviews with experts and practitioners. My findings are in complete alignment with the National Academy of Public Administration's findings regarding the critiques of EPA's existing metrics and possible alternatives. Despite the independence of my own literature review and interviews, there was significant overlap with experts and authors used by NAPA. Because NAPA's findings are presented as a meta-analysis, and because of NAPA's unique position as a highly respected and objective organization chartered by Congress and tasked directly by the Senate Appropriations Committee to study this issue and provide recommendations to EPA, they will be referenced more heavily than other sources. It should be understood that a single citation to NAPA rests on input from a very wide variety of published and interviewed sources, both by them and independently by me.
55. Czerwinski, et al., Developing a Framework, 44-45.
56. Id., 52.
57. Id., 48-49.
58. Ken Kopocis and Cynthia Giles, Financial Capability Assessment Framework for Municipal Clean Water Act Requirements (Washington D.C.: United States Environmental Protection Agency, November 24, 2014), https://www.epa.gov/sites/production/files/2015-10/documents/municipal_f....
59. Kopocis, Financial Capability Assessment, 47-48, 177.