A number of alternative metrics have been proposed by academics and practitioners. Figure 28 from NAPA's meta-analysis summarizes a selection of proposals:
Figure 28: Residential Indicator Metric Alternatives (Click to enlarge)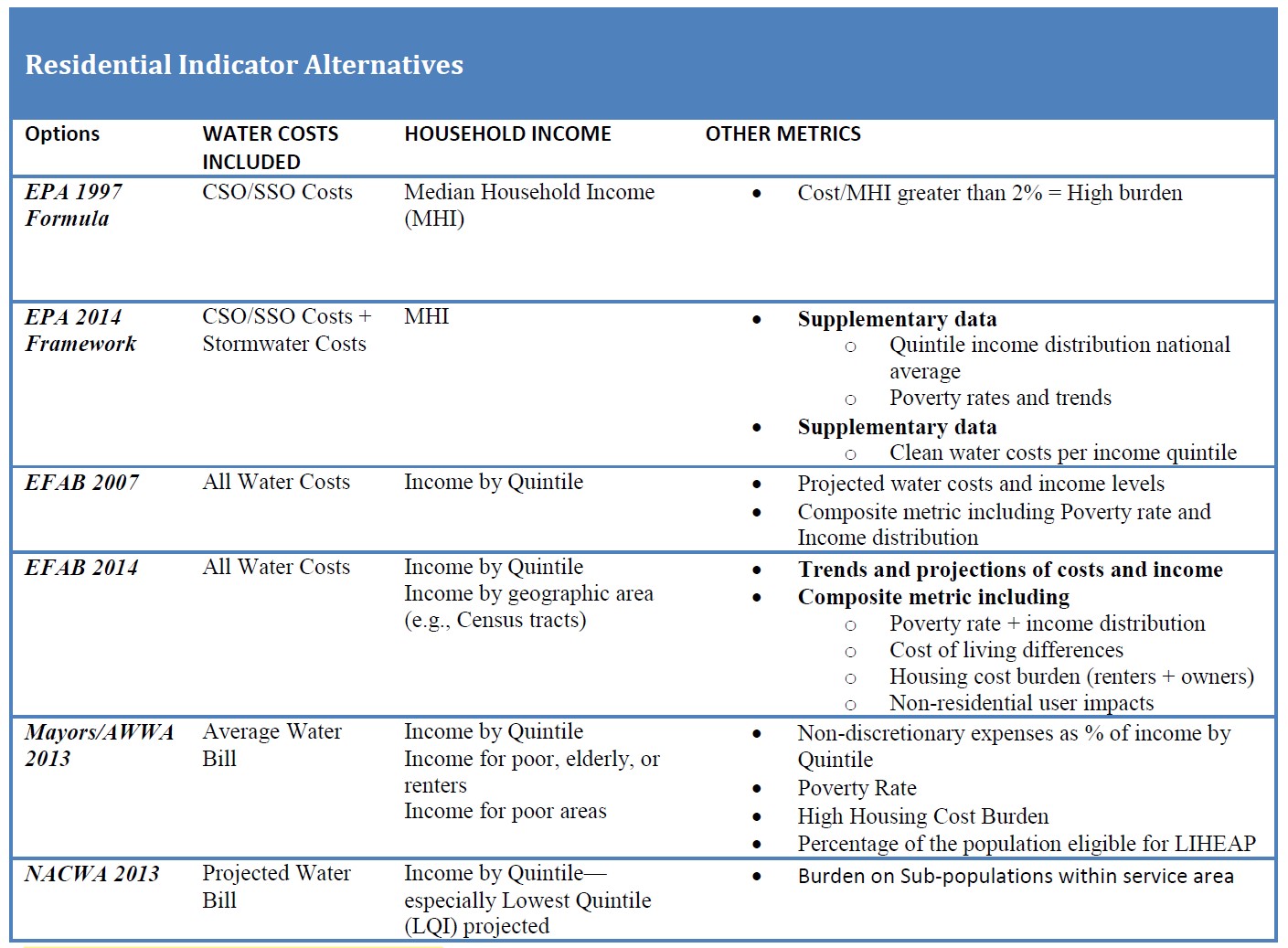 Image source: Czerwinski, et. al., 2017
Most proposals attempt to gain a clearer picture of user affordability by using income quintile instead of MHI. Other proposals not mentioned in the NAPA table suggest using local community MHI rather than the EPA's nationwide small system MHI or utility-wide MHI, to identify clusters of unaffordability missed by larger-jurisdiction MHI.157 Also notable is that multiple proposals use average ratepayer water bill rather than system costs to more directly compute user affordability before analyzing utility financial capability (acknowledging the interconnection between the two), and most proposals include supplemental contextual information such as trends, poverty rates, housing cost burden, and analysis of sub-populations within a utility service area.
In making recommendations for improvement of the EPA's metrics, NAPA insists that all metrics should:158
Be readily available from publicly available data sources

Be clearly defined and understood

Be simple, direct, and consistent

Use valid and reliable measures, according to conventional research standards

Be applicable for comparative analyses among permittees
To improve the RI metric specifically, NAPA recommends the metric:
Include all water costs, such as drinking water costs, not just CSO control costs identified in the EPA's 1997 guidance

Focus on the income of low-income users most vulnerable to rate increases

Identify the size of the vulnerable users relative to the utility's total ratepayer base

Avoid arbitrary normative thresholds to determine relative burdens
NAPA acknowledges that more nuanced metrics have been proposed, such as a Weighted Average Residential Index159 or an Affordability Ratio of water costs to household disposable income160 using statistical analysis of other consumer expenditures. Whether or not these more complex metrics are more accurate, they violate the stated need for a metric to be direct, readily available from public sources, comparable between jurisdictions, and minimize burden on utility or municipality staff which may be constrained by budgets or technical ability.
157. Teodoro, Measuring Household Affordability; Stratus Consulting, Affordability Assessment Tool.
158. Czerwinski, et al., Developing a New Framework, 61.
159. Jason Mumm and Julius Ciaccia, "Improving the Narrative on Affordability and the Measurements We Need to Take Us There" Journal AWWA 109, no. 5 (May 2017).
160. Teodoro, Measuring Household Affordability.