Islands of Privilege in Undergraduate Enrollments and Instructional Spending
THIS REPORT FINDS that undergraduate education has remained an island of privilege at schools with wealthy endowments despite their increase in resources from the endowment. Schools in the top 5 percent have maintained the same low levels of total undergraduate enrollment since 1990. Wealthy liberal arts colleges did increase low income enrollments as a share of all undergrads since 2009 in the aftermath of the Great Recession. Wealthy research universities, however, maintained the same low level of low-income enrollment. Simultaneously, wealthy liberal arts colleges and research universities used their growing endowment wealth to double instructional spending per student from 1987 to 2012. These trends reinforce the argument that the $19.6 billion estimated annual federal tax expenditure on endowments primarily supports the reproduction of existing inequalities by wealthy private colleges (Bourdieu and Passeron 1990; Collins 1979; Karabel 2005; Sewell and Hauser 1976; Stevens 2009).
Undergraduate enrollments We can best see that undergraduate enrollment has remained flat amid growing endowment wealth by examining annual degree award data since 1976. This is because degree award data is more consistent in IPEDS and undergraduate enrollment counts across the full time period. Figure 5 shows that total bachelor degree awards increased from 8,816 to 10,496 between 1976 and 1988 at the wealthiest research universities. Bachelor degree awards at wealthy liberal arts colleges similarly increased from 4,942 to 5,631 during this period. Bachelor degree awards have since remained flat. The wealthiest research universities awarded only 10,481 bachelor degrees in 2012. Wealthy liberal arts colleges awarded only 6,223 bachelor degrees that year. In contrast, bachelor degree awards more than doubled from 203,343 in 1976 to 428,208 in 2012 at public research university systems with campuses that are members of the elite Association of American Universities.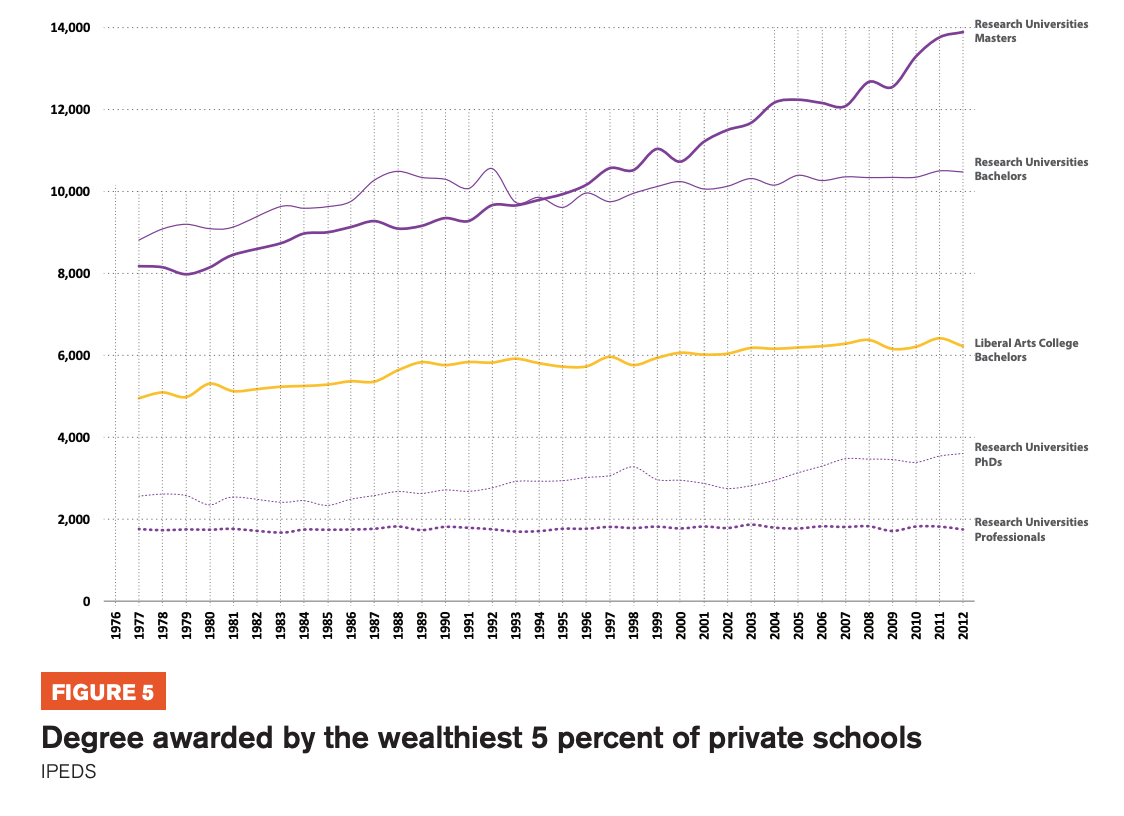 Absent public ownership or policy pressures, flat undergraduate enrollment makes sense because low admission rates to undergraduate programs tend to improve schools' position in college and university rankings (Espeland and Sauder 2007; Espeland and Stevens 1998). This may explain why wealthy private universities continuously increased masters degree awards from 1976 to 2012. Admission rates to masters programs do not figure as prominently in rankings.
Low income undergraduate enrollment
Wealthy liberal arts colleges began to increase low income enrollment in 2006 for the first time in the years for which data is available. Increased endowment wealth could have been useful for these efforts because low-income students often require reduced tuition along with room and board subsidies. The increased low-income enrollment at wealthy liberal arts colleges is reflected in Figure 6 which charts the share of full time freshmen who received Pell Grants—a federal financial aid grant that is the most consistent indicator available for low-income status prior to 2010. The increase n the share of freshmen receiving Pell Grants from 17 percent in 2006 to 23 percent in 2012 is no doubt partly a consequence of declining household income from the Great Recession. Still, the increase in Pell Grant recipients put wealthy liberal arts colleges almost on par for the first time with the elite public schools that are members of the American Association of Universities. In contrast, the share of freshmen receiving Pell Grants at wealthy private universities was just 15 percent in 2012, down from 16 percent in 2000.
A doubling of instructional spending per student
Spending on instruction per student appears to be the primary beneficiary of increased endowment wealth. This has given wealthy private colleges instructional spending levels far higher than at public and less wealthy schools, and helped to boost wealthy schools in college rankings (Espeland and Sauder 2007). Figure 7 shows that spending on instruction per student nearly doubled at wealthy research universities and more than doubled at wealthy liberal arts colleges from 1986 to 2012. Instructional spending per student in IPEDS includes funding for faculty time and overhead that may be devoted to research but is not covered by research grants. The relative increase of graduate student enrollment could also contribute to overall instructional cost increases per student at research universities because of the greater cost of graduate education compared to undergraduate instruction. But the doubling of spending on instruction per student at wealthy liberal arts colleges from $11,062 in 1987 to $22,165 in 2012 suggests that rising endowment surpluses indeed contributed to rising spending per student. In contrast, instructional spending per student increased just 31 percent from $9,982 in 1987 to $13,050 in 2012 at public research university systems with campuses that are members of the elite Association of American Universities.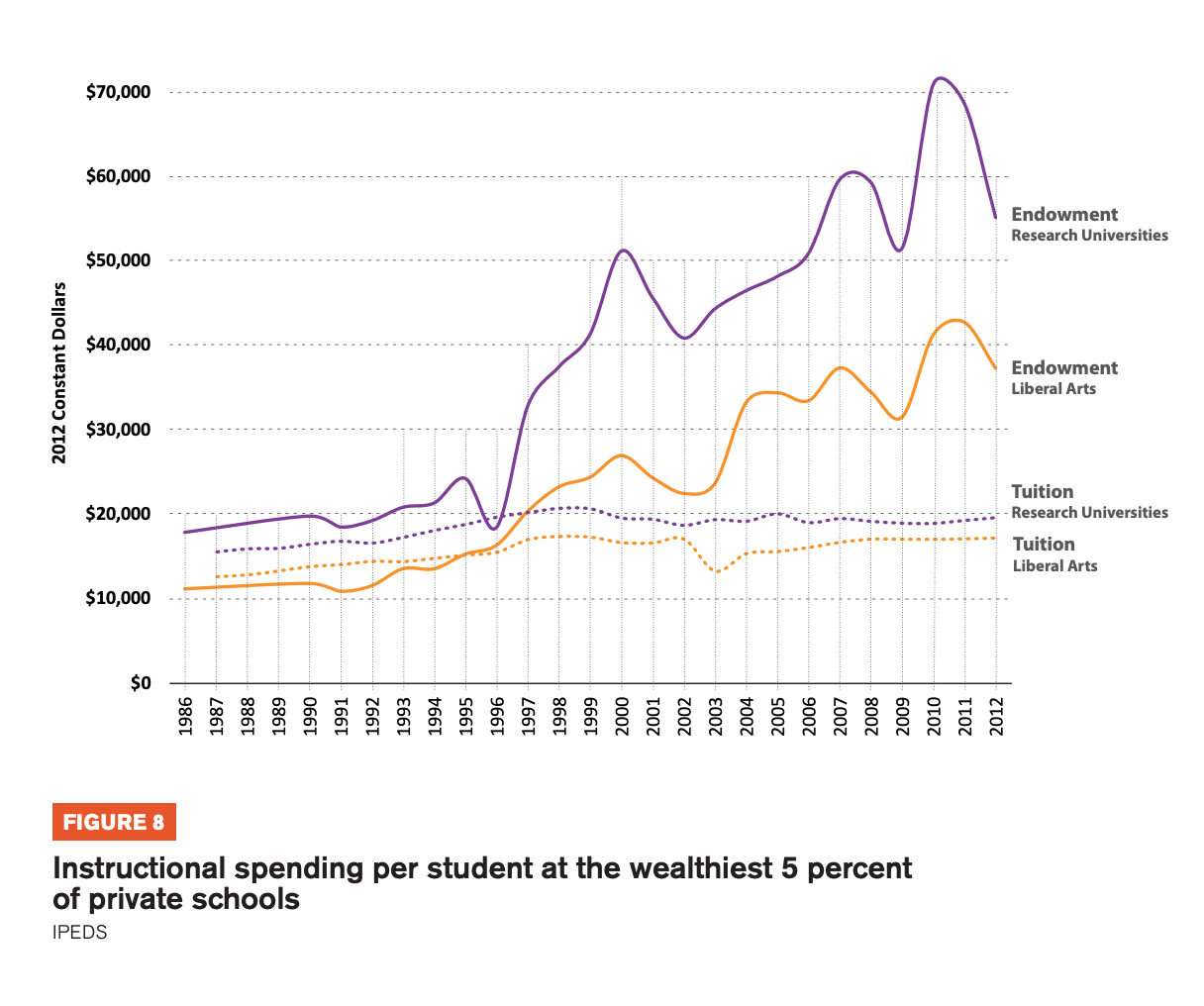 Other revenue sources for increased spending?
There were no comparable increases in revenue from sources other than endowments at wealthy universities that could have been used to double instruction spending per student. At research universities, research grant funding must go to research. Figure 8 shows that net tuition revenue per student increased somewhat from 1987 to 1998 but has since remained flat. This reflects the increasing use of tuition revenue from wealthy students to offer tuition discounts and financial aid for room and board to low income students. The net-tuition revenue measure in IPEDS reports tuition revenue after this reallocation. The result is that tuition revenue per FTE student increased by 33 percent from $15,459 in 1987 to $20,591 in 1998 at wealthy research universities. Net tuition revenue then actually declined slightly at wealthy research universities to $19,497 in 2012. Tuition revenue per student similarly increased by 38 percent from $12,568 in 1987 to $17,337 in 1998 at wealthy liberal arts colleges. Net tuition revenue then also declined slightly for wealthy liberal arts colleges to $17,151 in 2012. In comparison, spending per student from endowments increased at wealthy research universities by 209 percent from $17,848 in 1986 to $55,112 in 2012. Spending per student from endowments increased at wealthy liberal arts colleges by 234 percent from $11,151 in 1986 to $37,224.