Environmental inequalities contribute to unequal burdens of disease
RACIAL/ETHNIC health inequalities can also be explained by the spatial patterns of environmental inequalities. Disproportionate exposure to harmful environmental hazards, including air pollution, lack of green space, noise, and urban heat islands, occur in neighborhoods with high proportion of residents of color. The correlation between communities of color and high exposure to harmful environmental factors is what motivates Diversity and Health Disparities cluster member Rachel Morello-Frosch to investigate the causes and consequences of environmental disparities and identify opportunities for intervention and prevention at the community, regional, and state level. 
Morello-Frosch regularly partners with community members through a research practice called community-based participatory research. Community members and university scholars form an equal partnership and rely on one another for skills, experience, and knowledge. Together, they identify a problem, gather data, analyze the data, share results, and use the findings to identify solutions. Made popular in academia by the work of UC Berkeley professor Meredith Minkler and Nina Wallerstein at the University of New Mexico,21 elements of a community-based approach can be found outside research in budget-making processes,22 youth-development,23 social movements,24 and public health departments.25
In 2006, Morello-Frosch partnered with residents living in Richmond, California who were concerned that their breast cancer diagnoses and problems with asthma, sore throats, rashes, and other cancers were related to their community's close proximity to rail, truck, and marine shipping corridors, and the Chevron refinery in Richmond, one of the nation's largest. Residents suspected that their proximity to pollution sources was related to the community's demographics: 61 percent of residents identified as Latino, 18 percent as Black, and 3 percent as Asian American while 26 percent of residents had incomes below the federal poverty level ($17,603 for a family of four).26
Findings from the study revealed that communities neighboring polluting facilities experience higher exposure to a greater variety of pollutants than communities far from polluting facilities.27 Analysis of outdoor air quality detected 80 different compounds in Richmond compared to 60 in Bolinas, a predominantly white, rural community near the Pacific Ocean in Marin County. The research also showed greater concentration of compounds, particularly those associated with oil combustion activities, in Richmond than in Bolinas, as shown in Figure 6. The study found evidence of a strong difference between indoor and outdoor air quality measures. PM2.5 (particulate matter small enough to penetrate lung tissue) levels in nearly half of Richmond homes exceeded California's annual ambient air quality standard as shown in Figure 6. This finding calls attention to the inadequacy of traditional environmental assessments, which use outdoor air quality to represent personal exposure, and calls for a change in institutional regulatory practices.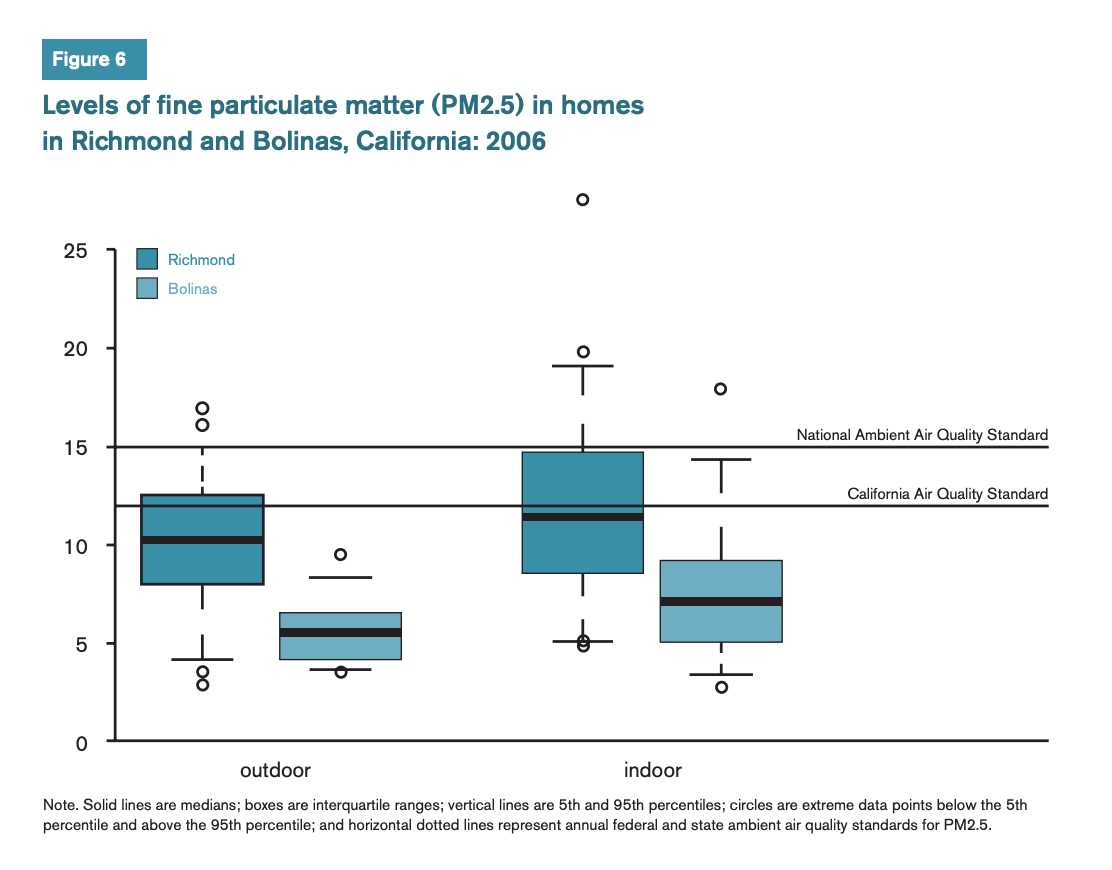 While this study did not provide evidence of a causal association between Richmond residents' exposure to harmful compounds and health outcomes, it provided evidence of the impact that local sources of pollution have on nearby communities. Communities for a Better Environment, an environmental justice organization in Richmond, used these findings to advocate to the Richmond Planning Commission for restrictions on high-sulfur crude oil refining and to support their concerns about the effects of refinery emissions. Community participation throughout the research process gave community members the power to use research findings for health advocacy and measuring environmental exposures. This created an evidence base from which to draw hypotheses about disparities in racial/ethnic health outcomes.
Morello-Frosch has also found evidence linking noise pollution to racial/ethnic disparities. A growing body of research suggests that noise from transportation, industry, power generation, power tools and air conditioning generates biological stress and contributes to hearing loss and other health outcomes.28 Morello-Frosch wanted to know if noise exposure was divided along racial/ ethnic lines.
In 2017, Morello-Frosch and Joan Casey published findings from the first national study about noise pollution and racial/ethnic disparities. Their analysis of noise exposure by census block group indicated that neighborhoods with higher proportions of non-white and lower-socioeconomic status (SES) residents have higher levels of daytime and nighttime noise than neighborhoods with white and higher-SES residents.29 The most interesting finding from this study showed that block groups with the highest metropolitan area segregation had the highest estimated noise exposures—regardless of racial composition. In other words, while racial disparities in noise exposure exist regardless of a city's segregation level, residents who live in more highly segregated cities experience greater noise exposure than those who live in cities with low segregation.
Just like their health-damaging counterparts, health-promoting environmental conditions are unequally distributed by neighborhood racial/ethnic demographics. In a recently published paper, Morello-Frosch highlights the inverse relationship between urban greenness and the percent of non-white residents over time. Between 2001 and 2011, non-white resident dominant neighborhoods lost more green space than white dominant neighborhoods, as shown in Figure 7.30 This finding implies that policies to increase greenness in disadvantaged communities are necessary, especially as climate change increases the frequency of extreme heat events.
When researchers and communities explore the relationship between environmental inequities, health disparities, and neighborhoods with high concentrations of people of color, they identify opportunities for coalition building between environmentalists, chronic disease advocates, city planners, housing developers, and public officials. This kind of broad coalition building is a bridging opportunity for groups with narrow interests to expand their goals and see the synergistic potential of coordinated policymaking.