UC Berkeley Initiatives and Resources 
Berkeley Global Campus UC Berkeley's planned campus at Richmond Bay is a historic development that will most likely transform the landscape of the city of Richmond and the Bay Area. The vision for the BGC includes partnerships with universities from around the globe, and
"will be a focal point for an international coalition of leading academic institutions and private sector and community partners. These partnerships will collaborate on research and academic initiatives addressing complex global challenges of universal relevance to academic and industrial researchers everywhere. BGC will be designed to address these challenges within an interlocking humanistic framework that involves deep trans-disciplinary efforts from humanities, social sciences, public policy, education, technology, and engineering."32
The campus has a 40-year development plan and at build-out, will host up to 10,000 students, workers, staff, and researchers on a daily basis. There are tentative plans to create a public health partnership between the BGC and UC San Francisco's Mission Bay Campus that would potentially serve Richmond's local community. The engineering and infrastructure for the BGC has accounted for sea level rise, energy efficiency, and water conservation in its design, though the plans have not yet considered how to design spaces beyond their property line that would mitigate the impact of climate change. Many conversations have been taking place to explore different areas of research to pursue on the campus, but there is no final blueprint for these plans. This being the case, many of the strategies in this paper outline potential projects that the new campus could undertake as plans for research and programming enter its final stages. 
Global Food Initiative
The UC Global Food Initiative was launched last year by the UC Office of the President (UCOP). This initiative aims to bring the 10 UC campuses together in a system-wide effort to collaboratively address the most pressing issues around food security and sustainability. The goals include the following (as stated on the UCOP website):33
Identifying best practices and sharing widely within UC, California, the nation and the world;
Using the power of UC research and extension to help individuals and communities access safe, affordable and nutritious food while sustaining our natural resources; and
Deploying UC's research to shape, impact and drive policy discussions around food issues at the local, statewide, national and international levels. 
The first phase of the initiative aims to achieve some of the following objectives:34
Expanding experiential learning, including demonstration gardens;
Leveraging food purchasing power to encourage sustainable farming practices and to serve nutritious fare in dining halls and cafeterias;
Developing policies to better enable small growers to become suppliers; and
Integrating food issues into more undergraduate and graduate courses
Many of these goals could be integrated into the planning of the BGC, particularly with the support of UC Berkeley campus entities, such as the Berkeley Food Institute and the Haas Institute for a Fair and Inclusive Society, which are already carrying out research on structural barriers to food equity and supporting local and national initiatives that promote food sovereignty among marginalized communities. Other on-campus entities, such as the School of Public Health, College of Natural Resources, College of Engineering, College of Environmental Design, and the Haas School of Business, either have existing or potential projects within Richmond that could support and improve the local food system. 
For example, the Environmental Science and Policy Management department offered a short course on Urban Agroecology in the summer of 2015 that was open to the public; more than half of the participants were from Richmond-based Urban Tilth. The course offered theoretical and technical training on agroecological methods of farming in an urban environment. Furthermore, some faculty from UC Berkeley's College of Engineering have been working with Urban Tilth and the Richmond-based Watershed Project on flood management and stormwater treatment to improve local water systems and the health of the San Francisco Bay.35 Given the global outlook of the BGC, as well as its location in Richmond, this initiative could potentially house some of the GFI's food-related research and initiatives that are local in scope with the potential to be global in application. 
Food at UC Berkeley
Cal Dining UC Berkeley already has some of the country's most far-reaching sustainability standards in its food procurement policies. Cal Dining has set ambitious goals toward achieving local and sustainable procurement; currently, 57 percent of food in its dining halls is considered local and sustainable.36 Cal Dining defines local and sustainable as real food that fulfills at least one of the following four categories: local and community-based; fair; ecologically sound; and humane.37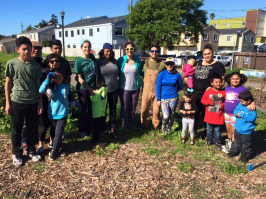 While these food procurement goals are commendable, there is still room for improvement—not only in procurement, but also to better ensure that small to mid-sized farms have access to local markets. In addition, procurement strategies at UC Berkeley could be leveraged with other anchor institutions so that they have a broader reach and impact on the regional economy and local community.38 Cal Dining has expressed interest in finding pathways to improving food sustainability and access at UC Berkeley. The Global Food Initiative aims to advance these issues as well. Some of the strategies mentioned in the next section might have the potential to achieve many of the goals of the GFI, BGC, and Richmond city government and community.   
Food workers UC Berkeley employs 815 food workers, and the food-related services at the planned BGC have the potential to create many sustainable jobs for the local economy.39 If the UC privately contracts out dining services, without any socially responsible contracting, they would limit the potential for creating a more sustainable local and regional economy. Cal Dining positions are career positions, most of which are unionized and all of which include a full benefits program, which adds approximately $10/hour of pay to each classification. These benefits include medical, dental, and vision plans, which all career employees receive, regardless if they are in a union.40
Outsourcing work to subcontractors without a responsible contracting policy has an impact on the local economy and individual livelihoods by increasing economic inequality and negatively impacting the health and wellbeing of workers. By paying workers' wages at poverty rates, employers strain government-funded health and public assistance programs. In fact, a study from the University of California found that $10.1 billion of the $21.2 billion that federal and state taxpayers spent in 2002 on public assistance programs in California went to families of low-wage workers.41 The $10.1 billion included $3.6 billion in Medicaid costs and $2.7 billion for the Earned Income Tax Credit. The $10.1 billion cost would have been reduced to $3.2 billion if employees in those families had earned a wage of at least $14.00 an hour and had received employer-provided health benefits.42 Additionally, better pay reduces employee turnover and reduces the costs associated with this turnover.43 As such, the new campus should plan to create career food jobs so as to advance goals of economic sustainability and stability both for the UC and its workers. 
32. "A Bold Global Vision," Berkeley Global Campus at Richmond Bay, UC Berkeley, accessed September 9, 2015, http://bgc.berkeley.edu/.
33. "University Of California Global Food Initiative," UC Office of the President, accessed July 20, 2015, Ucop.edu.
34. "University Of California Global Food Initiative," UC Office of the President, accessed July 20, 2015, Ucop. edu.
35. McGlynn, Daniel, "Engineering Social Justice," Berkeley Engineer (2014), accessed August 11, 2015. http://engineering.berkeley.edu/magazine/spring-2014/engineering-social-....
36. LaPean, Shawn (director of Cal Dining), interview by Nadia Barhoum, in person, Berkeley, CA, February, 13, 2015.
37. These categories are defined as follows: Local and Community-Based: These foods can be traced to nearby farms and businesses that are locally owned and operated. Sourcing these foods supports the local economy by keeping money in the community and builds community relations. The food travels fewer miles to reach consumers. The food is seasonal, and when it is fresh, it often has a higher nutrient content; Fair: Individuals involved in food production, distribution, preparation--and other parts of the food system—work in safe and fair conditions; receive a living wage; are ensured the right to organize and the right to a grievance process; and have equal opportunity for employment. Fair food builds community capacity and ensures and promotes socially just practices in the food system; Ecologically Sound: Farms, businesses, and other operations involved with food production practice environmental stewardship that conserves biodiversity and preserves natural resources, including energy, wildlife, water, air, and soil. Production practices should minimize toxic substances as well as direct and indirect petroleum inputs; Humane: Animals can express natural behavior in a low-stress environment and are raised with out hormones or unnecessary medication. LaPean, Shawn (director of Cal Dining), interview by Nadia Barhoum, in person, Berkeley, CA, February 13, 2015.
38. LaPean, Shawn (director of Cal Dining), interview by Nadia Barhoum, in person, Berkeley, CA, February 13, 2015.
39. LaPean, Shawn (director of Cal Dining), interview by Nadia Barhoum, in person, Berkeley, CA, February 13, 2015.
40. LaPean, Shawn (director of Cal Dining), interview by Nadia Barhoum, in person, Berkeley, CA, February 13, 2015.
41. Carol Zabin, Arindrajit Dube and Ken Jacobs, "The Hidden Public Costs of Low-Wage Jobs in California," University of California Institute for Labor and Employment, Nov. 2004, p. 13, available at http://repositories. cdlib.org/cgi/viewcontent.cgi?article=1037&context=ile.
42. Carol Zabin, Arindrajit Dube and Ken Jacobs, "The Hidden Public Costs of Low-Wage Jobs in California," University of California Institute for Labor and Employment, Nov. 2004, p. 13, available at http:// repositories.cdlib.org/cgi/viewcontent.cgi?article=1037&context=ile.
43. Paul K. Sonn & Tsedeye Gebreselassie, "The Road to Responsible Contracting," National Employment Law Project, June 2009, accessed April 2015. https://nelp.3cdn.net/985daceb6c3e450a10_pzm6brsaa.pdf