Section 3 - Water Insecurity in Detroit: The Costs of the Crisis 
WATER, AND SPECIFICALLY clean water, is central to a wide range of essential activities. It is needed to drink, cook, flush and clean toilets, and clean bodies, clothes, food and homes. If water is not accessible, affordable, and safe, human health and well-being are severely endangered.
At least 100,000 Detroit families have had their water shut off since 2014.110 While the annual number of shutoffs has decreased since then, in March 2018, the Detroit Free Press reported that at least 17,000 households were at risk for shutoffs.111 This news follows the Detroit City Council's approval of a $7.8 million contract to Homrich Wrecking for conducting water shutoffs.112 Records obtained by Bridge Magazine show that residential shutoffs dropped from 33,000 in 2014 to 23,000 in 2015, but increased again to 27,552 in 2016.113 
"Why tear up property and seam it and everything? You're making things worse. They city is already going down. You say the bank owns the water company and you're going after the residents. The bank already made all these houses in foreclosure…and people come and take whatever they offer, so now here we have to water company doing the same thing. That's so wrong."
-Rosalyn Walker, from Detroit Minds Dying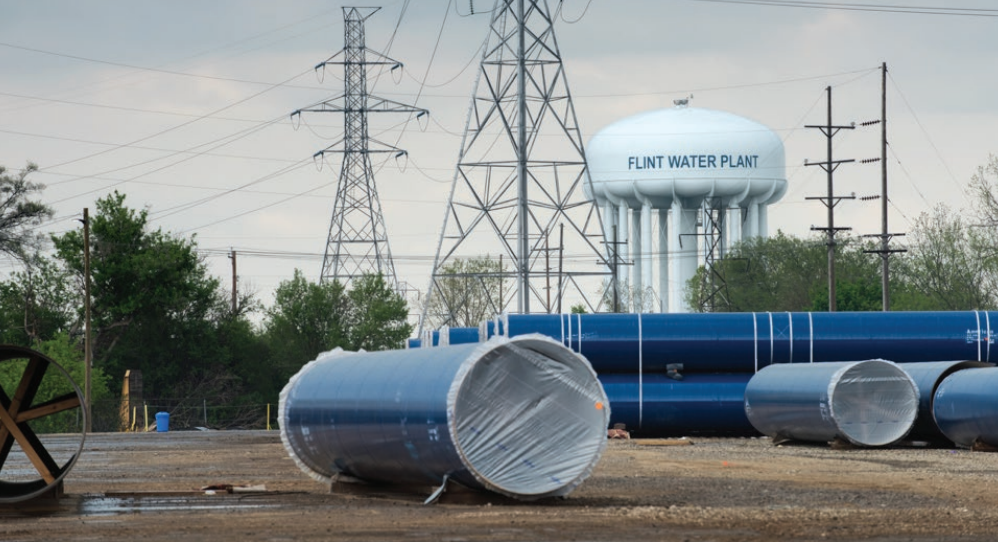 Image from the film I Do My Dying. Coutesy of Kate Levy, available online at detroitmindsdying.org
Water crises across the US have attracted growing national and international audiences. Pontiac, Flint, and Detroit, Michigan, in particular, have received a great amount of attention as a result of the rich grassroots activist responses to threats to water access.
In October 2014, following a summer of widespread water shutoffs in Detroit, the city gained international attention when two United Nations Special Rapporteurs: Catarina de Albuquerque, the UN Special Rapporteur on the human right to water and sanitation, and Leilani Farha, the Special Rapporteur on the right to adequate housing, visited the city. Albuquerque, appalled by the scale of shutoffs, claimed in a press conference that "it is contrary to human rights to disconnect water from people who simply do not have the means to pay their bills."114 She continued: "In practice, people have no means to prove the errors and hence the bills are impossible to challenge… the indignity suffered by people whose water was disconnected is unacceptable."115
Notably, Albuquerque made an earlier tour of the US to assess the status of the human right to quality drinking water and sanitation. This tour included visits to Alabama, Alaska, Michigan, Puerto Rico, and West Virginia. 116 Each of these places experiences unique challenges in ensuring affordability while also financing the maintenance of systems that can sustain the distribution of clean, safe water. Underscoring the connections between water quality and affordability, Albuquerque was accompanied by the UN Special Rapporteur on extreme poverty and human rights. The trip included a visit to water and sanitation systems in rural Alabama, where the absence of adequate service has created public health problems thought to have been eradicated in developed countries.
"It is contrary to human rights to disconnect water from people who simply do not have the means to pay their bills… In practice, people have no means to prove the errors and hence the bills are impossible to challenge… the indignity suffered by people whose water was disconnected is unacceptable."
-Catarina de Albuquerque, United Nations Special Rapporteur on the Human Right to Water
Water affordability is a nationwide problem. The US EPA sets an affordability standard of 4.5 percent for combined water and wastewater services.117 A recent University of Michigan study found that using this standard, 11.9 percent of US households have unaffordable water bills.118 Given the projected increases in costs of water and wastewater services in the next five years, the authors estimated that figure could reasonably rise to 35.5 percent.119 Many of the studies of water access in the US focused on affordability have noted that improving aging infrastructure is crucial for effective interventions. However, an estimated $1 trillion needed to upgrade the country's water and sanitation systems, without which issues surrounding water poverty will worsen.120
PLACES FACING WATER AND SEWERAGE PROBLEMS: A PARTIAL LIST
Cities in Alabama, especially rural Alabama, Alaska, Michigan, Puerto Rico, and West Virginia
Boston and Falmouth Massachusetts, Sacramento, Redding, Pennsylvania, the Winnemen Winto tribe, New Orleans, Seville, and other communities in California's San Joaquin Valley, and Edmonston, Maryland.
Flint and Detroit, Michigan, Baltimore, Maryland, East Cleveland, Ohio, Newburgh, New Jersey, Los Angeles and many rural and urban cities in Arizona, North Carolina, Kentucky, Mississippi and Alabama are contending with rising rates that limit economic access and associated problems with water quality.
By delving into the causes and implications of the water crisis in Detroit, we can begin to understand the wide-ranging, detrimental effects of water inequity. This endeavor, we hope, will set the stage for cultivating preventative strategies for and responses to impending water crisis nationally and globally.
We focus here on the far-reaching impacts of limited water quality and access on individuals, families, and communities. We seek to humanize these issues by detailing the real, human costs of unaffordable water by focusing specifically on the way water scarcity in Detroit threatens households access to water and sanitation and erodes public health and environmental quality throughout the service area.
Water Shutoffs as a Revenue Generation Strategy
Water shutoffs in Detroit are a profound problem for households and communities. Resorting to shutoffs is rooted in the choice to sacrifice affordability in an attempt to cover expenses associated with aging urban infrastructure. Most of the older water and sewerage systems in the US– typically those in urban centers– require expensive upgrades. Many of those improvements are long overdue; however, resources to fund these efforts are lacking—and in some systems, revenues are in decline. In many cities, like Detroit, the costs of maintaining aging infrastructure—not to speak of funding system updates—are passed off onto users through water rates. Although water rates in many cities, like Detroit, are relatively low, they are still unaffordable for low-income people.
Atlanta, Georgia and Seattle, Washington have some of the highest water rates in the country, with average bills at $325.52 and $309.72 per month for a family of four, respectively.121 In 2017, Philadelphia, Pennsylvania made 27,776 water shutoffs for non-payment of water bills.122 A study showed that 227,000 Philadelphia customers—four out of 10 water accounts—were past due.123
Water shutoffs are a symptom of the incongruity between two systems. One on side are a set of strategies that determine how much water users are expected to pay for water. On the other side are strategies that finance costs of operation, maintenance, and infrastructure upgrades necessary to provide quality water.
Shutting off people's water is a fundamentally flawed strategy to cover a system's operation and maintenance—the underlying flawed rationale being that shutoffs will incentivize customers to pay. Studies have shown that water utility users in the US are willing to pay more to access quality water resources.124 However, given the financial burden water costs pose for low-income people, willingness to pay does not always translate to ability to pay.125
Water shutoffs are ineffective in incentivizing people to pay their bills. However, even if they did incentivize users to pay past due bills, shutting off a household's water supply is not an acceptable point of intervention. The strategy should not even be on the table, as the inability to afford services should not result in an acute threat to human health and well-being. None of the problems associated with water poverty or water infrastructure are resolved through water shutoffs. Water poverty is a systemic effect—and needs systemic remedy.
AREAS FOR FURTHER INQUIRY
There is a litany of well-established links between individual health outcomes and reliable access to clean water and adequate sanitation. There are similarly established links between water and sanitation access and public health outcomes. Situating Detroit within this long-standing line of research, it is wise to study public and individual heath has been effected by the number of water shutoffs in the city of Detroit.
TK: Bits about Community Research Collective, mapping the water crisis 
Understanding the specific effects in Detroit will enable the best targeted strategies to address effects that exist in Detroit. The spirit of such a study is not to simply reveal problematic outcomes, but far more importantly to direct attention to systemic problems that need attention.
This is another opportunity for Detroit to be a national leader in extending study of water access in the domestic context. Many studies have been done internationally, but more research needs to develop unique problems that are presented within the domestic context.
As a matter of public circulation and understanding of this type of study it is important to understand standards of epidemiological investigation. 
The utility of this type of study is any expectation to prove causation. Causation in epidemiological studies is not obvious. Probabilistic standards of causation are appropriate for epidemiological studies, not necessity-sufficiency standards. "...Epidemiological studies can never prove causation; that is, it cannot prove that a specific risk factor actually causes the disease being studied. Epidemiological evidence can only show that this risk factor is associated (correlated) with a higher incidence of disease in the population exposed to that risk factor. The higher the correlation the more certain the association, but it cannot prove the causation. ..."
Studies revealing association, or correlation, are meaningful and reveal new important insights. 
Spatial analysis presents an important component of research in general, including the field of epidemiology. There are also limitations inherent in epidemiological study due to privacy standards of personal medical records. Studies that use individual patient data are routinely, and necessarily, aggregated to census tract level or zip code
"To date, work on water affordability for low income households in developed countries has received somewhat less attention than work on water in the developing world. International work on affordability and case studies in the United States have highlighted specific communities where affordability is an issue. While valuable, the extent that water affordability is a widespread issue for US households, and where these households are located, remains unclear. This is vital to unravel since there is currently no federal statute or policy that ensures water access for poor residents." (Citation: Mack, EA, Wrase S. (2017) A burgeoning crisis? A nationwide assessment of the geography of water affordability in the United States. PLOS ONE 12(4): e0176645. https://doi.org/10.1371/journal.pone.0176645
While the national spotlight on shutoffs has dimmed since the UN rapporteurs visited Detroit in 2014, residential shutoffs have continued in massive numbers. DWSD points to marginal improvements in numbers year-to-year, but many thousands of residential shutoffs continue to occur in Detroit. While every home that is able to avoid a shutoff is important, any number of shutoffs is unacceptable. 
Detroit community members have been especially appalled by the disparities between residential and commercial shut-offs. While water service is shut off in numerous homes with relatively low overdue bill amounts, commercial customers with substantially higher bills haven't experienced shut-offs. In 2014, the Metro Times reported that while residential customers with bills as low as $150 could experience shutoffs, large commercial customers, such as the Louis Arena and Park Gold Club, owed $80,000 and $200,000, respectively.126
Access to Water and Community Health and Well-being
Water Shutoffs and Public Health
Water shutoffs pose serious threats to public health and perpetuate disparate health outcomes along race and class lines. Individuals living without access to water are made vulnerable to a number of diseases and sicknesses—and existing health problems are intensified. Studies overwhelmingly confirm the links between water scarcity and significant negative health outcomes, including diseases associated with skin and soft tissue infections, water borne bacteria, and hepatitis.127 Poor hygiene resulting from lack of water access can also spread and create water-related problems like skin diseases and gastrointestinal issues, as handwashing is the first line of defense against several communicable health problems. 128 With a lack of access to water within the home, dehydration and its associated problems complicates problems for those who have chronic diseases, as well as elderly and young people. 129 Additionally, water scarcity can affect nutrition, as the preparation of healthier foods are particular dependent upon water. The strong association between water shutoffs and water-associated illness, particularly as it effects populations under circumstances of "social vulnerability," has come to be known as the "W.A.S.H". literature.130
Disease burdens linked to scarce safe/clean water, sanitation and hygiene are disproportionately borne by the socially-economically-political vulnerable and fuel cycles of disadvantage and poverty. Not only are these groups already exposed to a variety of other socially-determined health risks, but they also often have limited access to health care. These social determinates of health– i.e. increased exposure to environmental risk and limited access to health care resources– combine to perpetuate these disparate outcomes.131 The deleterious effects of water scarcity and lack of health care resources have cascading effects that effect entire neighborhoods, as diseases are communicable; the combined effects of these risks mean that entire communities are further deprived of opportunities to flourish.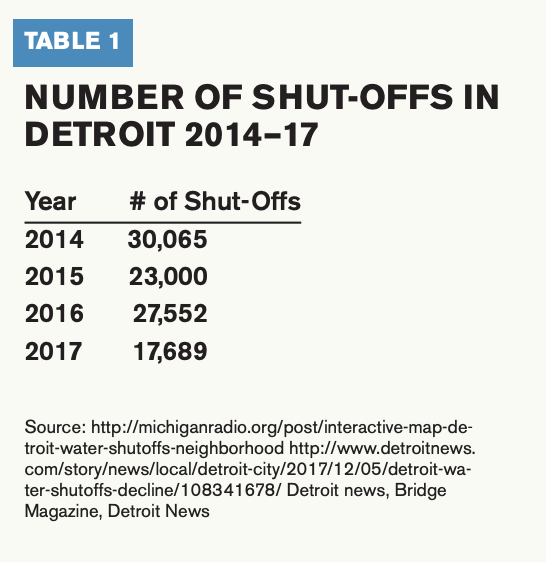 WATER AS A HUMAN RIGHT
Global water crises have called attention to the need to affirm the human right to water. The Human Right to Water and Sanitation (HRWS) was recognized by the United Nations General Assembly in 2010.1
While foundational human rights documents do not make explicit reference to water, the right to water is implicated given water's centrality to human existence and thriving. The 1966 International Covenant on Economic, Social, and Cultural Rights advocates for "the right of everyone to an adequate standard of living for himself and his family, including adequate food, clothing and housing, and to the continuous improvement of living conditions."2
Similarly, the 1948 Universal Declaration of Human Rights notes that "Everyone has the right to a standard of living adequate for the health and well-being of himself and his family, including food, clothing, housing and medical care and necessary social services, and the right to security in the event of unemployment, sickness, disability, widowhood, old age, or other lack of livelihood in circumstances beyond his control."3
The fulfillment of both of those rights requires access to clean and affordable water. 
In 2002, the Committee on Economic, Social and Cultural stipulated that water accessibility has four dimensions:4 
Physical accessibility, meaning that water resources are in safe physical reach
Economic accessibility, requiring that water is affordable for all
Non-discriminatory accessibility, stipulating that water be available for the most vulnerable groups of the population
Information accessibility, noting the right to seek and receive information about water issues.
In Detroit, water is not affordable, particularly for the city's most vulnerable residents. Moreover, victims of shutoffs were often not provided with notices and information regarding their water bills and water was shutoff unexpectedly. Mass water shutoffs in Detroit offer a clear illustration of the violation of the human right to water.
Sources:
1 United Nations General Assembly Resolution 64/292, The Human Right to Water and Sanitation, A/64/L.36/ Rev.1, adopted July 28, 2010, http://www.un.org/es/comun/docs/?symbol=A/ RES/64/292&lang=E. 
2 UN General Assembly, International Covenant on Economic, Social and Cultural Rights, 16 December 1966, United Nations, Treaty Series, vol. 993:3, http://www.ohchr.org/EN/ProfessionalInterest/ Pages/CESCR.aspx.
3 UN General Assembly, Universal Declaration of Human Rights, 10 December 1948, 217 A (III), http://www.un.org/en/universal-declaration-human-rights/.
4 UN Office of the High Commissioner of Human Rights, "General Comment No. 15: The Right to Water (Arts. 11 and 12 of the Covenant), Adopted at the Twenty-Ninth Session of the Committee on Economic, Social and Cultural Rights, E/C.12/2002/11, January 20, 2003, http://www2.ohchr.org/english/issues/water/docs/CESCR_GC_15.pdf.
Resolution 64/292: The Human Right to Water and Sanitation
The General Assembly
Recognizes the right to safe and clean drinking water and sanitation as a human right that is essential for the full enjoyment of life and all human rights;
Calls upon States and international organizations to provide financial resources, capacity-building and technology transfer, through international assistance and cooperation, in particular to developing countries, in order to scale up efforts to provide safe, clean, accessible and affordable drinking water and sanitation for all;
Welcomes the decision by the Human Rights Council to request that the independent expert on human rights obligations related to access to safe drinking water and sanitation submit an annual report to the General Assembly.
AREAS FOR FURTHER INQUIRY: PUBLIC HEALTH CONSEQUENCES OF WATER ACCESS
In the case of Detroit, the abstract of the Henry Ford Hospital Global Health Study provides us with a preview of such a strong association between social vulnerability and water-associated illnesses.132 The study, conducted by researchers from the Henry Ford Health System's Global Health Initiative and Division of Infectious Diseases, examined 37,441 cases of water-borne illnesses between January 2015 and February 2016 in Detroit. Researchers compared that data with a list of addresses where water had been shutoffs, finding a significant connection between water-related illnesses and DWSD shutoffs. Currently and controversially, only the abstract of the study is released. Preliminary findings indicate that patients with water related illness were 1.48 times more likely to live on a block that has experienced water shutoffs.133
Additionally, mental health issues are also associated with lacking water, as water deprivation can exacerbate any existing mental health problems. 134 For example, irregular bathing and sanitation can negatively affect a sense of self-worth and the ability to perform at work or school.135 Not to mention the accompanying stress of obtaining water on an emergency basis and worrying about how to pay to have service restored. 
The compound effects of water shutoffs in Detroit, both in terms of clinical and non-clinical outcomes, actively contributes to Detroiter's "social vulnerability." As defined by the CDC, social vulnerability s the way in which exposure to certain social factors compromises people's immunity.136 These factors include poverty, crowded or unsafe housing, housing insecurity, and lack of transportation, among others. The situation in Detroit speakers to the way in which water inequity and insecurity contributes to people's social vulnerability, as it leads to compromised physical and mental health while also worsening existing problems faced by sick and immune-compromised.
"Through daily interaction with families forced to manage their lives without running water, We the People of Detroit gained insight into the ways deprivation of water disrupts essential family functions and rituals, heightens vulnerability to disease, especially among the children, and causes deep emotional trauma, some of which concerns the inability to provide security to one's children, as well as the difficulty of preserving one's standards of household organization and self care."
-We the People Community Research Collective, Mapping the Water Crisis
The Social Costs of Shutoffs
The costs of shutoffs are not limited to effects on the body. Shutoffs also have adverse social costs for individuals, families, and entire neighborhoods. Water shutoffs can contribute to foreclosure and blight, splitting up families, and even worsen water quality for entire neighborhoods, including homes where water service is uninterrupted. In addition, shutoffs can create feelings of shame and enforce a culture of silence that is only worsened by the practice of painting arrows in front of houses where water has been disconnected. 
We the People of Detroit Community Research Collective has done and continues to do important research into the social and health costs of water issues in Detroit. Their report, Mapping the Water Crisis: The Dismantling of African American Neighborhoods in Detroit, Volume I (2016), visually represents data relating to emergency management, the history of DWSD and GLWA, home values and foreclosures, and the relationship between all these issues and shutoffs.137 The Community Research Collective has been an integral resource in the making of this report.
Mapping the Water Crisis points to the significant correlation between high unpaid water and sewerage bills and high instances of property tax foreclosures.138 This is in part due to DWSD allowing delinquent water bills to also attach as liens to properties in the same way unpaid property taxes are attached as a lien on a property. The 2014 Detroit Blight Removal Tax Plan codified this relationship, stating that homes with water lines that have been disconnected, removed, or damaged are subject to demolition.139 If the bill amounts go unpaid or underpaid for three years, the property is eligible for foreclosure. While the water bills may not be the only or primary cause for foreclosure, they can shorten the timeline to foreclosure. 
High rates of foreclosure compound the existing social problem surrounding urban blight in Detroit. Importantly, high water utility bills are affecting communities already heavily hit by the city's foreclosure crisis. We know that during the national foreclosure crisis of 2007, Detroit was especially impacted; thus the areas where the existing rate structure causes higher bills are already suffering from other economic harms. 
It is important to remark here that many home mortgage loans that set households up for foreclosure were not due to a household's failure to balance their checkbooks. Rather, in Detroit especially, Black African American households were marketed subprime loans with unnecessary risks at a right higher than their White counterparts— regardless of where they lived and regardless of financial assets.140
Water shutoffs also actively destabilize families. In an attempt to protect the safety of children, Child Protective Services (CPS) also considers a home without running water to be unfit for housing.144 Extended water shutoffs put children at risk of being removed from their homes. Shutoffs thus threatens family cohesion, which is associated with an incredible number of positive outcomes. These include economic and physical well-being, long-term mental and physical health, interaction with the criminal justice system, and income and education.145
The threat of a child being removed from the care of their parents reinforces the culture of silence around shutoffs—if a child mentions that they do not have water at home, the teacher is required to report it. Still, schools across Detroit have responded by providing extra supports for children who have had their water disconnected. At the height of the shutoff crisis, one school opted to open at five in the morning to allow children to wash their clothes and shower before school.146
In addition to delving further into these social costs, We the People of Detroit Community Research Collective is currently conducting original research into the effect of water shutoffs on water quality in neighboring homes. Dr. Jade Mitchell and Dr. Jennifer Carrera have partnered at Michigan State University to conduct water experiments in neighborhoods in Detroit to test the water age and quality in homes where water has been shutoff or unused for an extended period of time. This experiment is a model for research that empowers and directly involves community members. A Community Advisory Board not only advised on the type and scope of water research, they also own the information (including residents' names and addresses) collected by community members who were trained as field workers. Dr. Mitchell's team tests water samples, but the samples are collected and owned by the community.
While results are still preliminary, once more conclusive evidence is gathered, the results of the experiment will be shared with the community so that they can decide on further action.
Conclusion
Water shutoffs have a variety of negative effects on individuals, families, and communities– from home foreclosure to family break-up to higher instances of water-related illnesses. The wide-reaching negative effects of shut-offs underscores the importance of protecting the human right to water, and prohibiting draconian collection practices that result in acute threats to human health and well-being. Water shutoffs also actively perpetuate disparate outcomes along race and class lines. 
class lines. This is in part due to the way in which negative consequences associated with water scarcity contribute to high instance of daily stress, the effects of which are borne by low-income communities and communities of color. The cumulative health effects of daily stresses is often discussed in terms of "toxic stress" or "toxic inequality," referring to the biophysical effects of cumulative stress in response to adversity, which is disproportionately experienced by marginalized groups. Social marginalization can increase people's "allostatic load," or the wear and tear on the body resulting from prolonged exposure to chronic stress. Within the literature on toxic stress, toxic inequality, and allostatic load, repeated patters of racial differences exist. In fact, measures of increased allostatic load are thought to explain, in part, the persistent disparities of racialized health outcomes and in particular, the racial disparities in low infant birthrate and infant mortality—disparities that are shown to exist despite level of education, income, or employment.147
Water shutoffs produce have of negative consequences for the well-being of communities and public health– a problem on worsened by the multidimensional and persistent stress associated with water scarcity. All of these harms are disproportionately endured by low-income people and people of color. 
THREATENING COMMUNITY SPACES: WATER INEQUITY AND DETROIT CHURCHES
"I really do think this is a prelude to other attack… Every attack on the church is an attack on the black community." – Pastor Alan Evans of The Open Door Church of God in Christ in Detroit
"We don't mind paying our fair share… [but] you\re putting us out of business… This is redlining on steroids"– Reverend James Michael Curenton of United Church of Christ
Churches are cornerstones of Detroit communities, particularly of communities of color, and also the second-largest property owners in Detroit. Importantly, they are uniquely affected by water inequity.
More specifically, as discussed in Section II of this report, the current water distribution situation requires that customers pay unmetered drainage fees based on the quantity of impervious surfaces– such a parking lots and roofs– on their properties. As churches often have large quantities of impervious surfaces—from the size of the church itself, parking lots large enough to accommodate whole congregations, satellite community buildings, and even impervious surfaces on vacant properties churches have acquired—they are incredibly burdened by unmetered drainage fees.
Currently, DWSD-R customers are charged $750 per square acre of impervious surface. Note that drainage fees are costs associated with managing combined sewage overflows, or overflows of sewage and other potentially hazardous materials when the combined sewage system is overburdened. Overflow management is a symptom of Detroit's antiquated infrastructure. As described in Sections I and II, Detroit bears the burden of this antiquated system because of historic, systemic inequities.
Currently, the existence and financial well-being of 400 Detroit churches is endangered due to their inability to afford these charges.
In the past four years alone, Second Ebenezer Church, with a 40-year history and hundreds of congregants, has already seen their bill go from $1,900 per month to $8,000, and they are bracing for further hikes.
The Cathedral of St. Anthony's monthly bill rose from $165 to $1,200 per month. The burden drainage fees put on churches threaten communities' religious and secular support networks. In addition to buying up vacant lots in their communities, churches—as well as mosques, synagogues, and other places of worship—provide affordable housing, mentoring, scholarship awards, health support, voting support, programs for youth, older adults, and women, as well as crucial advocacy. Even if churches are able to afford the drainage fees, they still pose economic burdens, thus threatening churches' capacity to provide these key community services.
Church leaders and congregants are vocal advocates in the fight for water equity. They and their congregants offer a wealth of knowledge about the needs and capacities of the neighborhoods they serve. Their guidance, wisdom, and knowledge are essential in establishing a sustainable Detroit. 
Foreclosures due to unpaid water bills in Detroit are not only alarming because of immense threats demolition poses for families and community, but also given the history of blight removal practices in the city decades ago, under the rhetoric of "urban renewal." In Detroit and elsewhere, blight removal-centered development strategies demolished incredible numbers of affordable housing units—far more units that were built under the program.141 These demolitions intensified exiting problems with housing quality and neighborhood opportunity. The changes enacted under these blight removal projects also deepened segregation and destroyed existing neighborhoods where strong social ties and connections existed.142
Studies surrounding the effects of blight removal urban renewal strategies in the 1940-50s have revealed the significant connections between displacement and diminished health and well-being, often associated with a phenomenon called "root shock." Even when residents were able to move to nicer neighborhoods, they experienced a loss of belonging and a loss of appreciating and benefiting from deep social ties of the place they called home.143 Root shock refers to the negative psychosocial impacts of displacement, a metaphor to the negative effects when plants is removed and transplanted elsewhere. This work has focused on displaced community residents moved in urban renewal projects in Philadelphia, Pittsburgh, PA and Roanoke, Virginia. Problems associated with 
WATER ACTIVISM IN DETROIT
Detroit's robust nonprofit and grassroots infrastructure has mobilized in a variety of ways to fight water inequity in Detroit. In 2005, as challenges to accessing clean and affordable water in Detroit became increasingly apparent, the Michigan Welfare Rights Organization (MWRO)–which has long advocated for the rights of welfare assisted and low-income people–partnered with Michigan Legal Services and DWSD to design an income-based water affordability plan (WAP). The plan, written by affordable utilities expert Roger Colton was approved by the city council, but never implemented by DWSD.
In response to continued water shutoffs, the People's Water Board (PWB) was founded in 2008. The Water Board is comprised of a coalition of organizations that hold that water is a human right and should be accessible and affordable for all. Founding members of the Board included a number of organizations committed to environmental and social equity: MWRO, East Michigan Environmental Action Council, the People's Water Board, Sierra Club, Michigan Emergency Committee Against War & Injustice, Rosa Parks Institute, Detroit Black Community Food Security Network, Detroit Green, and American Federation of State, County and Municipal Employees Local 207. In the years leading up to the bankruptcy, the Water Board and other water advocacy organizations drew local and national attention to water access issues through outreach, forums, and public actions.
While Detroit was under emergency management, a variety of other activists became key allies in the water struggle. Notable are Detroiters Resisting Emergency Management (D-REM) and The People's Platform.
As shutoffs reached an all-time high in the summer of 2014, Detroit's nonprofit and grassroots infrastructure– specifically PWB, We the People of Detroit, and the Detroit Water Brigade– mobilized to provide immediate, on-the-ground assistance to shutoff victims by starting water hotlines and delivering water. The Detroit Water Brigade, for example, has: established community distribution hubs for bottled water, pulling together volunteers, resources, and a compassionate strategy. Each hub is located in each of Detroit's seven districts, beyond its Highland Park headquarters; created the Water Affordability Fund to supplement DWSD assistance programs; conducted door-to-door information campaigns; constructed rainwater collection systems; collected cold weather gear to help those denied access to water (and therefore, heat circulation).
In 2014 the People's Water Board filed a complaint with the UN Human Rights Counsel, which resulted in two UN special rapporteurs visiting Detroit. Meanwhile, Kate Levy– an activist and independent filmmaker– began work on Detroit Minds Dying, an in-progress documentary about access to affordable water in Detroit. Several of the images in this report are from that film, and we are indebted to Levy and other actors which made the film possible.
Public actions amidst widespread shutoffs took the form of large public marches and even actively blocking Homich shutoff trucks– Homrich was the private company contracted to carry out 70,000 shutoffs over a two-year period. Two actions of this sort took place over the summer of 2014, leading in the arrest of nine activists.
Meanwhile, Moratorium Now began weekly demonstrations at the DWSD headquarters.
Also, in response to shutoffs in the summer of 2014, Detroit civil rights organizations and citizens effected by the shutoffs filed a law suit against the city, on the grounds they did DWSD did not provide adequate shutoff notices and shutoff water to the most vulnerable Detroiters, while also not shutting off water to commercial delinquent accounts. The case, Lyda et.al v. City of Detroit, advocated for a moratorium on shutoffs and the implementation of a water affordability plan.
In recent years, resistance continues in myriad forms. We the People's Community Research Collective has completed crucial research on the effects of austerity and water inequity of on low-income communities of color in Detroit, recently publishing a report entitled "Mapping the Water Crisis." The Collective's work has been, and continue to be, fundamental to investigative efforts surrounding water inequity in Detroit, and correspondingly, central to the production of this report.
There are countless other allies who played key roles as activists responding to the water crisis. For example, Anishinawbe Women and Men, representing indigenous peoples of the region, have untaken multiple annual Mother Earth Walks, raising awareness for threats to the public trust of water. Another organization, the Detroit Light Brigade has staged "letters in light" and projected messages of resistance on buildings during public actions