Section 2 - Recommendations 
DETROIT HAS THE POTENTIAL to become a national leader in the primary infrastructure challenge of the 21st century: securing economic and physical access to clean and safe water and sanitation services. Water insecurity is experienced across the country—the pervasiveness of the problem indicates a systematic failure. Water access includes service that is affordable, physically accessible, quality and safe drinking water, and wastewater services that promotes environmental quality and public health. These are challenge through the country and within the GLWA service area.
The previous section presented a structural analysis of challenges that face DWSD and GLWA and identified specific areas of concern. Here we detail the start of strategies that could address those systemic design flaws and can promote improved water access in Detroit and throughout the GLWA service area.
There is a vast array of strategies and solutions that could be implemented to advance water access. There are strategies that enjoy strong or weaker political will. Strategies have to be designed, aligned and implemented such that a balance is struck between pragmatism and larger scale structural change. An additional factor that should ultimately determine which strategies to implement and their design should be ensuring that reaching water access is also advancing the broader need for social equity.
Some of the following recommendations will have far-reaching immediate benefits for people lacking basic access to in-home clean water and sanitation, while others will have benefits in the longterm, laying the groundwork for the development of resilient systems, protected against economic and climactic risks. No singular strategy can respond to Detroit's complex problems, and even these six constitute a preliminary list, offering a catalyst for further development, study, and participation.
These recommendations support solutions crafted by local experts, including community leaders, activists, and academics. They have been an incredibly valuable resource that has too often been neglected in the creation of actionable policies. Correspondingly, meaningful relationships with community stakeholders should be integrated into the development and implementation of these strategies.
Moratorium on Residential Water Shutoffs and Redesign Decision Making Regarding Water Shutoffs
Rationale
We propose instituting an immediate moratorium on residential water shutoffs until such time adequate processes are established that ensure a shutoff is not implemented when a person is unable to pay. The moratorium should also be in place until there is a clear sufficient process to distinguish between accounts that are able or unable to pay. As part of this strategy and generally there needs to be a form of due process in the course of a water shutoff. Processes should enable effective and easily navigable processes to challenge to shutoff orders and access financial support programs. This strategy will be greatly eased with the recommendation of designing a robust and effective water affordability program which is immediately follows here. During of the period of that moratorium, it is essential for GLWA, DWSD, and other service providers to seriously consider the objections raised by the Detroit community and international agencies and implement long-term, dramatic changes to service disconnection practices. Any policies that pursue service disconnection to incentivize payment should be designed to apply only to situations in which there is an ability and unwillingness to pay. This will disqualify the vast majority of service disconnections.
Implementation
A prohibition on shutoffs in the situation of inability to pay can be implemented by either reframing GLWA's customer service policies. Alternatively, this protection can be realized by implementing state or national legislative reforms that forbid water shutoffs when the inability to pay is documented. Implementing an effective affordability plan and certain customer protections—described later in this Section—should eliminate the need for punitive collection practices in the first place. However, in light of the massive impact of shutoffs on residents in Detroit, it is important to decisively and permanently eliminate shutoffs until more well-designed consumer protection measures are in place.
Appraise the Annual Lease Payment
Rationale
It is possible that the $50 million/year annual lease payment and other payments made to Detroit and DWSD-R do not adequately reflect the value of the system GLWA operates and manages. The payment is considered a common-to-all cost, Detroit contributes to the lease on its own system. In fiscal year 2018, Detroit will contribute $13.6 million to the lease on its own system. 60 It is not entirely clear if Detroit's $13.6 million is intended to cover services and operations to GLWA.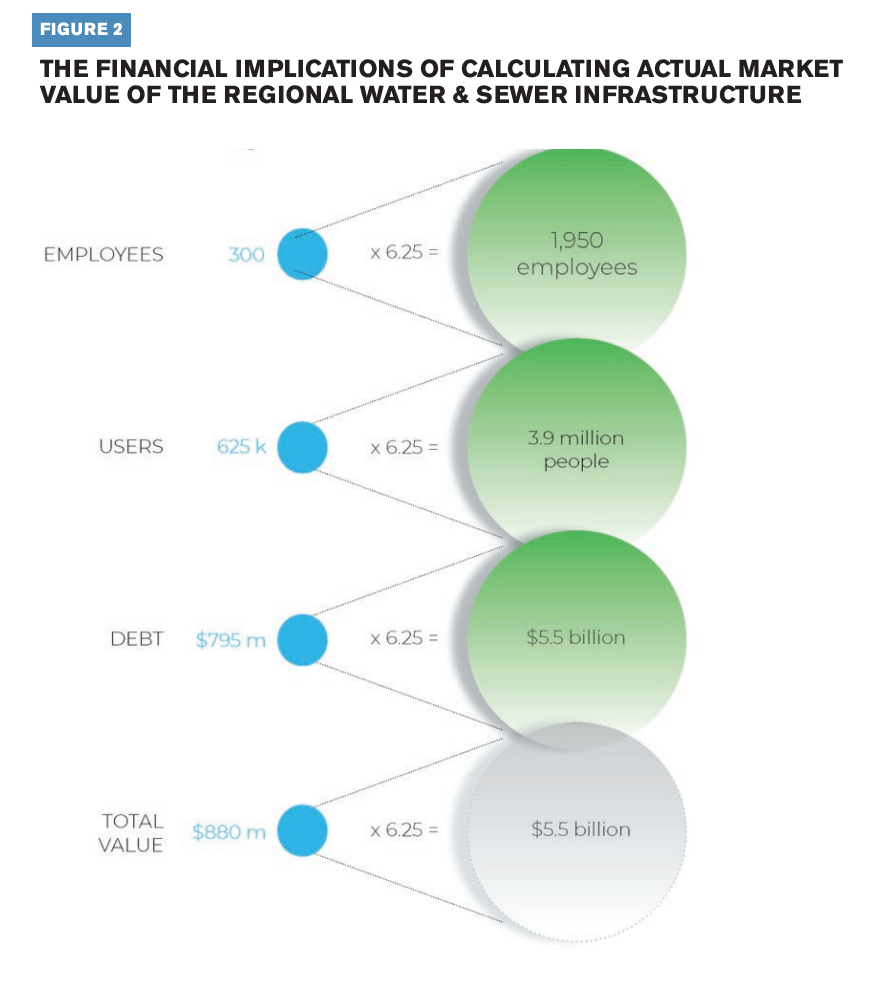 Implementation
We recommend that rationale and calculation of the GLWA lease payment be made available for public review. Additionally, a comprehensive appraisal of the regional system may be warranted to assess the degree to which the lease payment adequately reflects the value of the asset. This is a non-trivial part of our recommendations—enabling public disclosure of the rationale and basis of calculation of the lease payment is necessary. The circumstances of the DWSD system and its relationships to GLWA, and GLWA itself, are not those of a transaction between a public system and an investor owned utility. This complicates a process of valuation. Additionally, the process of valuation of water and sewer systems is exceptionally complicated and techniques of valuation of drinking and wastewater systems is not well researched or publicly available. Not only would a valuation need to be done, but the valuation process itself would need to be carefully considered and be made transparent and subjected to a period of public comment and expert review.
This does not require abandoning the agreement. Rather, the agreement can be reworked with an eye aimed at achieving lasting regional equity. Any renegotiation process of the lease payment or other provisions in the lease and services agreements ought to be transparent, fair and balanced, evidence-based, and periodic.
Consider Legislative Reforms
Rationale
Plans for a more equitable and sustainable water and sewerage system rests on the firm conviction that every person has the right to safe, affordable, and accessible water. This tenant should be reflected in law. In 2012, California became the first state to legislatively recognize the human right to water by requiring that every person has the right to "safe, clean, affordable, and accessible water" for consumption and sanitation.61
Current legislation does not adequately protect the fundamental human right to water. Effective legislation would safeguard those rights. In order to ensure durable and widespread access to drinking and wastewater services, there is a need for policy that safeguards access to clean, affordable water and clean surface water. These general principles and aspirations are reflected in different ways in the following examples.
While most of these recommendations would be implemented on a state or local level in Michigan and throughout the GLWA service area, these suggestions provide a model for national legislation, as well as initiatives that can be applied in other states and local communities across the country. 
Access to safe and affordable water and wastewater services is a problem that has multiple structural elements and no one piece of legislation can accomplish all that is needed. The samples below reflect a partial menu of strategies and targets.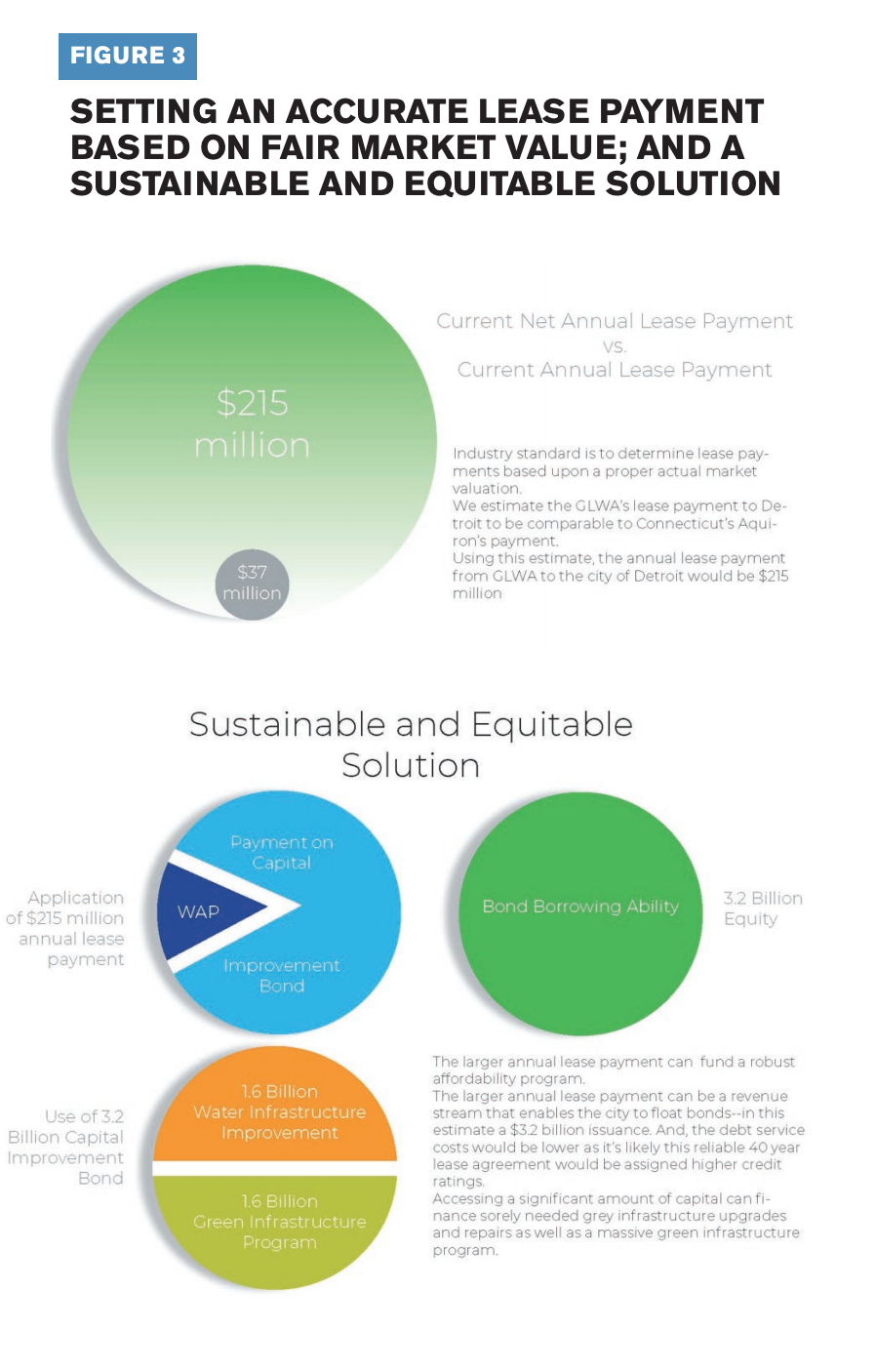 Components
Important work has been done on this front, and we recommend further inquiry into the feasibility and development of potential legal and legislative strategies.
The National Coalition for Legislation on Affordable Water (NCLAWater) is current advocating for a variety of measures at the state and federal levels.62 Founded in Detroit, the coalition is comprised of local, state, and national organizations advocating for legislation that guarantees "comprehensive access to safe, affordable drinking water and sanitation – the human rights to water and sanitation." They require that water be accessible, safe, and affordable.
Those efforts include legal protections for access to water, water billing and rates, water quality, and citizen oversight and transparency. NCLAWater's Michigan statewide legislative package includes the following examples.
Examples of Legislation
The following bills could work in different ways to advance the realization of water access by explicitly stating that right, requiring transparency from service providers, ensuring affordability, and implementing consumer protections. 63
Access to Water
HB 4291 Michigan Access and Affordable Water Act: Creates the "Accessible and Affordable Water Act," which would require that all state departments and agencies employ all reasonable means to adopt certain policies to ensure that water is affordable and accessible as long as those policies do not affect eligibility for federal funds.
HB 4360 Water Access: Requires access points for safe drinking water be available in places where residents are not supplied municipal water hook-ups.
Water Billing and Rates
HB 4393 Shut-Off Protections: Institutes shut-off protections by creating categories of individuals protected from shut-offs (seniors, families with young children, pregnant women and people with disabilities) and providing for clearer notices about potential shut-offs.
HB 4392 Regulation of Water Rates by MPSC: Grants the Michigan Public Service Commission the power and jurisdiction to regulate rates, fares, fees and charges of any water or sewer authority in the state. According to a Legislative Service Bureau research memo from 2015, water utilities fall under the purview of 45 other state public service commissions.
HB 4394 Affordability: Addresses the water rate structure that unduly burdens low-income residents by amending the Social Welfare Act to create a residential water affordability program within DHHS in order to ensure that water bills are based on household income.
NATIONAL COALITION FOR LEGISLATION ON AFFORDABLE WATER GUIDING PRINCIPLES NCLA Water was created to adopt federal and state legislation establishing affordable water and sanitation services, ensuring that every person has access to safe, affordable water and sanitation. No person shall be denied access to basic water and sanitation services based on ability to pay, race, age, or gender. All state and local criminal law provisions that criminalize lack of access to safe affordable water and sanitation are a violation of constitutional due process and equal access guarantees. Drinking water and sanitation services and facilities must be accessible at home, in schools, clinics, low income and elderly housing, and to homeless persons; Safe drinking water must be free from microbes, parasites, chemical substances, heavy metals and radiological hazards that constitute a threat to a person's health. Sanitation facilities must ensure the health and physical security of the person. [Affordable water] [m]means that every person can pay for drinking water and sanitation without sacrificing another basic, essential human need – such as food, health care, housing, transportation, education, and emergency communications. No person shall be denied access to basic water and sanitation services based on ability to pay, age, disability, gender, or race. Drinking water and sanitation must not comprise more than 2.5-4% of monthly income for low-income persons. 
HB 4389 and HB4390 Decriminalization Decriminalizes the act of re-connecting water service (because of a shut-off due to inability to pay) from a five-year felony to a civil infraction for a first or second offense and a misdemeanor for the third offense.
HB 4388 Water Meters: Requires that a provider shall not make water or sewerage service to a residential customer contingent on the installation of an advanced meter or use of an advanced meter function.
HB 4712 Billing: Allows some customers, who have not received a water bill by ten days after the end of the billing period, to no longer be responsible for paying that bill if he or she contacted the department in writing twice and the department did not respond within 30 days.
Water Quality
House Bill 4125 Lead and Copper Action Level: Establishes criteria for the action level or engagement of state departments as it relates to the Lead and Copper Rule.
HB 4124 Program for Schools and Child Day Care: Establishes water testing and interventions for schools and child day care centers, as well as repair and replacement of sources of lead contamination.
HB 4120; HB 4372, 4378, 4379 Water Quality Testing: Requires water quality testing at regular intervals for schools, colleges, universities, nonpublic schools and hospitals.
HB 4206 Pre-Flushing: Stipulates that the DEQ and all water authorities must be compliant with EPA guidelines and mandates that procedurally no entity, including the DEQ, will be permitted to use pre-flushing as a water sample collecting method.
HB 4179 Loans to Local Government: Allows the Drinking Water Revolving Fund to give out low-interest loans to local governments to replace lead service lines.
HB 4175 Drinking Water Loan Fund: Creates the Drinking Water Emergency Loan Fund, which would allow for the owner or operator of a public water supply to apply for emergency funding for remedial purposes if it is found there is a threat of contamination to its drinking water.
HB 4339 Lead-Free Pipes/Fittings: Updates the definition of what constitutes "lead free" for purposes of pipes and pipe fittings. This legislation brings the definition in line with the Federal Safe Drinking Water Act language. Currently, the statute allows for pipes and pipe fittings to contain up to 8 percent lead. This bill reduces that amount to 0.25 percent.
Citizen Oversight and Transparency
HB 4201 and HB 4214 MDEQ Citizen Oversight Commissions: Restores a gubernatorial-appointed citizen oversight commission on water quality.
HB 4375 Water Ombudsman: Establishes a Water Ombudsman to advocate for residents throughout the state concerning water-related issues.
HB 2121 Rate Transparency: Increases transparency by requiring water providers to submit an annual report to DHHS regarding water rates and how they were determined, along with information about shut-offs in the previous year.
Revise Terms of Relevant Agreements
Rationale
The existing GLWA lease and services agreement—and other decisions regarding cost allocation—may reflect an undervaluation of the asset that is leased to GLWA. Furthermore, the structure of cost allocations between GLWA and DWSD seems to place uneven obligations—placing what is possibly an unfair burden on DWSD. Because the cost allocations were designed without public review and open consideration many groups feel that the distributions are arbitrary and unfair. We recommend responding to those inequities by a thorough review of the rationale in designing the cost allocation structure and reconfiguring any agreements in light of the results of such a review. In lieu of the ability to conduct assessment of documents, an appraisal of the system could further be used to determine to some extent whether the cost allocations are warranted. 
As detailed in this report, the current GLWA lease agreement could unfairly burden Detroit. It is well known that many Detroit residents and institutions feel they have been left out of decision making regarding the creation of GLWA and, for a longer time, decision making regarding DWSD. Given the recent crises in water access and longer-standing problems with water and environmental quality it is clear that despite intention, the people of Detroit have not been primary beneficiaries of high-quality drinking and wastewater services. Some of the recommendations here are necessary inquiries that will enable greater coordination between residents and local institutions and the institutions that govern the provision of drinking and wastewater services that have significant impacts on public health and environmental quality—for everyone in the GLWA service area. 
May reflect an undervaluation of the system or other errors in calculating the lease payments or cost allocations
May allocate costs in ways that unfairly burdensome for Detroit. 
Limits the capacity of decision making in rate-setting structure—a primary means to balance what are frequently competing demands of rate setting structures including economic development, equity, efficiency, and sustainability.
GLWA governance structure limits the ability for Detroit to exercise influence in decisions about the regional system that it owns. Additionally, the GLWA governance structure limits the representation of other retail, residential, and commercial customers that face barriers to water access including access to clean water, affordable water, and wastewater services that promote environmental and public health
Fails to address the crucial issue of water affordability and provide durable solutions to water access
While the perception that the regional water authority and the negotiation of its governing agreements were problematic, these recommendations do not require discarding the current agreements entirely. Instead, there are ways to maintain the current fundamental structure while improving upon selected areas.
Establishing a more equitable cost-sharing model
We recommend reframing the way costs are shared in the agreement to make the agreement more transparent, fair, and equitable. The particular ways in which the sharing of costs should be reconfigured is grounds for further inquiry, but will likely involve making CSO costs common-to-all and not requiring Detroit to contribute to the lease payment on its own system. Other cost-sharing practices should be reframed along these lines, realizing that the agreement offers a mechanism for actively amending historical inequity in the region, ensuring the sustainability of local infrastructure, and ensuring the human right to water.
FOR FURTHER INQUIRY In order to effectively advocate and realize state and federal legislative change, funds allocated for the development of a large scale organizing campaign is required. Such a campaign would involve the merging of philanthropic, advocacy, policy, and grassroots groups. The organizing structure of the Atlantic Philanthropy's Affordable Care Act Implementation Fund and the foundation's coordination of activities offers an example of a viable model. 
Reframing Rate-Setting Structures
The way in which rates are calibrated in utility services is key to the equitable distribution of water and other resources. The current lease agreement, however, contains provisions that inhibits the development of a rate-setting structure that ensures equity, efficiency, and sustainability.64
GLWA inherited DWSD's historic rate-setting structure. As evidenced by the DWSD's massive debt and use of shutoffs in its final years, that rate-setting structure failed to effectively recover costs and ensure access to drink and wastewater services. With the creation of the GLWA, rate-setting structures remain inadequate to ensure water security throughout the GLWA service area. 
We recommend appraising and studying alternative rate structures tailored to correct for any unfair terms in the cost-of-service model—including costs of affordability and substantial improvement to Detroit's into water rates. This may dictate water rate increases above the four percent cap—a cap which is currently posited in the agreement), and those increases may vary for different wholesale customers. Importantly, any increase in rates must be accompanied by a robust affordability plan which comprehensively meets the addresses the needs of low-income customers. Rate structure changes should also be represented of the way in which affluent communities may be more able to absorb rate increases than low-income and financially stressed ones. 
The particulars of this renewed rate structure present grounds for further inquiry. We recommend conducting extensive research into the development of a new, equity-focused rate-setting structure in Detroit. 
Reworking the GLWA Governance Structure
There are three primary ways we recommend reworking the GLWA's governance structures. The first concerns the GLWA board. There are currently six members on the GLWA board: two appointed by Detroit mayor, one from each suburban county (Wayne, Oakland, Macomb), and 1 appointment by the governor, soon to be replaced from a representative from Flint. A super majority is required for major decisions about the system. In order to ensure the equitable representation of Detroit in decision-making about the regional system, we recommend increasing the number of representatives from Detroit. 
Second, we recommend renegotiating and refining the terms of what should happen should Detroit fail to meet its obligations under the agreement. As discussed in this report, if the terms of the agreement are kept in place—including a rate increase cap, cost sharing, and calculations that are not based on adequate affordability plans—it is possible that Detroit will be unable to meet its financial obligations. Should Detroit fall short of its obligations under the agreements, the city can lose its rights to set rates, issue bills, and establish collection processes, also forgoing future lease payments should the city withdraw. Finally, if conflicts arise, disputes can only be settled through arbitration processes which block access to courts.
We recommend reworking those terms of the agreements to ensure fair and equitable conflict resolutions. Detroit ought to have recourse to legal resources should conflict arise, and should maintain its right to make decisions about the delivery of water sources to Detroit residents. Determining what those terms would look like constitutes grounds for further inquiry by way or fair and democratic processes. 
Creating Structures to Fund an Affordability Plan
One of the fundamental issues with the current DWSD/GLWA arrangement is that it fails to comprehensively address the issue of water affordability. Water affordability ought to play a key role in the terms of the agreement. We recommend reframing the agreement to include a comprehensive income-based affordability plan, described in the proceeding Recommendation. 
Implementation
We have defined some problems with the current agrements, but this does not mean it is necessary to abandon the agreements in full. Rather, the agreements ought to be reframed by way of a fair renegotiation process; provisions for doing so are outlined in the agreement. Specifically, the agreement calls for periodic review of rate-setting and cost-sharing practices.65 Those periodic reviews can provide a mechanism for substantially reworking the terms of the agreement.
In order to ensure the establishment of a fair and equitable solution, it is necessary that the renegotiation process be: 
Transparent: Key decisions that have been made in creating the current structure of GLWA and DWDS need to be made available for public review and analysis. Going forward, the process to make key decisions should be made available for public review and analysis. The decision making process should allow for
Fair and Balanced: Specifically, it is important the voice of Detroit and its residents and other groups within the GLWA service area are fairly represented when reworking the terms of the agreement.
Evidence Based: There are many aspects of the agreement which merit further inquiry. The system ought to be comprehensively reappraised and cost-allocation practices reconsidered. It is crucial that experts be consulted throughout the review process, and that the reframed agreement be not only fair, but evidence-based.
Periodic: Considering the multidimensional nature of the problems with the current agreement, reframing the agreement just once will be unlikely to achieve comprehensive water equity. The process ought to be iterative, with progressive changes and incremental progress throughout the duration of the lease, with an eye aimed at fair and workable solutions.
Implement a Comprehensive Water Affordability Plan
Rationale
We recommend implementing a comprehensive income-based water affordability plan. The principles of a plan were outlined by the Water Affordability Program (WAP) designed by Roger Colton and presented to the Detroit City Council in 2005.66 The Colton plan has been endorsed by many in Detroit including Detroit-based water and welfare activist groups.67
It is necessary to implement a comprehensive affordability plan in order to safeguard access to affordable and clean water for all customers in the GLWA service area. The current assistance-based affordability plan currently in place is underfunded.
Background on Affordability
The affordability or unaffordability of home utility bills, whether for energy or for water and sewerage services, is most often measured by the percentage of household income spent on the bills.
Notably, there is variability in the affordability thresholds. The EPA deems water affordable if the average cost of water and wastewater bills constitutes less than 4.5 percent of annual pre-tax median household income: 2 percent for wastewater (and CSO controls), and 2.5 percent for potable water.68 Colton's plan sets the affordable burden on a sliding scale of 2-3 percent, depending on household income.69
In order to ensure that water rates are below the affordable burden, the "EPA continues to encourage communities to consider and adopt rate structures that ensure that lower income households continue to be able to afford vital wastewater services."70
Instituting a comprehensive water affordability plan is in the best interests of all customers in the district. As Colton's 2005 plan discusses, "while the unaffordability of water/sewer service certainly poses a social problem, it manifests itself as a business problem as well."71 This is because unaffordability contributes to higher instances of unpaid bills. If bills were less burdensome, customers would be more likely to pay them, thus avoiding increased costs associated with collections, arrears, and uncollectible accounts.
The Philadelphia Model
In the fall of 2015, Philadelphia became the first major city to adopt an income-based affordability program. Philadelphia's "Income Based Water Affordability Program" (IWRAP) was voted in unanimously by the City Council and began operations July 1, 2017.72 IWRAP is designed to ensures that monthly bills are affordable by capping bills at a percentage of the household-income. Philadelphia's plan is newly implemented. The design principles of the Philadelphia plan can be a basis for plans in other cities and provides valuable precedent.
Key Components
To companion a robust affordability program, we propose a rate structure for GLWA that reduces water and sewage bills to an affordable percentage of income. Determining the affordable burden for customers throughout the regions, either by way of a fixed percentage of medium household, a sliding percentage based on poverty level, or by way of another measure constitutes grounds for further inquiry. Determining an affordable burden would require comprehensive information about average water bill costs and annual income.
Once affordable burdens are determined, an affordability plan could provide affordability assistance by providing fixed credits to GLWA customer's bills. As in Colton's 2005 plan, fixed credits can be calculated by determining (i) the amount of a burden-based payment (for example, 4.5 percent of household income), (ii) the annual bill amount, and (iii) the fixed credit necessary to reduce annual bill to burden-based payment. 
There are substantive advantages to this approach. One administrative advantage is that the program works within a fixed operating budget because maximum program coverage is determined in advance– in contrast to existing assistance programs, where many bills go unpaid. Additionally, there is a conservation incentive for the customer, as under the fixed credit model, the credit is provided regardless of the actual bill. If consumption increases, the household pays for that increase.
Implementation 
Colton's 2005 Expert Report proposing the Program details an estimated program budget and proposes a cost recovery mechanism. By calculating the affordable burden for customers at various brackets of the federal poverty level and assuming that 40 percent of eligible customers would participate in the program, Colton estimated that total cost of providing fixed credits to low-income customers was $9,371,427.00.73
We recommend further inquiry in order to determine the cost of implementation of an affordability program throughout the GLWA service area; the figures from the 2005 proposal need to be updated to account for demographic changes and regional implementation.74
Additional Proposed Program Components
In addition to detailing an income-based affordability plan based on fixed credits, the program proposed by Colton in 2005 contained two additional components: for "arrearage management" and "water conservation." More recently, Colton authored a water affordability plan for the city of Baltimore, which included an additional crisis intervention component.75
These components are viable additions to the water affordability package and we recommend considering including them in the implementation of this plan in the GLWA service area. While the details of these additional programs have not been worked out in this report, they deserve further inquiry at the time of implementing the affordability plan. 
Arrearage Management
By participating in the affordability program, an arrearage management program can enable customers to earn credits to reduce pre-program arrears to a manageable level over an extended period of time. This is important because an affordable monthly payment, as made possible by the above proposal, can still lead to an unaffordable total payment considering past payment obligations and late fees. Under the 2005 plan, residents would pay back some of their arrears over twoyear period, by contributing 0.5 percent of annual income and remaining in the affordability program. A similar model could be adopted now. 
Water Conservation Component
High water usage in low-income households is often due to leaks and faulty infrastructure. A water conservation component in an affordability scheme would allow investments in water conservation to supplement the rate affordability scheme. These investments would go towards the distribution of water conversation kits to residents below 50 percent of the Federal Poverty Level. These kits would include water-saving fixtures, such as lowflow shower heads and faucet aerators, as well as tools for measuring faucet flow and leak rates. 
Crisis Intervention Component
ow-income households often lack cash assets to allow them to handle unexpected expenses or loss of income. This is in part due to the high proportion of low-income people who work for an hourly wage and lack paid leave, meaning that unexpected medical or family care needs can result in an abrupt loss of income. These circumstances should not lead to an acute threat to human health and well-being. It is possible for the affordability scheme to include funds set aside a fund to provide crisis intervention assistance to customers on an as-needed basis. 
A comprehensive water affordability plan will not only be beneficial in terms of ensuring the human right to water, but will also help create a more robust and sustainable GLWA business model.
"Going forward" bad debt savings: as some of the ongoing bills for current consumption would (without WAP) result in uncollected funds by GLWA/DWSD-R, and responsibly, the accumulation of bad debt. Addressing the inability to pay by way of an affordability plan would result in reduction in bad debt and general cost savings.
Reduction in working capital associated with arrears: high, unaffordable water substantially increases quantity of accounts in arrears, which results in additional costs in account management and collections. A water affordability plan would result in substantial savings in these areas.
Funding the Program
It was proposed that the 20005 Water Affordability Program be funded by a "meter charge" of $1.00 per month from residential customers, and $20.00 per month from commercial customers, $275 for industrial customers, and $80 for schools, municipal buildings, and housing projects.76
In order to calculate the possibility of implementing a similar scheme for the proposed regional affordability plan, updated numbers on quantities of customers in the various classes listed above is required.77 We recommend further inquiry into the possibility of funding the affordability plan with meterage charges.
Another funding option is to incorporate affordability into the cost-of-service model. Currently, the cost of service for customers is determined by considering costs associated with Operations and Management (O&M) and Capital Improvement Programs (CIP).78 GLWA calculates rates for retail and wholesale customers by determining the costs associated with these two areas (O&M and CIP) and the average consumption and numbers of customers. Delivery of affordable water could be assumed in calculating the costs of Operations and Management, in which case an affordability plan could be a part of the cost-of-service model.
Legal Issues
Some have objected to implementing an income-based water affordability plan in Detroit on the grounds that it violates Article 9, Section §31 of the Michigan Constitution, commonly known as the Headlee Amendment.79 The amendment postulates that new taxes require voter approval. 
Headlee is relevant for the case of an income-based affordability plan given the way that local governments have occasionally disguised new taxes as fees. The objection holds that the meterage fees– a proposed mechanism for funding the affordability plan– constitute a tax imposed on GLWA customers. In claiming this, critics often appeal to the 1998 Bolt vs. City of Lansing case.80 The Bolt case yielded that a stormwater service charge imposed in the city of Lansing, MI constituted a tax that requires voter approval. 
For a variety of reasons, this objection is flawed. An income-based affordability plan funded by meterage fees does not require the implementation of taxes and thus does not require a voter approval.
The inapplicability of Headlee and the Bolt case to an income-based affordability plan is outlined in a June 2017 Memorandum produced by the ALCU haasinstitute.berkeley.edu/detroitwaterequity Water Equity and Security in Detroit's Water & Sewer District 50 of Michigan.81 The Memorandum appeals to the way in which the criteria for a fee constituting a tax—as enumerated in the Bolt case–do not apply to the issue of water affordability. 
The key issue in Bolt was whether a stormwater service fee on all Lansing property owners was a service charge or tax. The court held that the stormwater fees constituted a tax because:
they did not serve a regulatory purpose.
they were not proportionate to the necessary costs of service.
paying the charges was involuntary.
As the Memorandum enumerates, these criteria do not apply in the case of a water affordability plan funded by meterage fees.
The court determined that because the fees were generating revenue and did benefit the public at large instead of individual customers, that they did not have a regulatory purpose. In the case of WAP, the money collected does not generate revenue– it does not flow into the general budgets of the city or the utility, but is used specifically to fund the affordability plan. 
Moreover, as the ACLU analysis described, "key to appreciating the true nature of charges associated with an affordability plan is the fact that the benefits are not limited to low income customers."82
These benefits, described previously in this section, include the ways in which the plan enables a higher proportion of residents to be paying customers, thus relieving pressure on the utility associated with unpaid accounts and arrears. 
Additionally, in the case of water affordability, unlike the stormwater charges, the costs of the fees do not exceed the cost of the service. Although more data and analysis is needed in order precisely to determine the updated costs of the plan, and corresponding meterage fees, the fees charged to fund the program are intended to simply cover program costs: the expected costs of providing income based credits, the administration of the program, and the costs of additional program (i.e. arrearage assistance, water conversation, crisis management, etc.) The fees are thus not disproportionate. 
Finally, the meterage fees associated with water affordability are voluntary, while in the Bolt case, there were mandatory– that is, all Lansing residents were required to pay the fee, while in the case of GLWA water affordability, only people who choose to have a water account has to pay the fee. It is incorrect to associate a tax with a voluntary service. 
Claiming that the affordability plan violates the Headlee amendment is misplaced considering the key features of a tax, as opposed to a fee. 
These attributes of a tax i.e. not serving a regulatory purpose, disproportionality, and involuntariness–were enumerated in the Bolt case and do not apply to the case of implementing a regional affordability plan.
Incorporate Basic Consumer Protections into GLWA Policies
Rationale
Many of the relevant problems with drinking and waste water security in Detroit and the GLWA service area are rooted in the lack of basic consumer protections in service providers' policies. In order to curb the inequitable treatment of water customers in the future, we recommend incorporating basic consumer protections into GLWA policies.83
Components
Colton's Water Affordability Program, commissioned by DWSD in 2005, proposed implementing a series of basic customer protections pertaining to DWSD's collection practices. His recommendations pertained specifically to the imposition of late fees, issuance of notices of the disconnection of service, and the negotiation of deferred payment plans for arrears.
In line with Colton's proposal and the needs of the region's water customers, and in conjunction with the Water Affordability Plan outlined previously, we recommend implementing consumer protections in those three areas.
Late Fees84
DWSD-R imposes a monthly late fee of five percent for accounts that are overdue.85 Similar fees are imposed by wholesale service providers. Late fees disproportionately affect low-income customers. Given that water is simply unaffordable for many low-income households, late fees add additional cost burdens to those who are unable to cover water costs in the first place. In addition, this additional cost burden does not even provide a substantial incentive to pay bills. 
As Colton notes, the primary cost of late fees is to compensate for the additional costs associated with overdue accounts. They should not generate additional cash flow or be used for overhead and admin. These include the costs of collections—i.e. postage, phone calls, and required personnel—as well as "carrying charges," or the costs of the interest on any funds DWSD borrows to cover losses.
Five percent late fee charges well exceed these costs.86 Additionally, collection practices do not begin the moment an account becomes overdue, while late fees are immediately and automatically in place. In this way, late fees often do not correspond with any cost-bearing collection practices.
As Colton remarks, "what the non-cost-based late fee really does is to generate a stream of revenue by charging low-income customers more than it costs to serve them."87 Given the excessive cost of late fees, we recommend either eliminating late fees altogether or reducing them to the actual costs of nonpayment. 
Shutoff Notices
We recommend developing customer protections regarding water shutoffs.88 This recommendation is a companion with the recommendation to suspend the practice of water shutoffs until the process can distinguish between the ability to pay and unwillingness to pay. Going forward, shutoffs should only be issued when there is a clear demonstrated ability to pay.
Notices must not be issued when there is no intent to terminate service. This has occurred in the past, perhaps because service providers did not have the resources to carry out the shutoffs, or because there was no intent originally. 
A time limit must be established for shutoff notices. More specifically, if service is not disconnected within 15 days, the notice ought to be void. This is significant considering the formidable effects shutoffs have on households and the need to plan for them accordingly. This is not possible when a threat of a shutoff exists but is not executed in a predictable, timely fashion. 
DWSD should not distribute two consecutive notices of disconnection. Shutoff notices should outline the steps the customer can take in order to avoid termination of services. By sending repeated notices, service providers negate the original purpose of notices in this regard. 
Deferred Payment Plans for Arrears
DWSD and many other service providers currently have mechanisms for negotiating Payment Plan Agreements (PPAs) for customers with accounts in arrears, outlined in DWSD's "Interim Collection Rules and Procedures," for example. That document describes the way in which DWSD can terminate service for customers who fail to comply with the terms of the PPA and that DWSD is not required to negotiate a second plan. Note that the details of such an arrangement differ for various wholesale providers, who each conceive and implement their own policies. In adherence to Colton's 2005 WAP, we recommend reframing service providers' arrearage management procedures in the following ways: 
Renegotiable payment plans: If a customer's financial circumstances change during the period negotiated by the PPA, service providers should be required, if the customer requests it, to renegotiate the terms of the plan.

Encourage reinstatement: If a customer defaults on a PPA, their status can be reinstated (and not under the threat of service termination) if they pay the past-due balance.

Monthly installments: Arrears should be paid in regular monthly installments, and terms should be extended to ensure that monthly installment payments do not exceed a onemonth average bill.
Implement Green Infrastructure Initiatives
Rationale
Green infrastructure can offer a multi-dimensional solution to many of Detroit's interrelated problems. The potential benefits of green infrastructure are far-reaching, and Detroit is well-suited to become a leader in sustainable urban development. 
Note that green infrastructure does not supplant the need for the need of substantial improvements to the city's traditional "grey" infrastructure. On the other hand, cost savings from the implementation of a green infrastructure initiative can help to fund substantial future capital improvements.
This section considers the specific features that make Detroit a site for green infrastructure projects. There should be additional study and inquiry to identify opportunities throughout GLWA service area.
What is Green Infrastructure?
Green infrastructure includes both natural and engineered environmental upgrades that promote water reuse and infiltration into the natural aquifer and prevents combined sewer overflows, which can be harmful to the environment and cause health hazards. A list of green infrastructure installations by type and purpose produced by the US Environmental Protection Agency, these green infrastructure types and analyses are detailed to promote green infrastructure investment nationally.89
Green infrastructure diverts stormwater away from the sewer system, offering a simple and cost-effective solution to upgrading the entire regional system. The primary method for doing so involves transforming impervious surfaces. 
Impervious surfaces are man-made structures that prevent infiltration of water into the ground. In the built environment, impervious structures include parking lots, sidewalks, and building roofs. In Detroit, rainwater, melted snow, and other forms of runoff drain from these surfaces into the combined sewer, where the runoff is then treated alongside other kinds of waste.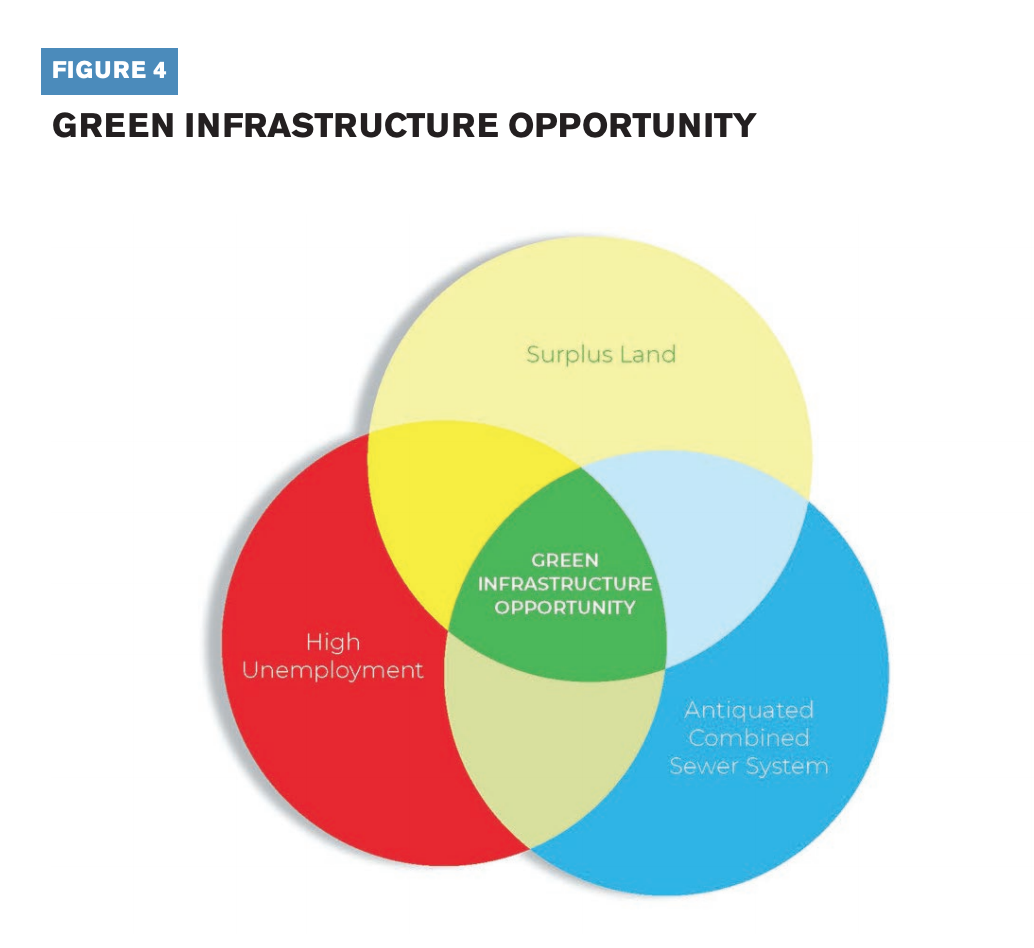 The natural environment—planted gardens, wooded lots, areas of surface water or low-lying land— are pervious surfaces that permit stormwater to replenish the natural aquifer and do not burden the common sewer system. Green infrastructure reduces the number of impervious surfaces and redirects stormwater that flows off of impervious surfaces to properly prepared green surfaces that can accept the water. 
Stormwater that does not enter the combined sewer system does not require transportation to a sewage treatment plant or the labor and chemicals needed to clean it, and it does not need to be transported back in the water service line system. The savings in labor, chemicals, and energy for waste management systems and devices pays dividends on a permanent basis for every green infrastructure installation in which the city invests. 
Detroit: An Ideal Setting
There are currently a variety of green infrastructure projects underway in Detroit and the region. 
Since 2011, after identifying peak overflow areas, DWSD has led initiatives to plant trees, "green" vacant properties, and disconnect downspouts, among other efforts. 90 In 2014, the Michigan Council of Governments (SEMCOG) published the Green Infrastructure Vision for Southeast Michigan, which details the way in which implementing green infrastructure practices will have a variety of positive outcomes. Since, DWSD has invested substantially in the development of green infrastructure initiatives.91 The green infrastructure program proposed in this report complements existing initiatives in proposing larger scale implementation focused on socially conscious infrastructure development. 
Detroit has many well-documented challenges to its reemergence as a prosperous and thriving city. Yet some of these challenges become assets in a bold and resourceful green infrastructure strategy. Four of these challenges-turned-assets include:
The city of Detroit and DWSD have a long history of disinvestment in existing infrastructure. This failure to invest has reached an acute stage with litigation fines penalties associated with their outdated combined sewer system, along with increasingly dire health concerns requiring immediate action. Though the implementation of green infrastructure initiatives certainly does not curb the need for substantial improvements to the city's grey infrastructure, green infrastructure represents the lowest cost, highest reward strategy for reinvestment in the aging infrastructure. 
The city of Detroit has an unemployment rate of at least eight percent, and many of the job opportunities pay less than a living wage.92 The available workforce within Detroit neighborhoods is much higher than the national average. Green infrastructure creates jobs that are distributed throughout neighborhoods, pay a living wage, and can help workers earn skills for future employment. 
The combination of population loss, business closure, and business relocation has resulted in an enormous quantity of unused land throughout Detroit that is available for repurposing. The coveted properties in the Midtown area have been assembled by large, wealthy developers with the aid of the city and state, while much of the surplus land is unused, available at very low cost, and in dire need of reinvestment. Vacant land is the vehicle for green infrastructure reinvestment, and its low cost has a dramatically positive impact on the feasibility of installing and obtaining investment return on green infrastructure. 
Detroit's nonprofit and grassroots infrastructure is strong and shows a clear commitment to the revitalization of the city. Their knowledge of the capacity and needs of each neighborhood ought to be incorporated into prototypes and programs that are tailored to Detroit's unique potential. 
Michigan's Department of Environmental Quality has developed and implemented several extensive green infrastructure projects in the city and the region in recent years;93 the initiatives we propose here complement green infrastructure projects underway in Detroit. These existing initiatives set precedent for the potential of green strategies. What we suggest here is a significant increase in scale of these programs and also principles that should be integrated into current efforts underway.
Green infrastructure can also reduce costs associated with the combined sewer system by lessening the quantity of impervious surfaces, and thus reducing the amount of water entering the system. This diversion of runoff results in savings in labor, chemical, and energy costs, as well as costs associated with preventing combined sewer overflows.
Benefits for Community Sustainability and Wellness Green infrastructure protects public health as well as the health of the water and sewer system. Installations are designed to permanently divert stormwater from entering the combined sewer system or to reduce the flow of water into the combined sewer system, preventing peak flows from breaching the system, through which pollutants to enter streams and rivers. Green infrastructure can work effectively throughout the region to solve the drainage overflow problem, protect the local environment, satisfy EPA mandates, and reduce DWSD operation costs. 
Moreover, direct and indirect public health benefits of natural space include:94
Providing space for exercise and respite
Mitigating urban pollution
Generating stronger immune systems [through parasympathetic stimulation]
Improving the health of pregnant women and infants95
Strengthening social ties by providing space for community and family gatherings
Offering space for children to play and for parents to forge stronger social ties
Alleviating stresses on social services by boosting public health
Filtering and redirecting stormwater runoff
Fiscal Benefits
Green surfaces are economically valuable because they improve the efficiency and effectiveness of stormwater management. Establishing a green and sustainable system for the DWSD and the customers it serves could save billions over the next 25 years.96
There are a variety of types of cost savings associated with green infrastructure. By relieving pressure on the existing, antiquated water and sewage system, implementing green infrastructure curbs the need for substantial capital improvements to grey infrastructure. 
Relatedly, by reducing flow into the system, and thus the volume sent to wastewater treatment plants, there are additional savings in energy, labor, and treatment costs. Reduction in flow to the system also helps to circumvent combined sewage overflows (CSO), thus avoiding fees and fines associated with CSOs and environmental breaches. 
Green infrastructure plans in Philadelphia and New York City offer examples of how innovative green infrastructure initiatives can yield substantial fiscal benefits. In Philadelphia, a comprehensive green infrastructure approaches estimated to cost just $1.2 billion over the next 25 years, compared to over $6 billion for "gray" infrastructure, a term used for the concrete tunnels created to move water.97 Similarly, in New York, "every fully vegetated acre of green infrastructure would provide total annual benefits of $8.52 in reduced energy demand, $166 in reduced CO2 emissions, $1,044 in improved air quality, and $4,725 in increased property value."98 Even after the initial investment, green infrastructure continues to pay dividends for decades. 
Moreover, green surfaces also offer important economic value in making neighborhoods more attractive for residents and investors. Innovations include aesthetically pleasing improvements to neighborhoods, planting tree lawns, growing low maintenance plantings and swales, urban gardening, building and maintaining wet detention (ponds) and dry detention, (low-lying excavated land) that is been planted with prairie grass. 
Additional fiscal benefits of green infrastructure include higher employment, improvement in the tax base that supports schools and infrastructure, and a more equitable economic balance within the city of Detroit and the surrounding region.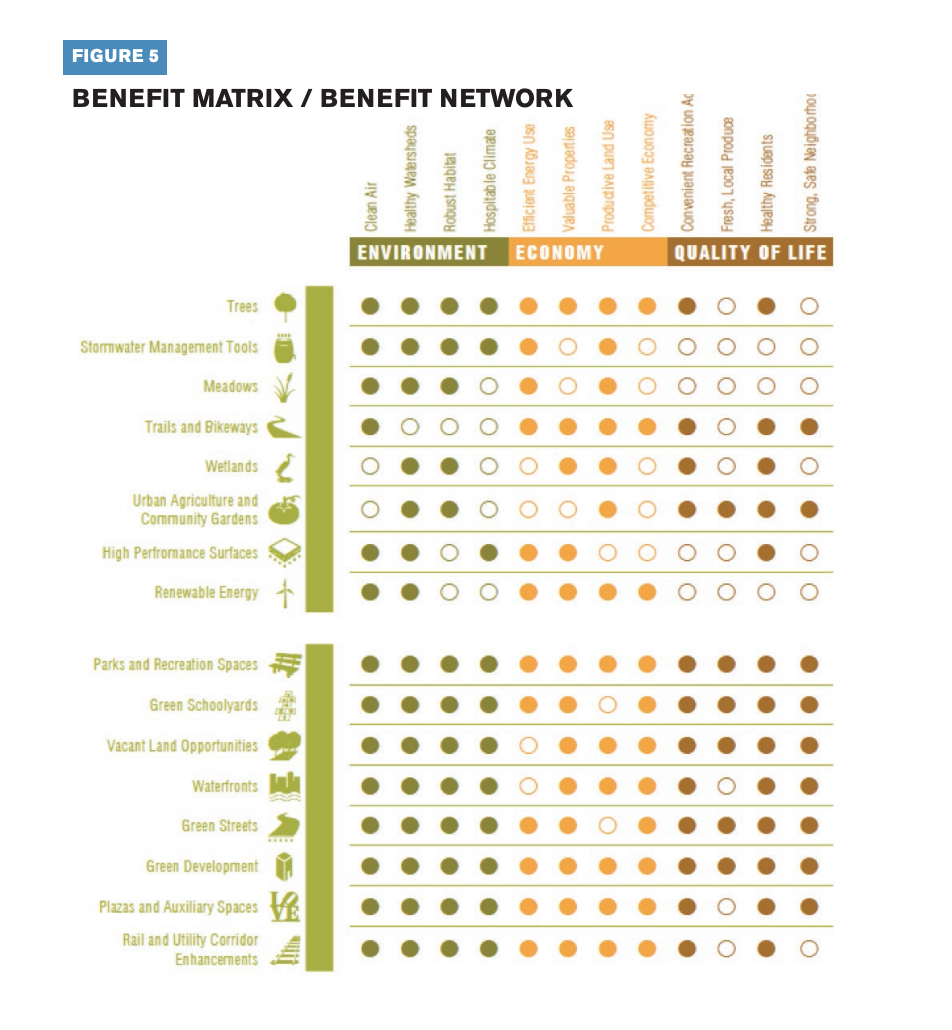 Green infrastructure can curb the costs of storm water overflow. It is not only better for the environment and better for neighborhoods, it also directly mitigates fiscal strain on the water department and on customers.
The current gray infrastructure is ineffective and expensive to maintain, but it also accrues additional expenses in fines from the EPA for violating Clean Water Act regulations.99 As described in Section II and in Recommendation 7 in this section, the costs associated with combined sewage overflows, which are inequitably shouldered by Detroit, dramatically increase costs for individual households, small businesses, and community organizations. Green infrastructure offers a solution for reducing storm water's burden on the system, and correspondingly, the burden of drainage fees on DWSD customers. 
Aligning with Community Support
A green infrastructure initiative supports the interests of the local community. In March 2017, for example, hundreds of local ministers of churches serving the city of Detroit and the surrounding communities wrote a letter to the mayor of Detroit requesting his advocacy on a number of measures to address the inequities presented by the current system.100 Among them was a request that the mayor advocate a bold and ambitious green infrastructure plan for the city of Detroit.
In a public meeting in May 2017, Mayor Duggan took the first step toward directing public attention to the value of green infrastructure. In the public presentation, he provided a commitment of $5 million per annum to address green infrastructure. Funding for this comes from the annual GLWA lease payment.
Components
The elements of a green infrastructure program that creates a virtuous cycle for the Detroit community include:
An initial capital source sufficient to fund a large array of green infrastructure installations on properties throughout the city of Detroit.
A strategy for identifying the most beneficial areas to support the reduction in peak combined sewer overflow which have the greatest economic and environmental impact on the water and sewerage service area and on the city.
A strategy for assembling land for green infrastructure installations primarily among the 72,173 parcels already assembled in the land bank.101
Development of several engineering prototypes for green infrastructure installation that can be designed for permitting and priced for financing and contracting.
Cultivation of a corps of local, minority-owned small business enterprises equipped and trained to perform contracts for green infrastructure installation.
Establishment of a small business association (SBA) or micro-lending loan program to provide working capital and equipment financing for small contractors who can efficiently and economically execute contracts for green infrastructure.
Establishment of a protocol for measuring economic and environmental benefits from each type of green infrastructure installation and translating these economies into aggregated savings to the DWSD and GLWA for purpose of reinvestment.
Development of a strategy for tax increment financing or other long-term investment capture vehicles for the purpose of monetizing cash flows for additional capital investments in green infrastructure.
Initial Capital Source
The GLWA/DWSD Lease Agreements, both for water and sewer call for a 40-year stream of payments to both DWSD and directly to the city of Detroit. The lease payment is held in a fund belonging to the Authority. That fund can be used to maintain Detroit's water and sewerage infrastructure, to pay debt services associate with those improvements, or to contribute to the common-to-all improvements in the system. 102 We propose that a portion of this lease payment be pledged in order to sell bonds for large-scale capital improvements.
Identifying Peak Overflow
Processing stormwater runoff as sanitary waste is an expensive and inefficient practice. As previously mentioned, rainwater from the combined sewer overflow can result in substantial damage to the environment, and controlling those overflows is also incredibly costly. Green infrastructure offers an avenue for curbing increased pressure on the system during peak runoff, which would have a positive economic impact while also highest mitigating environmental concerns.
The EPA has documented many of the areas where peak flows result combined sewer overflow.103 We recommend additional inquiry in these areas; focusing resources on high impact areas pays the highest early dividends to the utility and to the city at large. 
Assembling Land
Green infrastructure requires a great deal of available land, and Detroit has more than enough: in 2017, there were 72,173 publicly owned parcels in Detroit.104 Land assembly to support critical green infrastructure installations is especially feasible given the enormous inventory of land parcels under the control of the land bank. 
Green infrastructure is a productive use of already vacant land, and policies for using vacant properties owned by the land bank should reflect that. An administrative rule that sequesters land transfers of high-impact areas for green infrastructure intervention and prioritizes the delivery of land in conjunction with such green infrastructure development would be efficient and effective in accelerating the process of developing green infrastructure in Detroit.
POINTS FOR FURTHER INQUIRY This report is preliminary in nature, and seeks to lay the groundwork for further inquiry into water equity issues in Detroit. It is crucial that further inquiry is not only empirically sound, but also take the voices of Detroit community members and the history of regional inequity into account. We have identified several areas for further inquiry in this report. Some notable areas include:
Continued research into the effects of water scarcity on community health and well-being: This report identified several of the negative implications of water shutoffs in Detroit, but further inquiry into these issues is crucial. Additional analysis ought to delve deeper into the way in water deprivation impacts community health, happiness, social mobility, safety, and cohesion, among other areas. There are a variety of organizations doing great work in this area, notably the People's Water Board Community Research Collective.150
Detailed, forward-looking analysis of the current GLWA agreement: There are several problems with the current DWSD/GLWA agreement, many of which inequitably burden Detroit. As discussed in Section II, some of these problems are the insufficient lease payment, current rate-setting and cost-sharing structures. There is also much work to be done regarding the development and implementation of an income-based water affordability plan, including determining affordable burdens and program costs, developing cost recovery mechanisms, and creating structures for program sustainability. Transparent and fair inquiry into these problems, among other, and the development of workable and sustainable solutions is crucial. 
Development of a large scale organizing campaign:​ Additional development of the green infrastructure initiative: We have presented some of the primary elements of a robust green infrastructure program in Detroit, but further inquiry in a variety of areas is required. These include the development of a comprehensive financial model for funding the program, engineering prototypes, determining ideal locations for implementation green infrastructure projects, and developing strategies for measuring long-term impact, among others.
Working towards the development and implementation of protective water legislation: The human right to water ought to be protected under the law at the local, watershed, state, and national levels. Further development of workable legislation and advocacy towards those ends is required.
Continued community engagement and education: It is crucial that citizens voices are heard and taken serious through the development and implementation of measured aimed at achieving water equity in Detroit. Educating community members about the issues at hand and possible solutions is a crucial element of ensuring community participation. Further dissemination of the issues discussed here, though a variety of mechanisms, is imperative. 
Engineering Prototypes
The US EPA has developed best practices for green infrastructure development and has outlined appropriate designs.105 Adapting this research to the city of Detroit could be done by local civil engineers who develop a series of easily replicable engineering prototypes. These prototypes would be preapproved by the city of Detroit for permitting, studied by aspiring small contractors, carefully estimated and priced with published figures, and implemented in various scales to match the volume of stormwater flow at each location. Systematizing these engineering solutions will make it possible to post real-time results on investment, to strategize priorities, and to encourage participation at individual properties.106
Prototypes ought to be structured for rapid development and subsequent cash infusions for small businesses. This "quick payday" structure is key for supporting fledgling and growing businesses. Wages earned from these activities will likely be reinvested in neighborhoods, because, as a percentage of income, low-income populations are much more likely to spend money in their communities than the wealthy.107
Cultivating Small, Local, and Minority-owned Businesses
A critical component in building a truly virtuous cycle for green infrastructure is to create an equitable business infrastructure. Some challenges for small minority owned business include:
Business certification
Best practices in performance
Best practices in record and bookkeeping 
The engineering prototypes can be coupled with comprehensive support and guidance for aspiring small contractors. Webinars, open forums, and capacity-building seminars can be utilized to teach a corps of small contractors to build capacity and living wage jobs throughout the community. Supporting the growth of contractors also creates more local jobs and decreases the likelihood that jobs are outsourced. 
Capacity-Building for Local Businesses
A serious impediment to small, minority-owned business development is lack of capital. We recommend enabling these businesses to drive the implementation of green infrastructure by creating an environment of safe and prudent business lending. The US Small Business Association's insurance and micro-lending programs are examples of excellent precedent for structures that provide for the credit and banking needs in communities. 
We recommend reproducing that structure by way of a prototype phase of green infrastructure development structured for capacity-building, quick turnaround (and subsequent cash flow for growing businesses), and fair loans. These resources are most likely to be reinvested in local businesses and the local economy, an essential element of the virtuous cycle. 
The importance of establishing a local contractor network cannot be overstated, as these dollars stay in the community, circulate among other businesses, and produce payroll for other employment. National studies show that these dollars circulate at least five times through the local community amplifying the impact of local contracting.108 The small-scale of these individual contracts permit rapid completion, shortened billing cycles, and encourage a more robust growth in hiring and supporting labor. 
Protocol for Measuring Benefits
Green Infrastructure presents a broad range of economic and social benefits to the community and to each of the participants in the process. These benefits submit to a triple bottom line (TBL) analysis: green infrastructure has multidimensional benefits and is environmentally, economically, and social sustainable. 
Economic benefits include an economic return on investment by the utility, broader economic benefit to the community, including an increased tax base, and relatedly, additional funds for community health, education, and development. The local and state government benefits from the increased employment and the lifting from poverty of a green workforce. Green infrastructure also yields extensive public health benefits, resulting in reduced cost to the hospital and emergency care, for example. 
It is crucial that the multidimensional benefits be subject to extensive measurement and research, so as to contribute public knowledge about the benefits of the strategies and help govern future implementation. 
Analysis of the impact of Low Impact Development (LID) green infrastructure initiatives in Philadelphia offers viable precedent for a comprehensive triple bottom line analysis. Features assessed in the August 2009 triple bottom line analysis include recreation; increased community aesthetics (and relatedly, higher property values; heat stress reduction; water quality and aquatic ecosystems improvement; wetland creation and enhancement; poverty reduction from local green jobs; energy savings and carbon footprint reduction; air quality improvement; construction and maintenance-related disruption.
The assessment found that "LID-based green infrastructure approaches provide a wide array of important and environmental benefit to the communities, and that those benefits are not generally provided by the more traditional alternatives."109 We recommend implemented comparable assessment and analysis mechanisms in Detroit.
Development of Structures that Ensure Long-Term Investment
In order to sustain the long-term growth and development of the proposed green infrastructure program, it is crucial to develop mechanisms that ensure the fiscal sustainability of the program over time. Opportunely, the City of Detroit thrives on attracting investment within its borders and, with those funds, reestablishing viable neighborhoods within the region. The extremely low entry cost for housing in the makes the city a viable cite for securing funds for economic development. 
Infrastructure is part and partial to economically and environmentally sustainable development. In order to secure funding for the infrastructure imitative proposed here, we recommend a multistage plan:
Monetize the cash flow available under the existing GLWA lease agreement, which will likely result in over $100,000,000 in bond proceeds for green infrastructure.
Renegotiate the GLWA/DWSD lease agreement achieve an equitable rental payment for the system, thereby greatly increasing the bond generating capacity of DWSD and making it possible to increase its total green infrastructure investment to over $1 billion.
Select surplus land in high impact areas for CSO abatement and, green infrastructure development coupled with community/economic development.
Establish broad tax increment financing districts which includes the built environment in the area surrounding green infrastructure project and the acquisition of vacant land adjacent to or near green infrastructure projects
With the improved environmental performance of the green infrastructure investment and the improved aesthetic quality of the surrounding neighborhood based upon these investments, encourage new housing and commercial development that is compatible with the existing uses and users of the neighborhood.
Monitor increased property value and tax revenue achieved in these districts and, when predictable growth occurs, monetize this periodic increase in tax increment revenue to issue new supplemental bonds used to provide green infrastructure in contiguous neighborhoods.
Repeat the tax increment financing mapping, designation, and tracking of property values in conjunction with the new green infrastructure investment.
Again, once increased revenue is realized from new investment, captured that in a new bond issue which would be used to make a later stage green infrastructure investment.
Our recommendation is that tools such as dedicating the non-school portion of increased property tax revenues– a feature common to Midtown or commercial business District development– can be repurposed for use in multiple neighborhoods as a means of upgrading those neighborhoods and upon success of the first investments, successive additional neighborhoods/sites for green infrastructure implementation.
Conclusion The layers of social, political, and environmental issues that have contributed to the inequitable distribution of water in Detroit require a multidimensional response. It is our intention that by offering the basis of a solution, we can highlight the possibility of path forward for Detroit that is socially, economically, and environmentally sustainable.
Our recommendations include,
Suspending the use of water service shutoffs until processes can distinguish between the willingness to pay apart from those unable to pay 
Analyzing the calculation of the annual lease payment of the regional system and appraising the value of the asset 
Researching, designing, advocating, and implementing legislation that can promote access to drinking water and wastewater 
Reworking the terms of the GLWA/DWSD lease agreement 
Design and implement a comprehensive income-based water affordability plan 
Incorporating basic consumer protections into GLWA and DWSD-R customer policies 
Initiating a robust green infrastructure program 
In crafting and implementing multidimensional solutions to Detroit's problems, community support and input is crucial. Community-led initiatives and knowledge from activists on the ground are integral resources to effectively improving the existing system.