Richmond in the Region 
Here we analyze Richmond as a whole and several other cities in the region to see how their housing and demographic conditions compare. Though gentrification processes appear as local phenomena, they are often part of a regional process which impacts the local housing market. Thus it is important to study Richmond's position within a region by comparing its threshold values with those of other cities which may impact Richmond's housing market. Comparing threshold values for vulnerable population and demographic change for each listed city also sheds light on the region as a whole. The cities selected were those with a similar size population, proximity to Richmond, and/or significant role in the regional housing market.
The data on vulnerable populations shows that Richmond has relatively high percentages of people of color and relatively high percentage of low income households (See Table 1). Richmond is somewhere in the middle on the other two indicators – Adult education attainment and renter-occupied households.
The percentage of a household's income going to housing costs is another important indicator of vulnerability to displacement. Households are considered "housing cost burdened" when they spend more than 30% of income on housing. The high housing costs in the Bay Area mean that this is not unusual, even for higher income households. However, for low income households, a slight increase in housing costs can mean a trade-off with other necessities like food or healthcare. This is especially true for renters, who do not have economic resilience that comes with ownership and have less control over their housing costs. In Richmond, there are 3,770 households that earn less than $20,000 annually and spend more than 30% of their income on housing (Figure 2). Another 3,000 households spend 30% of income on housing and earn between $20,000 and $34,999.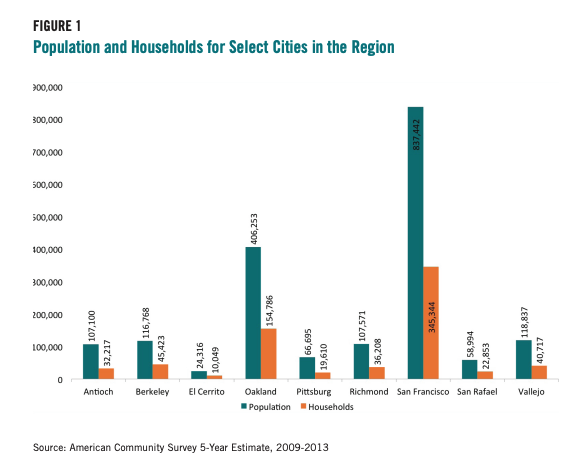 An analysis of demographic change in Richmond shows that homeownership has fallen in all of the selected cities besides San Francisco. The decrease in homeownership in Richmond is only exceeded by Vallejo and Antioch (See Table 2). Median household income in Richmond fell 15%, twice the rate of Oakland and far more severely than El Cerrito and Berkeley, which saw an increase in median income. The percentage of the population that is white has decreased 3 percentage points, a moderate decrease not as pronounced as in most other cities. A similar pattern is seen with the percentage of adults with a Bachelors degree or above, which has risen 3 percentage points in Richmond and between 1 and 7 points in other cities. 
This stable percentage of populations of people of color masks dramatic changes in the African American, Asian and Pacific Islander, and Latino populations in Richmond. The number of African Americans in Richmond decreased from 35,300 in the year 2000, to 22,800 in 2013, a drop of 35%. During the same period, the Latino population grew from 26,300 to 42,600, an increase of 62%. The Asian and Pacific Islander population grew from 12,500 to 15,800, a 26% rise.