Appendix 
Methodology 
Data Sources The AT&T California broadband statistics referenced in this report were compiled using FCC Form 477 data available on the FCC website.11 We used the most recent publicly available dataset which presents data as of June 30, 2016. The FCC Form 477 data is selfreported by each company. 
The FCC requires companies to report their data separately for wireline, fixed wireless and mobile broadband. The FCC also requires companies to report data separately for consumer and business broadband availability. Because this study analyzes fixed wireline broadband availability to residential customers, we eliminated from the data all places where AT&T does not provide residential (termed "consumer" in the FCC data) broadband. 
The dataset contains the download and upload speeds advertised by each broadband company at the Census Block level. In an urban area, a Census Block is roughly equivalent to the size of a city block, while in rural areas Census Blocks can be larger due to low population density. The FCC notes that it is possible for broadband to be advertised to one household in a Census Block while not being available to another household in that same Block. However, for the purposes of this report, we assume that if a company advertises broadband with a particular speed and technology in a Census Block, every household in the Block has access to that speed and technology. This is a conservative assumption because it may overstate the true availability of broadband to all households in the Census Block. Because the Form 477 data concerns the speeds advertised by companies in various Census Block, this report does not examine consumer adoption of AT&T broadband in California, nor does this report examine whether the speeds advertised by AT&T are the actual speeds delivered by AT&T.
The FCC dataset contains information on four wireline broadband technologies offered by AT&T in California, summarized in the table below. This report classifies the technologies into three categories: DSL, U-verse, and fiber.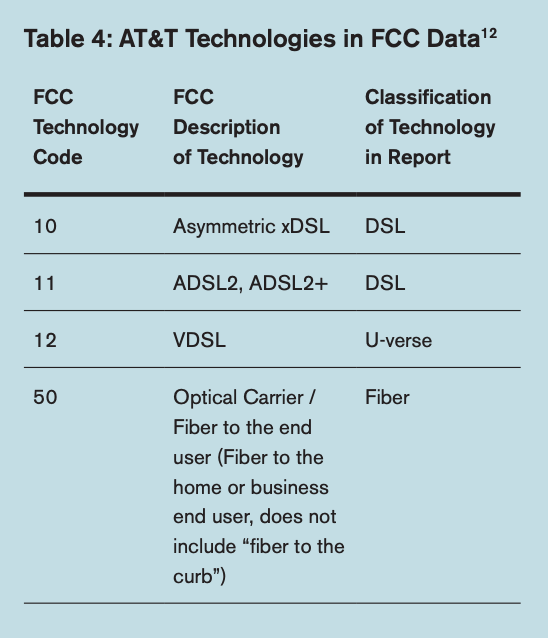 The FCC Form 477 data was cleaned and combined with other datasets to conduct the analysis in this report. The most important steps in this process were the following:
We found AT&T's fastest advertised download speed in each Census Block. AT&T reports maximum advertised speeds in 10 speed tiers: 0.768 Mbps, 1.5 Mbps, 3 Mbps, 6 Mbps, 12 Mbps, 18 Mbps, 24 Mbps, 45 Mbps, 75 Mbps, 1000 Mbps. 
We found AT&T's most advanced technology available in each Census Block, with Fiber (Tech Code 50) being the most advanced and DSL (Tech Codes 10 and 11) being the least advanced. 
We merged the FCC data with 2010 Census data to determine the number of housing units (referred to as "households" in this report) by Census Block.13 Each Census Block is identified by a 12-digit FIPs Code. The third through fifth digit of this code identifies the county in which the Census Block is located. These digits were used to assign a county name to each Census Block.
 We merged the FCC data with American Community Survey (ACS) 5-Year Estimates of median household income from 2011-2015.14 The smallest geographical unit at which the ACS provides data on median household income is the Census Block Group, which typically has a population of 600 to 3,000 people. Each Census Block is located within a Census Block Group. We merged the FCC and ACS data by assigning to each Census Block the median household income of the Block Group containing that Block. Given the small number of households in each Block Group, we assume any variation in median household income across the Blocks located in a Block group would be minimal. Therefore, this procedure gives us reasonably accurate estimates of the median income of households with access to each AT&T broadband technology and speed. 
We identified in the December 2015 FCC data those Census Blocks where AT&T is an Incumbent Local Exchange Carrier but does not provide broadband. The Form 477 only requires reporting where a company provides broadband, but does not require reporting of "no broadband" Census Blocks. These Census Blocks were found through a threestage process. First, we mapped a Shapefile of the FCC's March 2016 report of the all Incumbent Local Exchange Carrier (ILEC) study areas in the U.S. using ArcGIS, an industry-standard geographic information system software program.15 Second, we extracted AT&T California's ILEC area and ran an intersect command in ArcGIS with a Shapefile of all California Census Blocks downloaded from the Census Bureau's TIGER website. This intersect command allowed us to determine which Census Blocks are located in AT&T California's ILEC areas. Third, we ran an erase command in ArcGIS to remove from the ILEC area all Census Blocks where AT&T advertises broadband, leaving just the Census Blocks where AT&T is an ILEC but provides no broadband. 
Lastly, it is important to note that while some reports include upload speeds in their analysis, this report focuses on download speeds. Therefore, we assume that any household with download speeds of 25 Mbps or above will also have upload speeds of 3 Mbps or above. 
Statewide Broadband Maps The maps in this report were created using ArcGIS, an industry-standard geographic information system software program. AT&T advertises 10 different broadband speeds in California (0.768, 1.5, 3, 6, 12, 18, 24, 45, 75, and 1000 Mbps). However, in order to increase the legibility of the county-level maps, these speeds were grouped into three colors corresponding to the following value ranges: 
Red: Less than 6 Mbps 
Blue: Greater than or equal to 6 Mbps and less than 25 Mbps
Green: Greater than or equal to 25