Key Lessons 
Safe Return is a quintessential model for how formerly incarcerated people, directlyimpacted individuals, take their lives into their hands, redeem the worst things that have happened in their life, try to create pathways of opportunity and return and restoration. I think it is one of the greatest acts of self-determination I have seen. 
-– MICHAEL MCBRIDE, PICO
The non-profit sector could redirect resources towards work that is led by people affected, that is so much more transformative. People would tell their story, there is nothing people could say to refute their story
– ELI MOORE, SAFE RETURN CO-FOUNDER
Safe Return laid the groundwork for criminal justice reform. In the midst of one of the largest prison expansions, Contra Costa was the first county to defeat a jail expansion. Now realignment money goes to community services.
– ADAM KRUGEL, PICO/CCISCO
THE FOLLOWING SECTION explores four key components of the Safe Return program that this research suggests for anyone considering a similar project. 
Although Safe Return is uniquely grounded in the community of Richmond, many of the issues it has grappled with and lessons learned may be applied more generally to projects elsewhere that work with formerly incarcerated communities. Based on the information gathered about Safe Return, we have identified four key components. While every community and every person coming home has a unique story, there are barriers, traumas, and challenges that many have in common. Paying attention to the components below may help individuals face and work towards dismantling these challenges. The four components are Meaningful Engagement, Sustainable Planning, Focusing on Broader Systems Change, and Appropriate Fiscal and other Support. The following pages offer some examples and strategies for incorporating these components. 
Meaningful Engagement refers to how formerly incarcerated individuals are engaged, are given room to grow and are key drivers in defining and evaluating the success of the work.
Sustainable Planning means anticipating how much time and effort it takes for individuals to reintegrate into their community, being prepared for a variety of challenges and cultivating the types of partnerships that will enhance the trust and success of formerly incarcerated individuals.
Focusing on Broader Systems Change means complementing work on individual transformation with attention to addressing the broader policy and other barriers that can prevent even the most motivated formerly incarcerated persons from achieving their goals. 
Appropriate Fiscal and other Support is having the institutional support to ensure that any efforts are adequately funded and resourced, and that the sources of fiscal and other support do not compromise the integrity of the work. 
MEANINGFUL ENGAGEMENT
We carry a lot of baggage and the thing that had to be drilled into us was that we are worthy.
–TAMISHA WALKER
I think we should and could have done a better job of creating a more intentional development process, life mapping, paying attention to the trauma of incarceration.
– ADAM KRUGGEL
I think a lot of these things are sort of intangible, we tend to focus on the tangible result but I think that a lot of the work that the Safe Return team has done are achieving these intangible kinds of things.
– BILL LINDSAY, RICHMOND CITY MANAGER
Meaningful engagement requires acknowledging the residual trauma caused by incarceration, helping people deal with that trauma and allowing them to set their own personal and programmatic goals. Success should be measured, in part, by how well these goals are met. Much of what makes Safe Return unique is its focus on personal transformation. It began by providing trainings that gave participants a sense of confidence and tools for individual growth. The internal work they did helped to highlight needs that were specific to their community and drove future work. Engaging in relational interviews created a bridge between them and others who were facing similar situations. Every member of the team set personal and public goals that were used both to evaluate individual and collective progress as well as to inform the strategic planning for the following year. Making sure that the individual's goals were central to evaluating past success and setting future goals is key to meaningful engagement. This can be challenging when organizations are oriented towards achieving easily quantifiable outcomes. But it is it not impossible, and it helps ensure participants' ongoing investment. 
Finally, meaningful engagement means fostering opportunities to participate in collective efforts to help change the harmful practices and policies that can stand in way of successful re-entry, and contribute to making the return from prison or jail "a round trip" (Freudenberg et. al.)
Strategies for meaningful engagement include:
Facilitating growth: Creating a safe space for personal development and providing ongoing trainings allows participants to continue to grow.
Empowering participants: Linking the individual experience to collective and systemic issues allows individuals to understand how their personal experience is connected to the broader community.
Engaging members in participatory action research and advocacy, based on their insider knowledge and the findings of their research, enhances collective empowerment and achieving systems level change.
Rethinking outcomes by engaging participants to define personal and institutional goals: Involving members in individual and group processes of reflection can help them look more deeply at what it is they want to see and help bring about for themselves, and for the broader community of currently or formerly incarcerated people and their families and neighborhoods. 
SUSTAINABLE PLANNING
We didn't think about how long people would be involved, we didn't have an end plan and I think that was a mistake. 
-RICHARD BOYD, SAFE RETURN CO-FOUNDER
How do we take seriously the real challenges that formerly incarcerated people have given the trauma they have experienced? How do we give folks the opportunity to fail without it destroying them? What tools do formerly incarcerated people need to have added to the tools they currently have?
- MICHAEL MCBRIDE, PICO 
I think Safe Return should have become its own organization, I don't know if it would have gone better because there would be other challenges, but the work is big enough and unique enough to merit its own organization.
– ELI MOORE, SAFE RETURN CO-FOUNDER
One other thing that I remember is that people thought the Safe Return Project was a service provider, and they let it be known that they would not be going into services because it would compromise their advocacy, and I thought that was an excellent move.
– RHODY MCCOY, CONTRA COSTA COUNTY DIRECTOR OF ECONOMIC EMPOWERMENT, RUBICON PROGRAMS
One of the issues raised by the founders was their underestimation of how long Safe Return would last and the consequent failure to build in sufficient mechanisms for growth. Another issue raised was lack of enough planning for the institutional future of the organization, including building appropriate partnerships. Fortunately, the program was able to adapt its time frame but it did not have formal mechanisms in place to respond to the growth of the team. Creating ways for participants to either be promoted or graduate out of the program is critical. This does not mean that participants who are thriving within the program be forced out at the end of the time period. If the institutional capacity exists, the program would offer ways for participants to continue to move forward, either by providing more permanent positions, or placements with partners. Partnerships need to be carefully entered into because while they can facilitate the longevity of the work, they can also undermine or derail the credibility of efforts. For example, having buy-in from law enforcement and government agencies can help ensure the long-term sustainability of a reentry program. Safe Return's involvement with the Ceasefire work, which involved working with law enforcement, may have helped gain support for its ban the box campaign but some felt it compromised the autonomy of the program and delegitimized it in the eyes of potential and actual participants.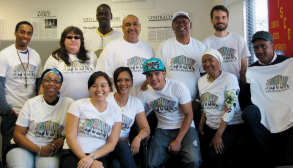 Strategies for sustainable planning include:
Creating Realistic Timelines: Based on the interviews conducted, this time frame should be no shorter than 18 months and likely no longer than 3 years. This time frame may be best done in phases.
Facilitating participant growth: The experiences of Safe Return in its first five years underscore the importance of creating empowering conditions where participants' own assets can be tapped and new skills and capacities built, both for the individual and the team. Building individual self-confidence and self-esteem, as well as trust and a sense of cohesiveness as a group, are critical pre-requisites to working for broader change. Both intensive initial trainings and ongoing follow up sessions also are important as members continue to hone and draw on their own skills and transformation, both individually and as a group.
Fostering partnerships: Maintaining independence while working with appropriate community partners will support the work over time. These partnerships may be timelimited or ongoing but the relationships established through these partnerships help ensure ongoing sustainability.
FOCUSING ON BROADER SYSTEMS CHANGE
From Safe Return I have learned what can be done with information and effective advocacy. This was the first time that I saw formerly incarcerated individuals and people who care about that population organize effectively because I think it has traditionally been an ignored concern. And I'm specifically speaking about organizing for AB109 funding and how that what was done. I thought that was, you know, that should be a case study for how to organize ones voices for positive change.
- BILL LINDSAY
Things are much better than they were before AB109…there is much better understanding of what the needs are, but we are not where we need to be.
- ROBIN LIPETZKY, CONTRA COSTA PUBLIC DEFENDERS OFFICE
The stories of personal transformation shared by many participants in the Safe Return Project, and the strong sense of purpose and collectivity achieved by the team itself, are foundational outcomes of the project's work over its first five years. At the same time, creating changes in the systems and policies that stand in the way of successful reentry remain a priority. Whether through its leadership role on Richmond's strong ban the box measure, or the Invest in People, not Prisons Campaign that successfully ensured that money for reentry programs and services not go to jail expansion, the success of Safe Return Project is in part a result its victories in creating broader systems change.
Strategies for Focusing on Broader Systems Change
Engage the formerly incarcerated in understanding and sharing their insider knowledge of the links between barriers to housing, jobs, and health care, and release and successful reentry.
Provide experiential and other trainings enabling participants to conduct surveys and other data collection to engage more of the formerly incarcerated in broadening and deepening understanding of the systematic barriers to successful reentry and their relationship to outcomes
Provide participants multiple opportunities to share their understanding in helping to develop improved policies and engage in organizing and advocacy to help effect change on the policy level.
Monitor the success of systems-level changes in which participants contributed in order to show longer-term impacts, and to provide information about challenges to be overcome.
FUNDING 
I think that the only thing that would make the Safe Return Project better would be if they had focused more on its own funding and becoming its own entity.
–JOHNNY, FORMER SAFE RETURN TEAM MEMBER
Safe Return confirmed my belief that the talent pool of formerly and currently incarcerated citizens is wide and vast. With the right resources and opportunities they can be a part of changing systems and the narrative of who they represent.
- SAM VAUGHN, SAFE RETURN CO-FOUNDER
The Safe Return Project began by providing a living wage to individuals. A key component of budgeting is ensuring that funding is available to pay participants for their work. Most people do better when they are engaged in meaningful work that allows them to meet their needs. The multiple barriers that the formerly incarcerated face in seeking any employment does not mean that they should be treated any differently. This payment needs to be secure and should provide a living wage. For some team members, the unsure funding base of Safe Return over the long term led them to look elsewhere for work and weakened their ability to sustain engagement. At a minimum the project needs to be funded for the timeframe of the project but would ideally be funded for a few cycles of participants and to allow them to move on. At the end of the three-year period, some successful participants will be ready to take over much of the organizational operation and they should be able to move into positions of leadership and management. Due to budgeting issues, Safe Return was folded into one of the organizations that was its fiscal sponsor and in the process, lost some of the project's autonomy. While this has allowed Safe Return to continue to operate, the project currently cannot provide the type of intense employment and training opportunities that it formerly did. Finally, as is true with choosing partners, where funding and sponsorship comes from is a critical consideration. 
 Strategies for funding include:
Funding participant work: Providing a living wage conveys the value of the work and allows participants the capacity to engage without worrying about basic survival.
Ensuring funding for length of the project: Based on the interviews conducted, this time frame should be no shorter than 18 months and likely no longer than 3 years. This time frame may be best done in phases.
Choosing funding streams carefully: Ensure than potential sponsors or funders will be supportive of projects goals, and have a mission that is consistent with, and in no way contradicts, the work of the project.